There is a modest delicacy about the Jaeger-LeCoultre Master Ultra Thin Moon watch (Ref. 1368470) that makes it both a beauty to behold and a beauty to wear. The sophisticated timepiece promotes simplicity above all else with a perfect bi-lateral symmetry – dependant on the position of the moon phase, which is the physically dominant feature on the Master Ultra Thin Moon watch. This is in line with a Jaeger-LeCoultre tradition that promotes vintage simplicity over a complicated and crowded face. Complex exceptions such as the Reverso Tribute Tourbillon Duoface obviously exist and are done so exquisitely, however, the Jaeger-LeCoultre Master Ultra Thin Moon watch is a meticulous continuation in a line of expertly refined horology.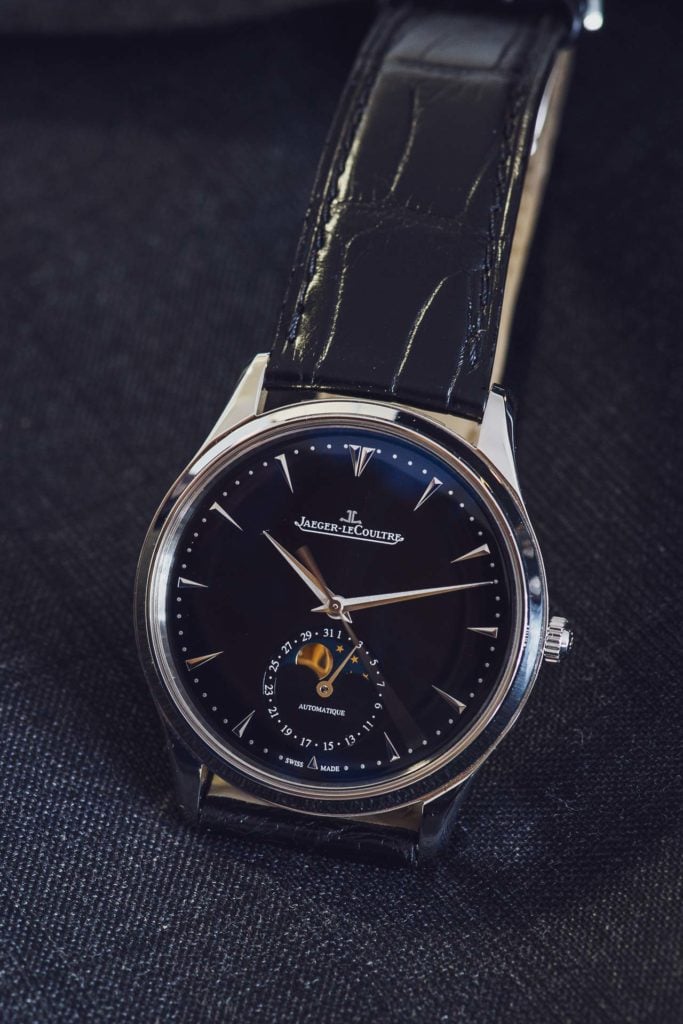 Beginning with the strap and buckle, the Master Ultra Thin Moon watch utilises a firm black alligator leather exterior while the wearer's wrist is kept comfortable by softer calf-hide on the inside. Like all dress watches, the Jaeger-LeCoultre Master Ultra Thin Moon watch isn't particularly water-friendly (as the leather suggests). However, it should be noted that the timepiece has a water resistance of up to 50m, 20-30m more than your standard dress watch.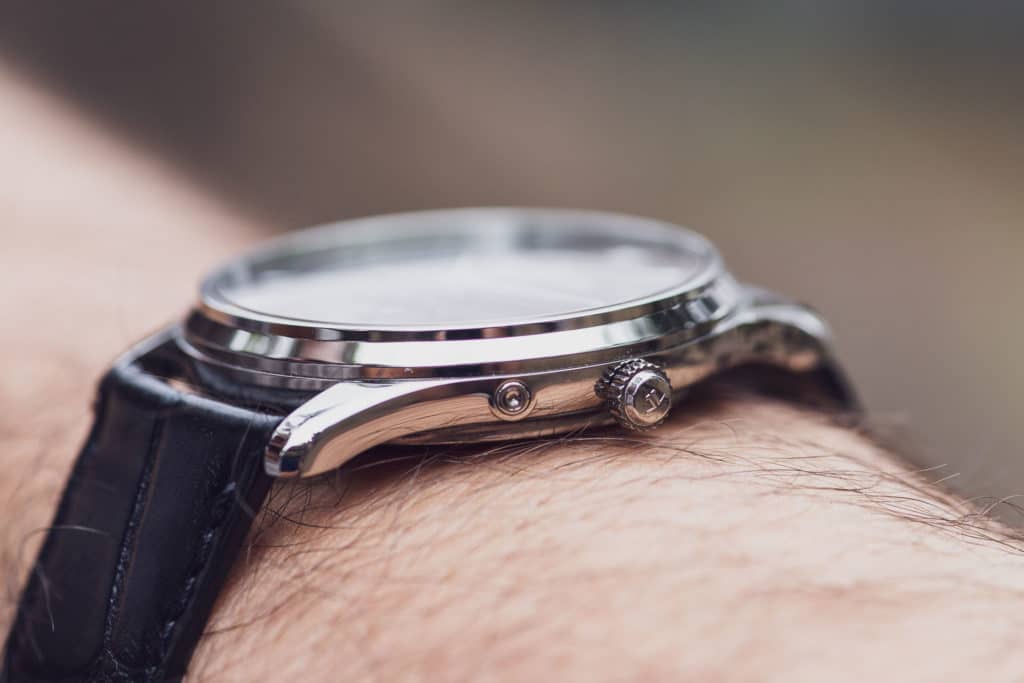 The Jaeger-LeCoultre Master Ultra Thin Moon watch's resilience is commendable considering that 'Ultra Thin' isn't just a buzzword with a 39mm diameter and a thickness of just 9.9mm. With this sizing, Jaeger-LeCoultre believes that 'the watch will fit perfectly on the slenderest of wrists' and after a week on the wrist, we can confirm that it's an absolute pleasure to wear, with enough weight to remind you of its build quality but sized considerately so that you almost forget it's there.
---
---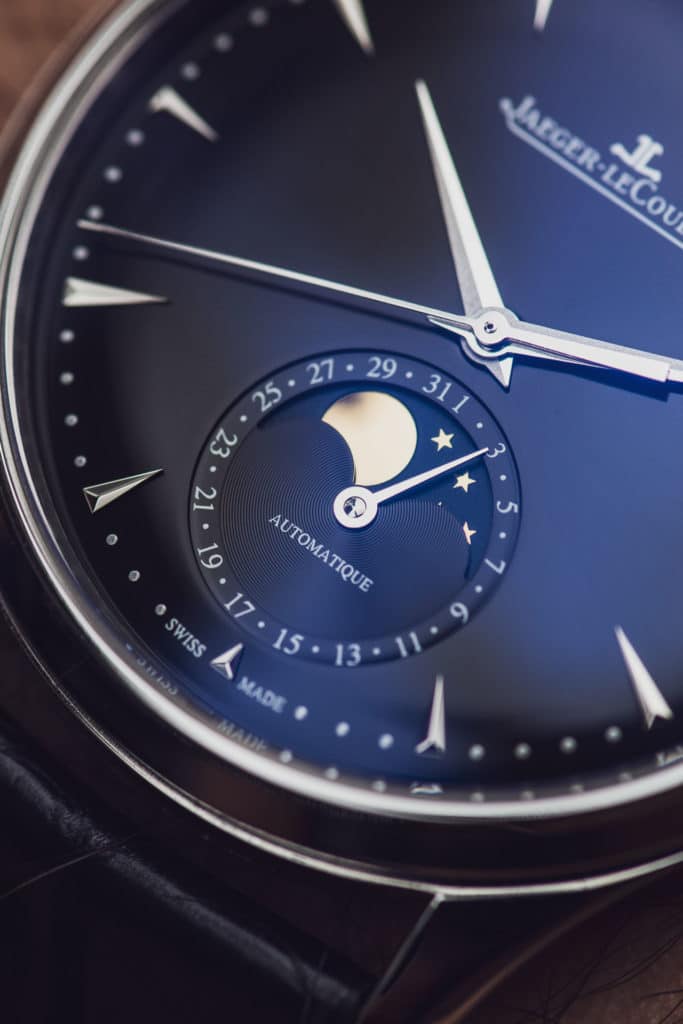 Aesthetically, simplicity is king and there is no wasted space here, with graceful hands and pointed indices that frame a stunning black dial and elegant moon phase complication with textured sub-dial. There exists a single crown that has the ability to stop entirely at a single pull to calibrate time perfectly. This physical precision extends on the Jaeger-LeCoultre Master Ultra Thin Moon watch's technical properties. The most impressive of these being the 'Master Control 1000 Hours' – meaning that the watch has experienced nearly 6 continuous weeks of 100%, to-the-second time accuracy.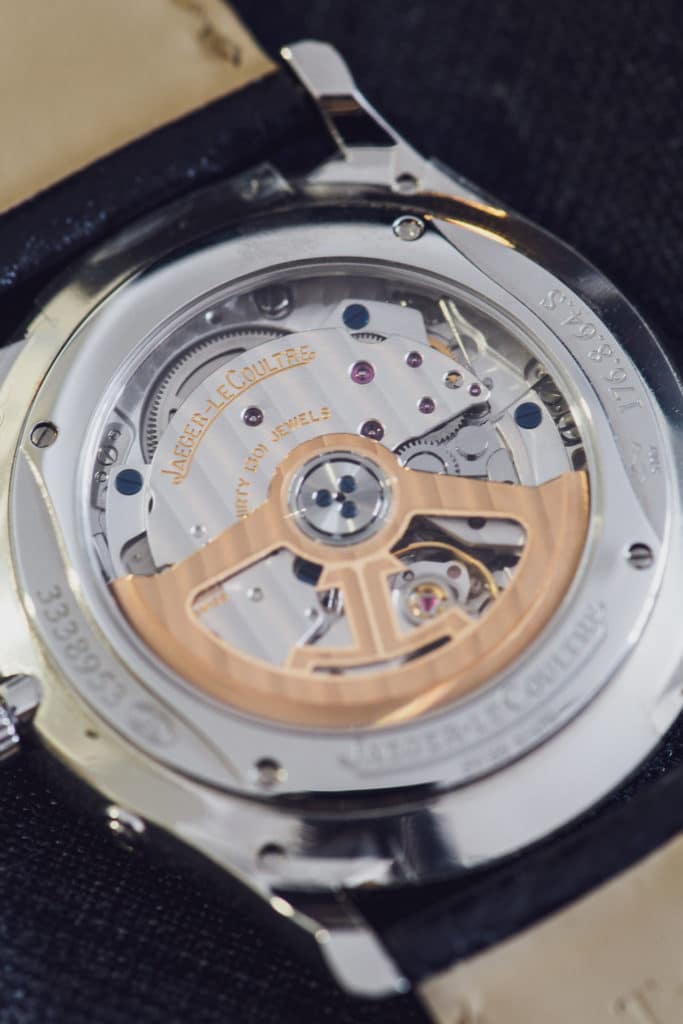 Within the subtle case sits JLC's Calibre 925 movement at a barely-existent thickness of 4.9mm, not including the self-winding rotor, which boasts 253 components and a 43-hour power reserve. This automatic ingenuity can be admired through the sapphire case back, showcasing the gold rotor in all of its glory. The case, lugs, and bezel are presented with a gorgeously refined stainless steel that contrasts wonderfully with the midnight black of the face. This black is then, in turn, contrasted with the golden-brown and deep blue of the moon phase.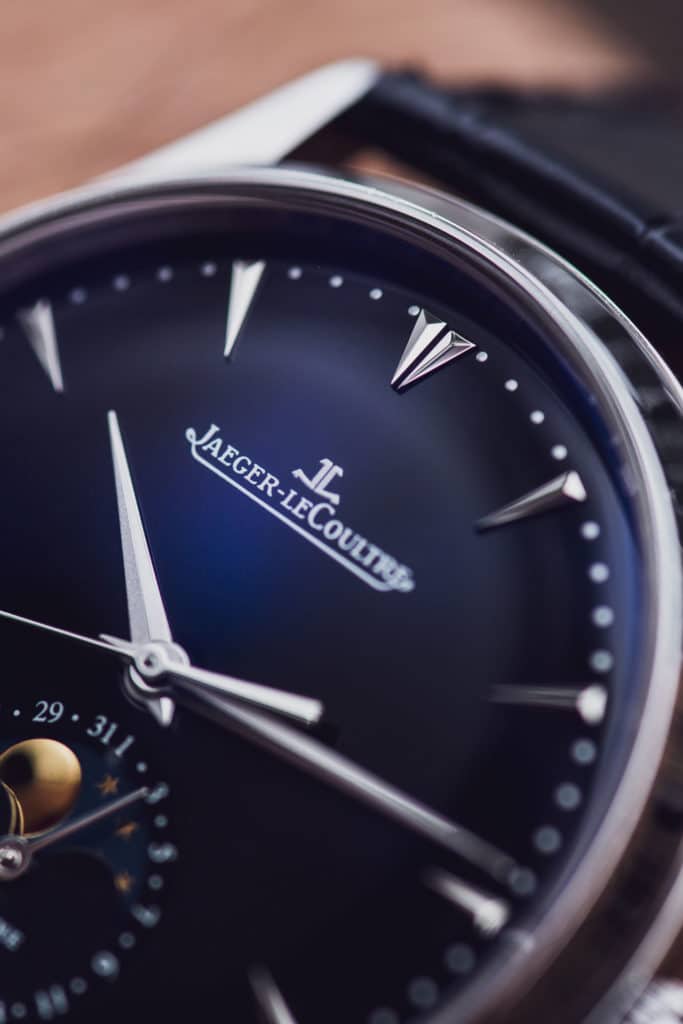 The Jaeger-LeCoultre Master Ultra Thin Moon watch is a truly elegant addition to any night-dwelling gentleman's collection and makes the perfect partner for any formal occasion.
Check out the full specs at Jaeger-LeCoultre's website.