October in Melbourne usually means a few things: the start of warmer weather, the Spring Racing carnival, and MotoGP. As a self-confessed lover of motorsport, the latter is always one of my favourite events of the year.
Regardless of your affinity with two wheels or four, the global MotoGP circuit is one of the most exhilarating annual sporting events, providing some of the most pure sporting competition on the planet.
This year, we were treated with an invitation from the team at Tissot Australia to come down as guests of the official timekeeper of MotoGP, along the way getting to know some of the team and checking out everything the race has to offer. Here's a little recap of our Sunday:
---
---
Transfers
If you're reading this, you're probably well aware Phillip Island isn't actually in Melbourne. Situated adjacent to Bass Strait approximately 140km from the city, the Island is well known for it's gorgeous beaches, wild winds and horrendous traffic over the MotoGP and Superbikes weekends.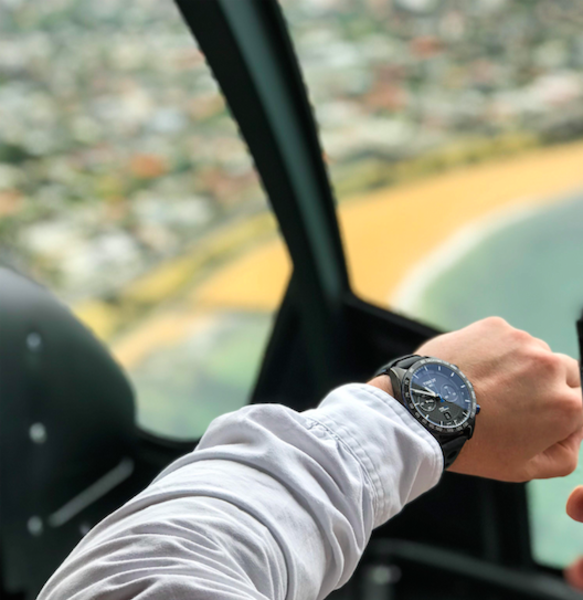 To combat this (the traffic, there's nothing we could do about the weather), Tissot commissioned chopper transfers with the good folks at Microflite to get us to and from the Island. Joining us for the day were Tissot Australia GM Scott Jungwirth and Marketing & Comms manager Stef Winstanley, both equally as excited as us at the prospect of a half hour-long heli ride at 10am on a Sunday morning.
What we didn't account for was the weather, with some pretty heavy rain and moderate winds forcing us to stop at Moorabbin airport en route from Southbank until things passed. Luckily we aren't the type of people to ever let things get away from us, so we enjoyed a coffee and a cold one, jumped back in the heli—literally flew around the weather (yes, that's apparently possible)—and made it down to the Island just after midday.
Big shout to our pilot down who was super professional and an absolute don.
The suite + Gridwalk
We knew the guys at Tissot liked to have fun, but we weren't sure just how much. Turns out Scott and Stef had sorted Gold VIP Village passes for the group, so we sat down for lunch and another beer before heading trackside for one of my life's crowning achievements: the Moto2 grid walk.
---
---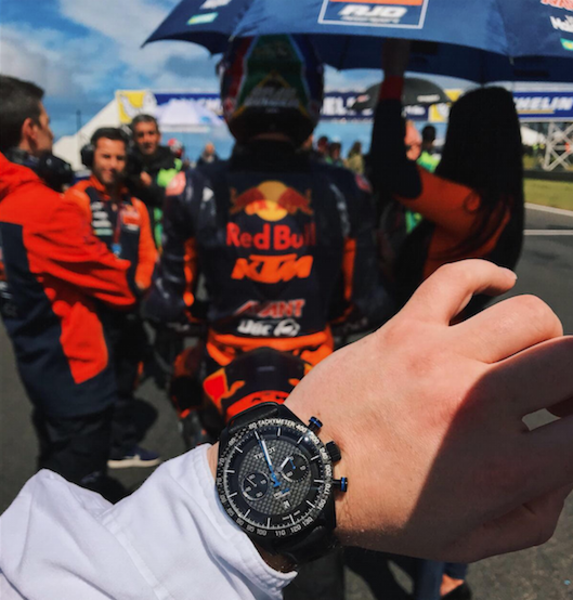 As I mentioned before, I'm a self-confessed motorsport addict. If you know me, you'd know how often I'm leaving things early to get home on weekends for Formula One qualifying or races. I've done pit lane walks at the Grand Prix in Melbourne, made it into the gallery of the Red Bull Racing pits during the race and was even lucky enough to interview Daniel Ricciardo before the race weekend earlier this year.
But I'd still never done a grid walk. Cue Scott and Stef to walk us down to the start/finish line after lunch and shove more lanyards around our necks, attaching the little yellow 'Moto2 grid walk' stickers I'd seen so many times on TV just below our necks.
Needless to say, I was in heaven.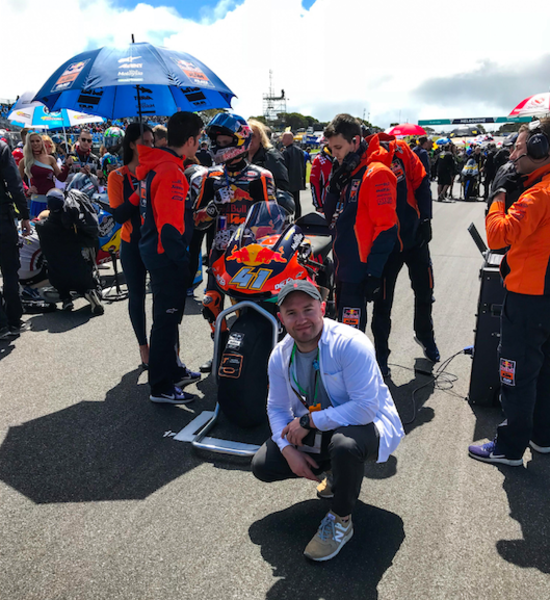 Pre-race
The best thing about MotoGP—especially compared to F1—is your access. At a F1 Grand Prix, Paddock Club gets you above everything (above the pits) and into corporate suites, but you're totally restricted from the actual paddock. Unless you've got an FIA pass—but good luck getting your hands on one of those.
That's the MotoGP difference: with a VIP village pass you're literally at the back of every pit box and, not that we tried, I'm convinced you could mosey inside a team's pit box for at least minute or two, likely before being told to leave in no uncertain terms by a someone with a thick European accent.
Walking down the back of the village really is something else, particularly when you're still buzzing from a grid walk. Seeing so many team members still smoking—something that was so heavily entrenched in the culture motorsport for so long prior to 2007—at the back of their respective pit boxes took me back my childhood, when Rothmans sponsored Wayne Gardner's Honda NSR 500 and Marlboro and Camel sponsored just about everyone else.
We even managed to catch Jorge Lorenzo, en route from his team briefing room to the pits pre-race. Lorenzo is a Tissot ambassador, and despite struggling somewhat in his first year on the factory Ducati after coming across from Yamaha, the ex-world champ is one of the nicer guys on the grid, stopping for autographs and a few photos before getting into race mode.
---
---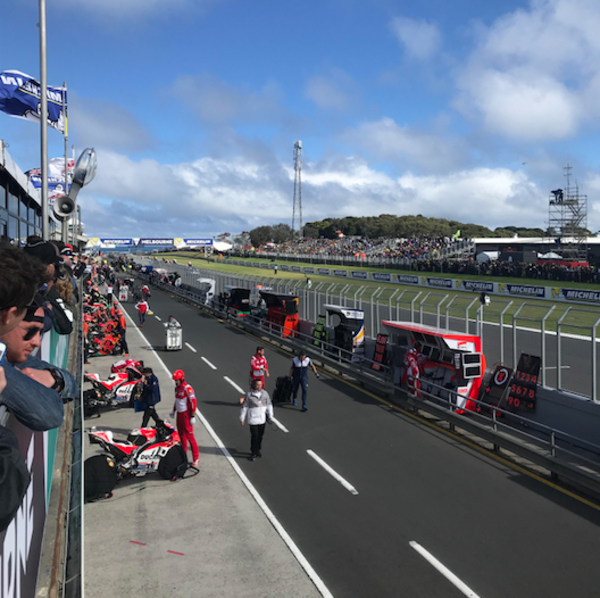 The main event
As happens, the main race always creeps up and we quickly found ourselves back in the suite for another bite to eat as the big boys came on. The race itself turned out to be one of the better Phillip Island Grands Prix in recent memory, with Aussie Jack Miller leading the first 4-5 laps before fading, leaving Marc Marquez to duke it out with the likes of Valentino Rossi, Maverick Vinales and MotoGP rookie of the year Johann Zarco for supremacy at the front.
Mulitiple lead changes every lap for the middle 10 laps kept it thrilling, before Marquez powered on to victory as he always seems to do in the clutch. Sadly our man Lorenzo was nowhere near it, finishing deep in the field in 15th just behind teammate Andrea Dovizioso, with the Ducatis seeming like they never got the setup right all weekend.
The ride home
In true Melbourne fashion, the weather for the ride home was glorious with barely a cloud in the sky. We made our way straight back to the chopper meeting point after the chequered flag, watching on as the mad scramble of cars, bikes and hours-long traffic began.
The half hour commute back went by in a flash, but as a final proverbial cherry on top of what was a brilliant day, the pilot informed us that the landing pad at Southbank was busy meaning we'd need to do multiple fly-arounds of the city to "waste time." Such a chore. But one we were unsurprisingly happy to deal with.
A huge thanks to Scott, Stef and the team at Tissot Australia for looking after us and spending the day with us trackside. MotoGP truly cannot be done any other way.