Jacob & Co.'s striking Astronomia Tourbillon is far more grandiose than it is seemingly incomprehensible. An icon of watchmaking virtuosity, the Tourbillon allows wearers and admirers alike to observe timekeeping through a celestial lens, with every element in constant, visible motion and linked to astronomical symbolism.
Don't be too overwhelmed by the facade of complexity presented by this piece, hey, it's even fine to admit you're not sure what a Tourbillon is. It's pretty much a horological device from a few hundred years back that involves mounting essential balancing movements in a rotating cage to cancel out the effect of gravity when the watch is stuck in a certain position.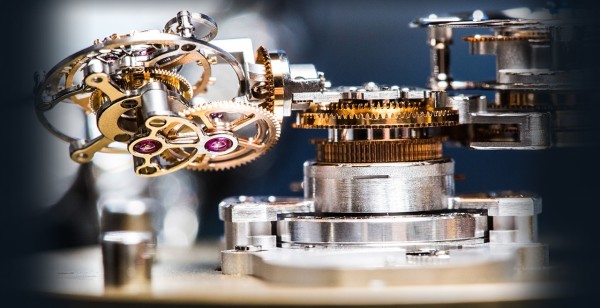 Jacob & Co.'s Astronomia is a triple axis tourbillon with four satellite arms that rotate around the dial every twenty minutes. The oscillator at the heart of the three-axis tourbillon hosts an orbital display of the hours and minutes, engineered even further to ensure the 12 stays upright as it rotates around the face.
---
---
The timekeeping axis is countered by two objects designed to replicate core elements of the solar system. A hand-painted magnesium globe sits on one end which is balanced by a Jacob & Co. 288 facet diamond disco ball which represents the moon. Both are the exact same weight to maintain the perfect balance in motion.
The overall movement is a Jacob & Co. JCEM01, boasting 48 hours of power reserve and a tourbillon that operates at 2.5Hz. The movement is surprisingly built with just 235 parts, a very efficient system given the complexity of the celestial concept.
Enclosing the entire mechanism is sapphire crystal, but not just over the face, rather on all sides so that the entire timekeeping universe can be observed from 180 degrees worth of angles. A star-filled night sky face sits behind the movement, and the lack of crowns or pushers is intentional to maintain a clean case, with two "bow-style" fold out crowns on the case-back.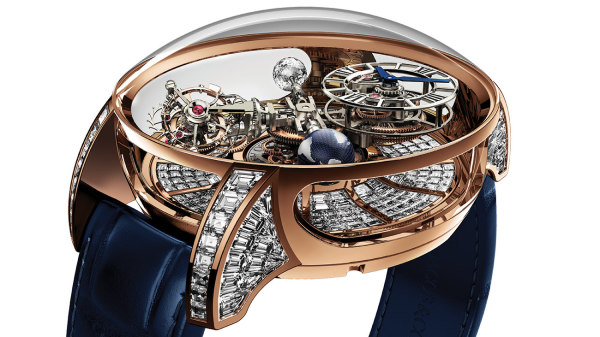 While these timepieces might not be as convoluted as expected (more so just sporting some very excessive and expensive materials) it wouldn't be prudent for such extravagant wrist action to be available in large quantities.
Just 18 pieces are available in red gold and another 18 with the option of replacing the sky face for an array of extremely expensive baguette diamonds (above). The latter is nearly double the price of the original, clocking in at over $1 million Swiss Francs ($1.3 million AUD).
Be sure to check out a few spicy examples of the Tourbillon over on Jacob & Co.'s website, our favourites being the Black Gold & Black Ceramic stunners.