It's the ultimate party goal, the weekend away to rival all weekends away.
Just think on this for a moment. As the beach bonfire rages stronger and brighter, the harsh Far North Queensland sun goes down over the Great Barrier Reef. You crack open another coldie with your best mate and you cheers to a phenomenal few days ahead.
You've got 33 of your friends – and their friends – socialising in the still-warm tropical air as the night creeps up. No neighbours to worry about, no noise complaints to deal with.
You can do whatever (within reason) you want.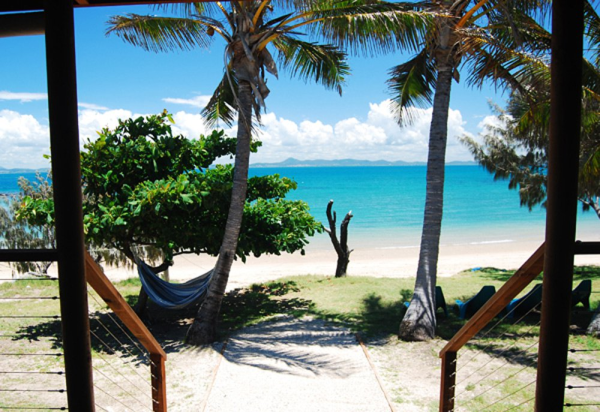 It's called Pumpkin Island and you'll find it nestled among the Keppel Island group on the Great Barrier Reef. You can take a ferry, a boat, or if you want to play the Richard-Branson-for-a-weekend part, you can charter a helicopter to get you there.
The private island has four cabins and two bungalows, and can house a maximum of 34 people in total. It's completely self-service, so you need to bring with you what you need and take home what you don't use. There are no shops, entertainment options or other services on the island, so you'll have to make your own fun. We're confident that wouldn't be too hard.

And here you have it, what you've been furiously asking yourself for the last 30 seconds. How much will this actually cost me?
After crunching the numbers we've concluded it will cost you on average around $4730 AUD per night to rent Pumpkin Island. Wait what? It sure does sound like a significant amount, but divide it by 34 and you've got yourself a surprisingly reasonably $140 AUD per night per person.
Now it's just a matter of two things.
Can you find 33 mates to jump in on this opportunity with you? And which of them is the lucky one putting their credit card down for the full amount?
For more information visit pumpkinisland.com.au