Presented by Pulsar, Official Watch Partner of the Supercars Championship
With the Aussie summer around the corner about to light up this country, let's get to the drawing board and start making some solid adventure plans. Luckily for us, life is cool, nature is stunning and Australia is endowed with an abundance of natural swimming holes and some of the best cliff jumping spots in the world, making for the perfect weekend adventures.
Cliff Jumping is an insanely fun, fear-inducing, exhilarating and heart-stopping sport. Those few intense seconds of freefalling acceleration, coupled with a release of adrenaline, and a subsequent natural dopamine high, always leaves the adventurous begging for more.
There's something about the locations of such a sport, whether it be the remote water holes in regional Victoria or the divine blue coastlines of NSW, where immersing yourself makes you feel like this what life's all about.
In partnership with watchmakers Pulsar, known for their quality, accuracy, reliability & contemporary designs and who live by the mantra that 'every second is a new challenge', we've put together a list of the 5 best cliff jumping spots in Australia, with a varying mixture of accessibility and skill level/risk.
Time to challenge yourself.
Macquarie Pass Jump Rock, Tongarra, NSW
Approximate coordinates: 34°34'18.7″S 150°40'41.2″E
Tucked in Macquarie Pass National Park near Wollongong on the NSW South Coast, these cliffs tick all the boxes, combining deep freshwater swimming holes, natural water slides and stunning scenery. There are three main ledges, ranging from about 3-9 metres, accessible by a mild 1.5km bush walk starting at the edge of the car park and leading through the valley. The coordinates given are for the nearby car park, which can be fairly crowded on hot weekends but fine midweek.
Kimberley Ranges, WA
Approximate coordinates: 16°25'07.3″S 126°06'05.2″E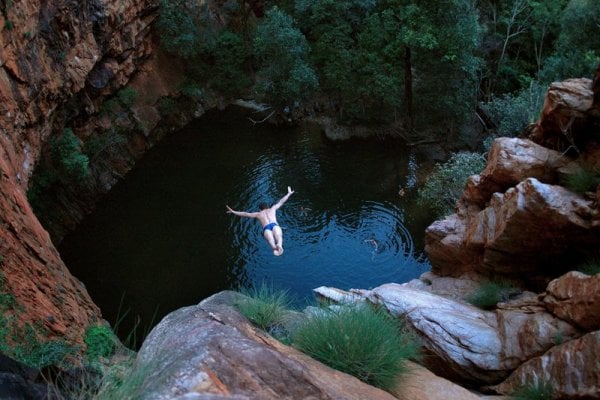 Source: Mark Watson/Red Bull Content
Ladies and Gentlemen, this is the Kimberley Ranges, one of the most spectacular displays of natural beauty the universe has to offer. A vast savanna, spanning over 400,000 square kilometres in the Northern part of WA, the Kimberley is sprawled with arid gorges, ruggedly coloured with red limestone cliffs and turquoise blue watering holes. Isolated for good reason, this region is accessible to those ready to make the adventure. Cliffs and gorges are scattered throughout the Kimberley, but the coordinates given are for Mount Elizabeth Station, near one of Australia's best kept secrets, the Wunnamurra Gorge.
Manly Jump Rock, NSW
Approximate coordinates: 33°48'29.3″S 151°17'20.0″E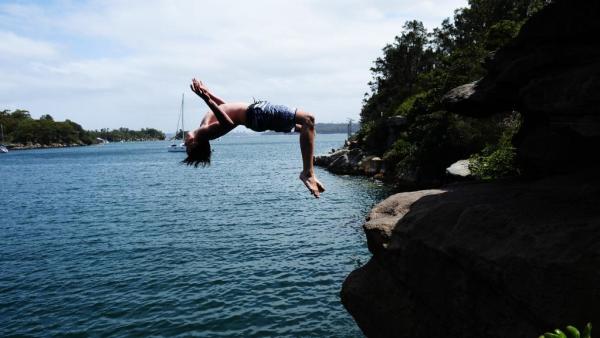 Source: Braden Fastier
Accessible, fun and stunning – Manly's Jump Rock is hot to go. Situated just a 5 minute drive from Sydney's iconic Manly Beach, this jump rock is super easy to get to and awesome fun. The two ledges, perched 4m and 8m above Spring Cove, lead into the deep waters of Sydney's stunning coastline. Take care in climbing over the fence mounted on the edge of the cliff – it is still unsure whether this fence was put there to stop people jumping or to add an extra two metres to the jump. To get there, park at the end of Stuart St, Manly and walk about 15m through the bush directly towards the water.
Blairgowrie Jumping Rock, VIC
Approximate coordinates: 38°21'19.4″S 144°44'31.7″E
On a beaming summer's day, the coastal rock pools at Blairgowrie littered with deep, electric blue tones will be begging you to jump in. It is the colours of these rock pools, teamed with the stunning serenity of Victoria's coastline that makes these jumps well worth checking. Blairgowrie Jumping Rock is a 1.5 hour drive from Melbourne's CBD, giving access to a series of cliff jumps ranging from 4-8 metres. You can park on Pearce road or St. Johns Wood Road to access the Peninsula Track, spanning a 20 minute walk and multiple ledges.
Cedar Creek Falls, QLD
Approximate coordinates: 27°19'21.4″S 152°47'48.2″E
Located just under an hour from Brisbane's CBD, Cedar Creek falls sports unrivalled Australian Bushlands, meandering creeks, flowing waterholes and a series of cliff jumps throughout the National Park, making for a sweet trip. We haven't been to these cliffs but we've been told that the cliffs lie towards the top of the creek, with cliffs varying from 7-13m – the coordinates given are for the general Cedar Creek region, not the cliffs. Always check the level of the waterholes before jumping as the region may experience dry spells, making it unsafe to jump.
Summer is coming, time to get moving.
Please be aware that Cliff Jumping is a high-risk sport that can lead to injury or death. Always use your own judgement. All jumps and landing areas should be adequately assessed for safety and overall suitability.
Main image source: Laurie GW/Flickr