A list of the world's most vibrant metropolises is indeed no list without Hong Kong. From art to food, fashion to sport and adventure, there's something for everyone in this truly global city. If you've only got 72 hours to spare, we've got you covered on your next trip to the place that has long remained the meeting point of east and west.
Basics
Best time to go: To avoid the 95% humidity, constant 35C temperatures and typhoon season, head to Hong Kong between March – May, and October – December. It's still warm enough that you won't need anything more than a jumper, but cool enough for you to comfortably wear jeans and a shirt when you're out at night.
Budget: Hong Kong can be done on a budget if you've planned it that way, but its best to visit with some funds up your sleeve. The conversion rate paired with the marked up price on a lot of things (think $18 cauliflower at the local supermarket) can make you feel like you're playing with monopoly money.
---
---
Visas: Australians can visit Hong Kong for up to three months without a visa.
Stay
In town for a night or two on an international stopover? Look no further than the Hong Kong SkyCity Marriott. Located on the island of Lantau – a short shuttle away from the airport, and a 30 minute train into town – the Marriott Sky City has all the amenities you'd want out of a five star hotel (think pool, spa, gym, restaurants and bars) and the perfect way to explore the city in a short timeframe. Plus for aviation geeks, most rooms have a runway view.
If you've got a few nights to spare in HK with your partner or even by yourself, then your best bet is the JW Marriott in Central. A veritable oasis from the chaos around you, the JW has a slick outdoor pool, plenty of dining options, but most importantly, if you're keen to sample the best of Hong Kong, then you could not find a better location, smack bang in the middle of everything.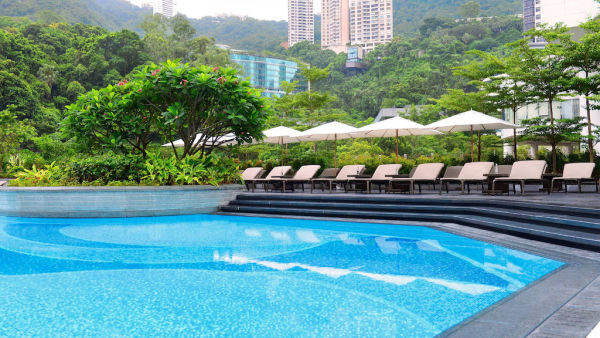 Bringing the rest of the family along for the trip? The brand spanking new Marriott Ocean Park backs onto the world famous Ocean Park theme park, just a 10 minute cab or a 6 minute train to Central and is a whole lot of fun for everyone. Dual pools, a kids club, and access to the park (think pandas, rollercoasters, and clowns) makes the Marriott Ocean Park a very smart choice if you've got little ones in tow.
Do
Art: In the last decade, Hong Kong has made a name for itself as a bit of a hub for artists and art collectors alike. Since 2016, the last few days of March now see HK play host to Art Basel Hong Kong, where the who's who of the world's art scene descend upon the city to showcase some some of the world's best art. Art Basel Hong Kong also boasts about 50% works from the Asia Pacific area, and with the Chinese being noted for having some serious cash to drop on art, it's a great opportunity to see some multi-million dollar works up close and personal.
Sport: Try and align your trip around the Rugby Sevens in early April, a weekend of debaucherous sport spectatorship. The HK Sevens is considered the premium tournament of the whole rugby sevens competition, and after seeing the spectacle from the Marriott Rewards Box, it's not hard to see why. The energy on and off the field is absolutely electric, and it's a weekend you have to experience at least once to understand why rugby fans (both diehard and fair-weathered) just keep coming back.

To enjoy the same 'Marriott Moments' Rugby Sevens experience that we did, or for a range of other money can't buy experiences, anyone can redeem Marriott Rewards points at the Marriott Moments marketplace. To learn about the best ways to earn Marriott Rewards points, click here.
---
---
Shop: You'd be mad to come to Hong Kong and not spend at least one afternoon doing some damage in stores. Time Square in Causeway Bay has a plethora of designer stores, but head strait it I.T for everything from CDG and Yeezy to Rag & Bone and Opening Ceremony. Shopping Mall wise – we're fans of Pacific Place and IFC, where Lane Crawford reigns supreme. If you're looking for a more wallet-friendly souvenir, head to the Ladies Market in Mong Kong – the most densely populated patch of land in the world – for some cheap knock-offs (not that we condone that…). Do yourself a favour on the way home and walk the streets of Mong Kok for some truly bizarre street singers.
Hike: Start your day in HK fresh (or sweat out a brutal hangover) with one of the many epic hikes the city has to offer. Though its the most condensed city in the world, Hong Kong is surrounded by lush greenery. If you're looking for a gram-worthy view, the walk up to Victoria Peak is a no-brainer. The walk is just over a 4km round trip, and you'll get a solid work-out in under an hour. The view of Hong Kong Island and Kowloon on a clear day is unbeatable.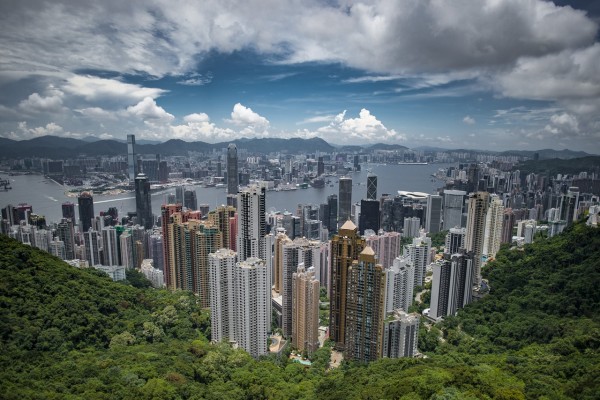 For the more active of you, Dragon's Back will test your body a little more (especially those that are vulnerable from the previous night's antics). Dragon's Back is a popular hike with locals and tourists alike, mostly because you get to see the jungle-side of Hong Kong that evades most tourists, and it ends with an ice-cold beer and a dip in the ocean at Tai Long Wan (Big Wave Bay).
Eat
With its colonial history and a rich community of expats, the culinary scene of Hong Kong is second to none. Locals have been known to eat out 5 nights a week and not bat an eyelid, and with the mixing pot of cuisines and flavours available, its no wonder why. The list could go on and on, but if you're in Hong Kong, chances are you're going to want to sample some Chinese food, no?:
$: Cheung Hing Kee, located in Tsim Sha Tsui is one of the best bang for your buck eateries in town. HKD$35 (~A$6) will get you four pan-fried soup dumplings(buns), and the flavours hit you like a tonne of bricks. The menu is extremely limited, there is standing room only, and you eat out of a cardboard box, but these little flavour bombs will keep you coming back for more.
$$: It may not be Cantonese, but Samsen in Wan Chai serves up some of the best Thai street food and noodle dishes this side of Bangkok. Head there for a lunchtime special and for their must-have wagyu beef noodle boat, and finish it off with a young coconut ice cream to cool down before heading back out into the bustling madness. Lunch specials are around HKD$130 (~A$22) for two courses – a cracking deal.
$$$: For high-end Cantonese food, Mott 32 and Ho Lee Fook are two institutions that are hard to beat. Mott 32 is only a few years old, but already has a slew of awards, including the World Interior of the Year. Mott 32 is definitely a place to see and be seen, where you come for the vibe, and stay for the unbelievable peking duck, and lobster dumplings.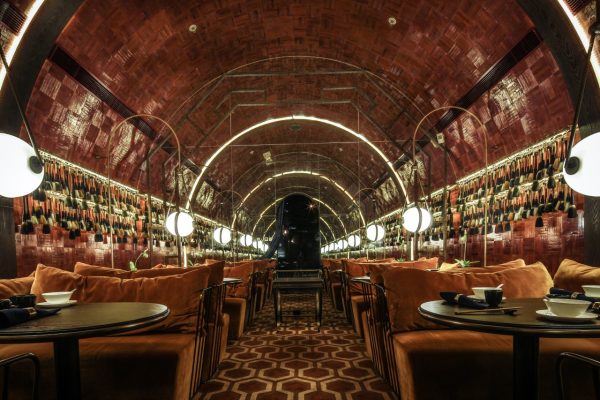 Ho Lee Fook is basically HK's answer to Chin Chin, where the music is pumping and the food is delicious, the line to get in is out the door. Must-order dishes are Mum's mostly cabbage and pork dumplings, the spicy chicken wings, and the prawn toast.
---
---
Drink
A tribute to Hemingway may seem a little kitschy, but the drinks at The Old Man are delicious, reasonably priced, and the refrigeration strip that runs down the centre of the bar table is the kind of next-level thoughtfulness that ruins other establishments for you. Don't be taken aback by the 'World's Best' listed bartender making souse vide'd cocktails – their Negronis are more than a safe bet.
Sitting on the 25th floor of Admiralty's Princes Building, it may seem modest when compared to the 118th floor Ozone Bar across the harbour in Kowloon, but make no mistake, Sevva has one of the most impressive views in Hong Kong. Enjoy the light show of the skyscrapers, the bustling harbour, and the beautiful people around you, and think of Sevva as the perfect spot to start your night, if you can afford to settle in for more than one drink, you're doing something right.
You'd be forgiven for walking past Soho Corner, a literal hole in the wall that spills onto the busy base of Peel Street in Soho. A place to settle in and watch the world go buy as you down some cheap (for HK) pints of lager, Soho Corner is completely unremarkable and fundamentally a neighbourhood watering hole, but in a city like Hong Kong sometimes that's exactly what you need.
Party
If you're in the mood to kick on, Lan Kwai Fung (LKF), where there's no such thing as a night off. Walk past this small square streets on any day of the week and you'll find people spilling out the 90 bars and restaurants onto the street. It's certainly not for the faint hearted, but you're guaranteed to have a night to remember… that incidentally, you probably wont
The author travelled to Hong Kong as a guest of Marriott.