Bali is still a polarising holiday destination for Aussies, but there's no ambiguity in the euphoria of learning to dive it's undiscovered Amed coastline.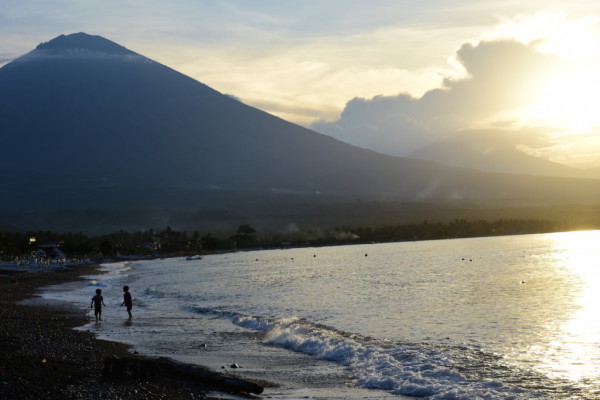 If you tell someone you're going to Bali for a holiday their reactions are usually mixed, ranging from confusion to trepidation and mostly you'll get the same look your mother gave you just before you left for schoolies on the Gold Coast as a 17-year-old.
But as a 31-year-old not particularly interested in revisiting my schoolie exploits in Seminyak, Bali provided an opportunity for me to live out a bucket list to dream to learn to dive in an affordable, safe and tropical paradise.
---
---
I've always wanted to be a diver. It's one of those boss skills I've desperately wanted to acquire but could never justify either the money as a backpacker, or the time when holidaying with my wife.
I would always watch in envy as backpackers spend days on end in their resort pools learning their basic 'Open Water' skills, before huddling in packs on beanbags with their heads in books, the sun setting and a cheap Asian beer resting in their laps.
So when an opportunity arose for me to finally learn to dive in between jobs this year, I jumped at the chance and booked some really cheap flights to Bali.
This would be my first time learning a new skill since university. I hadn't had an opportunity like this for some time so I had to be sure I was going to be doing it in a place that had a bit of magic, but also some cred. I'd heard too many horror stories of dodgy Indonesian dive operators and disappearing Japanese tourists.
After some late night googling, I finally stumbled across a dive school in the Karangasem Regency of Bali called Adventure Divers Amed.
I'd never heard of Amed. On previous visits to the ozulated island paradise I'd made what I thought to be quite adventurous trips to Ubud and Uluwatu. But this trip would be different as Amed is a 3-hour taxi trip from Denpasar to the north-east. From all the reviews, Adventure Divers was a solid outfit and I could do my Open Water SSI (Scuba Schools International) dive ticket across five days comfortably.
Dusun, Junking & Black Beaches
Arriving into Amed in the early evening felt almost prehistoric. As you cross the hills and descend into the valley towards the coast it's eerily reminiscent of that opening helicopter scene from the first Jurassic Park movie.
---
---
Tropical rainforest meets rice fields and a roaring sea, with Gunung Agung (Bali's biggest volcano) silhouetted in the distance just ahead of a setting sun.
I felt like our driver was also taking the whole Jurassic Park thing too literally. The waft of burning brake pads, tight turns and white knuckle driving as we sped towards our accommodation had me channelling Dr Alan Grant's fear of flying.
Amed is actually a misnomer for the entire coastline which is really a series of fishing villages (dusun) dotted north-to-south and despite its recent discovery by more adventurous Aussies like myself, it still maintains a relaxed atmosphere that is renowned for its snorkelling and diving.
Most of the action is centred around the volcanic black sand Jemeluk Beach and a beautiful blue lagoon.
On arrival we learn there would be no pool lessons for us, instead this open lagoon would be our playground for the first two days of SSI training.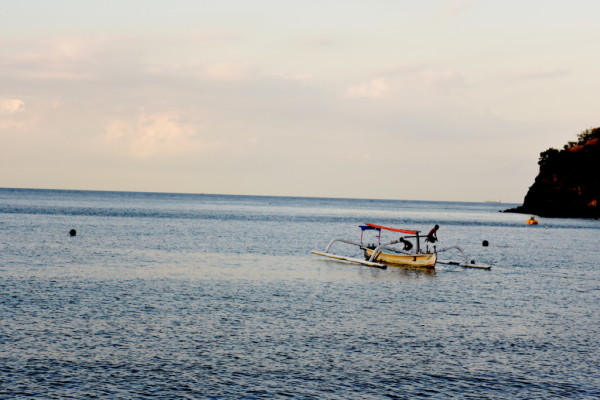 Anyone who has gone through the process of learning to dive will understand the initial fear when you first breathe underwater. It's nothing like anything you've ever experienced before. Calm can quickly turn to panic as the entire process is both unnatural and unnerving.
That's why you usually start with the basics in a pool and not the open ocean.
But the calmness and the visibility of Jemeluk Bay under the careful tutelage of our diving instructor made the experience euphoric. It's a giant and gentle 5-metre-deep pool that wraps its arms around you like a big warm hug.
---
---
Sunset each day can be spent with a beer at one of the many beachside restaurants with your feet buried into black volcanic sand as bright colourful traditional fishing boats (junking) set out across the orange horizon.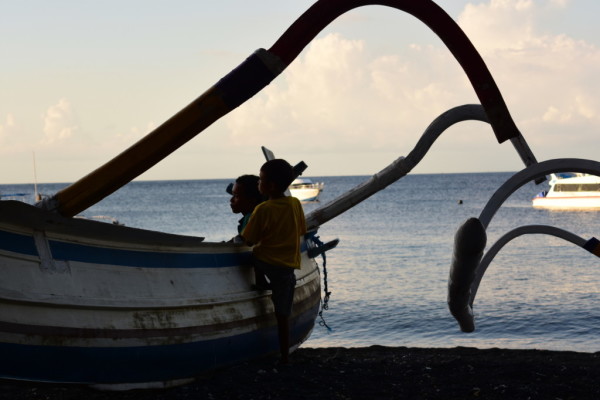 Tulamben & Wrecks
Adventure Divers will usually finish your diving experience in nearby Tulamben. This is one of the most popular dive sites on Bali with the wreck of the Liberty, a US Army Transport ship torpedoed by a Japanese submarine in 1942, lies just off shore.
But if I could give any advice, it would be to do your dive here at Sunrise.
You'll walk out from the shore into the dark water as a blue morning hue emerges in the dawn sky. After final buddy checks and just as the sun peeks over Mt Agung you'll deflate your vest and descend into the black water.
It's not long into your descent before you're able to start making out the twisted, jagged edges of the USAT Liberty which now looks more like an underwater city teaming with sea life than a scuttled warship.
In our pre-dive meeting we're told the first place we would visit is the Liberty's engine room. In here, if we're lucky, we'll come across a school of Bumphead Parrotfish which can weight upwards of 50kg.
As we squeezed through the ship's outer hull, we pulled ourselves into the belly of the wreck where right on cue, a school of Bumphead emerged and swam with us for the remainder of the dive as pre-dawn became morning.
I said I was looking to learn in a place with a little bit of magic and in this moment, on our last day in Amed, I felt like mother nature was doing her very own sleight of hand.
---
---
Adventure Divers Bali Open Water SSI Certification starts at AU$430.
Geria Giri Shanti Bungalows from AU$45 per night.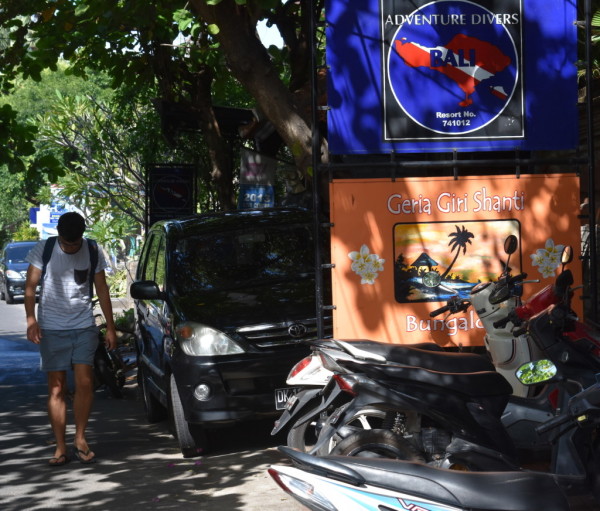 Photography supplied by author.