Given they're located in a country chiselled by the world's best beaches and enviable coastline, the top hotels in Australia don't necessarily need a lavish on-site pool to impress. Why would they? All that's required is a pristine location, then guests looking for an impressive swimming spot don't need to venture far. Regardless, the sometimes make-or-break amenity is always a welcome feature, which is why its wise get across this list of the 17 best hotel pools in Australia.
Our Favourite Hotel Pools In Australia
---
Crown Towers Sydney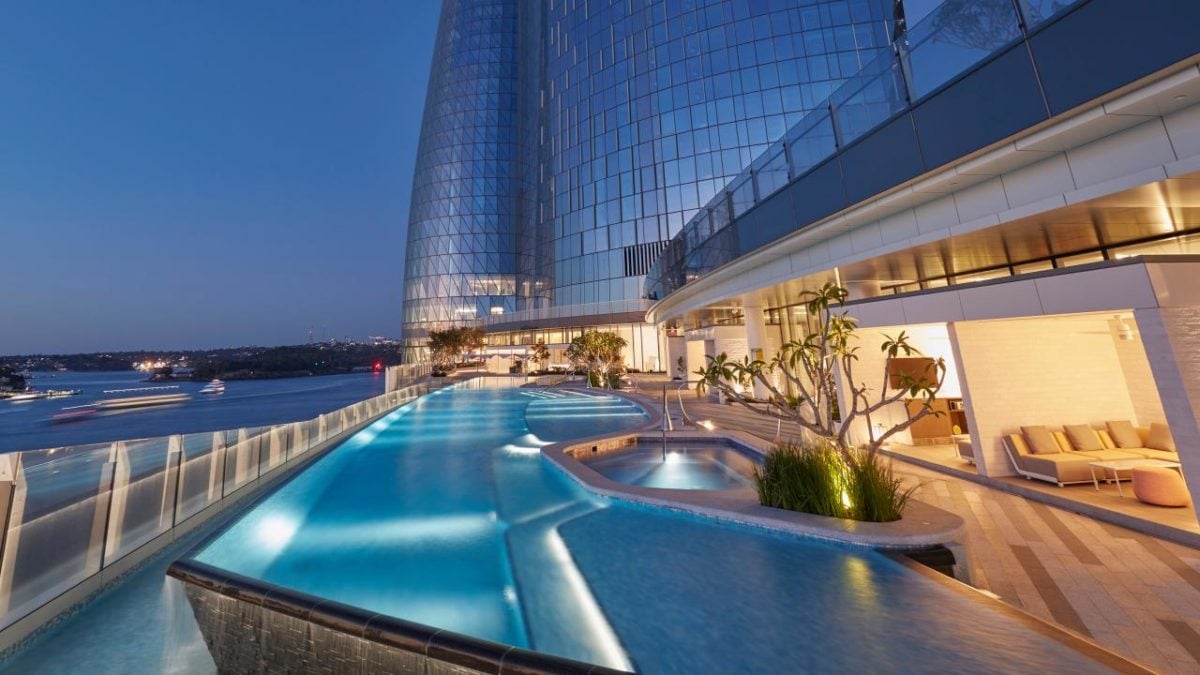 The pool at Crown Towers Sydney is a grand statement. As the newest hotel on this list – and clearly one of the most ambitious in the entire country – the expansive Level 5 pool and its surrounding terrace has been designed to a very high standard. The gorgeous horizon overflows, half-submerged day beds, nearby bar, and secluded cabanas set the stunning scene, but it's the uninterrupted harbour panorama that really seals the deal, shaded by the shadow of this spectacular Dubai-esque skyscraper.
Address: 1 Barangaroo Ave, Barangaroo NSW 2000
Contact: (02) 8871 6371
---
---
---
Lake Argyle Resort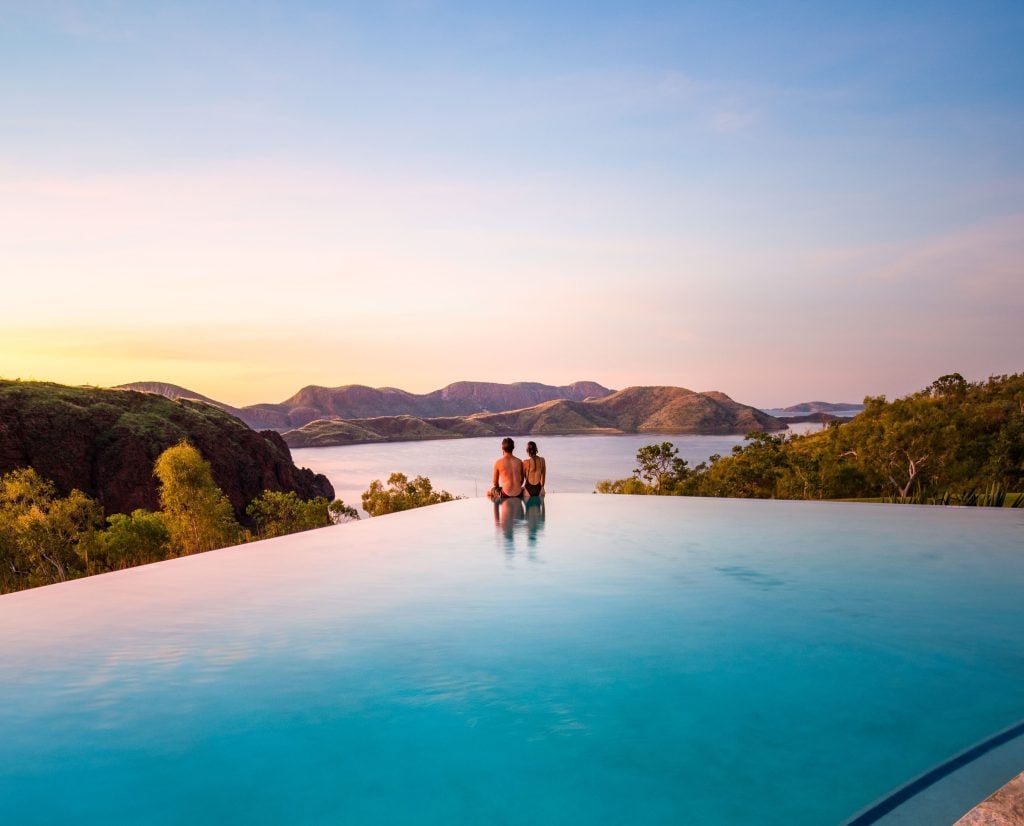 Featuring the most spectacular infinity pool in The Kimberley makes Lake Argyle Resort a shoe-in for a list of the best hotel pools in Australia. There's no way this 35 metre wet edge infinity pool could fail to impress, looking out over the singular setting.
Address: Lot 525 Lake Argyle Rd, Lake Argyle WA 6743
Contact: (08) 9168 7777
---
Sofitel Sydney Darling Harbour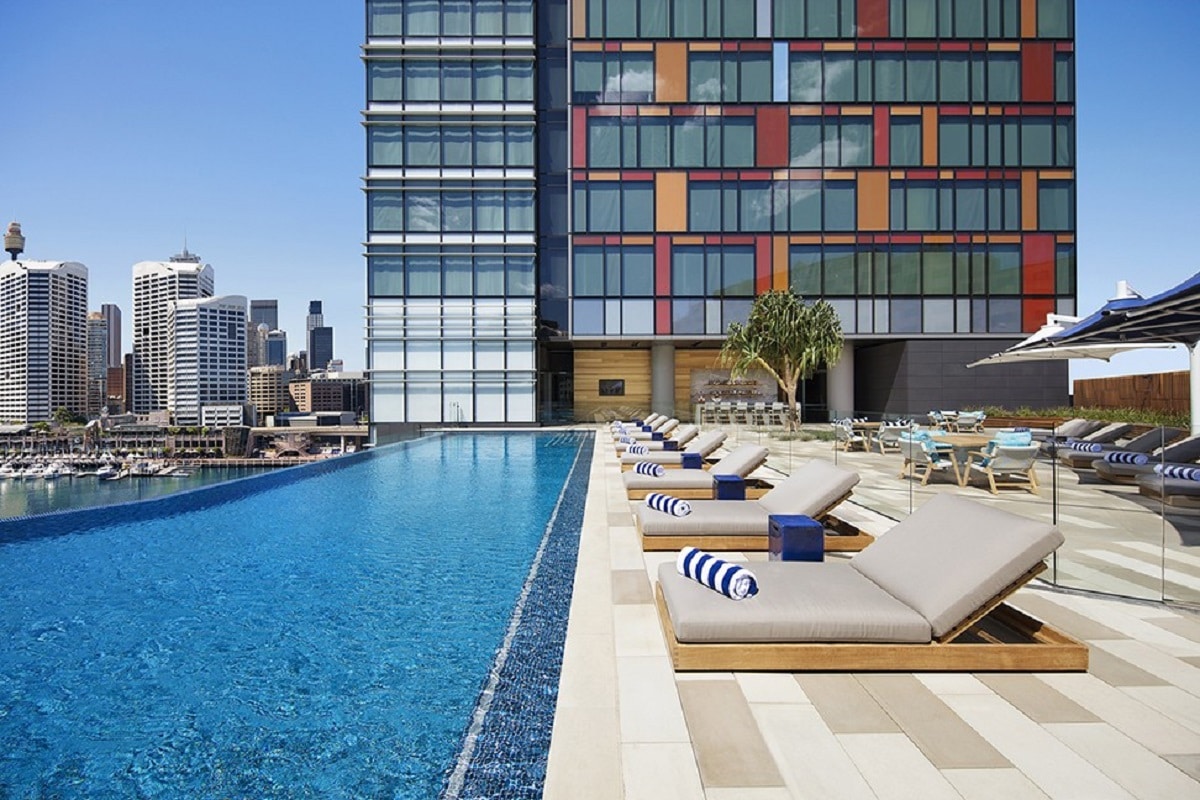 Sofitel Sydney Darling Harbour's picturesque infinity pool owes a lot to the tower's dominion over the precinct, with vistas stretching from a perspective in Sydney that, up until the hotel's opening in 2017, was never utilised properly. Sofitel easily makes up for lost time, with a gorgeous 20m pool that stretches over the edge of the fourth floor. Le Rivage, a respectable cocktail bar, completes the picture of pure relaxation. Clearly, this is one of the best hotel pools in Australia.
Address: 12 Darling Dr, Sydney NSW 2000
Contact: (02) 8388 8888
---
The Riley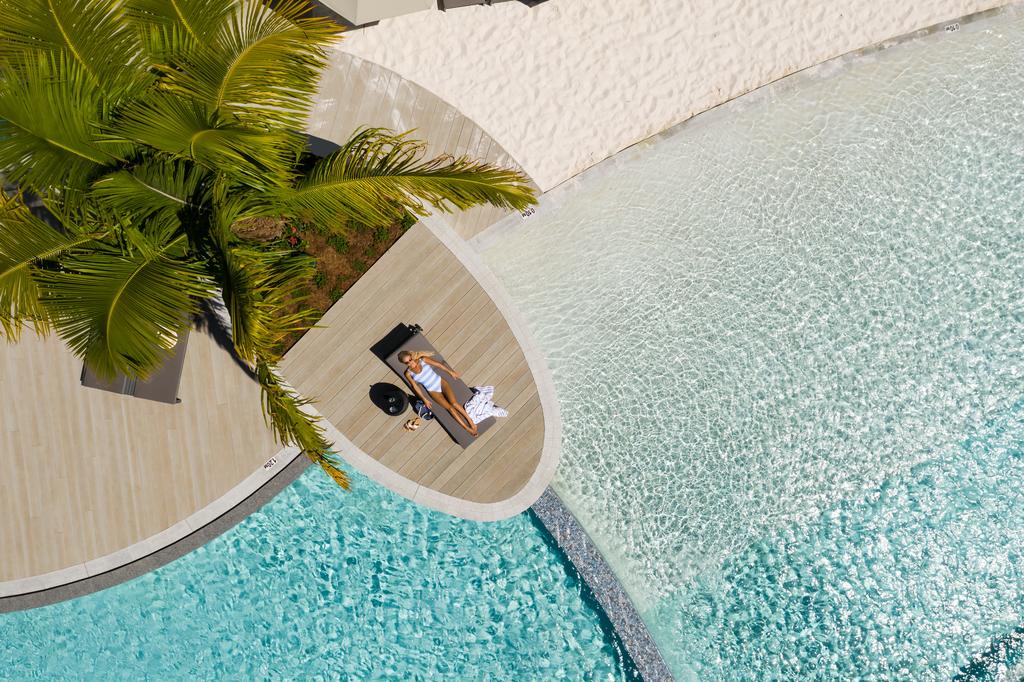 With Cairns as its backdrop, The Riley cobbles together three different pools to create a 'swimming lagoon' that's over 1,000 square metres of pure turquoise heaven, overlooking the Coral Sea. The main, 25 metre lap section is the prime spot, but anywhere around this enormous rim of water is going to make you feel like you've just found the best hotel pool in Australia.
Address: 131-141 Esplanade, Cairns City QLD 4870
Contact: (07) 4252 7777
---
InterContinental Sydney Double Bay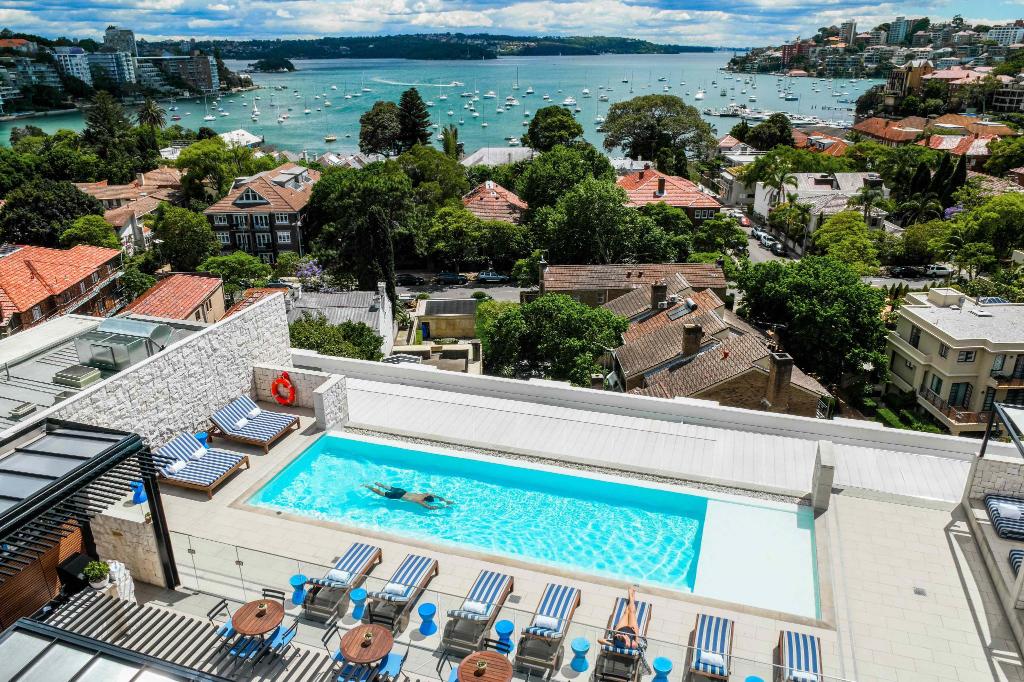 Although it may be tiny compared to other lap kings on this list, the expansive view out towards Double Bay places this rooftop pool & bar as one of the best in Sydney. It was originally meant as an exclusive area for hotel guests, but swift demand pushed the floodgates a bit wider; now all it takes is a little early booking and a lot of disposable income to have a full day up here even if you aren't staying overnight in the lush mansion-like property.
---
---
Address: 33 Cross St, Double Bay NSW 2028
Contact: (02) 8388 8388
---
The Langham Sydney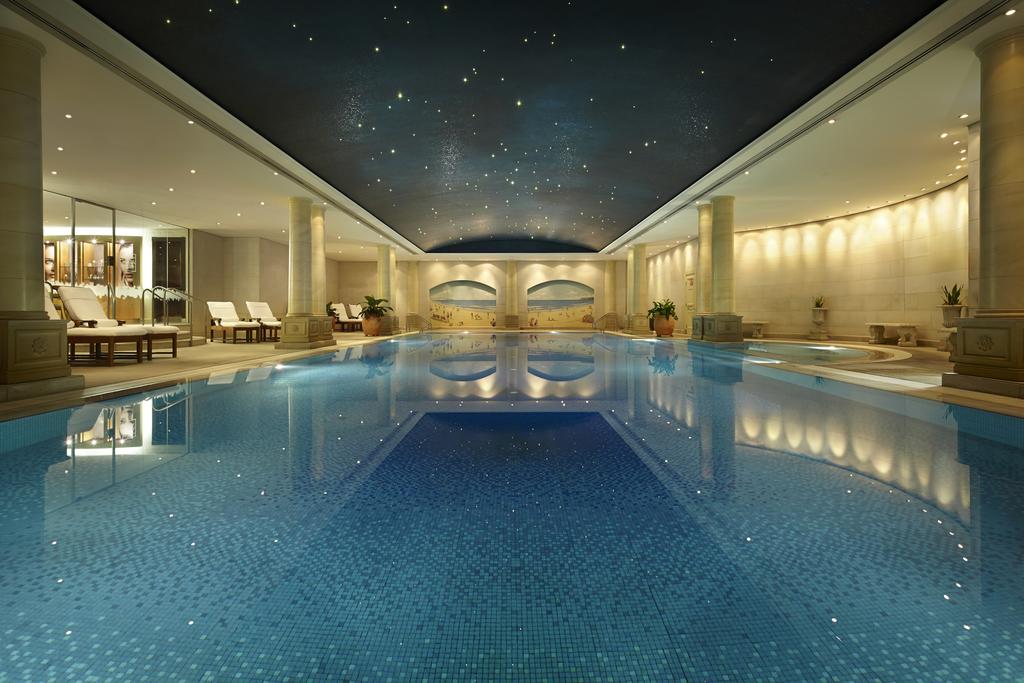 The greatest indoor pool in Australia? It could very well be. Thought The Langham Sydney foregoes the natural splendour of some other luxury hotels, this pristine property doesn't skimp when it comes to swim time. A sky ceiling and beach murals flank this 20m bathhouse-like pool, which is one of the most relaxing you'll find when searching for the best hotel pools in Australia.
Address: 89-113 Kent St, Millers Point NSW 2000
Contact: (02) 9256 2222
---
Longitude 131°
There is no other hotel pool in the world quite like the one at Longitude 131. Although its a uniqueness entirely owed to the iconic Uluru, with the impressive sandstone monolith playing the background to the sparkling, modestly sized pool – one of the best in Australia and certainly the most symbolic.
Address: Yulara Dr, Yulara NT 0872
Contact: (02) 9918 4355
---
Park Hyatt Sydney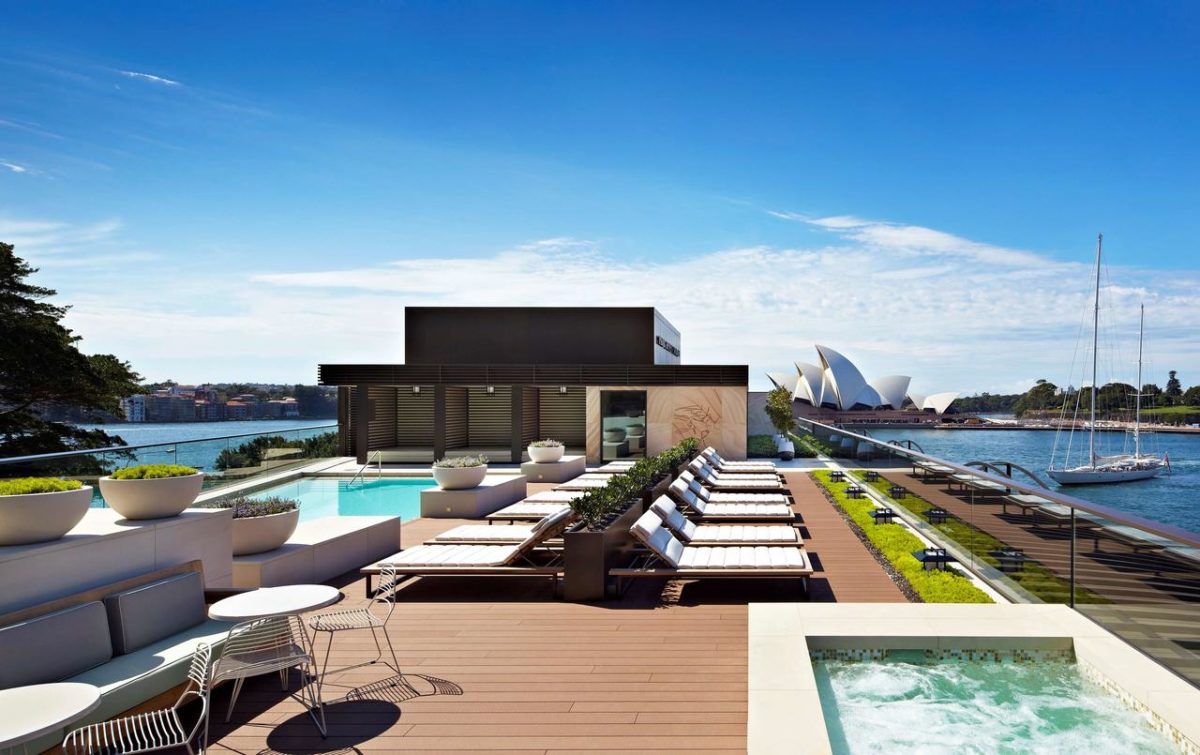 No other rooftop hotel pool in Sydney – or the world, for that matter – boasts a view like this. The sparkling, largely uninterrupted views of Circular Quay are pulled straight towards the Park Hyatt's generously sized pool deck, giving it an unsurpassed reputation amongst visitors (and locals who want to remind themselves of the city's unique identity).
Measuring in at 11×6 metres, the pool is a simple, relaxing body of water, but the real winner here is the spa – positioned so perfectly to maximise views of the Sydney Opera House.
Address: 7 Hickson Rd, The Rocks NSW 2000
Contact: (02) 9256 1234
---
---
---
Emirates One&Only Wolgan Valley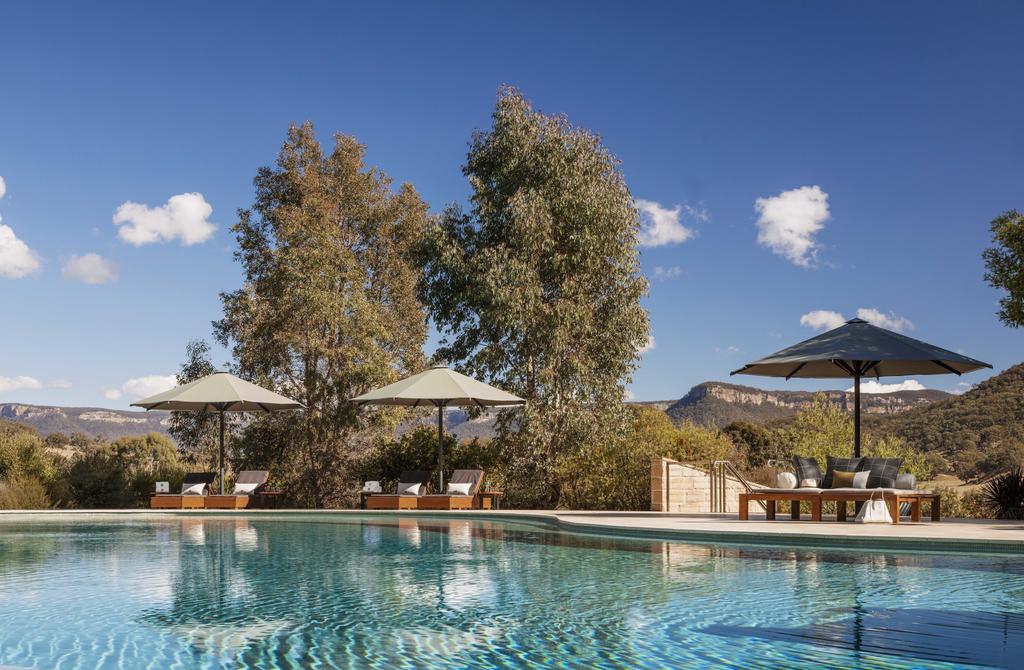 Emirates One&Only Wolgan Valley matches its unrivalled natural setting, about two hours west of Sydney, with a gorgeous 26 metre open-air pool that fully takes advantage of the surrounds. Those towering escarpments and visiting wildlife complete the picture of pure serenity. And those who aren't too keen on sharing each have large villa pools to keep them contented.
Address: 2600 Wolgan Rd, Wolgan Valley NSW 2790
Contact: (02) 6350 1800
---
The Chen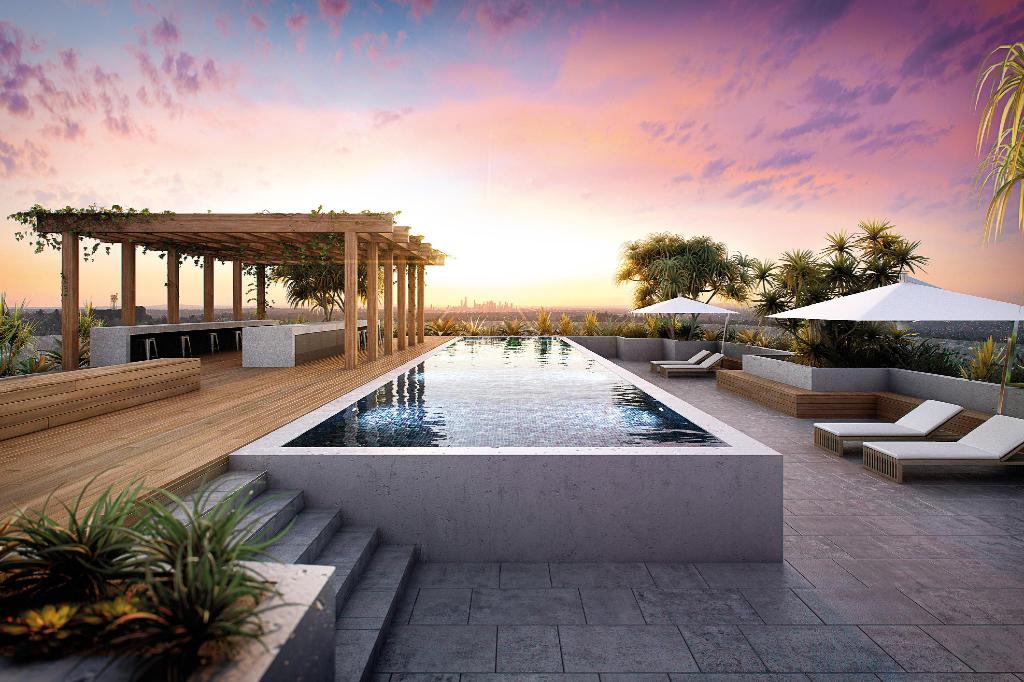 You wouldn't really expect an Art Series Hotel to boast one of the best hotel pools in the city, but The Chen's surprising location is actually its strength. Given Melbourne's dense urban setting, the best views are offered far outside of the CBD, and this Box Hill hotel takes full advantage of that. The glistening rooftop pool looks back to Melbourne's magnificent skyline, making it a clear winner for those horizon shots.
Address: 850 Whitehorse Rd, Box Hill VIC 3128
Contact: (03) 9131 0200
RELATED: The World's First Sky Pool Floats 115 Feet Above Ground
---
The Byron at Byron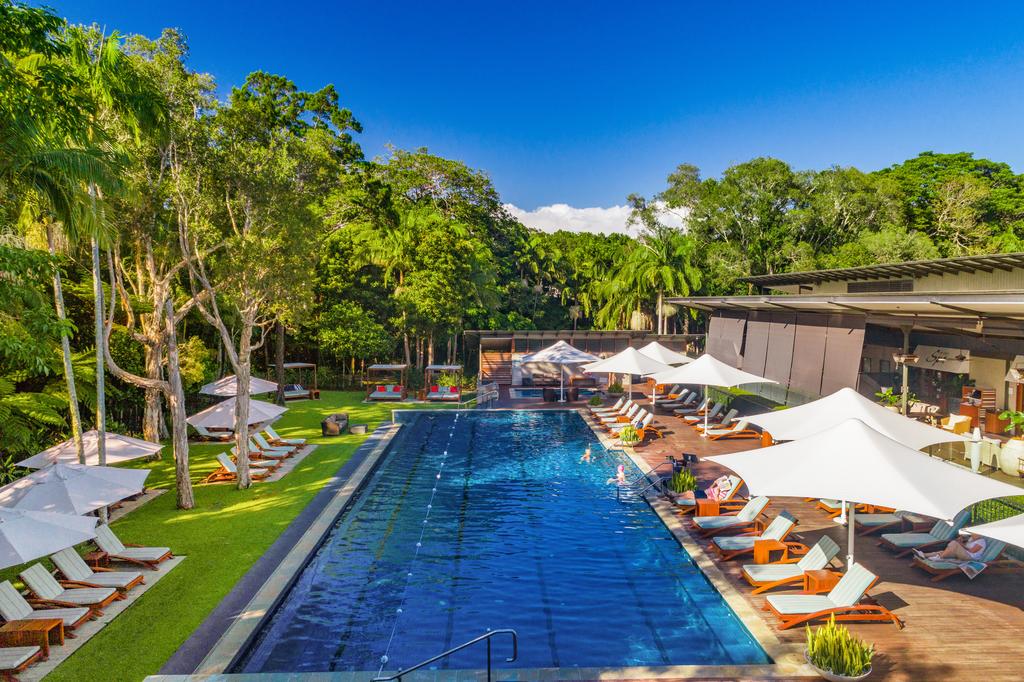 When you're not venturing around the 18 hectare, sub tropical rainforest – the setting for boutique luxury property The Byron at Byron – you're probably relaxing by the massive lap pool. It feels like the yard of a well-kept mansion out there, with lush greenery and cocktails framing the massive body of water.
Address: 77-97 Broken Head Rd, Byron Bay NSW 2481
Contact: (02) 6639 2000
---
Bannisters Port Stephens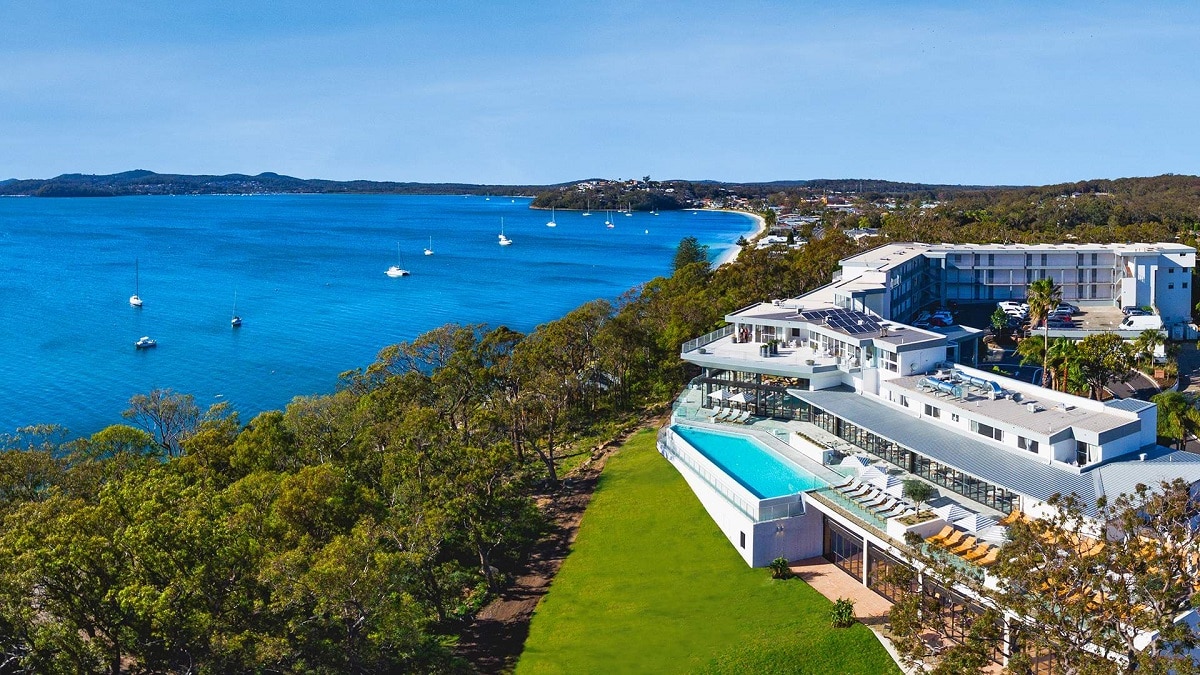 The best way to truly soak up the waterfront location of Bannisters Port Stephens is easily by wading through to the edge of the infinity pool. Although it wouldn't be quite what it is without an excellent bar to go along with it, offering plenty of quality refreshments as you take in the view of the sprawling Pacific stretched out from that tree line.
---
---
Address: 147 Soldiers Point Rd, Soldiers Point NSW 2317
Contact: (02) 4919 3800
---
COMO The Treasury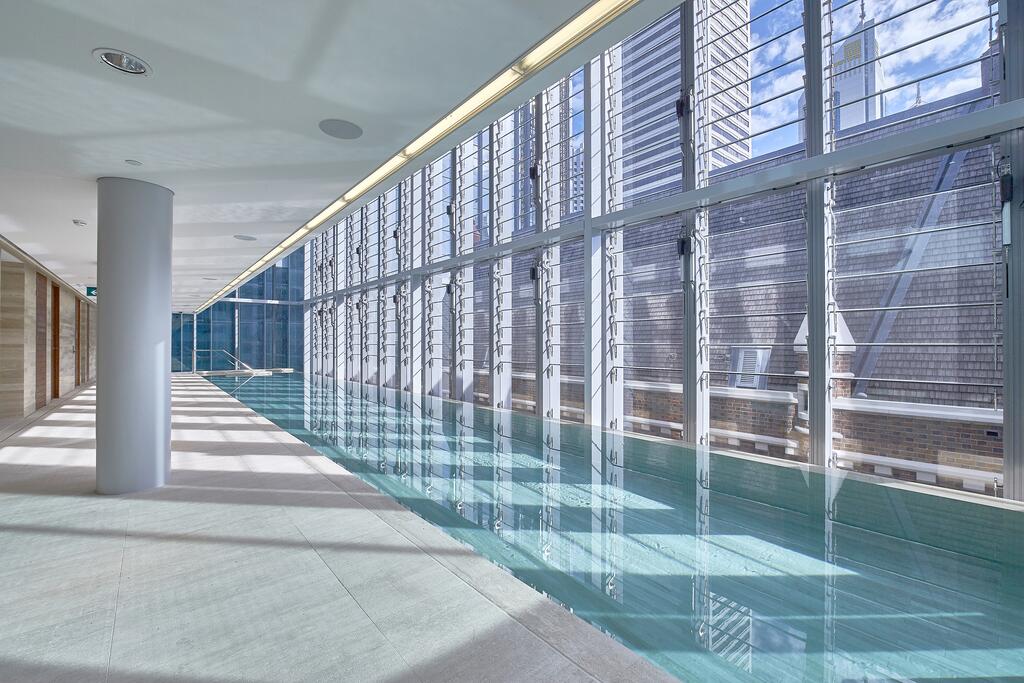 Much like all the other features at the perennially award-winning COMO the Treasury, the 20 metre indoor heated pool is sublime. The design is simple and elegant, perfectly aligned with the nearby spa and gym with a focus on providing a meditative getaway in the heart of Perth that taps into the type of intimacy high-end hospitality is built upon, walled on three sides by towering glass windows.
Address: 1 Cathedral Ave, Perth WA 6000
Contact: (08) 6168 7877
---
QT Gold Coast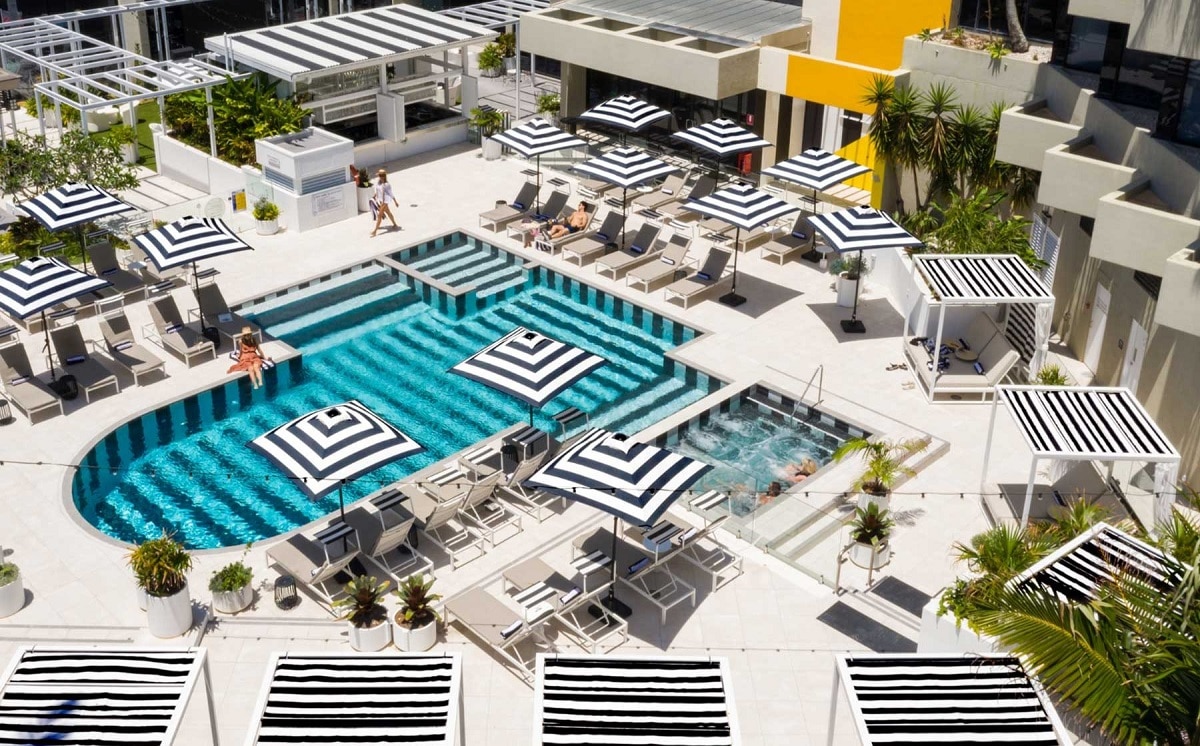 Recently remodelled, the pool at QT Gold Coast is easily one of the trendiest non-beach spots in Surfer's Paradise. Aligned with the same slick, slightly irreverent vibe that characterises the QT brand, the Palm Springs-inspired pool precinct is now as vibrant as the hotel rooms, with plenty of places to lounge and soak up the sun.
Address: 7 Staghorn Ave, Surfers Paradise QLD 4217
Contact: (07) 5584 1200
---
Palazzo Versace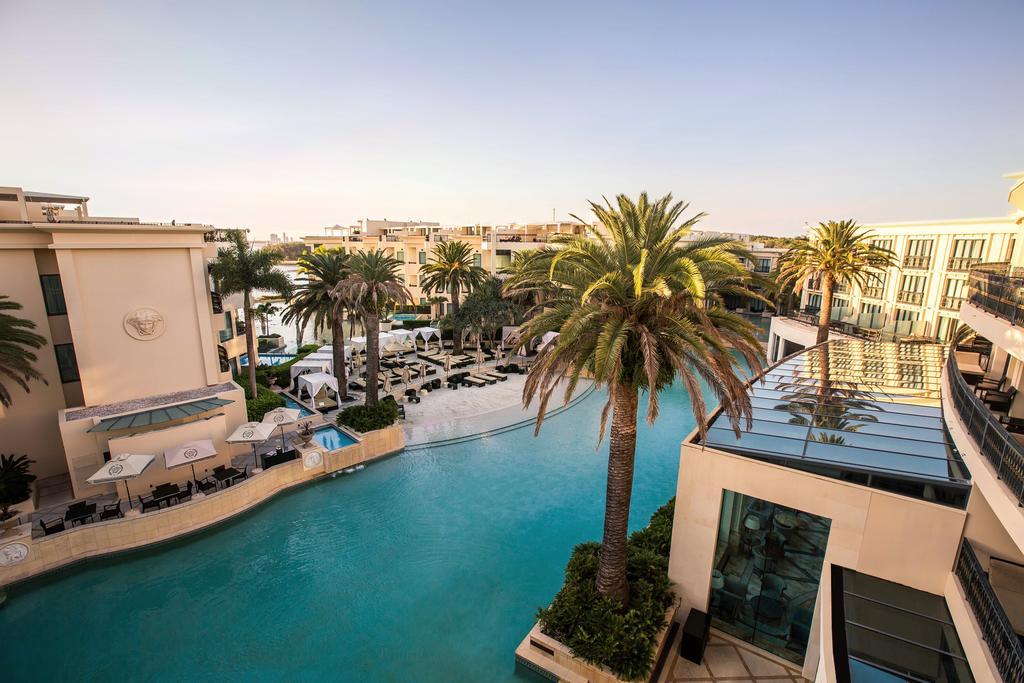 At 63 metres in length, it's safe to say the pool is one of the key features of the Palazzo Versace. The property prides itself on the kind of extravagance and style you'd expect from the fashion-branded hotel, which is still considered one of the premier luxury hotels on the Gold Coast despite an increasingly large amount of competition. You'd expect nothing less from one of the best hotel pools in Australia.
Address: 94 Seaworld Dr, Main Beach QLD 4217
Contact: (07) 5509 8000
---
JW Marriott Gold Coast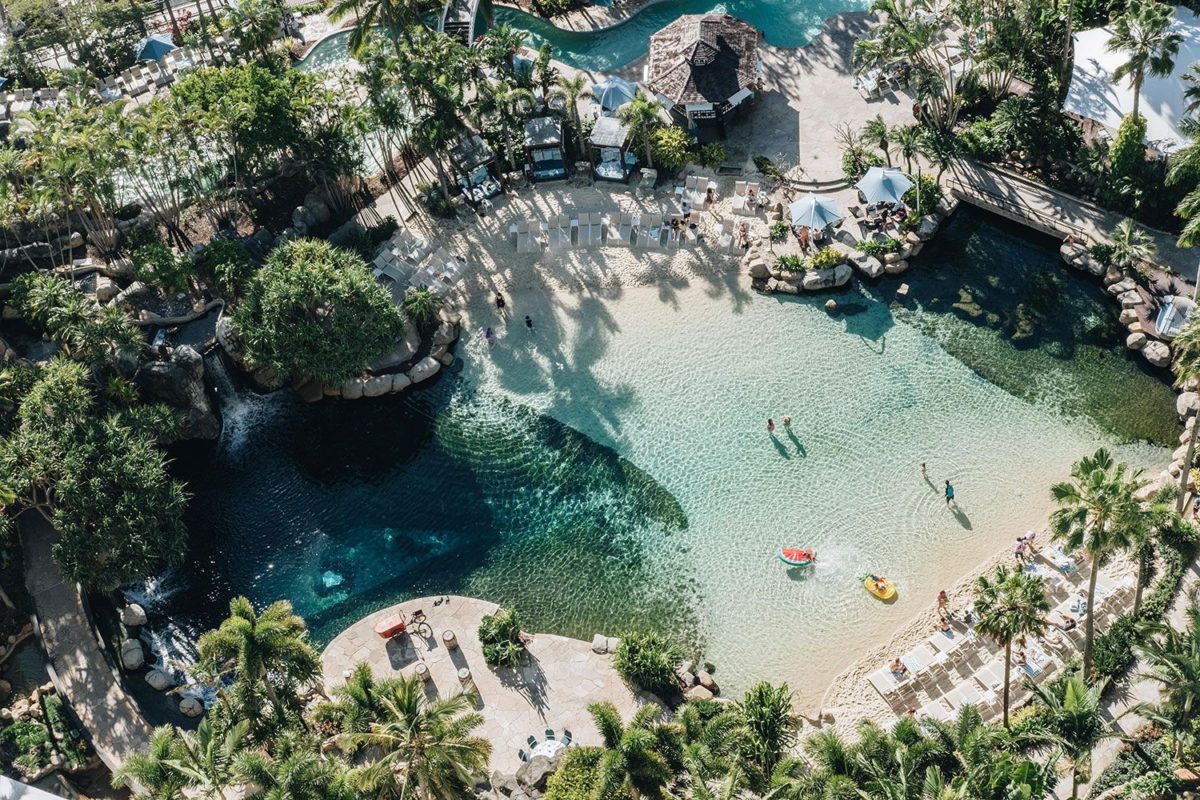 Could this be the most visually appealing hotel pool Australia has ever seen? All signs point to yes at the JW Marriott Gold Coast, a statement-making luxury hotel with all the trimmings you'd expect from the famously high-end brand. While there's a regular heated swimming pool for those who want to keep it simple, the hotel has its own supersized saltwater lagoon (complete with fish) to flex on just about every other outdoor pool in the country.
---
---
Address: 158 Ferny Ave, Surfers Paradise QLD 4217
Contact: (07) 5592 9800
---
W Melbourne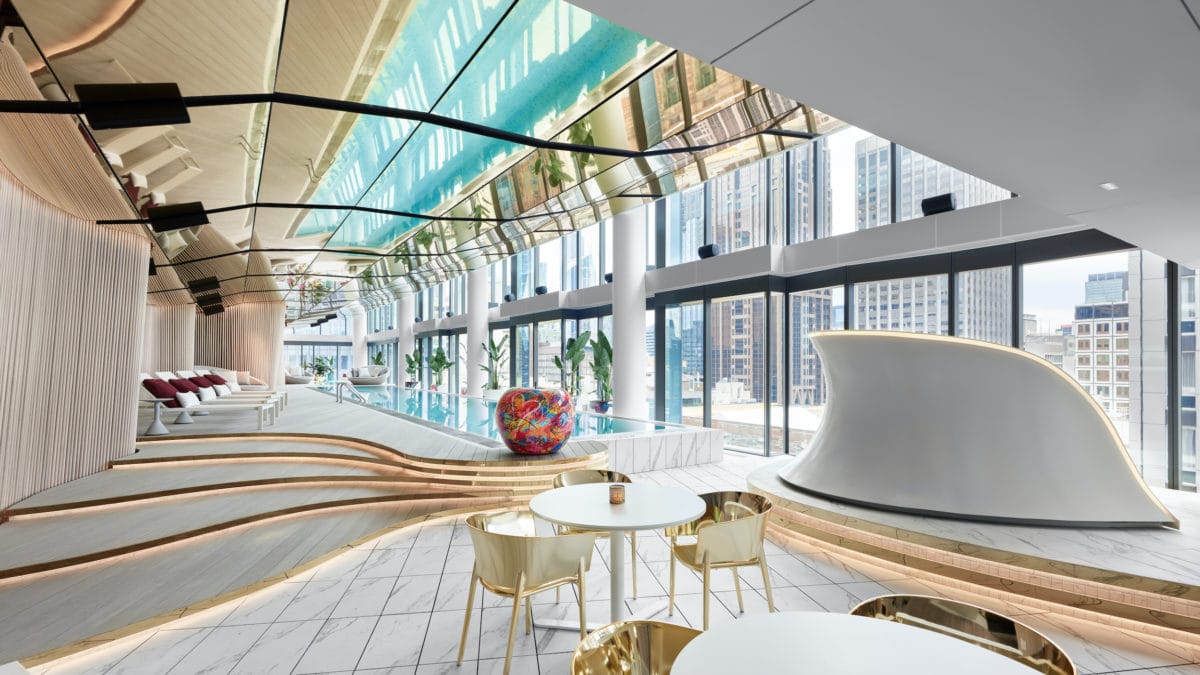 The newly opened W Melbourne is an obvious choice for a design-led luxury hotel that's built with a huge personality. Of course, that kind of dramatic approach to modern luxury accommodation needs to be elevated by one of the best hotel pools you can find in Melbourne. The design team has clearly delivered here, working up an indoor heated pool bolstered by panoramic city views and curved materials inspired by the flow of the Yarra River. There's also a poolside bar and a DJ booth that'll come in handy once W Melbourne starts ramping it up with the brand's famously lavish hotel parties.
Address: 408 Flinders Ln, Melbourne VIC 3000
Contact: (03) 9113 8800
---
Adelphi Hotel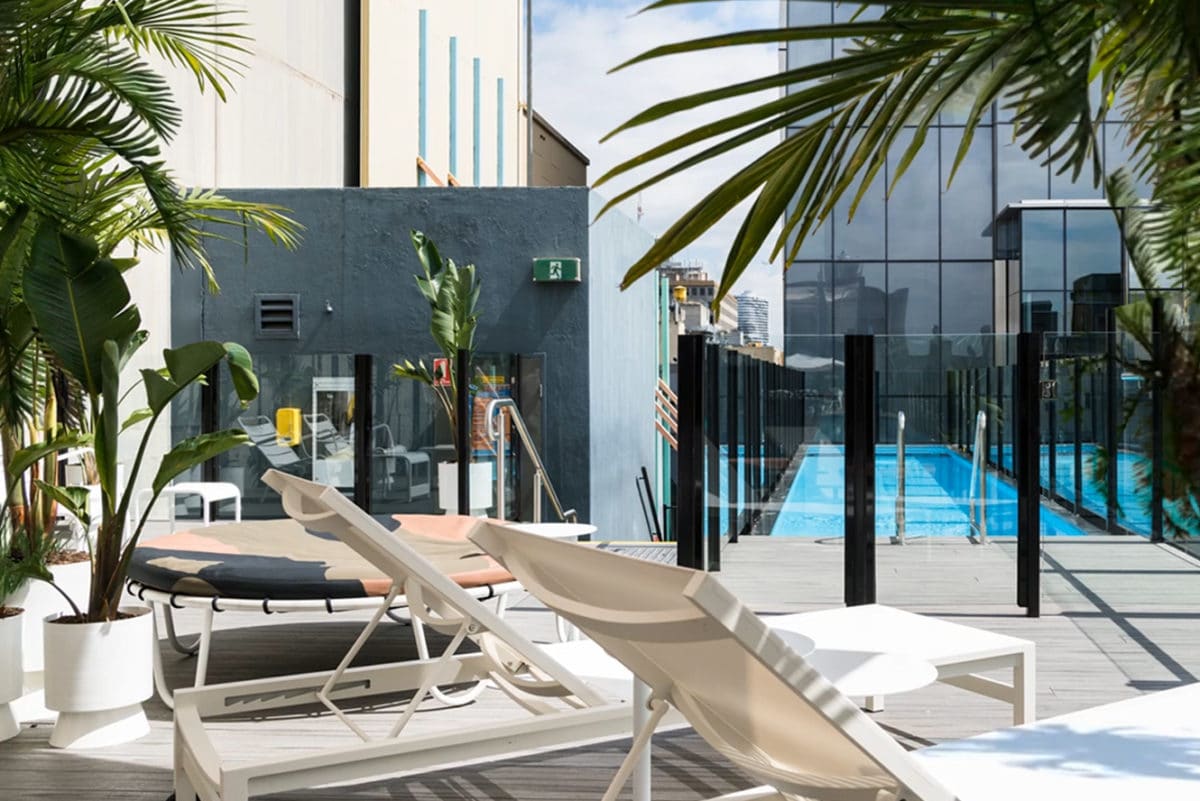 The historic Adelphi Hotel in Melbourne is a favourite for visitors and staycations, not just because of the immaculate service throughout the 34-room property, but it's location. Adelphi is located on Flinders Lane, which places it amongst some of the best dining in Melbourne and a short-walk from essentials like the National Gallery of Victoria and Queen Victoria Gardens. You'll want to take some time to explore the property though, especially its unique rooftop pool, which features a glass bottom and protrudes from the building, giving swimmers a memorable view, nine storeys down to the street.
Address: 187 Flinders Ln, Melbourne VIC 3000
Contact: (03) 8080 8888
---
Not relaxed enough? Check out the best hotel bathrooms in the world.