When luxury travel breeds with dark tourism, the typical results are hotels with sordid, notoriously haunted histories. Britain's latest high-end boutique property is no exception, although it remains unique in the way it has been brought to life, rather amusingly converting the 18th century Bodmin Jail prison in Cornwall into a hotel of uncompromising luxury. Blended with some genuinely eerie elements to pay ode to the building's storied past. And while Aussies may have to wait until more travel bubbles open before we can even thinking about a night at the 4-storey, 70-room Bodmin Jail Hotel, the story that sits behind its new life is fascinating.
Bodmin Jail was originally built for King George III in 1779, a condemning task that fell on 20,000 prisoners who reportedly bought 20,000 tonnes of granite from Bodmin's Cuckoo Quarry to the site. Once constructed, Bodmin Prison was considered somewhat of a pioneer in construction, with hot water and living quarters that at least had some decent ventilation for inmates. It was also home to an execution shed with a 4.5 metre deep Victorian hanging pit, where at least 55 hangings took place.
Now instead of hanging people until their dead, it's a place of refuge for luxury travellers and the perversely curious to rest their head. Bodmin Jail Hotel is a prime example of what happens when a luxury hotel is built with extraordinary vision. Although the designs are clearly sadistic in the way they have connected with the Bodmin Jail's origins, almost admiring crime and punishment, with the best example being a preserved cell where a prisoner condemned to death spent their final night. The in-situ cell is one of several elements of the prison's history largely undisturbed, leaving no question as to where guests are spending their time.
---
---
RELATED: The 17 Best Hotel Pools You Can Find In Australia
Another retained feature is a crumbling wall. Unsightly, sure. But it's a reminder of just how well-built the building was.
After the jail's final closure in 1927, a demolition firm came on board to try and replace the entire site with a housing development. Dynamite was encased in walls and detonated, but many of them failed to collapse. After unsuccessful attempts at knocking down the walls, the building was left to rot. One of these immovable walls now serves as something of an art exhibition, weather-damaged due to a crumbled ceiling.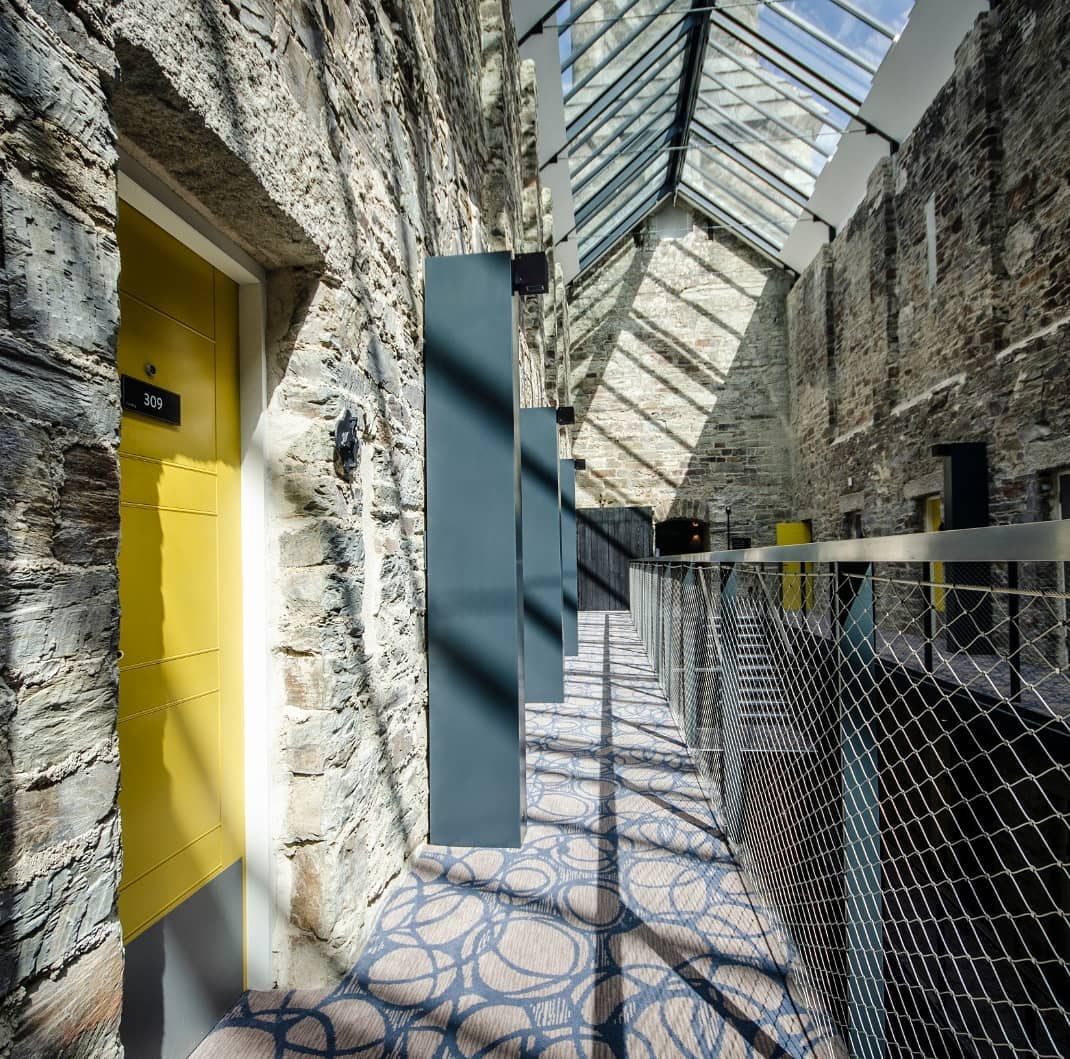 Post-prison, Bodmin Jail went through a number of iterations. Before the 1927 closure, it was used to house the Crown Jewels. Throughout the 1930s, it saw many lives as a casino first, then a nightclub, and then a dark tourism attraction with popular mock executions. It has always been a popular attraction for those with an interest in the paranormal, seeing as it's still considered one of the most haunted sites in Britain.
Around US$71m (AU$91m) was spent during a six-year makeover project, where London-based firm Twelve Architects meticulously attempted to fuse the building's past with its lavish future. Lead architect Matt Wright has shown great ingenuity in how he has maintained the prison's wings and kept them looking like foreboding prison sentences while also converting cells into suite-style rooms.
A massive glass-built roof keeps the hotel bathed in natural light during the day, and offers direct vision to the stars during the night. So guests can come out of their "cells" and can come and star-gaze, or get away from the apparent spirits who will keep them up at night (although the Egyptian cotton linens, deep-soaking tubs, and comfortable amenities should keep them comfortable, regardless of how many things go bump in the night).
RELATED: The Wildest & Most Remote Luxury Hotels in Australia
---
---
In a similar vein to Hobart's story-driven MACq 01, each individual cell room is prefaces by a plaque detailing a prisoner who once served their sentence in the very space the guest is the lay their head. Much like Augustus Hill does in HBO classic Oz, the plaque goes into details about the prisoner's crimes and why they were sentenced here in the first place. Just to give add a little bit of theatre to it all.
Although the hotel only opened a few months ago, plans are already in place to make full use of the entire Bodmin Jail, even the more derelict parts. The old chapel, for example, has now been converted into a luxury dining restaurant. There will also be the typical hotel amenities like a spa, Executive Lounge, and a luxury Champagne & gin bar.
The Bodmin Jail Hotel is, of course, not the only example of a prison being converted into a hotel. The super premium Four Seasons in Istanbul is the former Sultanahmet Prison, and there are also examples in Boston and Oxford. Bodmin Jail Hotel is, however, is almost obnoxiously taking a romantic view of its painful past. It's very clear that the team behind this hotel wanted to shock. I mean, you can even get married there.