Although a highly anticipated fleet of 21 Boeing 777-9s for Cathay Pacific won't be delivered for at least another four years, Hong Kong's flag carrier has now revealed tentative plans for the aircraft's new First Class product. European industrial design agency Yellow Window were amongst several shortlisted specifically for their concepts of Cathay Pacific's all-new First Class suites, and if the images are anything to go by, we might be looking at a completely new standard of high-end commercial travel.
If not for the wide-reaching COVID-19 pandemic and a raft of delays from Boeing, Cathay Pacific's new First class would be launching this year. After all, the order for all 21 Boeing 777-9s was first signed back in 2013, with deliveries slated to roll out between this year and 2024. However, Cathay confirmed late last year that the arrival of their new flagship fleet has been postponed until "beyond 2025".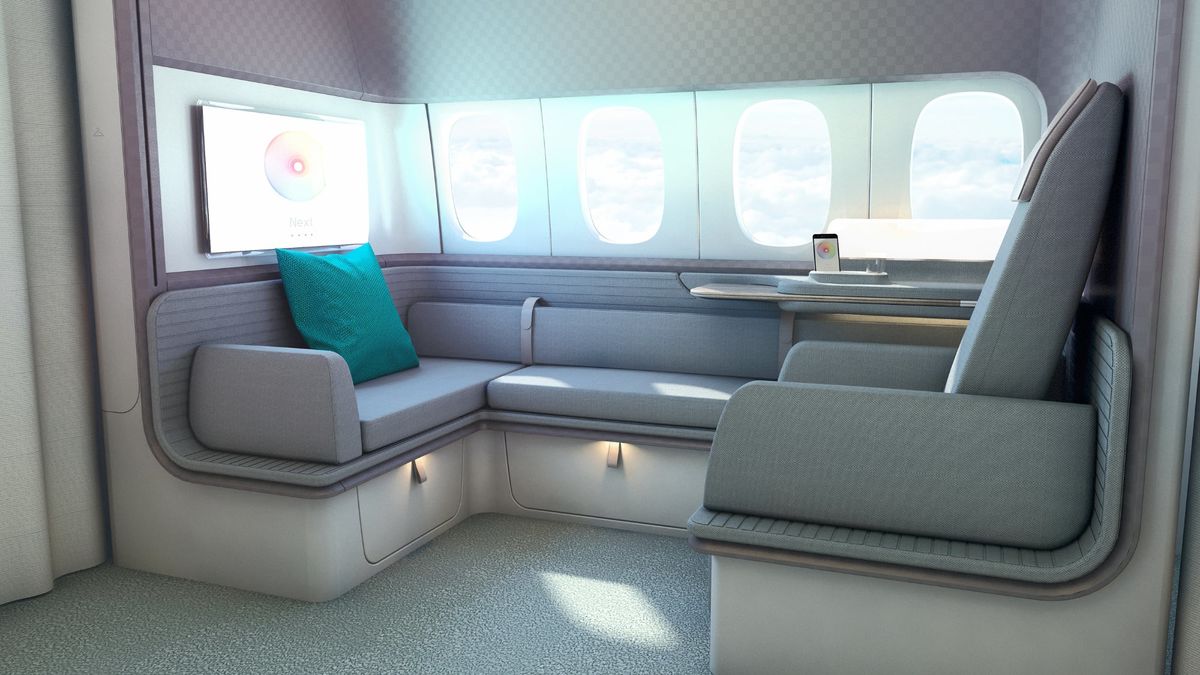 The Boeing 777-9s were meant to be signified by the reveal of the new First Class cabins, replacing the current design, which initially debuted for the carrier in 2007. And these changes should also be extended to Cathay Pacific's current fleet of Boeing 777-300ER, retrofitted to replace the existing First Class cabins.

Two design concepts have been shortlisted from Yellow Window, with both reportedly inspired by the "subtle quest for balance and harmony" that's so central to various Asian cultures.
---
---
The first, an elongated suite design that sticks closely to the door-less approach of the current high-end cabins.
As you can see from the images the almost cocoon-like set-up will offer a tremendous amount of space. According to Yellow Window, the cabin design was inspired by the idea of 'metamorphosis' with several different configurations proposed for different points throughout the journey. The flexible design means that the set-up can just as easily act as a lounge as it can an office, dining room, or bedroom.
In the image immediately below, the suite is set to office mode, although the bottom part of the seating module can easily be folded up to create a legrest, with under-seat stowage for small cabin bags. For those who want to transform the suite into a bedroom, straps along the bench can be released to reveal a fold-out surface which can be extended for the entire width of the suite, creating enough space for a long, fully-flat bed.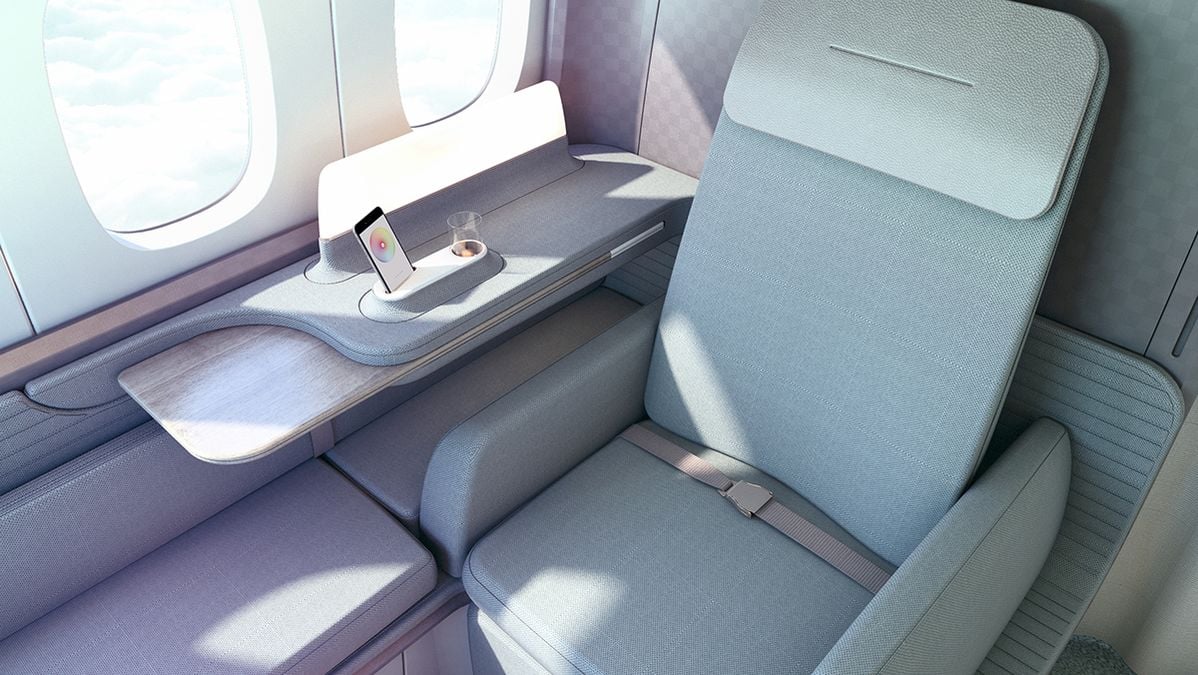 Other notable design flourishes will include LED lighting features alongside the shelving attached to the fold-out dining table, as well as a smartphone holder that doubles as a charger, and a recessed drink holder. A window shade can be dropped from the ceiling to segment the suite amongst the 1-1-1 cabin layout, which should be an easy fix for those who want privacy despite the relentlessly open design.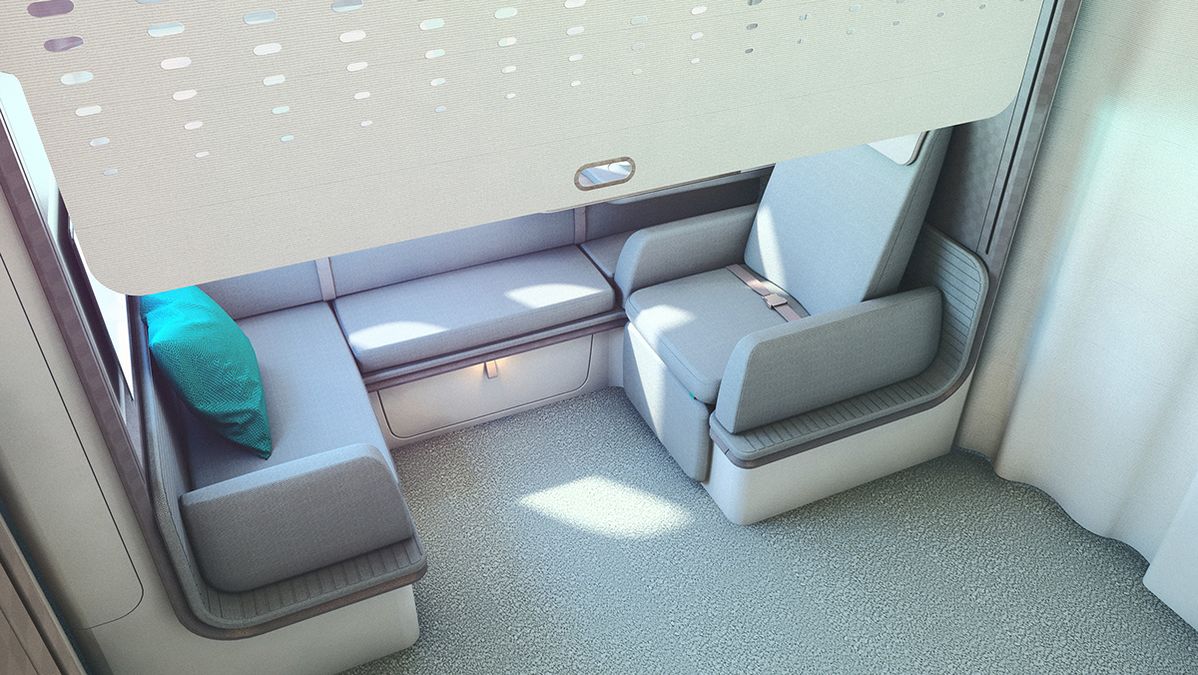 Yellow Window's second proposal would be used to create two extra-large First Class suites in the aircraft's cross-section, defined by a separate bed and seat. These would be paired to allow a total of four First Class berths on the aircraft, with enough space for features like a substantial armrest, a large flat-screen video panel, and curved panels around each suite for a high degree of privacy without having to use sliding panels or doors.
Whether either or none are chosen remains entirely up in the air for now. We won't be finding out final plans for Cathay Pacific's new First Class cabins until much closer to the delivery date. Still, it's an intriguing look into how luxury travel is going to look like in the future on board one the oneworld member and leading airline.
For a closer look at the current First Class cabins onboard Cathay Pacific, head to the link below.
---
---