Sure you've been cooped up for most of this year, waiting out a global pandemic and trying to navigate "the new norm". But what about ol' four legs? As much as you might need to soak up the stress-free smack of a quick luxury hotel getaway, your pup needs it more. After all, the pooch has probably had to put up with the herculean task of tolerating less alone time, with a needy human constantly in their face. We'd say they've earned a bit of home-away-from-home indulgence with Sydney's many dog-friendly luxury hotels.
If you want to reward your best mate for just being there this year, take note of the following dog-focused packages, each dead set on making sure your canine companion is just as spoiled as you.
RELATED: 120 Best Dog Names For Your Brand New Pup
QT Sydney & QT Bondi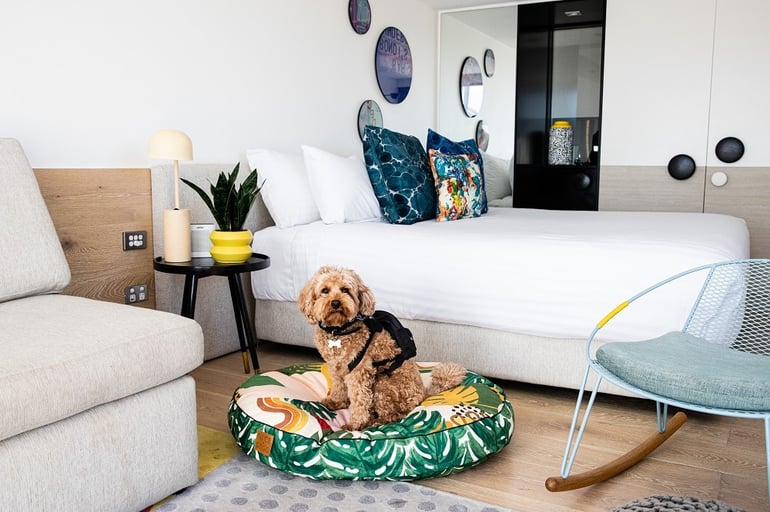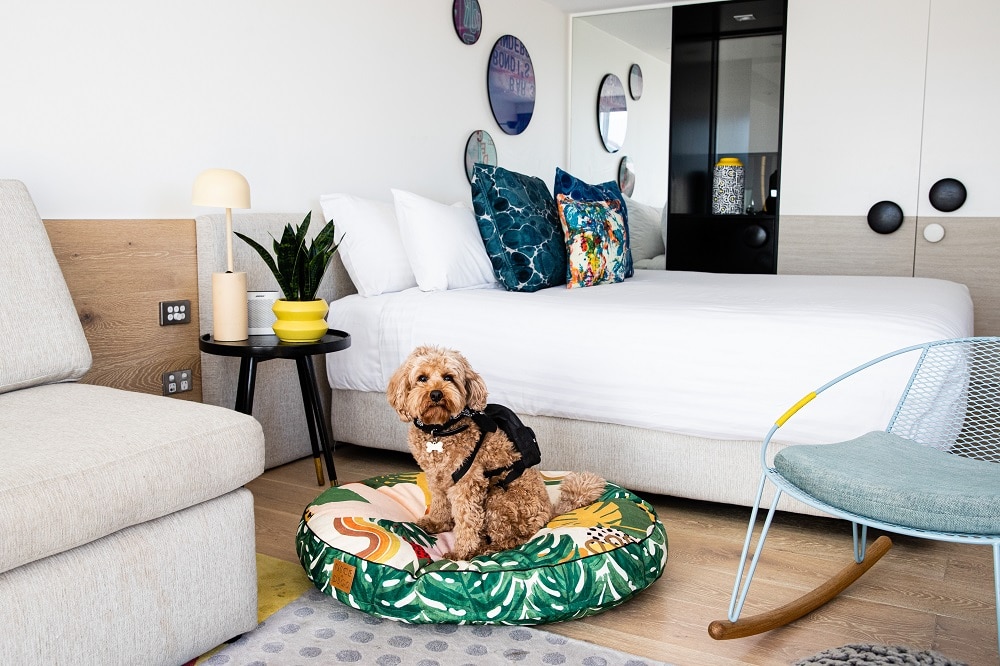 QT's Sydney and Bondi hotels have got some serious chops when it comes to a pup-friendly luxury stay. Along with other QT properties across Australia (and New Zealand), both designer hotels have now dedicated some of their rooms to a new "Pup Yeah!" package, taking the idea of a dog-friendly staycation to the next level with "pawdicures" and mud masks at QT Sydney's spa, an in-room dog menu boasting steak tartare, liver on toast and ice cream sandwiches, and, for QT Bondi, a plant-based selection of treats like sweet potato meatballs and "Pupcakes" – just in case your numero uno is on a diet.
Each "Pup Yeah" booking is also fitted with dedicated designer bedding and a separate mini-bar for the four-legged treat fiend, making it much more than just a 'hotel where your dog is also welcome' situation.
The Langham Sydney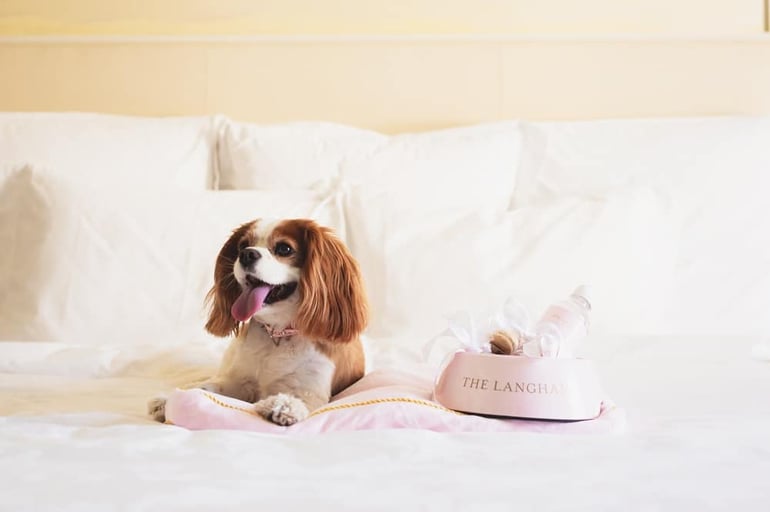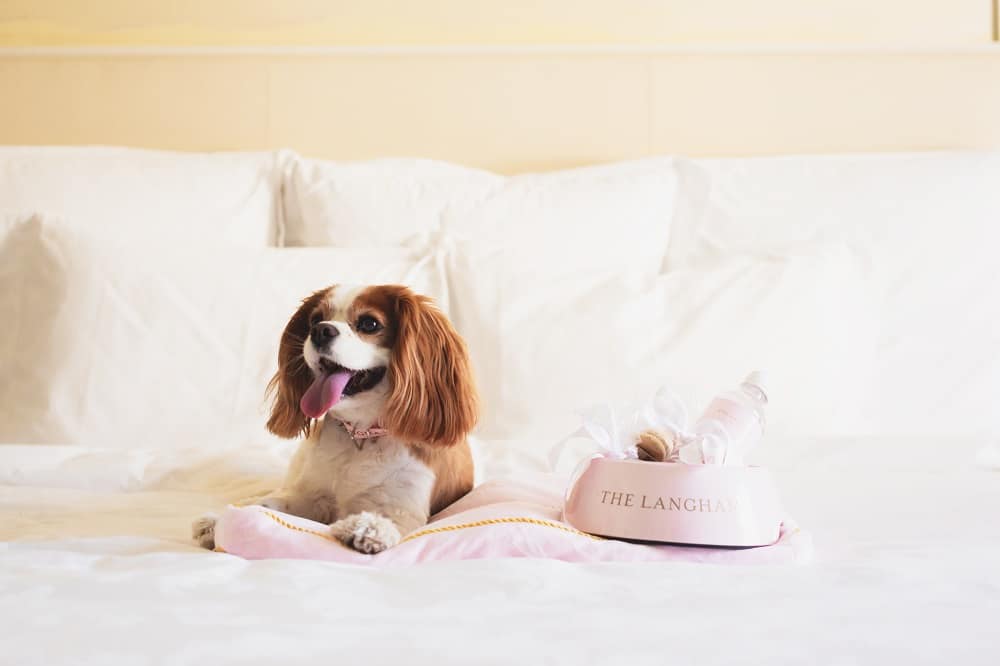 If you book into swish five-star hotel The Langham Sydney and claim the "Pampered Pets Staycation" package expect a whole lot of indulgence for both you and your furry friend. The deal is priced for a one night stay in a generously sized Deluxe City King Room, all decked out with a luxurious "pet bed", water and food bowls, and a bag full of doggy treats.
It doesn't stop there. In between a complimentary "Pet Afternoon Tea" on arrival, dog-friendly breakfast in bed, and a service menu with dishes made daily without onion, garlic or acids, there's also the option to book a session with a Pampered Pets Stylist and, if you're really going all the way, set-up in-room photoshoots following a round of "pawdicures" and pet-friendly facials. And if for whatever reason you need to duck out for a powwow while your better half is pampered to the nines, there are pet sitting and walking services included in the booking.
RELATED: 21 Best Dog Breeds For Owners Who Want Something Different
Pier One Sydney Harbour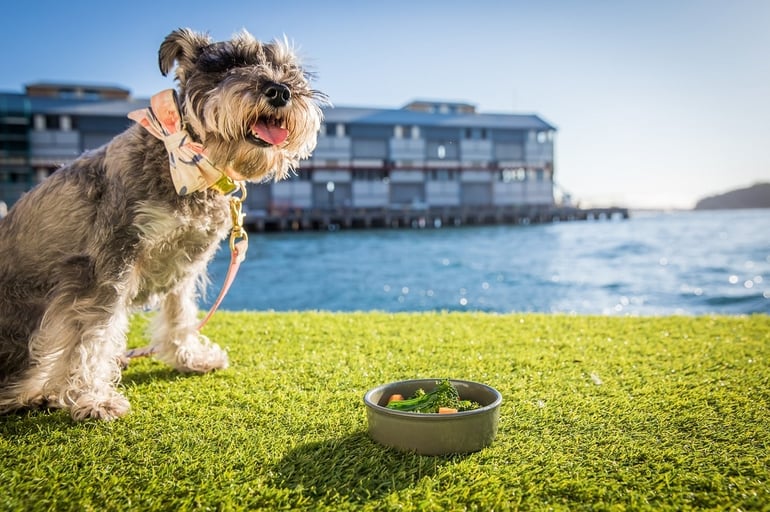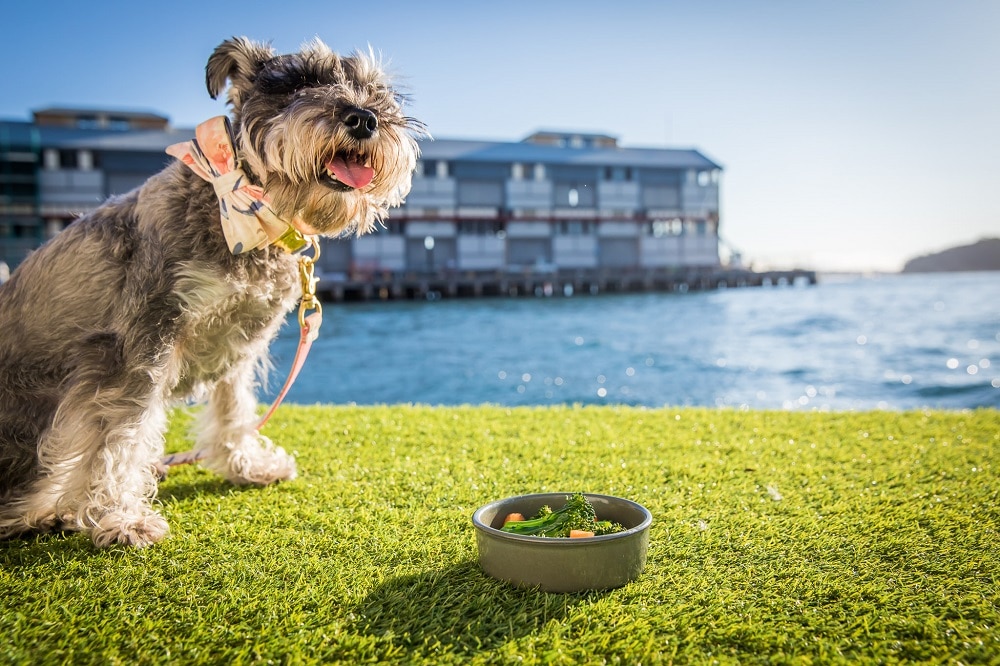 The almost-under-the-bridge Pier One Sydney Harbour has thrown a considerable hat in the ring of dog-friendly accommodations with a decadent "Doggy Degustation" menu coupled with treat-loaded pet minibars. Spoiling the pup with dishes like slow-cooked high protein beef bone broth, grilled paroo kangaroo, and fresh Ora King salmon is the aim of a four-course degustation at the hotel's Gantry Restaurant, making Pier One the best choice for dogs that are particularly fussy eaters.
As much as the restaurant offers, in-room pampering is just as potent, with a dog bed made from sustainable materials, food and water bowls, and a mystery welcome amenity we can only guess is either some more food or a toy. Try not to get jealous.
Little Albion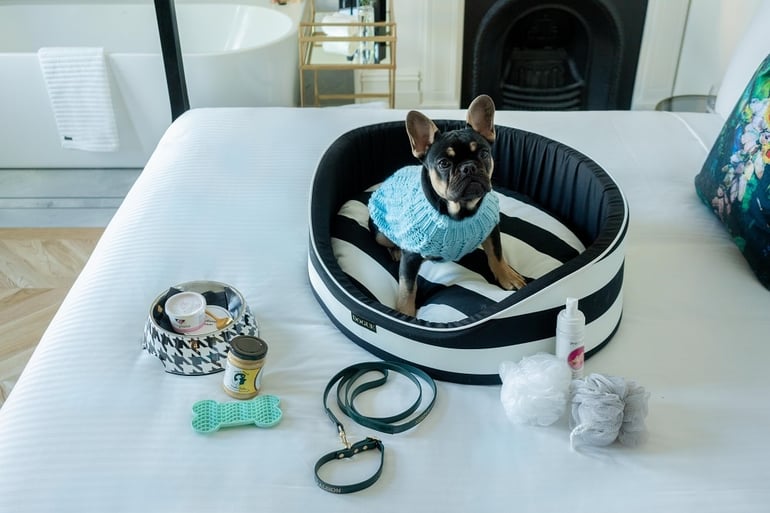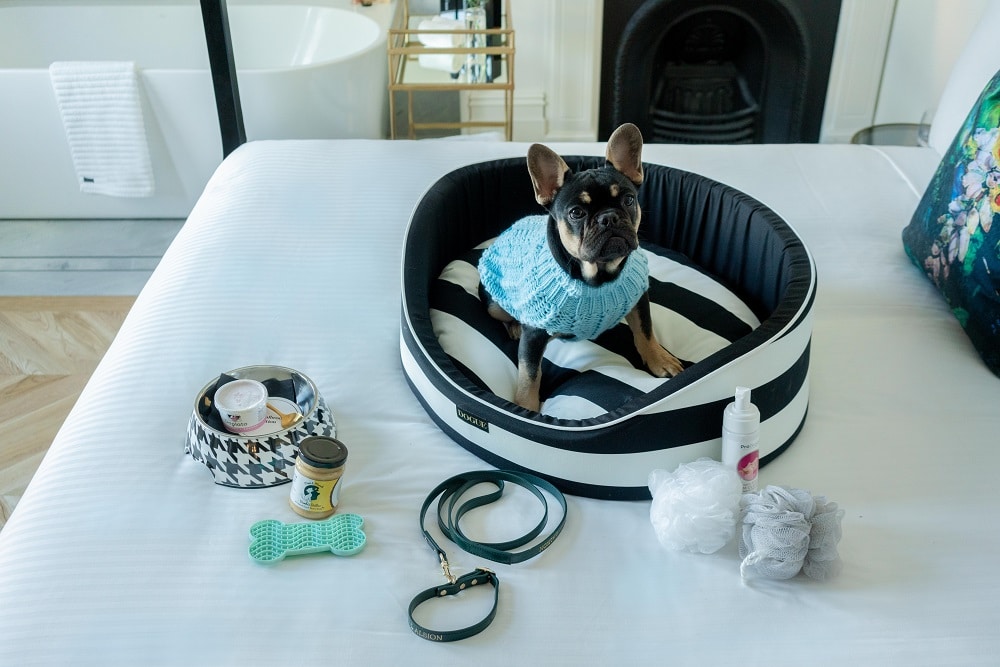 Surry Hills' design-forward boutique, Little Albion, has put a nice little spin on the idea of a classic dog-friendly stay by partnering with numerous pet-focused brands across Sydney. The hotel has tasked Mimi & Munch providing welcome bakery treats to fuel pup for the day, The Daily Edited with offering a personalised collar and lead, and DOGUE Bondi with personal styling sessions.
Even a nearby spa is getting in on the action, with a dogs-only treatment menu that features blueberry facials, volcanic mud baths, and a salon-fresh vanilla, coconut or deodorised bubble bath. And they'll take care of your mate too, picking him/her up so you can head off by yourself for a while, and then dropping the pooch back at the hotel when you're done.
Ovolo Woolloomooloo & Ovolo 1888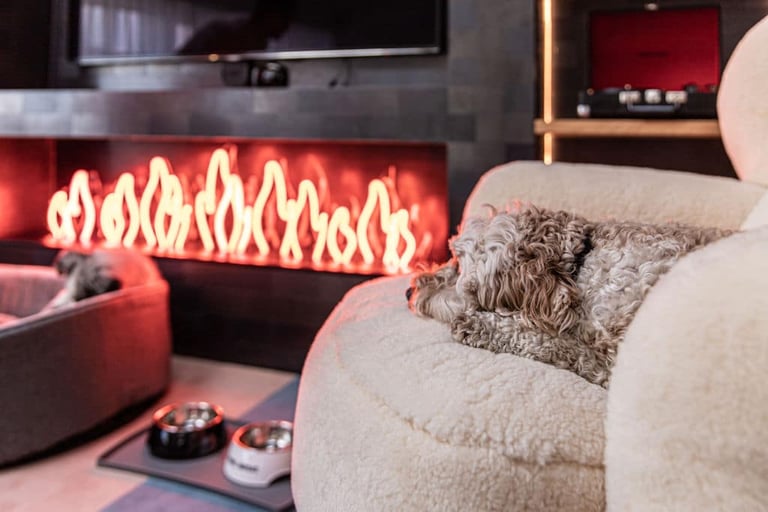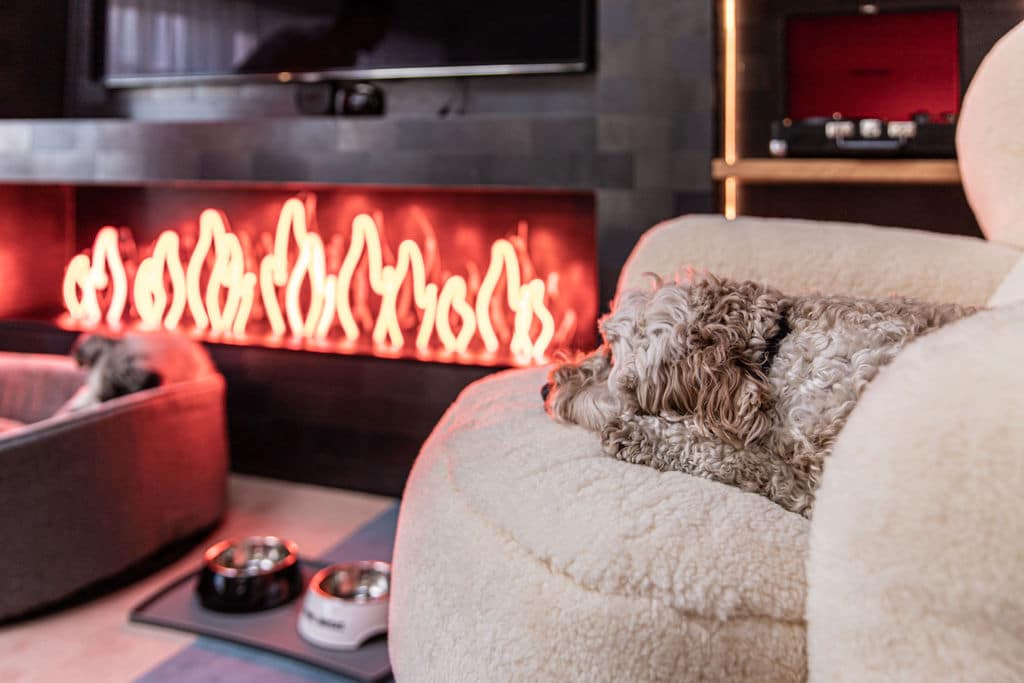 Ovolo is another group absolutely dedicated to splashing your dog with their own luxury experience, curated into a "VI.Pooch" package. With two Sydney properties – the breezy Ovolo Woolloomooloo on the suburb's iconic pier, and Darling Harbour's snug Ovolo 1888 – they've got plenty of scope to spoil your pup.
The package shoots straight for those creature comforts like a special doggy bed added to the room, right next to a mat and food bowl so the boss has somewhere special to feast. They even get a doggy bag filled with dog toys and treats, and dedicated "dog-friendly staff" who can provide assistance with the little guy should you need some time to yourself.
The Old Clare
The Old Clare is one of Sydney's finest examples of a restoration project leading to a highly sought luxury boutique hotel. That's a lofty reputation by itself, but throw in some newly reworked pet-friendly suites and you've got yourself a certified oasis for dog lovers.
Two of the hotel's suites – Kent and Abercrombie – have gone through a thoughtful facelift to appeal to dog owners, which on request consists of handcrafted pet bowls by Motion Ceramics, Fuzz-Yard plush toys, and a miniature retro lounge exclusively for those of the four-leg persuasion. The biggest difference here is that a treat-packed room service is 24/7, so if your better half can't sleep at night just order up some beef-flavoured dog biscuits for good measure.