There's a reason that the Etihad A380 Business Class product has been given so many travel awards in the last few years, because it's good. Bloody good. I'm not just talking about Business Class either. Across the board, from The Residence to Economy, the industry has spoken, and Etihad has emerged the undisputed champ, collecting more world championship belts than Conor McGregor in his wildest dreams.
Recently I had the pleasure of experiencing both Etihad's 777 Business Class product, and its new A380 product on my way home from the UK, and I must concur with the industry, it is sensational. Picking out the minor issues would be somewhat comparable to claiming that Emily Ratajkowski wasn't attractive because of an oversized middle toe. They say 'nobody's perfect', but the Etihad A380 Business Class comes pretty damn close!
I thought I'd open with a quick paragraph about Etihad's economy service which I flew on the way to England. In short, it's the best I've flown, specifically the A380 leg. The entertainment system is absolutely seamless, instantly responsive to the lightest tap on the screen, packed with content, as well as helpful arrival and transit information. The food and drinks selection is also worthy of a mention, as is the seat – firm but comfortable enough to get some sleep. I also found the service to be exemplary and I wouldn't hesitate to recommend Etihad's economy product or fly it again.
My Etihad A380 Business Class trip kicked off at the Etihad Business and First Class Lounge in Manchester Airport early in the morning. Upon arriving I was shown to a quiet area and offered coffee and an al a carte breakfast menu. I opted for some smaller breakfast bites over a cooked meal, and before long I had the lovely Lounge Manager telling me it was time to board, then escorting me the entire way to my gate – very impressive indeed.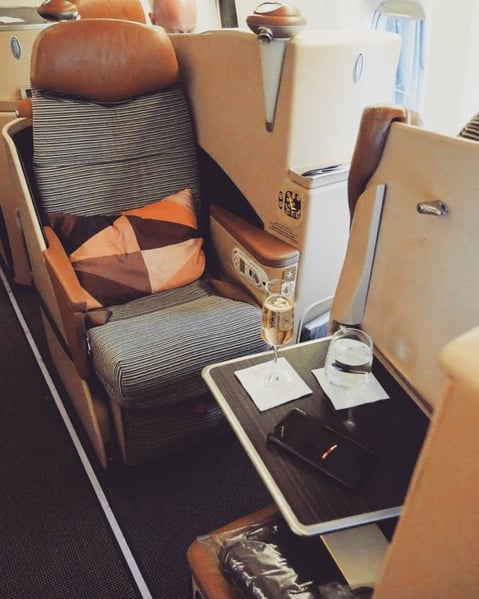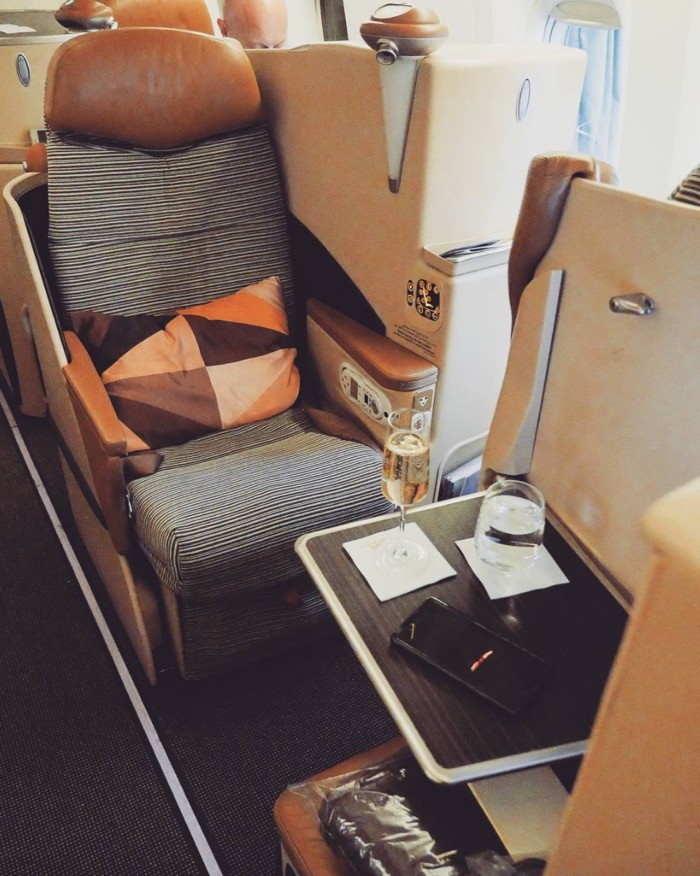 Etihad's 777 Business Class features alternating, angled pods (which accommodates the lie-flat beds) all with direct aisle access. Personal space is abundant, as the footwell from the seat behind creates a side table with a number of small compartments – you also have space under your footrest for shoes, amenity kit etc. My seat, 12C, had the seat on the aisle side, not the window side, meaning you are more exposed to the cabin, and activities in the aisle. It wasn't an issue whatsoever, but a pod with a seat on the window side would deliver a more private experience. I was particularly impressed with stowable screen and table, both could be accessed easily and worked without a hiccup when deployed together.
Then we get to the lie-flat seat. 'Lie flat' are the only two words which should concern you when looking to fly business. The debate between Etihad and Emirates, for me, comes down to only one factor. Emirates 777 Business Class from Dubai to Europe comes in the form of a 2/3/2 front-facing formation, and strangely they aren't changing it! Etihad, like Cathay Pacific, offers lie-flat seats on both legs. It's a no-brainer in my eyes. Granted, the 777 Etihad seat isn't as comfortable as its Etihad A380 Business Class counterpart, but it's as good as Cathay Pacific's – allowing you to get a proper rest. Don't be fooled by 'Angled lie-flat' – an experience not unlike lying on a small camping mattress, with your feet dangling off the edge, while said mattress slides down the hill.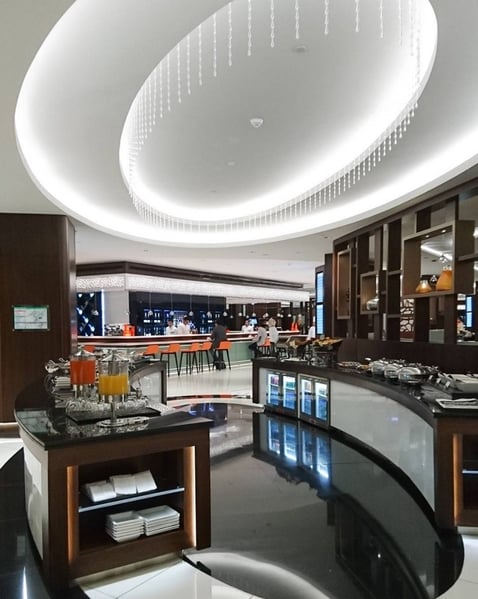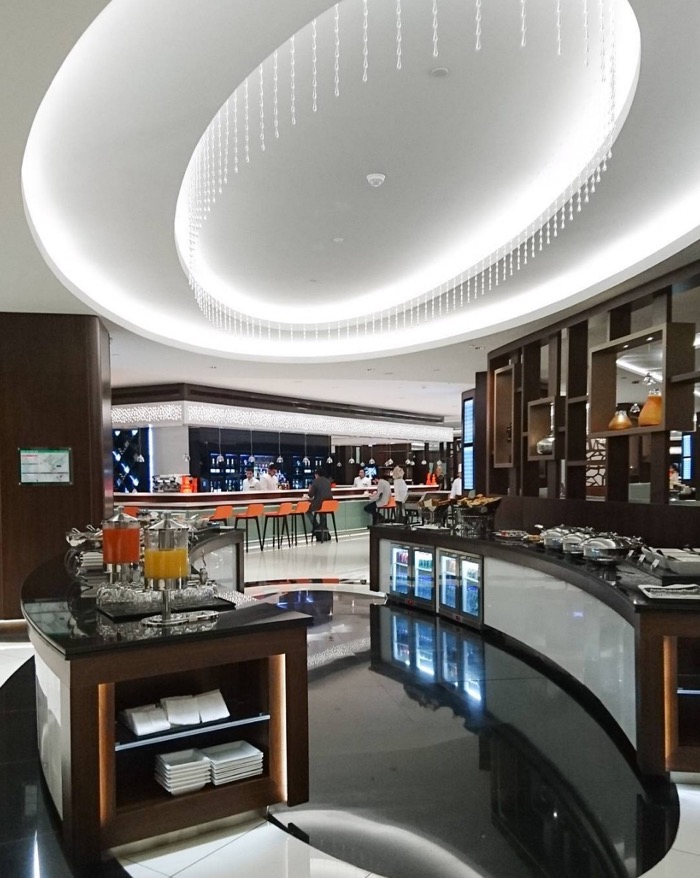 After disembarking in Abu Dhabi I headed to the Etihad Premium Lounge in Terminal 3. The lounge is expansive, to say the least, offering an abundance of seating areas, dining space, a business centre, bar and multiple buffets. I was invited to experience a complimentary 15 min shave, which I turned into a beard trim – a lovely touch.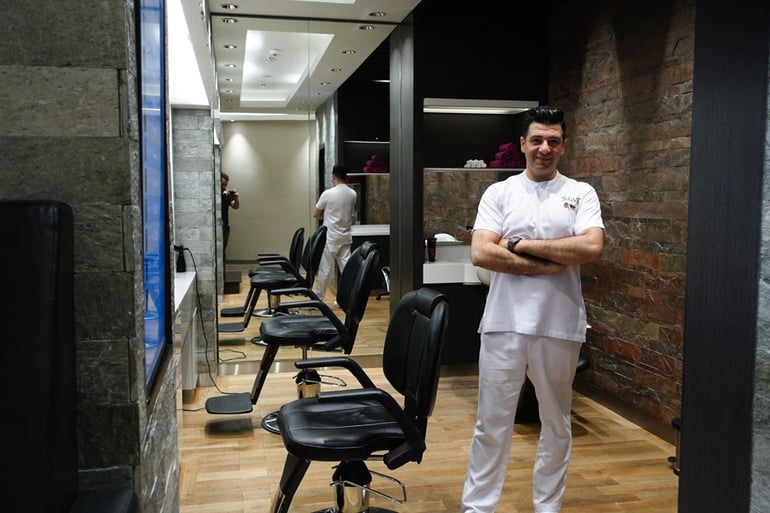 After my beard trim, I tried to go for a shower to refresh but there was a 2-hour wait, and with boarding an hour and a half away, I missed out (this facility has since closed!). I selected some items from the well-stocked buffet for dinner, then sat in the lounge to attend to some emails. The service was extremely good, never too far to take a drinks order or clean up an empty plate or glass. Aside from not getting to shower, I found the toilet situation particularly disappointing. Granted, it was a busy time, but it's not often you see men queuing to use the toilet on both sides of the lounge.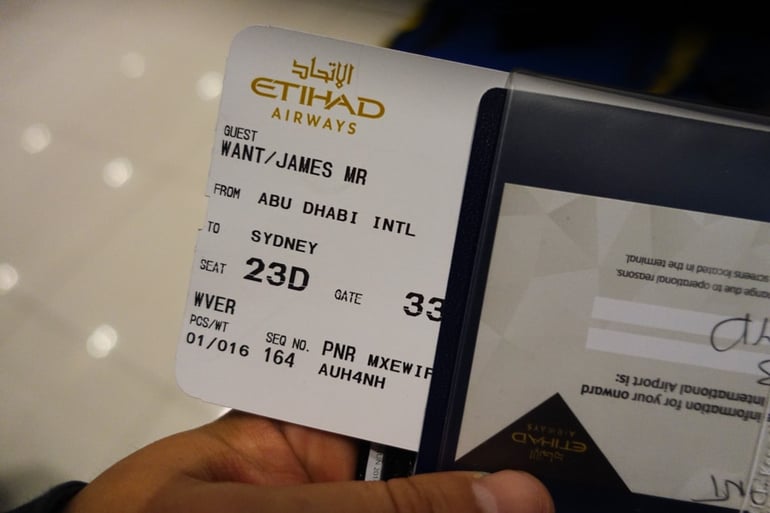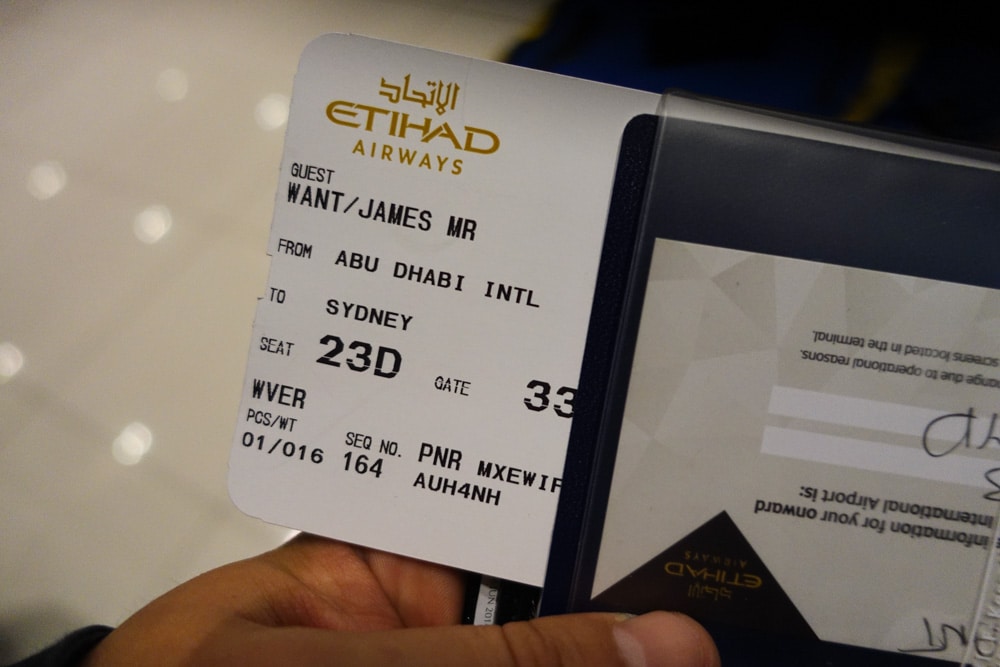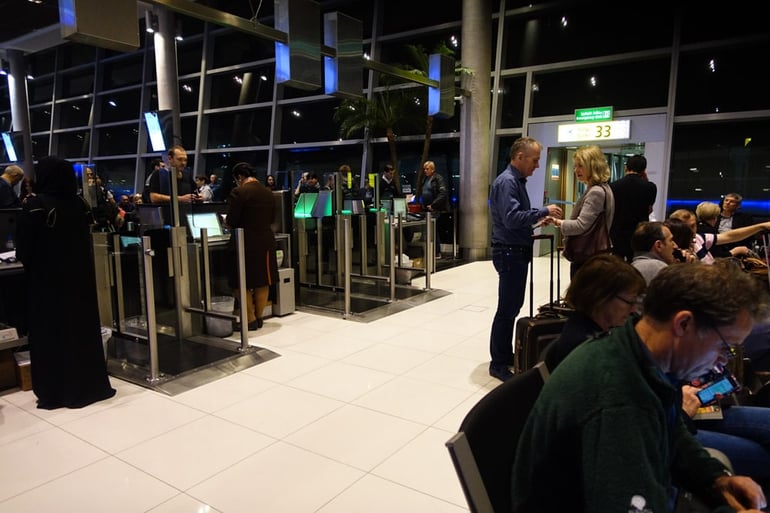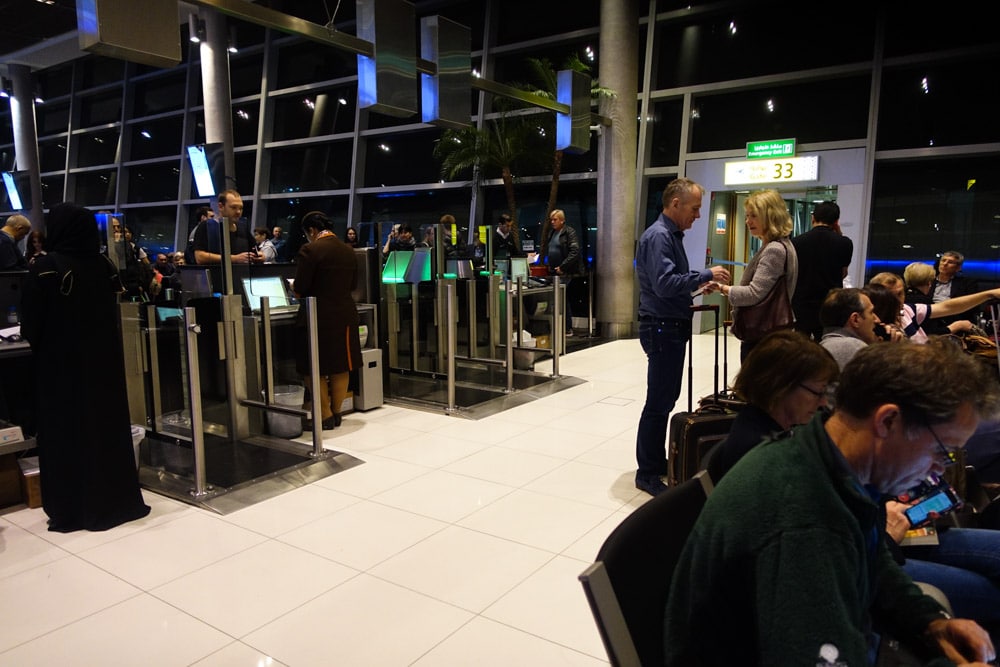 My departure gate for Sydney was almost directly outside the lounge, which was very convenient. Boarding the Etihad A380 in Business and First is an absolute dream, ushered through instantly by special staff, and then onto the plane the moment the doors open. Walking into the Etihad A380 Business Class for the first time was seriously exciting, a product I'd been reading about and aching to try since its unveiling, and I was anxious to find out whether it would impress me as much as I hoped it would.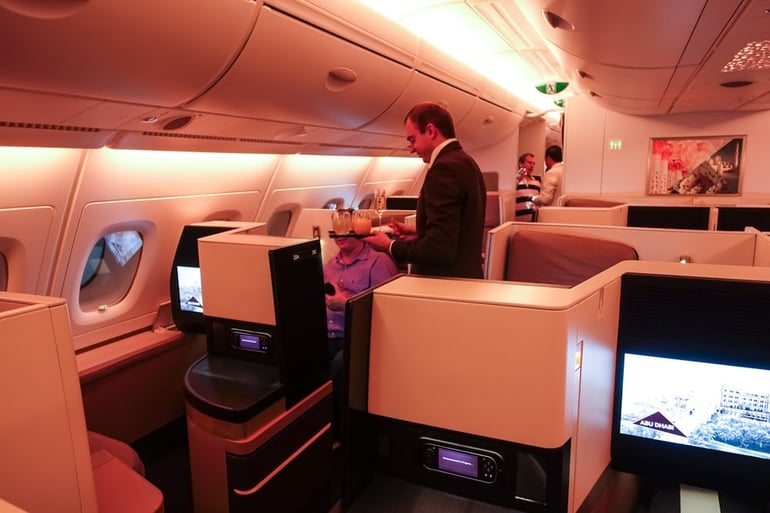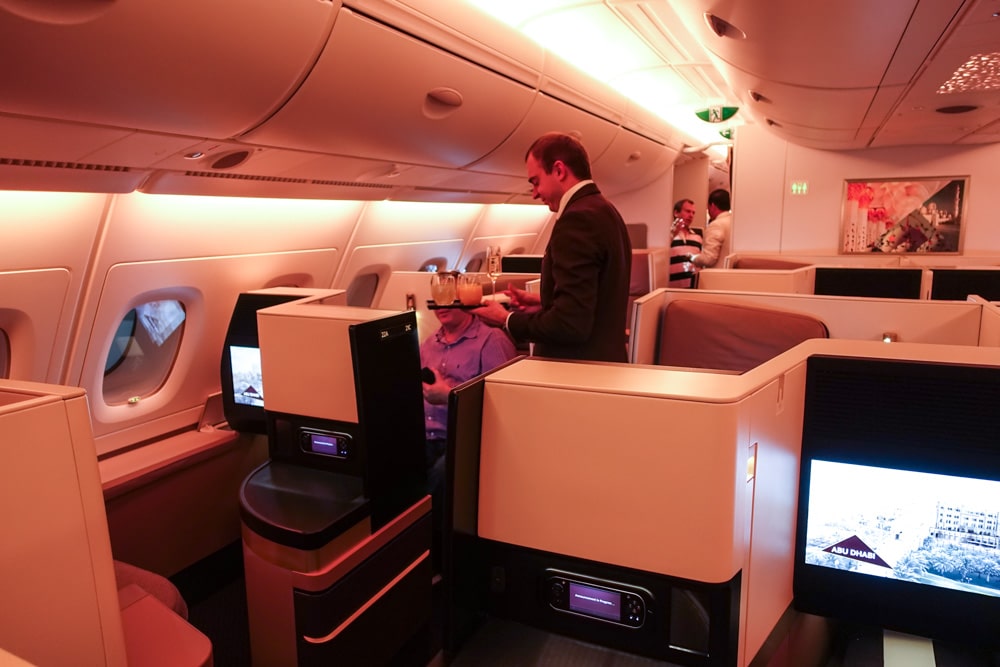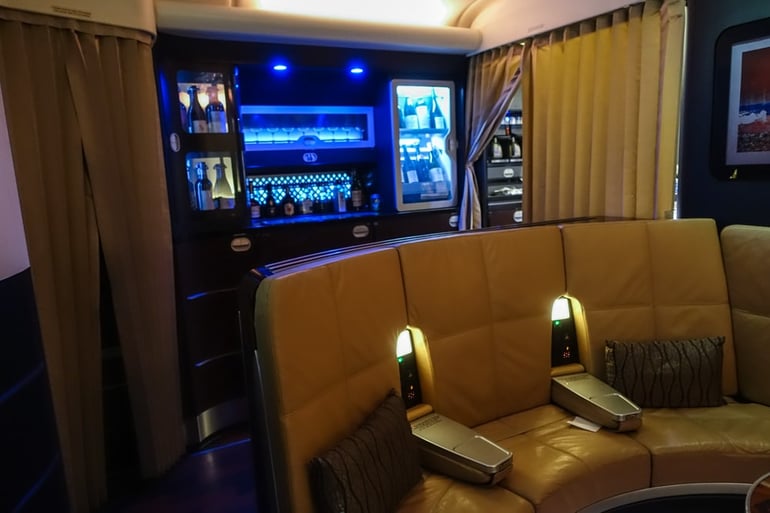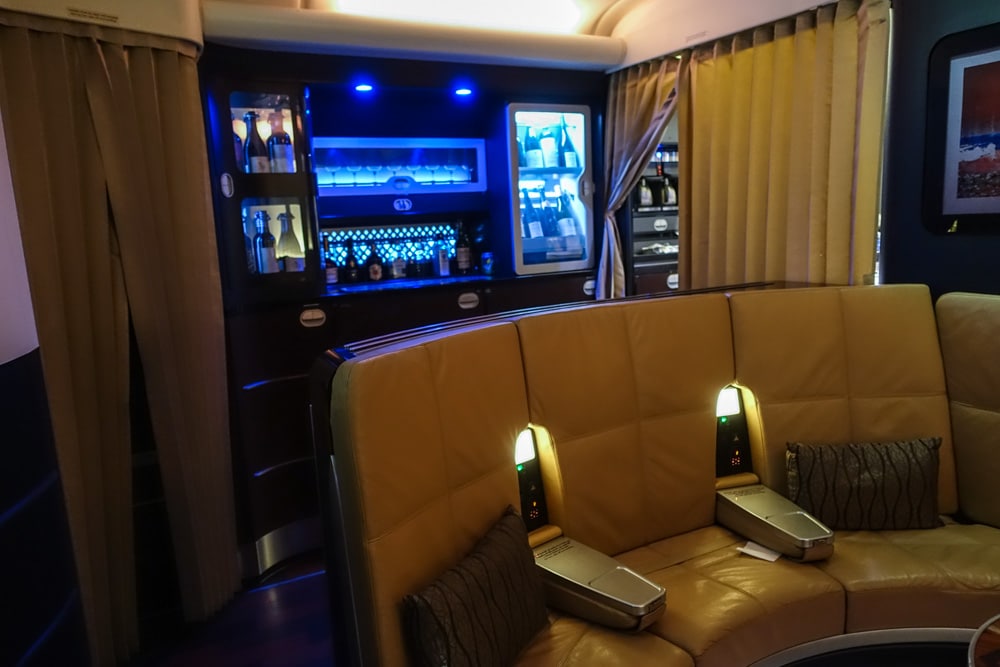 Etihad A380 Business Class passengers are wowed the moment they step on the plane, passing by the bar/lounge area on the way to their seats. From there, it's non stop smiles. Straight away the service begins, juices, Champagne, sparkling water, hot towels, assistance, it's brilliant. The new Business Class studios are in an interesting formation, alternating between rear and forward-facing. Initially, it's a little confusing finding your seat, and strange facing backwards as you take off, but once you're up in the air it works very well, providing lots of space and privacy.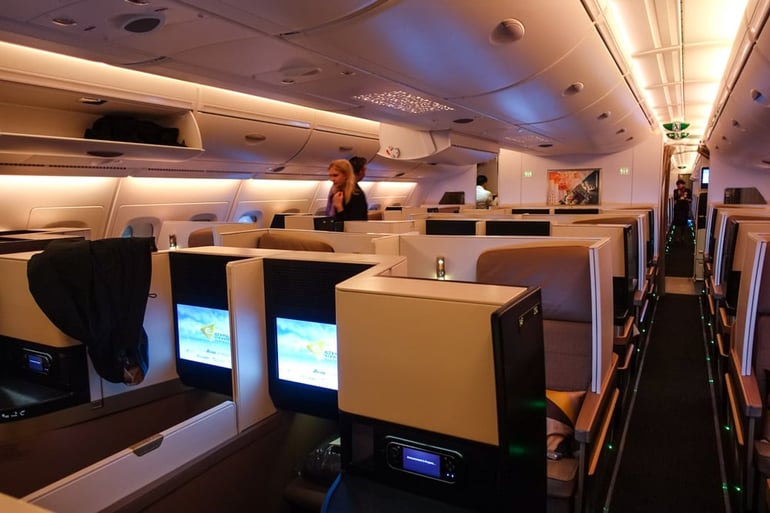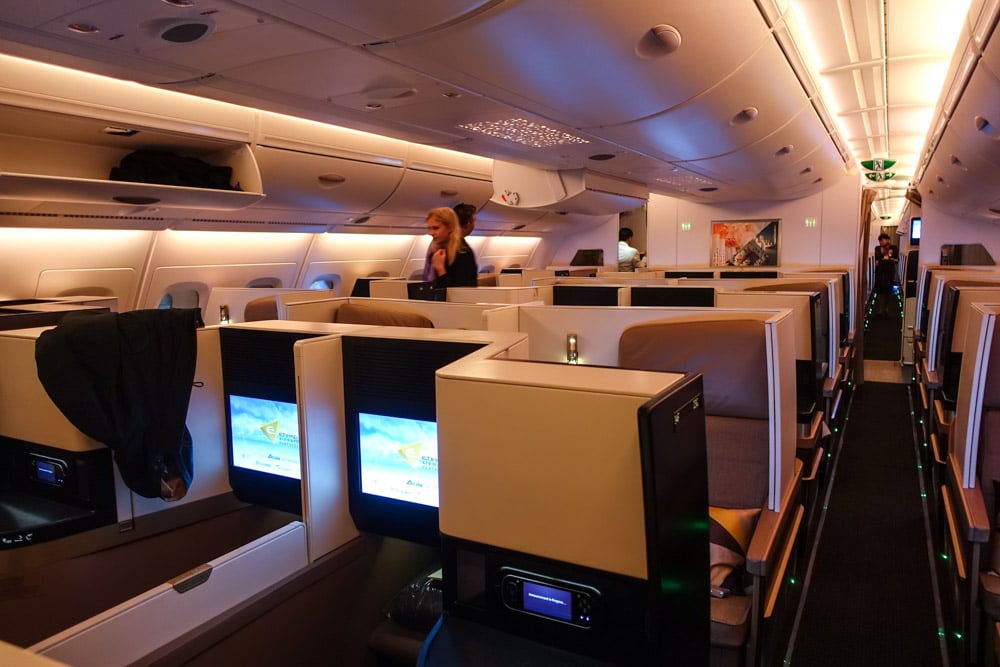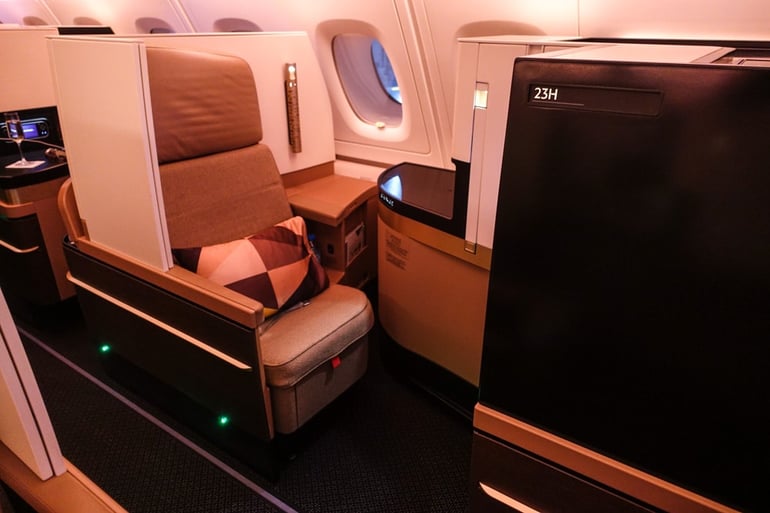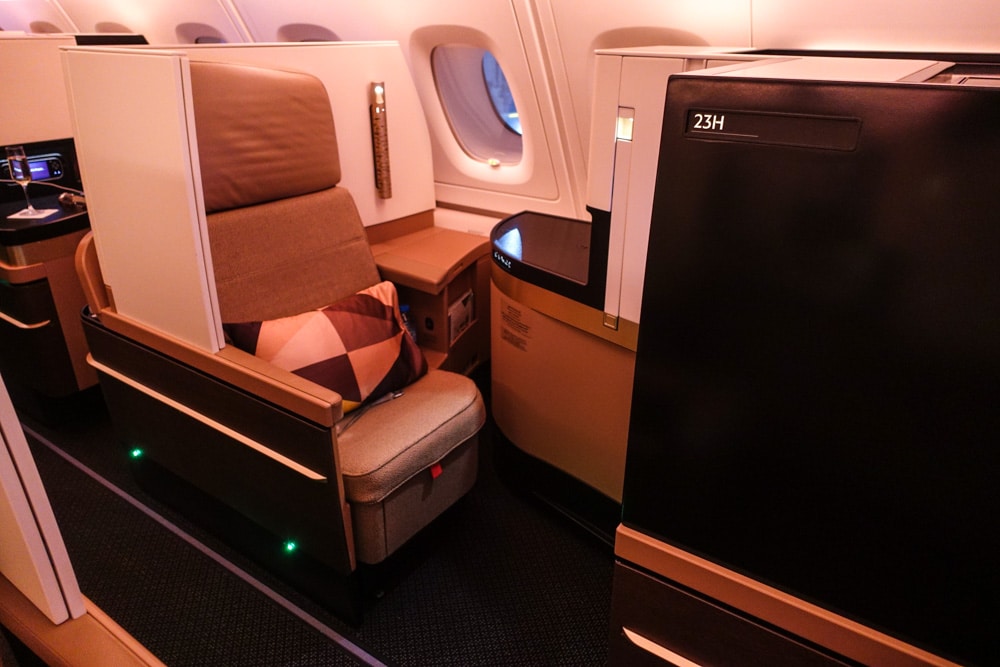 The Studio itself is the best Business Class product I've ever flown, however, I do rate Cathay Pacific for their consistency and Emirates brand new 777 seat which I review here. Everything has been considered, design, space, lighting, privacy, control placement, entertainment, ergonomics, storage and most importantly seat. Without a doubt, the best feature is the ability to change the firmness of the seat cushion. It's unbelievable how much difference it makes, it's an absolute game changer!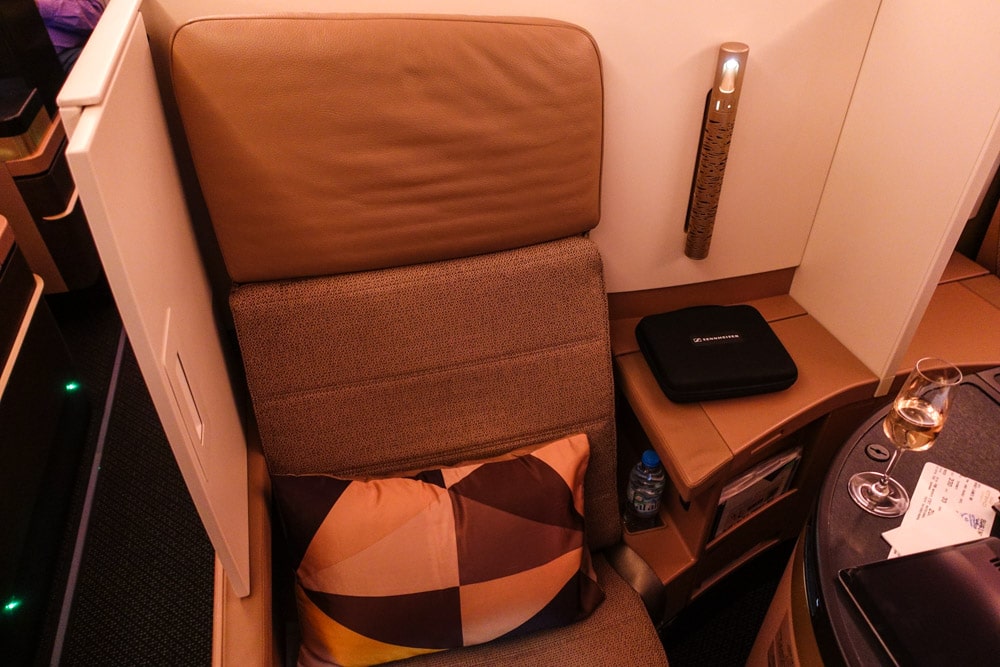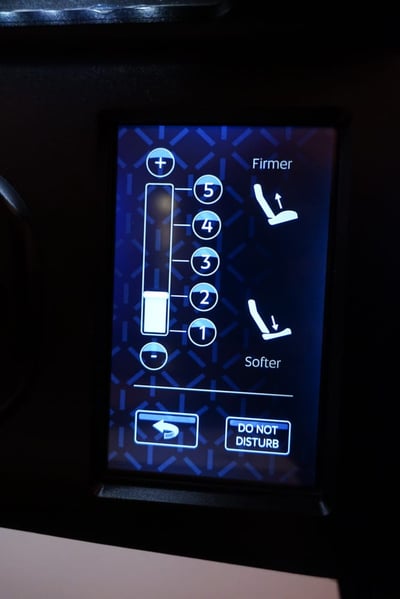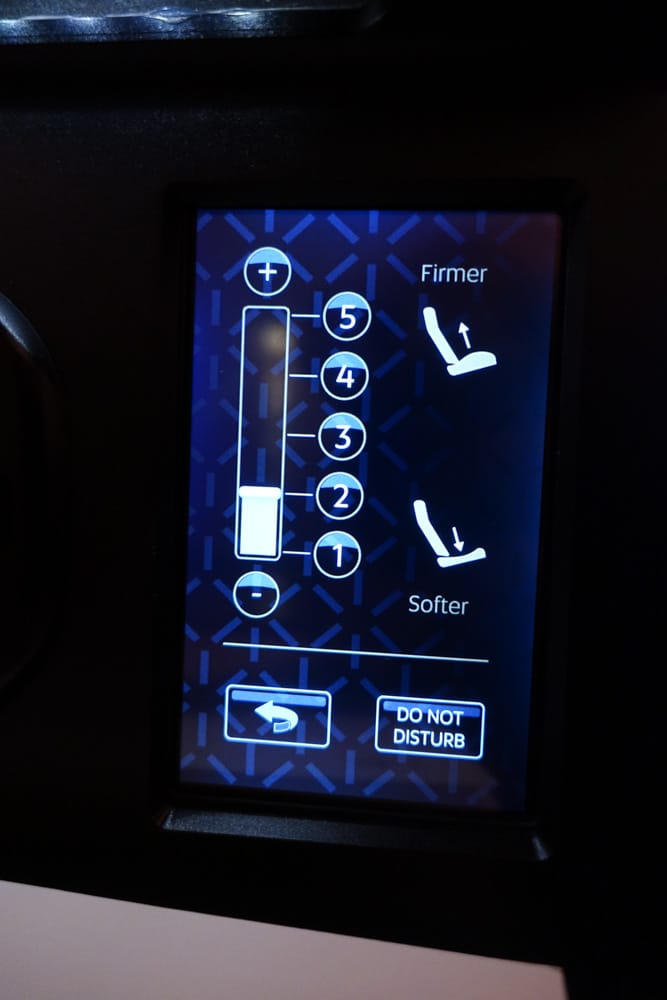 With 14 hours to enjoy in Etihad A380 Business Class, I watched a number of movies and TV programs on the excellent entertainment unit which has touchscreen controls and a remote. I visited the fantastic lounge on a number of occasions, where I chatted with other guests, watched a live football match on the big screen and admired the contents of the beautifully presented bar, while again being waited on like a king.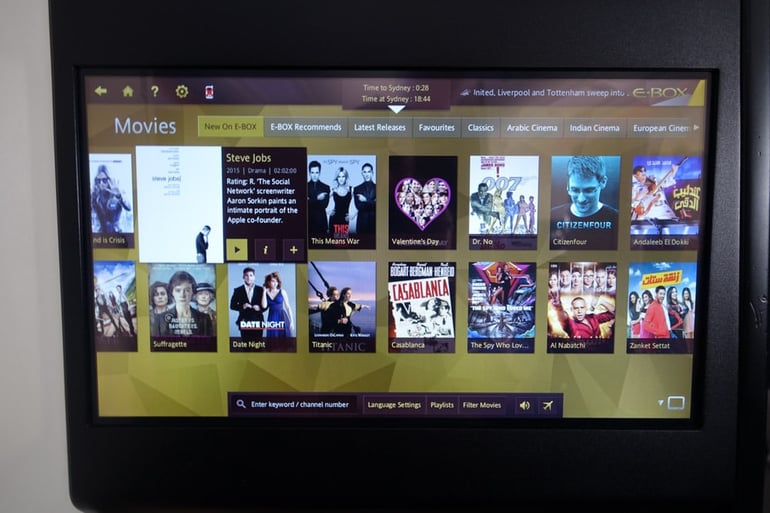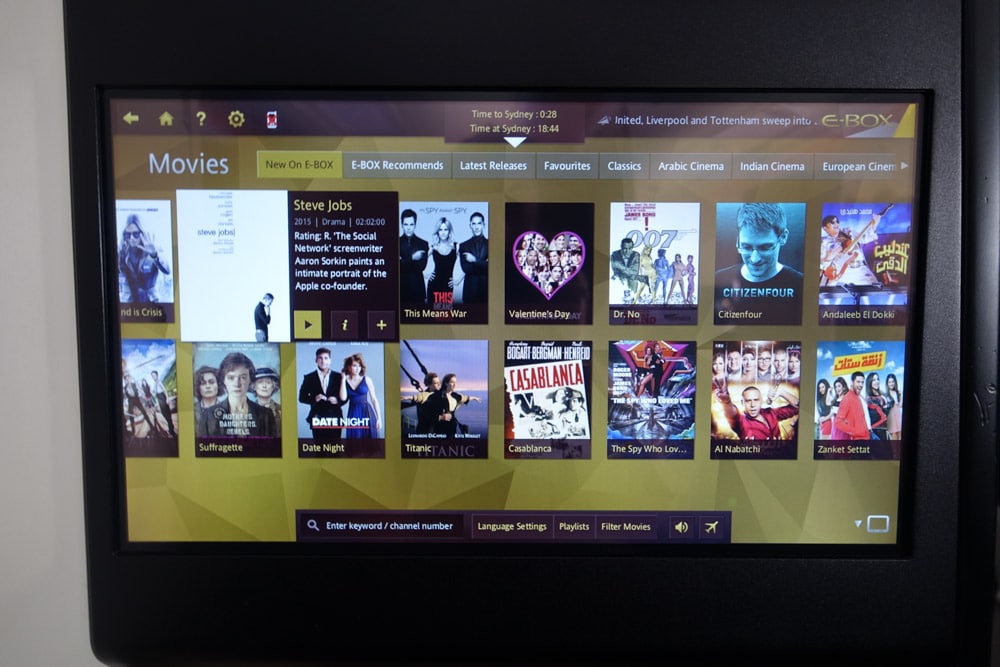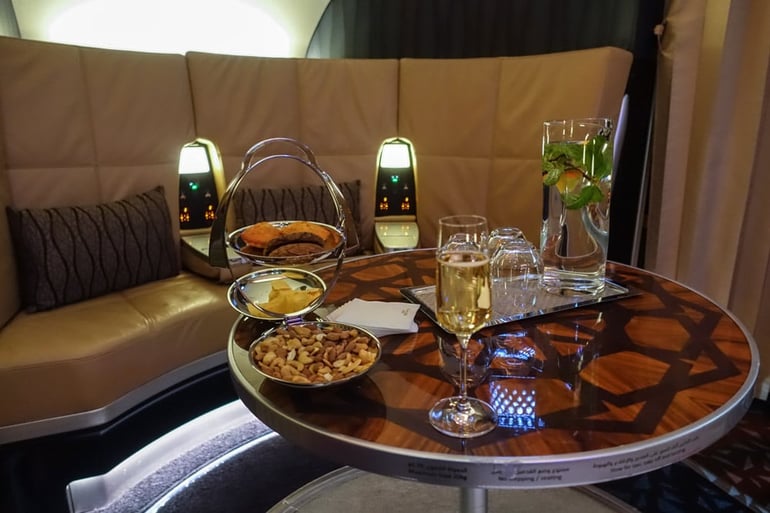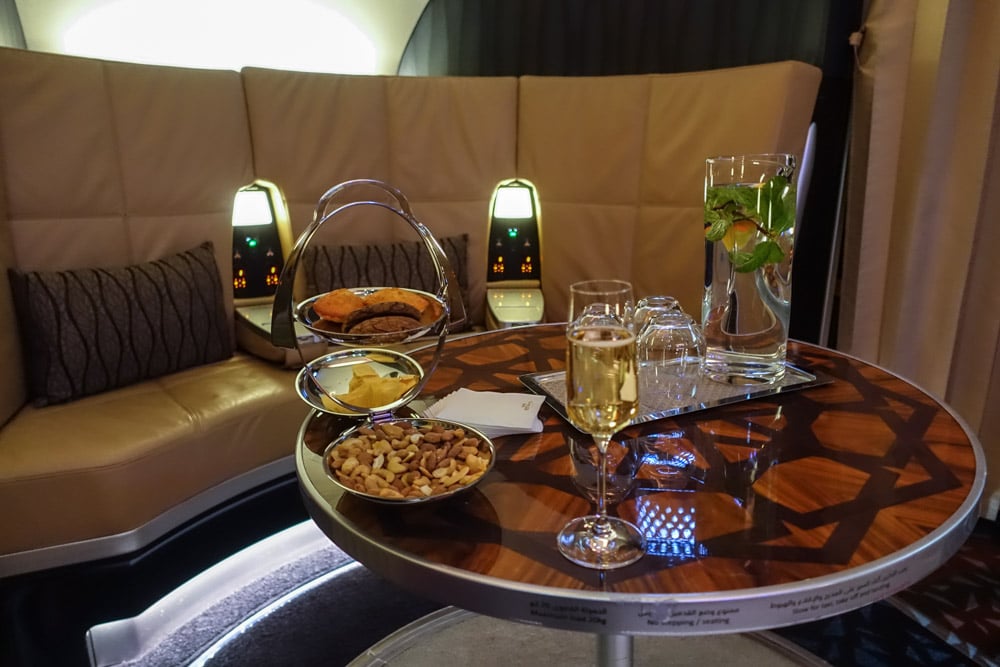 The food, on both flights, was excellent, with staff taking your order pre take off, allowing you to relax in privacy and enjoy the Champagne (which they come and pour at your seat) once you're in the air. For my entree in the Etihad A380 Business Class seat, I sampled the Roast pumpkin soup, and for the main, I had the Arabic spiced grouper with Egyptian rice and sautéed vegetables.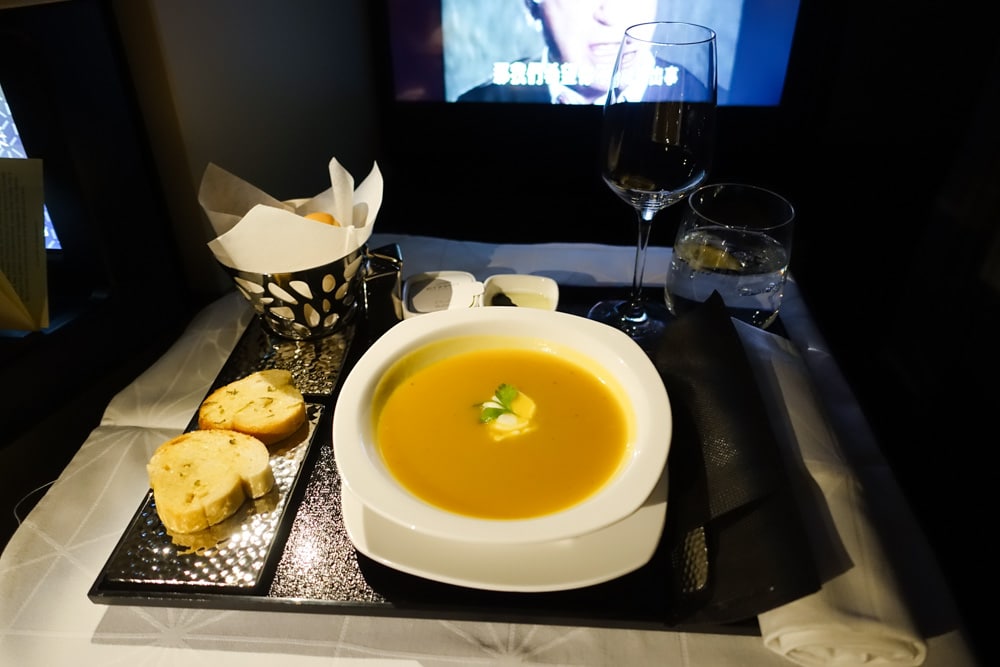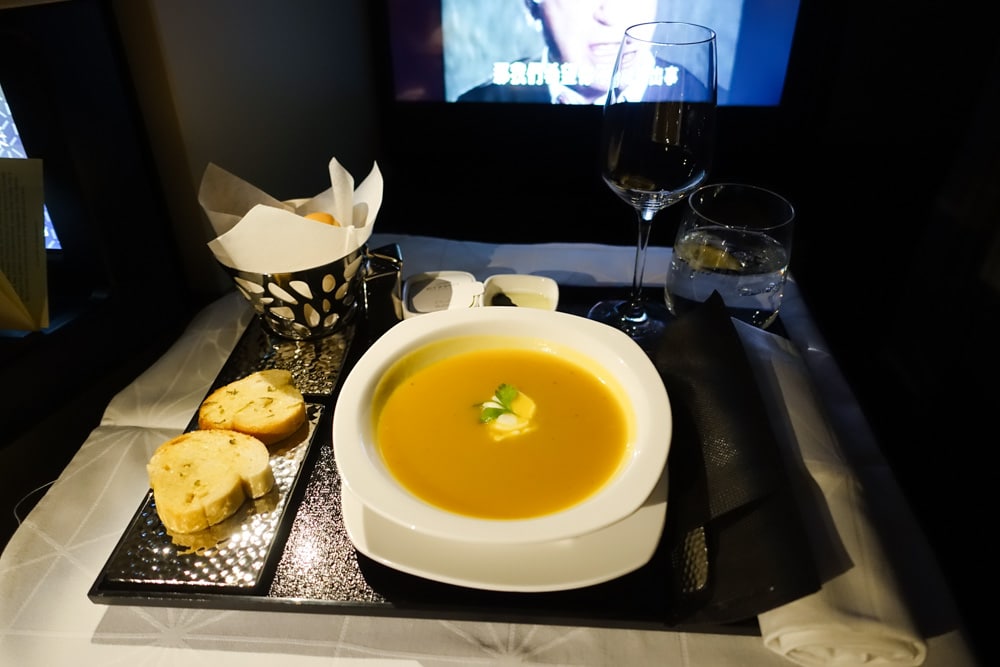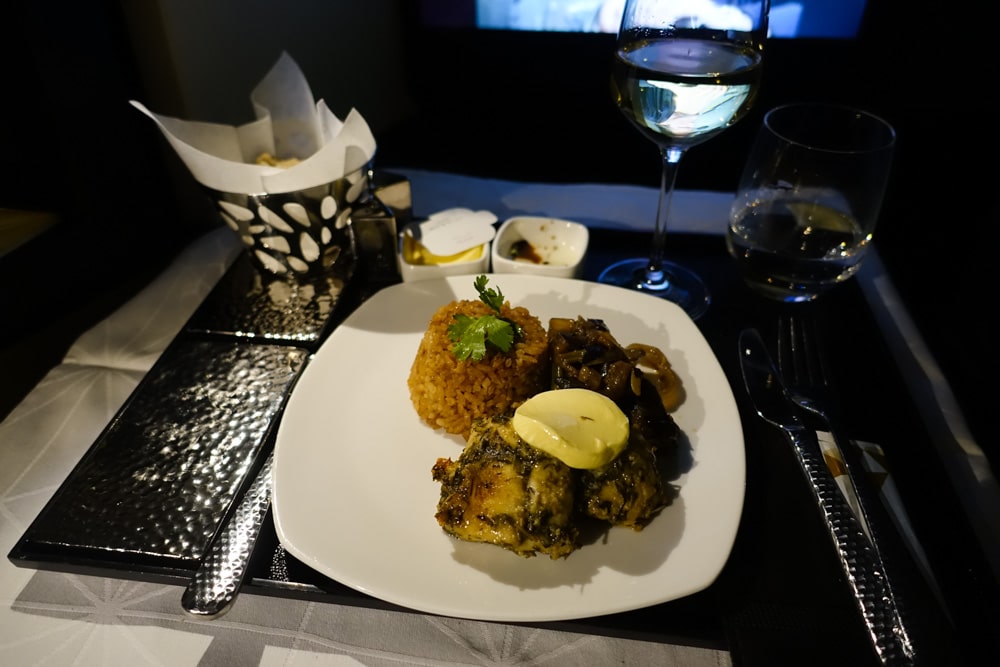 The grouper was extraordinary, one of the most delicious seafood dishes I've eaten anywhere, paired perfectly with a Louis Jadot Chardonnay. Once you're considerably stuffed of food (and a bottle of Saint-Émilion's finest), a sumptuous bed and luxurious fleece-lined blanket await you, as do a valuable nights rest.
So onto my tips (of which I don't have many because I barely had a qualm):
The first and most important is, make sure you check what plane you are booking to fly on. There is no price difference between the A380 product and the 777 product, despite them being worlds apart in experience. You will get far more out of your trip if you are flexible with dates and times, and can book as many A380 legs as possible.
Choose your seat depending on who you are with. If you are alone and want ultimate privacy, the best seats would be the forward-facing windows. If you like easy aisle access you might go for the alternating windows or a central rear-facing seat. If you are a couple, go for the forward-facing central seats where the partition can be lowered so you can hold hands, or do whatever couples do.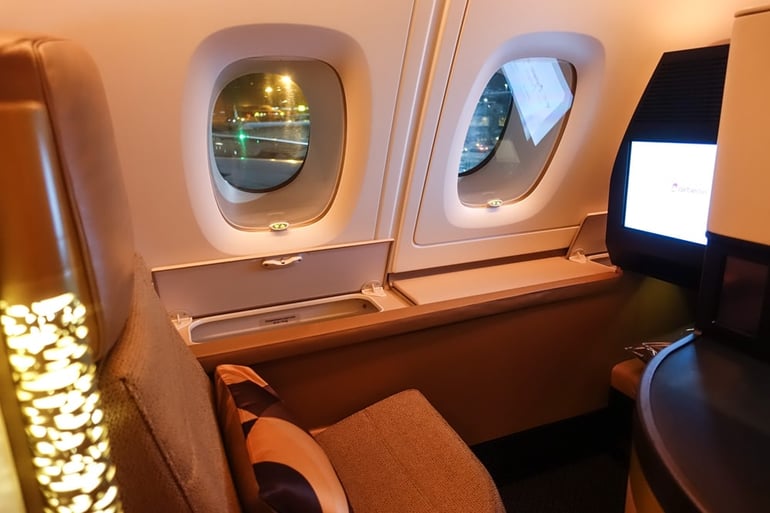 If you are a couple and you don't have a seat next to each other just ask someone if you can switch, all the seats are good and people flying business are generally friendly. If you don't ask you don't get!
When you go to the lounge, go straight to the shower and join the queue, if there isn't one shower immediately and then go relax.
In conclusion, I want to reiterate just how good Etihad A380 Business Class product is – the best. It puts the majority of its competition to shame and is more like a First Class product than a lot of the Business Class products on offer today. It's safe to say that it wholeheartedly exceeded my expectations. What really capped it off was waking from my sleep as we began our descent (as I'd requested) and having the attendant stroll straight over with a hot towel, a glass of sparkling water and a breakfast Champagne. A class act.