Vilnius, the capital city of Lithuania, and Lublin, the ninth largest city in Poland, have now become the first two European cities connected via an experimental new concept aimed at promoting strength through unity (and technology). That technology: a sci-fi like portal beaming a real-time feed to connect the two cities visually, constructed like something you'd see in Stargate or Marvel's Doctor Strange (or five-season Jerry O'Connell classic Sliders – you get the point). These Europe portals will apparently be popping up in more cities around the continent, and maybe even eventually in other parts of the globe, intended to invoke something astronauts experience in space – dubbed 'The Overview Effect.'
Although the idea has reportedly been in the works for five years, the need for it has clearly been sharpened by COVID-19, and maybe even Brexit. The futuristic real-time portals have been installed in public places with heavy foot traffic, simply designed to broadcast live feeds from one city to the other. In this first instance, that's a gateway between Vilnius' major train station and Lublin's Pl. Litewski, two areas that are over 600km apart.
Worked up by the Vilnius-based Benediktas Gylys Foundation in collaboration with the City of Vilnius, the City of Lublin, and the Crossroads Centre for Intercultural Creative Initiatives, these visual bridges were built to address the problem of a fractured society and to promote the idea of interconnectedness.
---
---
The circular design wasn't just chosen because it resembles a well-known science fiction symbol, but the shape is meant to mirror the "wheel of time."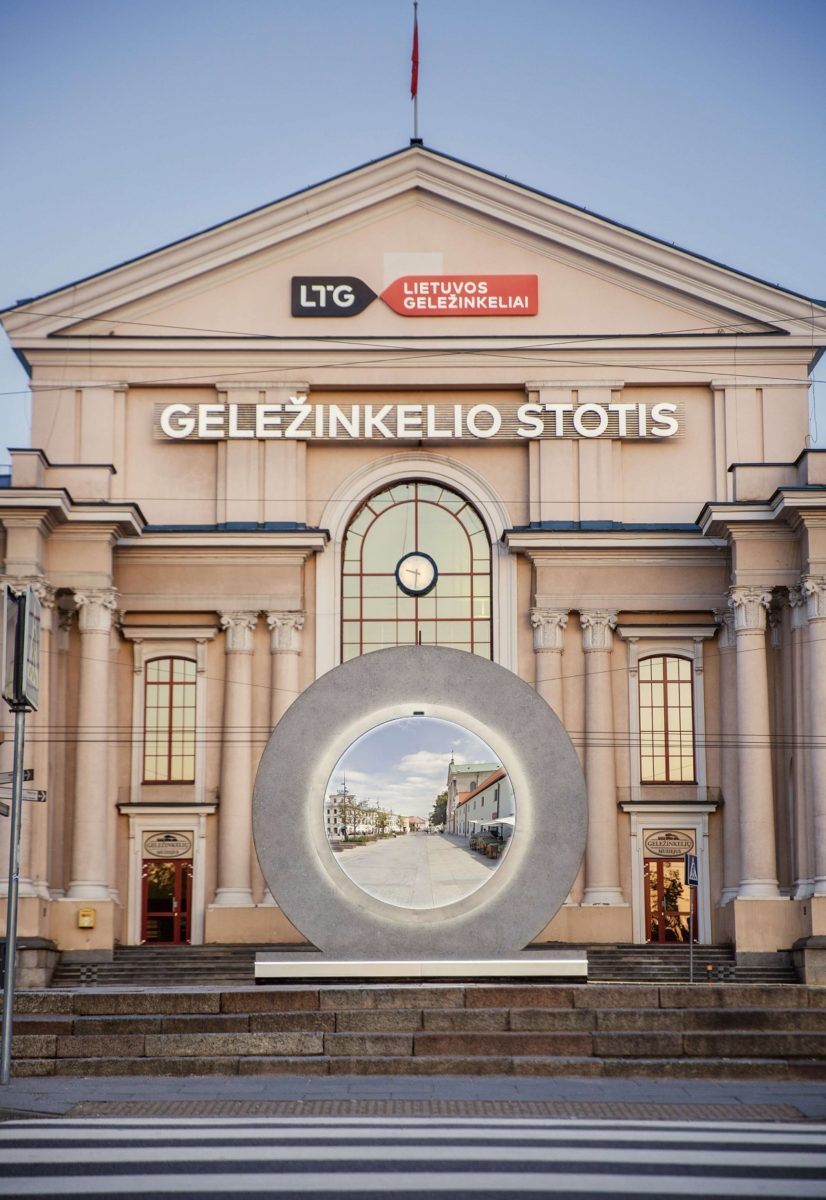 "Humanity is facing many potentially deadly challenges; be it social polarisation, climate change or economic issues," said Benediktas Gylys in a press release.
"However, if we look closely, it's not a lack of brilliant scientists, activists, leaders, knowledge or technology causing these challenges. It's tribalism, a lack of empathy, and a narrow perception of the world, which is often limited to our national borders."
While the idea of having a live feed is not at all a new idea, the Europe portals are an incredibly creative and profound way to harness this technology and reshape it as something a bit more positive for a continent that is still reeling from the ongoing COVID-19 pandemic.
Perfectly articulating the rationale behind these Europe portals, Gylys continued to explain the concept and its intention to solve the imagined distance that divides humans.
"In creating the world, we have learned to divide it into two – one that belongs to 'us' and another that belongs to 'them'. It is easy to surround ourselves with people we are close to, and we half-heartedly understand that being together we feel a little safer and stronger – however, our need for security and openness is offset by an indifference and distrust of things we don't know."
The 2021 version of having a pen pal is also meant to double up on the overview effect. This is a psychological phenomenon commonly reported by astronauts when they see Earth for the first time from space. It accounts for a sudden cognitive shift in awareness and a resulting mental clarity defined by an uncanny sense of understanding the "big picture" and of feeling more connected to the world.
---
---
Kind of makes you want to place a bid for a spot on board a space tourism flight, doesn't it?