The Covid-19 pandemic hasn't only profoundly changed the way the world operates right now, and will for the foreseeable future, but it's also bought about some ingenious adaptive reuse projects. The aviation industry has been rife with these kinds of transformations lately, given many aircraft have been either retired or lying dormant for the past few years, but there has been none quite as charming as what Cotswold Airport in Gloucestershire has done with an old British Airways Boeing Negus 747. Earmarked for retirement, this particular Negus 747 has managed to avoid the scrap heap and instead has been transformed into an ambitious party plane for rent, with the airport charging ~AU$1,911 an hour for guests to host events in the reimagined aircraft.
The jumbo jet, which is covered with British Airways' emblematic Negus livery, was stored at Cotswold Airport back in April 2020, along with several other decommissioned BA 747s. With many airlines speeding up the aircraft's retirement due to the pandemic, the fleet was supposed to be sent to the junkyard to be disassembled, but Cotswold Airport CEO Suzannah Harvey requested that British Airways sell her just one of the jumbo jets so she could preserve the Queen of the Skies' legacy.
BA obviously agreed, selling one of the 747s to Harvey for the very, very low price of £1 (~AU$1.77) and a promise that the airport maintains the aircraft for "as long as it is financially practical for the public use."
---
---
Harvey's plans for "public use" led to around £250,000 (~AU$441,664) being invested to refurbish the aircraft and turn it into a full-blown event space, complete with a multi-space dancefloor, a high-end lighting rig, a DJ booth and various bar seating. It took 14-months for designers to remove the ceiling panels, seats and overhead luggage compartments in Economy to free up enough space for the conversion.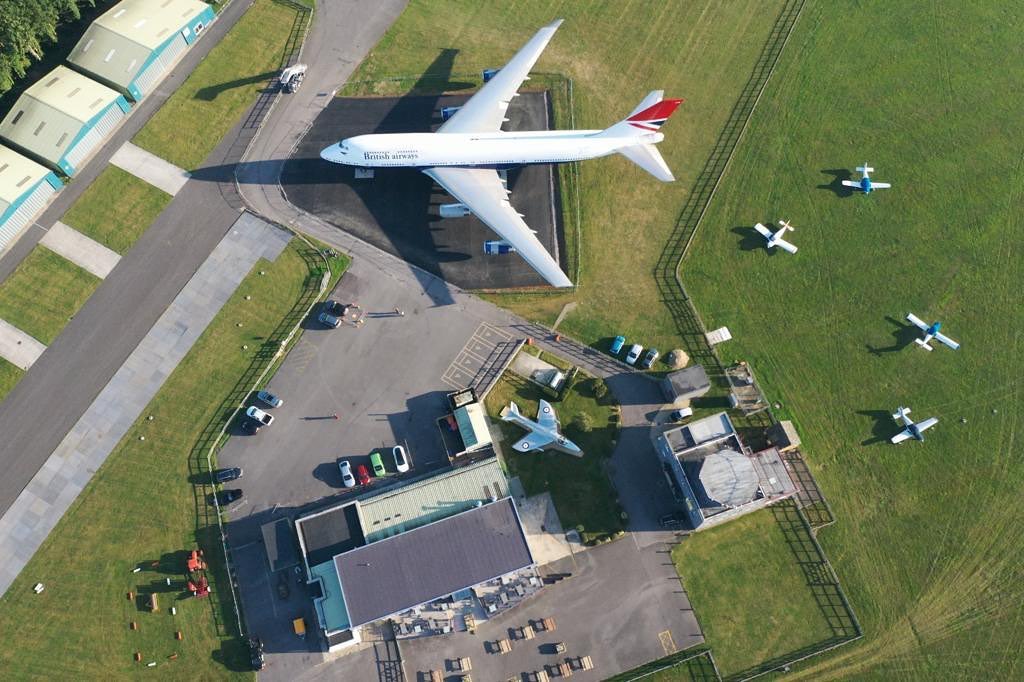 RELATED: You Can Now Hire The Mexican President's Private Jet For In-Flight Parties
The galley kitchen has now become a walk-up bar as well, but it doesn't look like anything has been done to the first-class cabin. Rather, the front of the plane and the cockpit have remained untouched to give guests a place to sit in quiet while Economy is pumping.
Reportedly, £50,000 (~AU$88,329) was spent on the actual conversion, while the other £200,000 (~AU$353,319) went to building a concrete slab that houses the massive plane.
Officially dubbed the Negus 747, Cotswold Airport's unique event space had its launch party earlier this year in February and is currently offering it for all types of events, from parties to wedding receptions. You'll of course need to head along to Cotswold Airport to host the event since the aircraft has permanently been grounded and won't be able to fly to you.
The old dog joined British Airways back in 1995 and has operated 13,398 flights in total spanning almost 60 million miles and around 118,445 flight hours. The final flight for this particular BA Negus 747 was back in April 2020, heading from Miami to London Heathrow.
Rates for the Cotswold Airport 747 Negus start from, as mentioned above, ~AU$1,911 per hour. The space can also be leased for a full 24-hours at a price tag of ~AU$22,934.
---
---
If you do want to book, you'll need to fling Cotswold Airport an e-mail via [email protected] The Negus 747 is also available for ticketed tours.