For years, Emirates seemingly dismissed the pressure to offer a premium economy product. It was often joked amongst the industry that their economy class was so good that a PE was redundant. That was until the Dubai-based carrier finally caved with a $2 billion refit rollout for their mighty Airbus A380 planes last year.
Fortunately for Australian travellers, this gloriously refreshed A380 – now with all four classes and a slick new rear lounge on the upper deck – has begun flying to Christchurch via Sydney as of March 2023.
For this Emirates premium economy review I was given a brief tease of the product on a 2.5-hour-long hop from Australia to New Zealand. I've been fortunate enough to spend a serious amount of hours both in Emirates' exceptional business class and down the back in economy, so my expectations were high for this new in-between offering.
What I experienced was a delightful seat that, especially on a hop to Europe, could make it the most compelling long-haul PE seat in the sky. Across the Tasman, however, the value for money is a little perplexing to the average punter as it's pegged at quite a punchy price point. More on that later. Regardless, here's my take on the fabulous Emirates A380 premium economy seat, should you be lucky enough to find yourself in one soon.
Emirates Premium Economy (A380)
PROS
Best-in-class seat with premium finishes
Very attentive service
Likely a very quiet cabin given route is most popular between Sydney – Dubai
CONS
Wifi can be expensive if not a frequent flyer
Marginally cheaper than business class on the same route
On the ground
---
Check-in
For an 0750 departure out of Sydney International Airport, it's early doors when checking in for EK412 to Christchurch. And while this is by no means a hard and fast rule, you're probably safe in assuming a quick check-in and security screening will be on the cards for you as it was for me.
Emirates check-in counters at Sydney Airport have a dedicated priority queue for premium economy passengers, and given the busiest portion of this route is definitely between Sydney and Dubai, a quieter check-in process is likely on both sides of the Tasman.
Premium economy passengers are allowed up to two pieces of checked baggage up to 23 kgs each.
Lounge
Emirates premium economy flyers do not have lounge access as part of their ticket. Passengers who hold the required frequent flyer status tier with either Emirates or Qantas can unlock both airlines' respective lounges for a spot of breakfast before takeoff.
---
Up In the Air
I'll start by admitting that 'premium economy' class, with its many varying definitions across long-haul carriers, is often a stab in the dark for consumers. I can confirm there's no ambiguity with Emirates' premium economy. It's one of the best in the sky and Emirates leads from the front with respect to this cabin class.
And interestingly on the A380, that's exactly where you'll find the premium economy cabin. You're not sandwiched between economy and business. The split levels of the double-decker Airbus mean PE flyers enjoy a wildly spacious layout right at the pointy end of the lower deck. The 56-seat cabin wraps around the staircase that leads up to First Class, and I only counted a dozen or so people around me on my weekday flight. Bliss.
The Emirates A380 is truly a beautiful machine and its capaciousness was very much appreciated on a route that usually traps flyers on a pokey Boeing 737.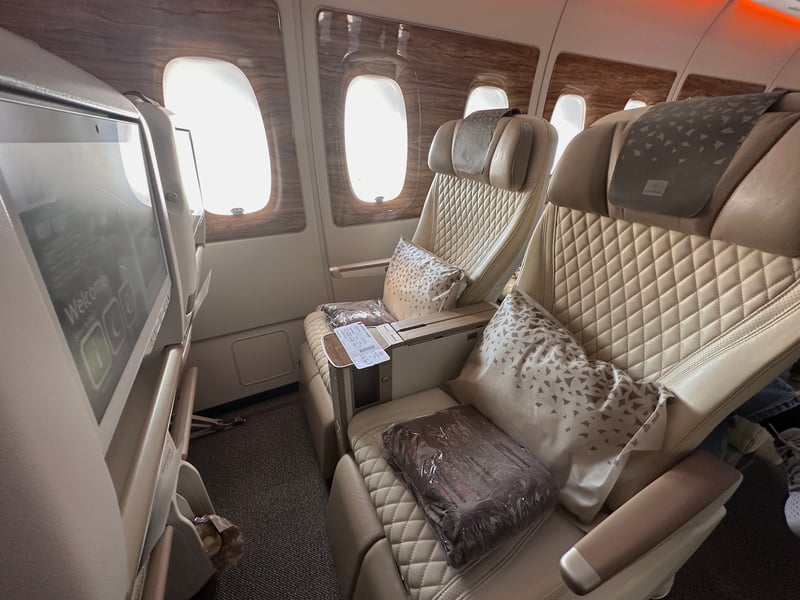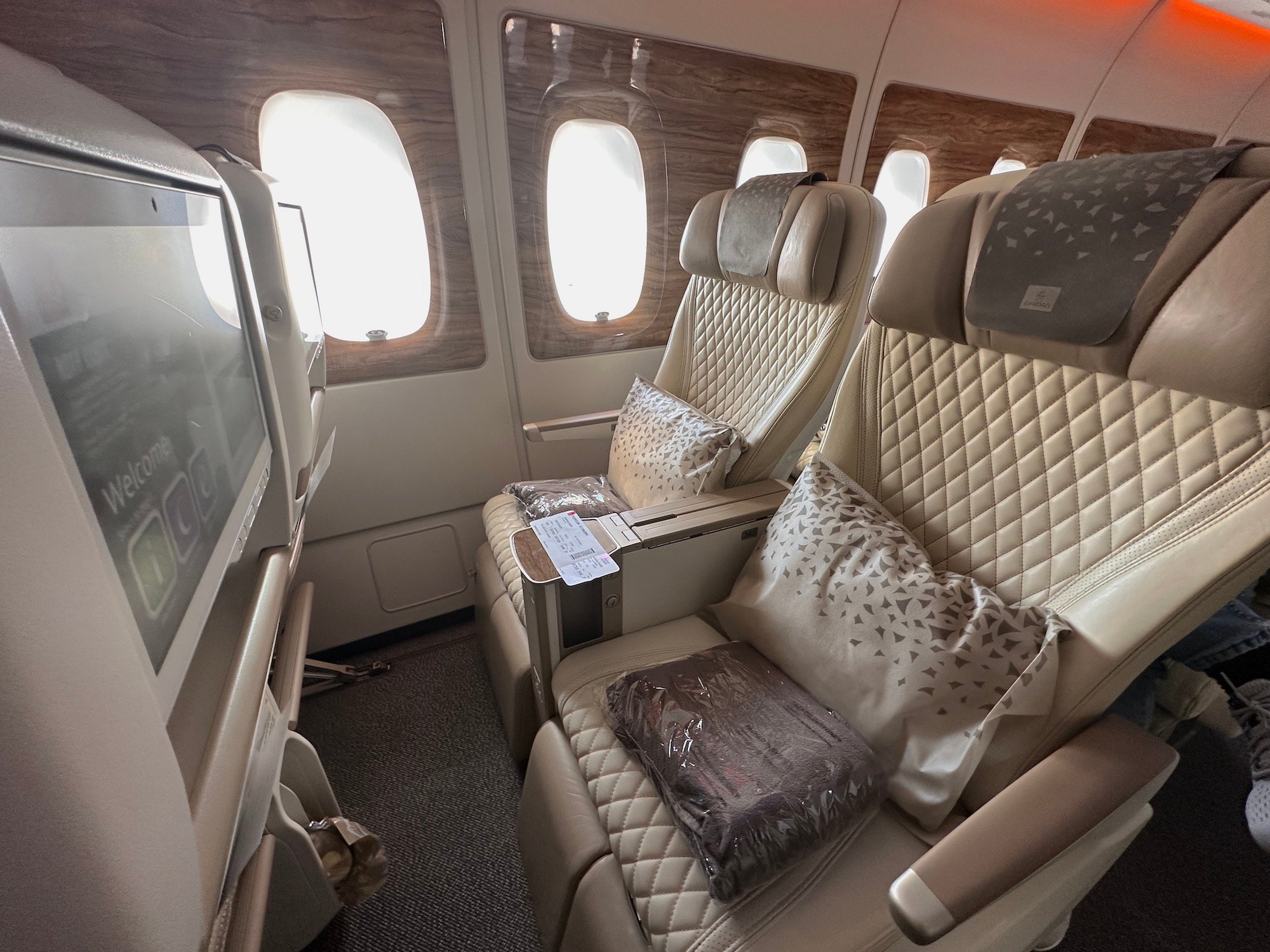 Seat
This was my first time experiencing the Emirates A380 premium economy seat, which is arranged in a 2-4-2 layout. I was on the window, 34K, with a spare seat next to me. Immediately it was obvious how perfect this arrangement would be for couples travelling together long haul.
The seats themselves are supremely comfortable with quilted stitching, large attached headrests and collapsable cushion leg rests. The generous seat pitch clocks in at 40 inches, though I didn't feel the need to recline fully given a snooze wasn't on my agenda for the morning.
The 13.3 inch HD TV on the seatback is crisp and responsive, and directly underneath it is a thin storage bin that's perfect for your phone, your passport, or your AirPods case. Between each duo of seats nearer to the floor is another slot for storage, perfect for over-ear headphones. The supplied headphones looked pretty flimsy and poor quality in my opinion, so they didn't leave the plastic packaging once during my flight.
In almost every respect, Emirates' premium economy seat is better than the business class on Qantas' 737 that flies to Christchurch on the same route.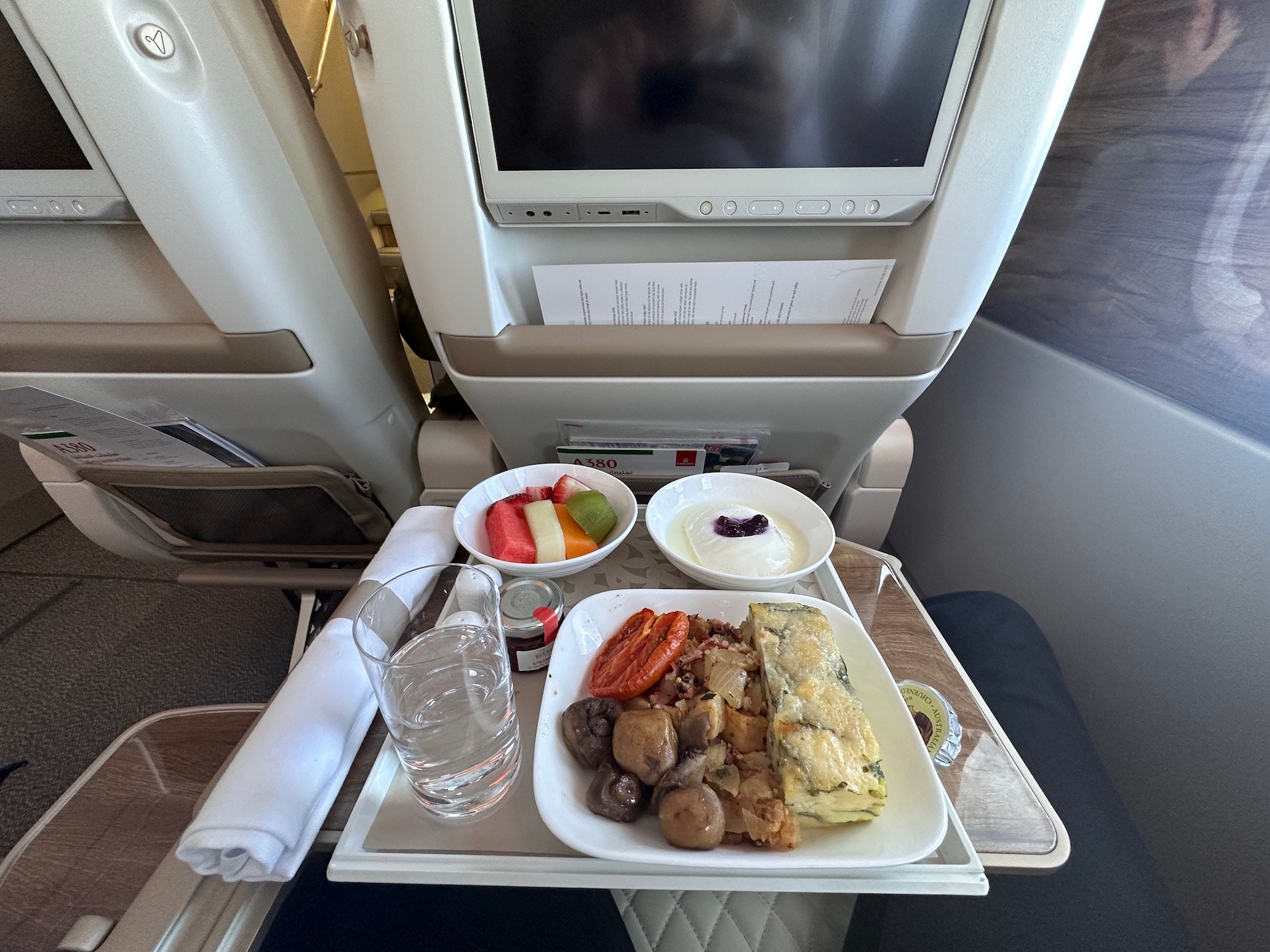 Food & drink
Interestingly, I was only offered water, orange juice and apple juice before takeoff. In hindsight, it was 8:30 AM on a Monday morning, but what I'm saying is – don't expect a glass of bubbles on arrival. I have since confirmed from other sources that sparkling wine is not part of the pre-takeoff repertoire in Emirates PE. Chandon Brut is served on request throughout the flight, but if you want to unlock the finer grapes you'll have to step up to business or first class. Interestingly, Emirates is the only airline approved to serve LVMH-owned champagne houses.
Unlike economy, PE flyers get a printed menu card to mull over their inflight food selection. I found the spinach and parmesan frittata was surprisingly delicious. I would say if you like to enjoy your meal with a croissant or brioche bun, I would proactively ask for it when your order is taken. I'd basically finished my entire breakfast before any pastries or bread were offered.
The yummy Pepe Saya butter was frozen (as it often is on flights), but the heat from the frittata plate worked a treat in getting it to a spreadable room temperature. I declined any additional snacks, despite the quality of the food being strong overall.
Emirates premium economy passengers are served their meals with Royal Doulton china tableware and stainless steel cutlery wrapped in linen.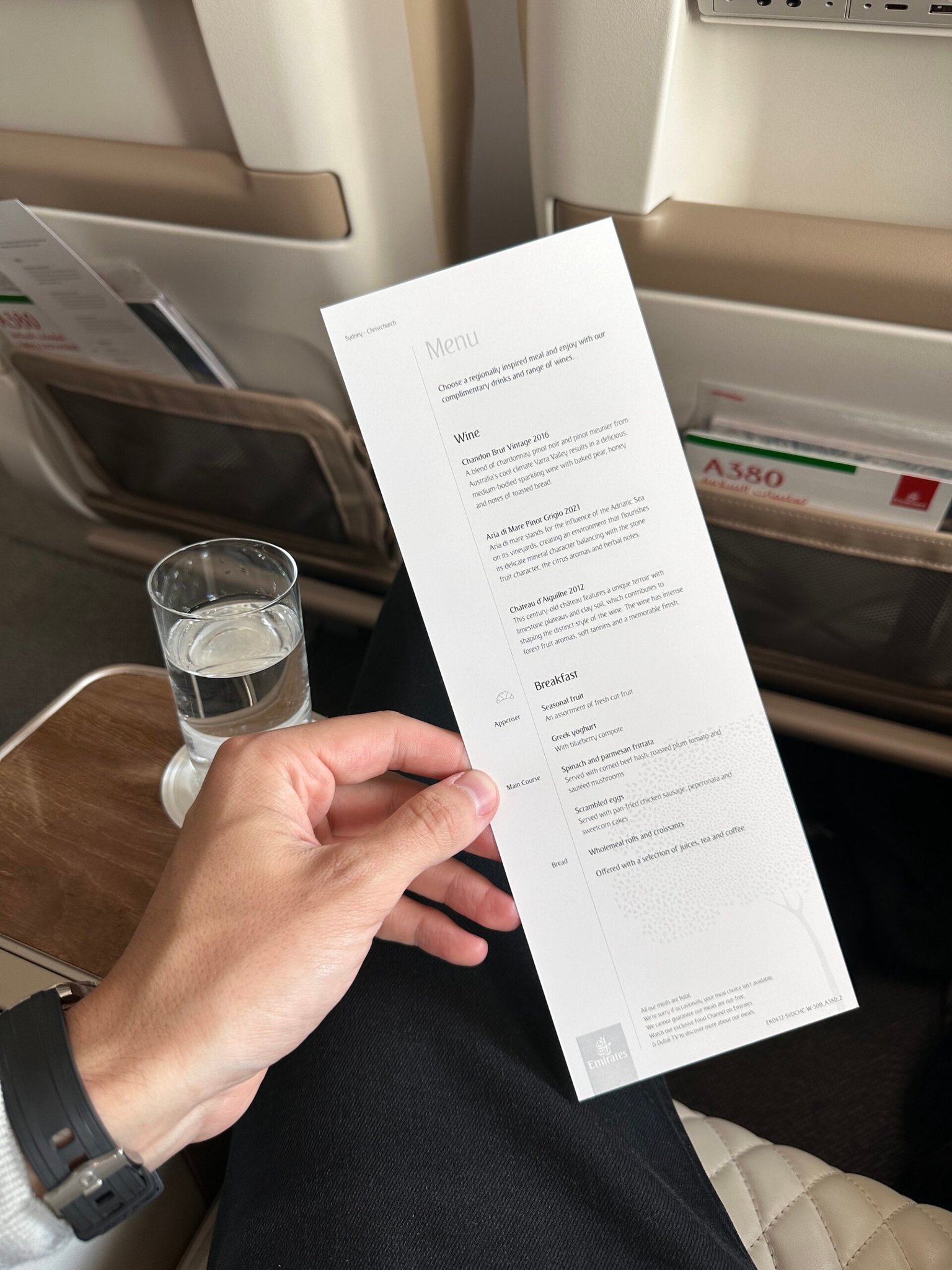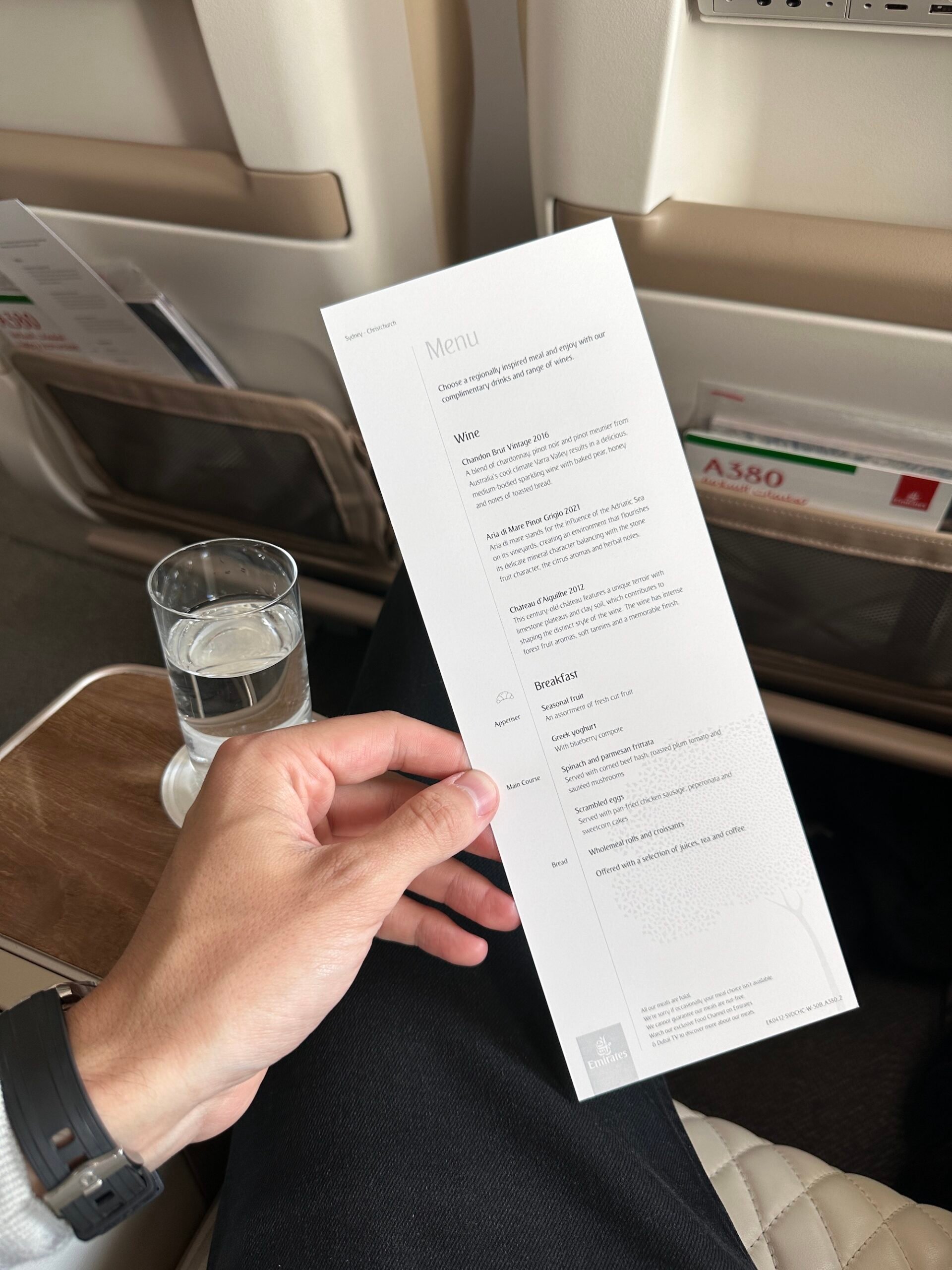 Entertainment
Emirates' ICE offering – information, communications & entertainment – is one of the best among the Middle Eastern carriers and is universal across all four classes on the A380. You can pass on the aforementioned supplied headphones and either connect your own or use the Bluetooth enabled on these latest A380s to connect wirelessly.
Emirates Skywards members can enjoy complimentary basic WIFI on most flights, and regular punters can choose from a variety of paid options to connect with the outside world, starting at US$9.99 for 30 minutes of full connectivity.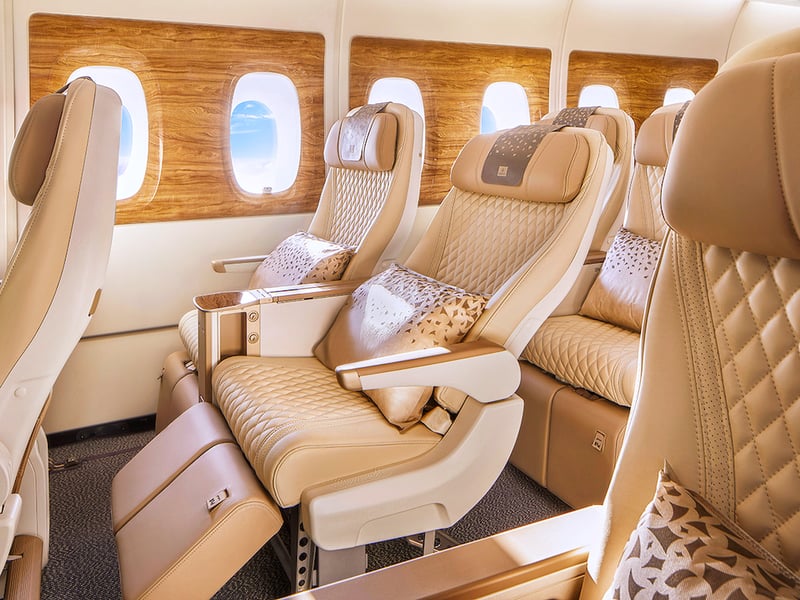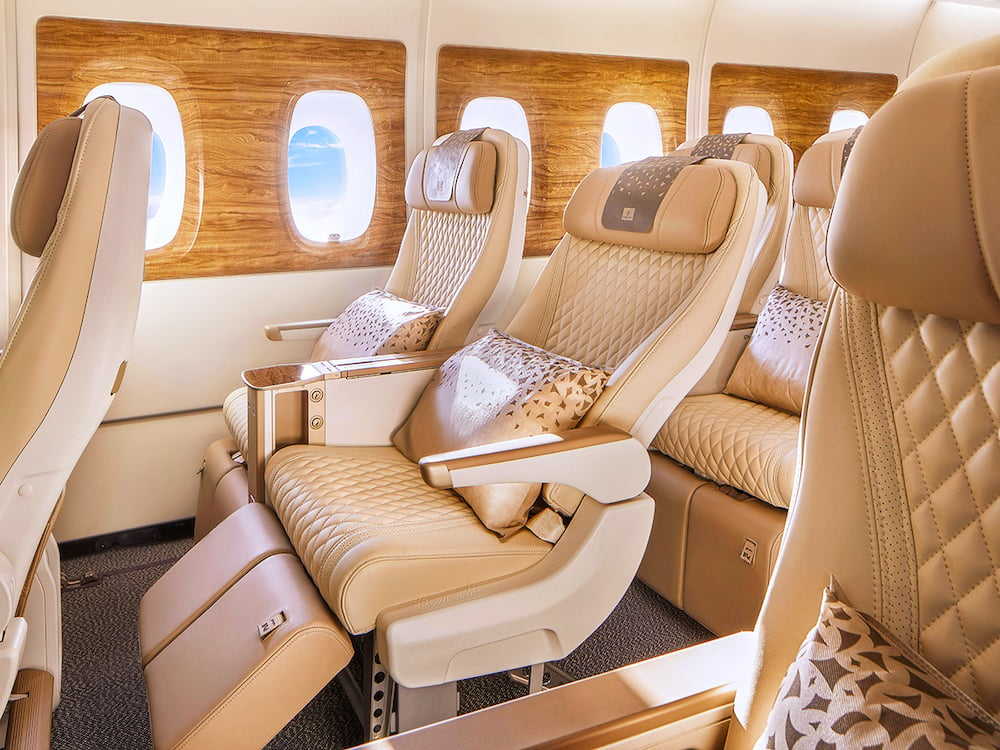 Service
On the Sydney-Christchurch-Sydney leg of this mammoth route onwards to Dubai, a thin manifest and large crew meant it was a quick and friendly service from start to finish. There are simply not enough passengers to warrant any other outcome. The crew are clearly stoked with the short three-hour shift. If you're a frequent flyer you can expect a greater level of attentiveness (even the Qantas ones such as myself) and a personal welcome upon arrival at your seat.
On longer flights, amenities kits are provided for PE passengers, which this Sydney to Christchurch hop did not qualify for. If you're interested, each "sustainable" kit contains socks and eyeshades, a dental kit and a bookmark. Some items within are made from recycled rPET plastic, recycled paper or wheat straw. They're contained in a washable, 70% kraft paper pouch.
Verdict
If you find yourself in one of Emirates' A380 premium economy seats, preferably on a long-haul slog to Europe, you'll have a splendid time.
The same can be said when flying from Sydney to Christchurch. But across the Tasman, prices just don't make sense for you not to pay an extra few hundred dollars and cop a seat in Emirates business. Especially considering it'll be an almost empty flight in either direction, an Emirates business class seat will mean you unlock the swanky new rear lounge and not have to elbow anyone for the prime position at the bar. A negligible cost you'll make back in a bottle of champagne of three if you're smart about it.
To put it into clear numbers – the same flight on the following day was selling the premium economy seat for $938 one way. In business – with additional frequent flyer points and status, I might add – a seat on the next day's flight was just $1,184.
You see the first-world conundrum presented here. That being said, either seat is an enjoyable place to be and sampling the premium economy to New Zealand was a delightful tease of an exceptional product. It could be the international sweet spot for the value-conscious flyer who likes a sprinkle of the finer things when travelling the other direction to Europe.
RELATED: Delta One Suites A350 Review: Los Angeles To Sydney