Though commercial air travel is but a distant memory for Aussies right now, it's good to know that once we get back in the air, a number of essential aviation features could be changed for the better. But we're not talking about improved hygiene practices – that's a given – or biometrics; one of the more exciting developments in the future will be single-aisle Business Class. Given long haul, narrow-body aircraft will be a big presence in commercial aviation moving forward, the biggest leaps in Business Class will be seen here, as evidenced most recently by the impressive new JetBlue Mint Studio.
No longer is apartment-style, direct-access seating going to be seen as a First Class-exclusive. With the reveal of JetBlue's new Mint Business Class seats, specially designed for the new Airbus A321LR, we can feel a gold standard coming on. It should hopefully be a mark of what's to come when Qantas and Virgin Australia pick up their already solid fleet of single-aisle jets, like the dependable Boeing 737, and the A321XLR jets. The latter, the longest range single-aisle airliners to date, have been locked in for Qantas, to a total of 36 jets delivered from 2024.
Virgin Australia is looking at a similar uptick for their single-aisle fleet, expecting 25 Boeing 737 MAX 10s from 2023.
---
---
RELATED: The World's Best Airlines For 2021 Have Been Announced (With A Few COVID-19 Caveats)
Given narrow-body aircraft will likely be the new standard on both the domestic and international market, frequent flyers have often wondered just how we can move away from the dull 2-2 layout with standard recliners, towards a more refined, elegant, and private design that makes Business Class actually feel like a cut above Economy and Premium Economy.
Looking at the JetBlue Mint Studio, it's pretty obvious this should be seen as the benchmark. Even the JetBlue Mint Suites, which make up the majority of the new Business Class offering, speak to an unprecedented standard for the cabin class, where every seat is its own suite with its own sliding door.
---
JetBlue Mint Studio: A Sign Of Things To Come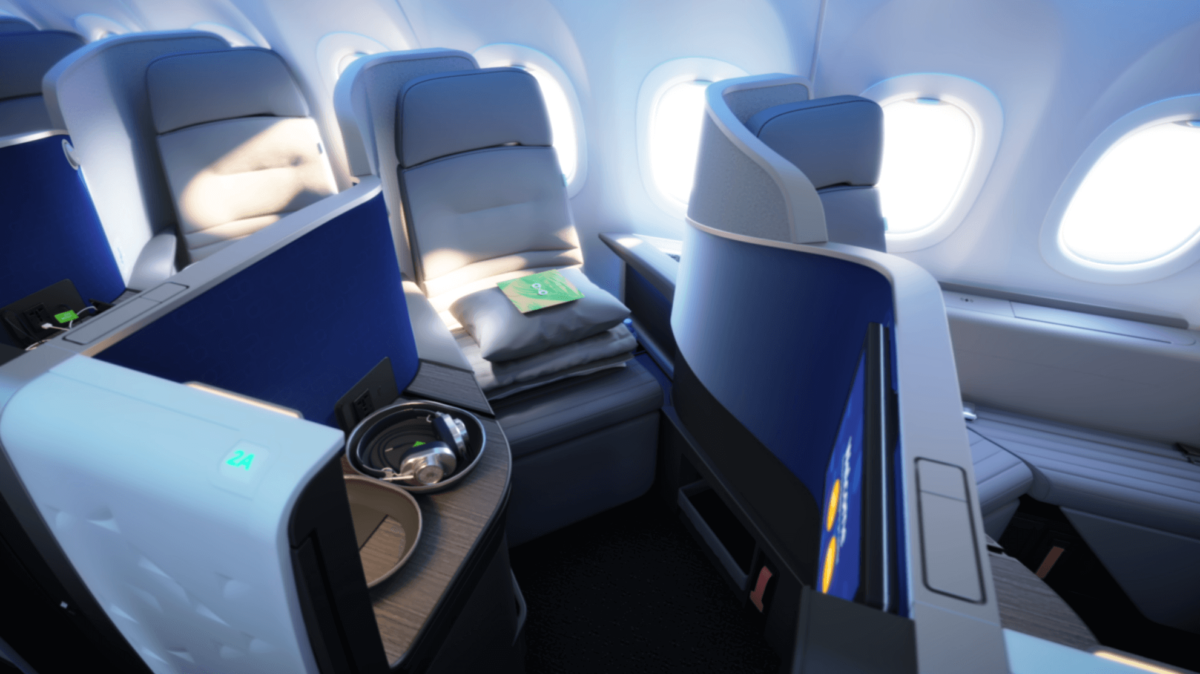 The fresh-faced JetBlue Mint Studio product will lead the charge as the airline looks to aggressively build up its presence on the trans-Atlantic market later this year. Reportedly, 22 Mint Suites and 2 Mint Studios will be the pinnacle offering of the new Airbus A321LR jets used to service both New York and Boston on laugh haul flights to London.
The single-aisle Business Class products will also be present on the Airbus A321 neo jets, which just started flying between New York City and Los Angeles. Although it will be a slightly smaller offering, with 14 Mint Suites and 2 Mint Studios.
Consider the Mint Studio as a sort of Business Plus offering, using the bulkhead seats of the cabin to offer a slightly bigger footprint, moving up in scale from the already impressive Mint Suites. The Studios kind of look like a somewhat lighter and more economical version of the iconic Etihad Airbus A380 Residence. And that makes complete sense, seeing as both share the same designer – London-based studio Acumen Design.
For the most part, the Mint Studios are a mirror image of the Mint Suites. Each boasts large entertainment screens which can pivot and tilt, feature fully closing doors, and have lie-flat seats made with supportive memory foam and soft vegan leather upholstery in collaboration with Tuft & Needle. There's also a generous amount of bench and storage space, including nooks designed for laptops and shoes, and wireless charging stations along with both AC and USB sockets.
---
---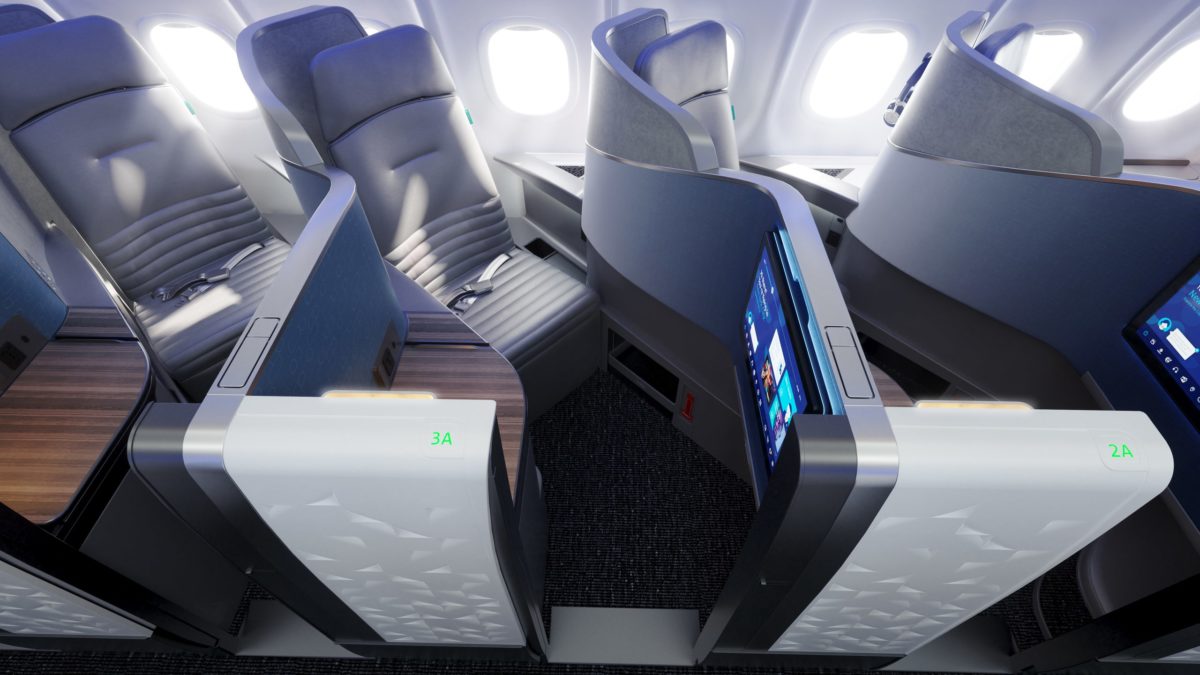 The difference is that each Mint Studio has an extra side table, thanks to the additional space, and an integrated personal closet with its own vanity mirror. Compared to the 17-inch displays found in the Mint Suites, the Mint Studios feature 22-inch screens. Rounding out the offering is an additional guest seat should any neighbour want to pop on by your apartment to share a meal or cocktail.
That extra space actually does look like it enhances the offering significantly. When you do get sick of your visitor and end up kicking them out of your in-air apartment, the two seats can marge in lie-flat mode to create one large business class bed that measures 45-inches across. JetBlue claim this is the largest surface area of any business class flat bed of a US carrier.
In terms of aesthetic, the Mint Studio makes full use of soft mood lighting, reflected onto suede that's wrapped around the suite. On the floor is a denim-like carpet and around the edges are various stylised concrete and wood finished. The result looks incredibly relaxing, creating an insular environment that's soft and minimal to further up the comfort level.
---
Will Qantas and Virgin Australia Adopt This Design?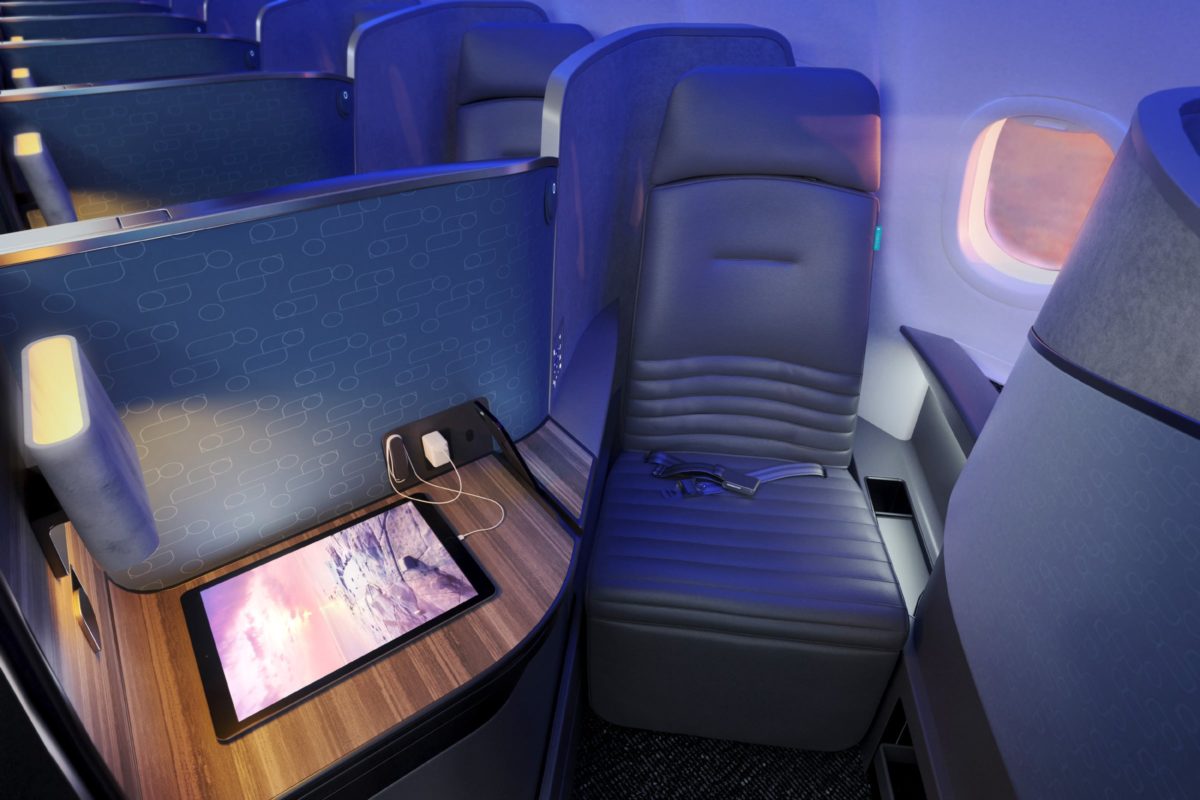 As always, it's up in the air (no pun intended) whether or not Qantas and Virgin Australia will be adopting something similar to the JetBlue Mint Suites and JetBlue Mint Studios. It's obvious that time will come for them to update their narrow-body Business Class products, which currently just aren't up to scratch compared to what we've been seeing from other airlines.
It's highly likely a version of Acumen Design's impressive designs will be adopted though. Aussie business travellers surely know by now that the current idea of single-aisle business class seats won't last much longer in the market if this is the standard we're seeing. This makes routes like Cairns-Tokyo and Melbourne-Singapore much more appealing, and potentially more financially viable for those that really fly anything but Business.
All eyes will especially be on Qantas when the new A321XLRs start being delivered. The Mint Studio, or a version of it, would make sense on these narrow-body jets, and would easily make some of Qantas' Australia to Asia services substantially more comfortable for when international travel does actually pick back up.
Other single-aisle Business Class products from the likes of Qatar Airways and Cathay Pacific could be more viable options for Qantas and Virgin Australia, but seeing as JetBlue's Mint offering has always been seen as a more economical option, perhaps it would be wiser for them to avoid going to the same route as the bigger carriers.