Representing an investment of approximately €200 million (AU$319 million), Finnair has unveiled a substantial overhaul to its onboard passenger experience. In tapping new approaches to both business and economy cabins, as well as debuting a new premium economy cabin, Finland's flag carrier has made a few surprising choices that step away from the typical with a clear attempt at making a statement – particularly with the new Finnair business class seats.
Those business class seats are most unusual. Conceived as the AirLounge from highly regarded seat manufacturer Collins Aerospace, each features a sofa-inspired fixed shell design that does not recline and takes inspiration from residential furniture, as opposed to conventional aircraft seats.

While the new Finnair business class seats do feature a lay-flat bed with mattress and direct aisle access in the rather standard 1-2-1 configuration, they are a meaningful step away from the airline's current Zodiac Cirrus III (Aries) design.

Even though they don't recline, the contoured design is worked in a way that allows for a greater range of sitting and sleeping positions, all of which are rated for taxi, take-off, and landing. Using the ottoman and swing-up leg rest, the passenger is able to create a fully-flat bed without needing any further seat mechanisms.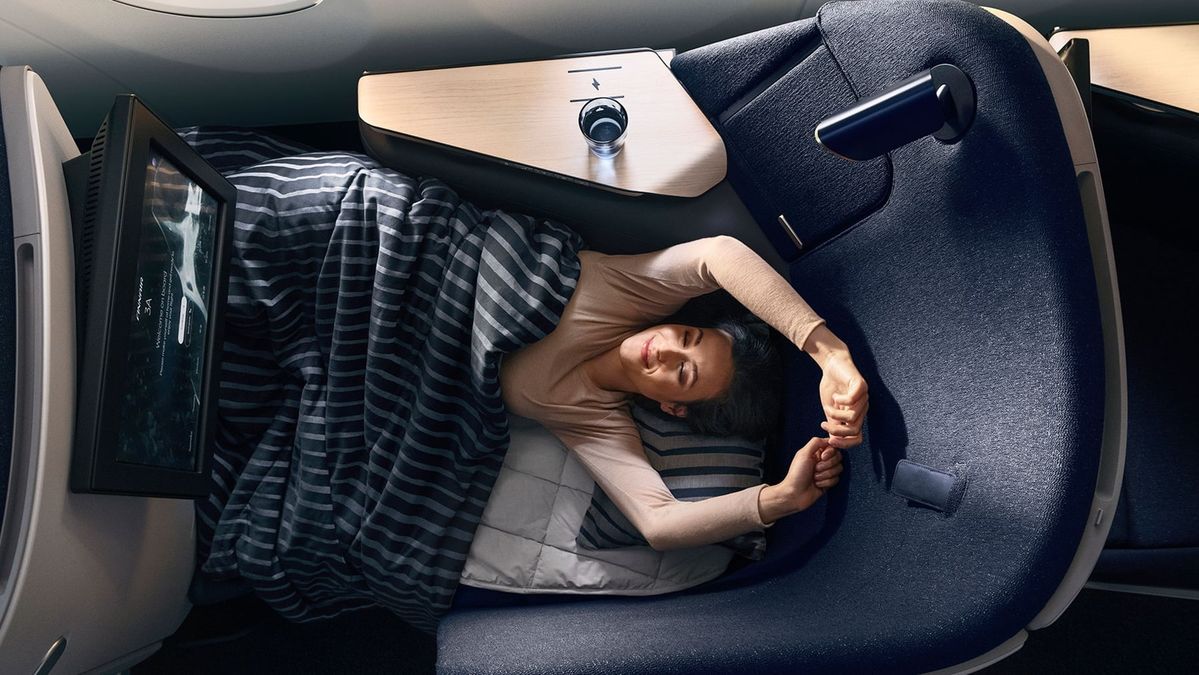 Finnair and Collins Aerospace started with typical residential furniture design for inspiration, working up a fixed contoured shell that almost looks cocoon-like with a raised seatback to help with privacy. Dressed with a Marimekko mattress and duvet, it looks appropriately snug and should offer a completely different business class experience than any other carrier in the sky right now.
---
---
The seats are more like sofas, albeit heavily customised to offer the convenient modern comforts necessary for business travellers. Along with 18-inch HD video screens and a bespoke LED lamp with customisable lighting, each business class seat features three types of connectivity – AC, USB-A, and USB-C ports. In a nod to changing trends, there's also a wireless mobile charging pad on the side table for compatible devices.
Other smaller details of the new Finnair business class experience have also been tweaked to bring the carrier into a new era, focusing more heavily on aesthetics. Finnish design house Littala has been tapped to supply new dining chinaware inspired by contemporary home design, and mood lighting from tip-to-tail has switched to embrace a "sense of Nordic Freedom," with the typical cream, white, and pale blue replaced by richer, bolder palettes favouring dark blue, champagne gold, and black.
RELATED: The Dog Who Flew From Sydney To Italy In Business Class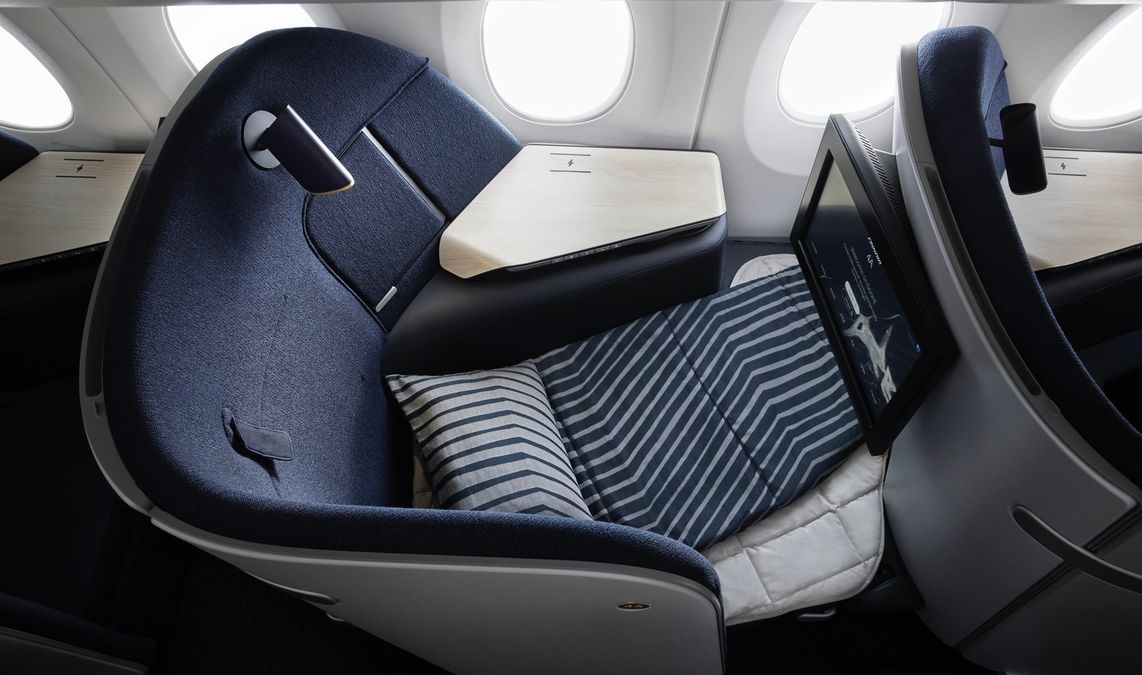 This new idea of furniture-like seating, ambient home lighting, and residential details should make the new Finnair business class one of the more unique experiences in the sky right now. It seems like a modern evolution of the Sofa Class seat, which was developed by PriestmanGoode for British Airways almost a decade ago.
The new Finnair business class will start rolling out in May on the airlines' Airbus A350 and A330 aircraft.
There's A New Premium Economy Too
Business class isn't the only major change onboard Finnair. Years in the making, the airline is now planning to introduce the long-awaited premium economy seating by Haeco. The 'Vector Premium' seat, for which Finnair is the launch customer, was designed in partnership with Tangerine and is sounding rather generous in terms of space and comfort.
With 38-inches of legroom, each of the 26 premium economy seats will feature dedicated stowage areas for laptops and smaller personal items, as well as memory foam cushions, a six-way headrest, and individual reading lights. The seats come with an 8-inch recline and a 13-inch touchscreen to help make up the value for anyone opting to bump up from standard economy.
---
---
This is another meaningful step-up from Finnair's current offering, which is conceived as 'economy comfort' and basically just offers slightly more legroom than your standard economy seating.
Premium economy will have its own dedicated cabin, looking slightly different depending on the aircraft. The Airbus A350 will have a 2-4-2 configuration, while the Airbus A330 will have a 2-3-2 layout.
Availability
While the new onboard changes will start appearing as early as May, Finnair expects that not all A330 and A350 jets will be refitted until the end of 2023. The number of seats will also change according to the following:
A350 version 1: 43 business class seats, 24 premium economy seats, 211 economy seats
A350 version 2: 30 business class seats, 26 premium economy seats, 265 economy seats
A330: 28 business class seats, 21 premium economy seats, 230 economy seats