A few weeks ago premium travellers itching to head overseas received the very welcome news that Qantas' fleet of Airbus A380 superjumbos was ready, willing and more than able to kick up the airline's First Class experience. Several small but meaningful changes to Qantas' top-tier product primed our nation's flagship carrier for the return of luxury travel, but the news may have overshadowed the other changes passengers can expect when opting for the Qantas A380 Business Class cabin. And the changes found here are just as substantial, if not even more impressive given the dated Skybed II seats have finally been switched out for the same Qantas Business Suite as one would find onboard a Qantas Boeing 787 Dreamliner.
Regular business class passengers who paid close attention to the beleaguered aviation industry during the pandemic would already know Qantas had begun refurbishing some of its A380 fleet last year.
Now all the A380s returning to service, on current routes like Sydney to Los Angeles and upcoming legs like Sydney-Singapore-London (launching in June) and Melbourne-Los Angeles (launching in December), have been upgraded to better align with the airline's post-pandemic era.
---
---
As initially reported by Executive Traveller, the new Qantas Business Class seats headline the raft of premium switch-ups onboard the A380, but there are also two fresh upper deck premium lounges, new Premium Economy seats and the First Class that were already announced onboard Qantas flights for the Qantas airbus A380 aircraft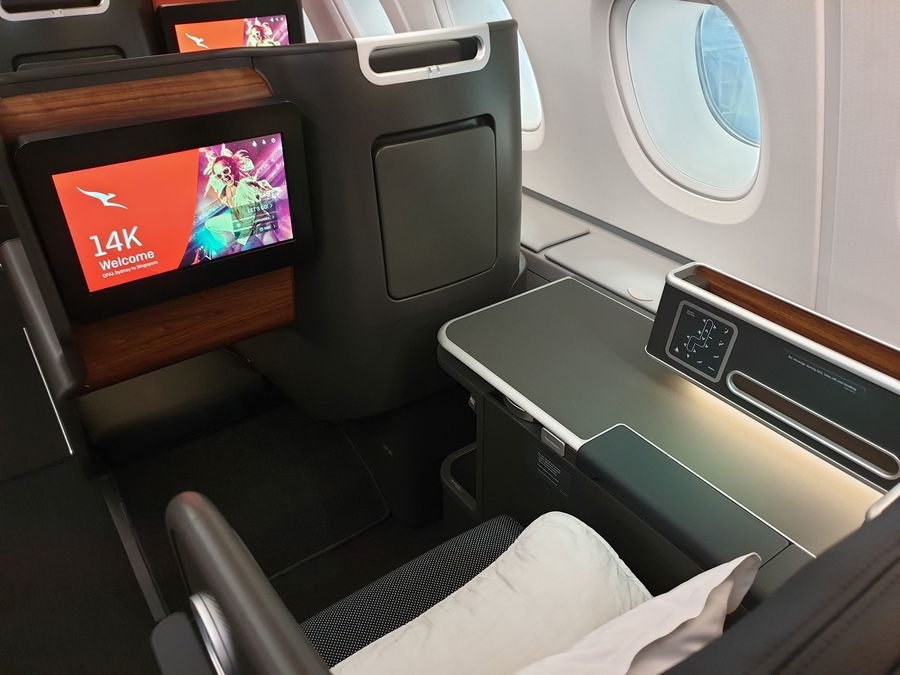 RELATED: Qantas' New 'I Still Call Australia Home' Ad Will Make Grown Men Cry
The Qantas Business Suite now offers Qantas' pinnacle business product, which passengers have enjoyed onboard the airline's Boeing 787 Dreamliner for quite some time. The Business Suite has long been considered vastly superior to the old Skybed II seat in every conceivable way, including offering the exact format Qantas needed to finally move away from the 2-2-2 layout and towards a more equitable 1-2-1 layout. Now even those who nab a window seat have direct aisle access and more space.
The new seats also mean more privacy for each business traveller in the main deck, with the suite's rear shell able to extend forward and almost wrap around the space so passengers can create an insular, cacoon-like space for when they want to shut out their surroundings. Anyone in the middle seats also have the option for the opposite as well, with a divider that can be lowered for anyone travelling together to create one bigger space and a bit more extra room.
Perhaps the most meaningful difference between the A380 Qantas Business Suite and the Skybed II is that, due to better design, the former functions as an actual flatbed rather than one that kind of droops down. Granted, with the Qantas Business Suite you do have to contend with a smaller space for your feet, which could be a pain for anyone with larger feet. This issue will differ depending on which seat you actually get, though, so the bulkheads are probably the ideal situation here.
More storage space for both big and small items is made possible with a spacious flat bench next to each of these Qantas Business Suites, as well as a large bin both below and in front of the bench. Anyone grabbing a window seat also gets direct access to those deeper bins below the A380's upper deck windows for shoes, backpacks and whatnot.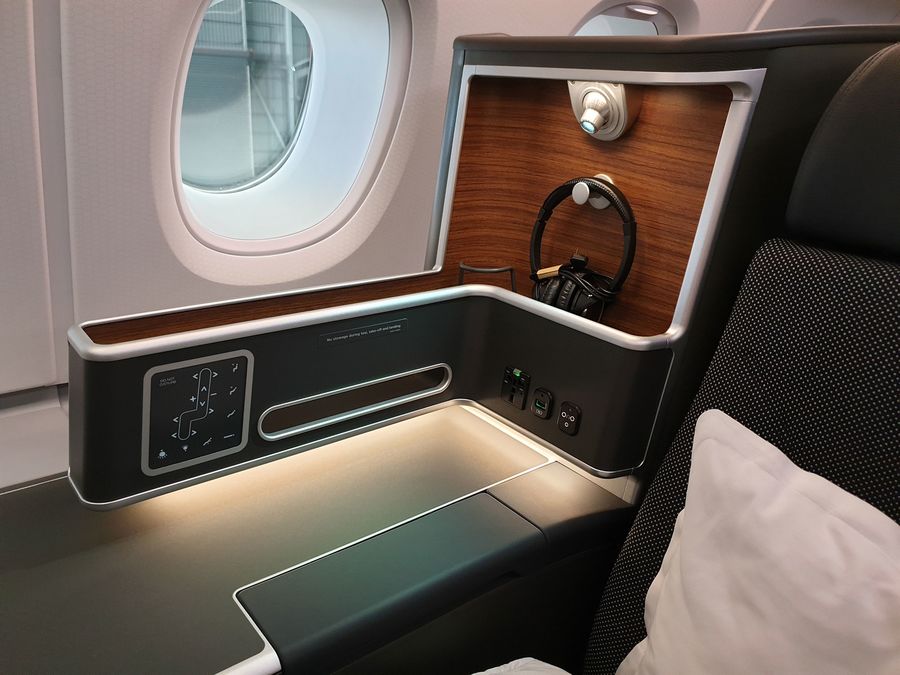 Better general connectivity means anyone actually doing work while in the air can do so without any annoying pain points. AC and USB ports are located on the side shelf, easily accessed without having to reach under the seat. The tray table is now big enough for a 17-inch laptop and is fairly stable when compared to the shakey tray tables of the old Qantas Business Class.
---
---
And when you feel like a break and some inflight entertainment, that lofty 16-inch HD flatscreen panel should pair well with Qantas' typically well-stacked list of shows and movies. This represents a big step-up over the old Business Class 12-inch screens, which were never the brightest and felt largely dated when sized up next to some of the world's leading airlines.
However, Qantas still aren't being too generous when it comes to inflight data. You've still got WiFi on domestic flights, but don't expect to see this for international flights just yet.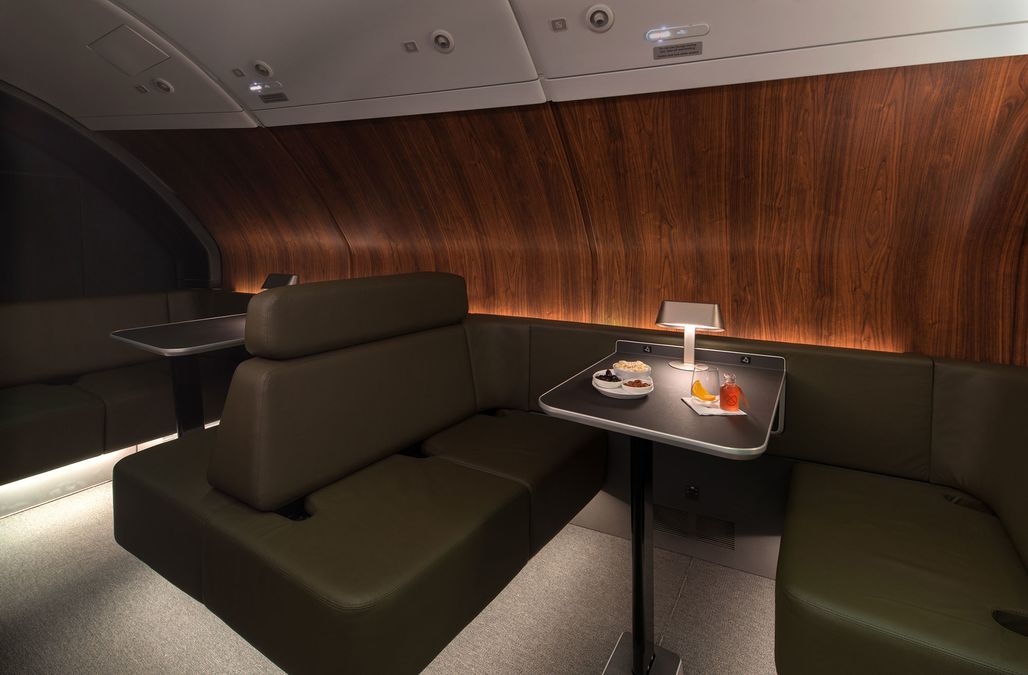 When you're sick of doing work in your suite, there are always those deep green leather couches at the front of the upper deck waiting for you. Introducing two new lounges will be a great addition for premium travellers on a Qantas A380 Business Class flight, bringing a bit of a cocktail lounge vibe to the skies with the newer lounge, featuring cocktails such a Negroni using Australian native ingredients and various snacks, wines and light meals.
As for the standard Qantas lounge to the right of the upper deck staircase – this space has been redesigned to resemble more of a small cafe with bench seating, AC and USB connectivity and a large-screen flat monitor for groups to watch a movie together.
With these changes, it's looking like the more ubiquitous Qantas A380 is now officially primed to carry the airline while it gets back on its feet after the worst few years in aviation history.