Although Qantas' not-so-secret "Project Sunrise" has been in development for more than five years, today the airline has finally confirmed plans for what will indeed be the world's longest commercial flights. Announced this morning, the substantial move from Qantas introduces ultra-long-haul non-stop services that will fly from Sydney and Melbourne to New York City and London by mid-2025, with the possibility of Paris being added as a Project Sunrise destination, as well as potentially some other cities such as Frankfurt. This will all be made possible with an incoming fleet of 12 specialised Airbus A350-1000 aircraft, the subject of a multibillion-dollar order placed with the European planemaker that was supposed to take place before Covid reared its aviation-devastating head in 2020.
Much speculation has surrounded Qantas Project Sunrise flights throughout the pandemic, and today's announcement finally confirms that the first of such non-stop ultra-long-haul flights will take off exclusively from Sydney in the first instance – a condition of the $50 million offer the NSW state government made in April 2021 to prevent Qantas from uprooting its Sydney headquarters for Melbourne or Brisbane.
Although of course, this won't be a for a good few years now. Between now and then, Qantas will await delivery of these custom-designed A350-1000 aircraft, which Qantas and Airbus collaborated on to provide more muscle, fuel and capacity than the A350-900 aircraft.
---
---
Specifically, these jumbos are the A350-1000ULR aircraft ("ULR" meaning Ultra Long Range), sporting an extra fuel tank and several other design changes necessary to fly non-stop for over 20 hours without needing to stop over anywhere.
This is big news for passengers who wish to fly to such major hubs as New York and London without needing to contend with any layovers. It's also even bigger news for Qantas, which will set a new record and become the only airline flying such non-stop routes.
The Qantas A1350-1000s will have the range necessary to travel from Australia to any city in the world, without the need for any stopovers. This is made possible by the Rolls-Royce Trent XWB-97 turbofan engines, which are 25% more fuel-efficient than previous generation aircraft.
Delivery of all 12 A350-1000s will be completed by 2028.
"Throughout our history, the aircraft we've flown have defined the era we're in," said Qantas CEO Alan Joyce.

"The 707 introduced the jet age, the 747 democratised travel and the A380 brought a completely new level of comfort. The A350 and Project Sunrise will make any city just one flight away from Australia. It's the last frontier and the final fix for the tyranny of distance. As you'd expect, the cabin is being specially designed for maximum comfort in all classes for long-haul flying."
Layout of Qantas A350-1000 complete with well-being zone for stretching on 20-hour flights btwn Sydney and London and NYC. pic.twitter.com/ohj6uUxvXm

— Robyn Ironside (@ironsider) May 1, 2022
Qantas Airbus A350 Cabins
Interestingly, 41% of the A350 planes will be reserved with premium seats. This is because Qantas expects passengers would be willing to pay big to save time and avoid stopovers in cities like Dubai, Singapore and Los Angeles.
---
---
The custom-made A350s will reportedly have the capacity for 238 passengers across four cabins, with just six suits in First Class, 52 in Business Class, 40 in Premium Economy and 140 in Economy. Each aircraft will also include dedicated "wellbeing zones" between the two Economy products where passengers will be able to stretch and hydrate to help with the physical toll of flying for more than 20 hours.
As per the photo above, tweeted by The Australian's aviation writer Robyn Ironside, Business Class will include direct aisle access for all passengers and a self-service Bar Zone. Whether or not this is an iteration of the Qantas Business Suite layout of the A380s remains to be seen.
First Class will feature six enclosed suites in a 1-1-1 configuration, with each featuring a separate recliner lounge chair and ergonomic bed. All 40 seats in Premium Economy will benefit from a 40-inch seat pitch while all 140 Economy seats will have a 33-inch seat pitch.
The Project Sunrise flights will require some substantial seat redesign across all four cabins. From images released online, the new pinnacle product will be the Qantas 1A suite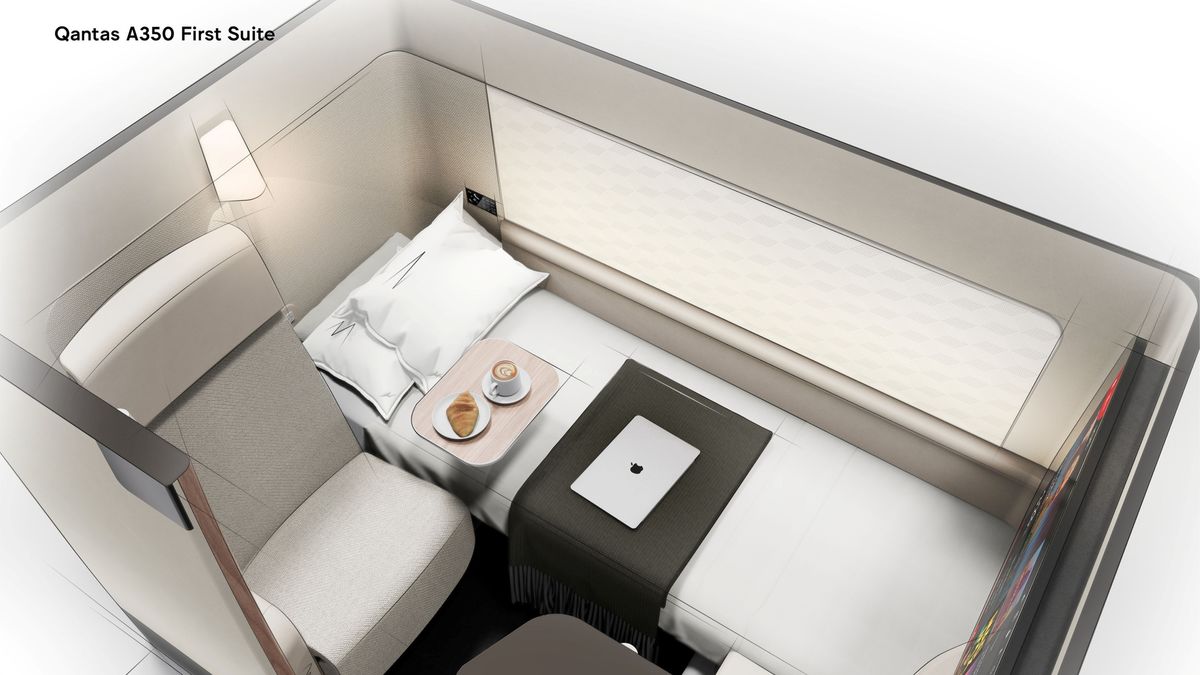 Project Sunrise: A Long Time Coming
The record-breaking long-haul flights will finally make good on Alan Joyce's desire to fly non-stop from Sydney to London, which he has always described as the ultimate goal for Australia's flagship carrier. Currently, the only non-stop flight from Australia to London embarks from Perth and takes 17 hours to fly the 14,500 km – although this Kangaroo Route flight moved to Darwin during the pandemic.
At the announcement this morning, Qantas implied that customers can expect even more direct routes in the coming years, which benefits passengers in a number of ways – the most important of which is less total travel time.
"The board's decision to approve what is the largest aircraft order in Australia aviation is a clear vote of confidence in the future of the Qantas Group," said Joyce.
"New types of aircraft make new things possible. That's what makes today's announcement so significant."
---
---
The direction of a Project Sunrise flight from the east coast of Australia to London is expected to come with a total travel time of 20 hours and 20 minutes, shaving off almost four hours and the requisite layover in Singapore.
A Project Sunrise flight from Australia to New York City is expected to be around 18 hours, saving around three hours of total travel time.
Of course, Qantas is going to need to rethink the onboard passenger experience entirely to justify such long haul flights. To help, in-flight entertainment should see a big uptick with broadband WiFi expected to be capable of streaming HD video, possibly via the Starlink micro-satellites network developed by Elon Musk and his SpaceX project. Although an alternative could be the VisaSat-3 network.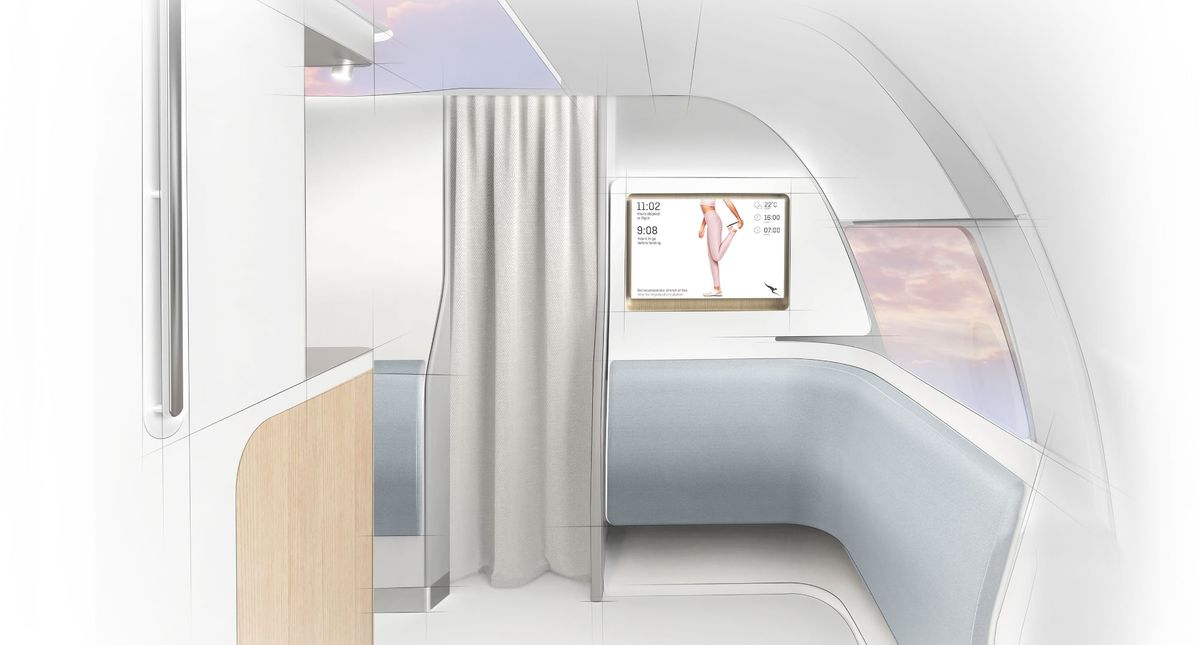 Project Winton: Qantas' New Domestic Flight Plans
In the meantime, Qantas has also confirmed plans for a substantial rehaul to its domestic fleet, titled Project Winton. This includes orders for 20 Airbus A321XLRs and 20 A220-300s, which when delivered from late 2023 will gradually replace the current fleet of Boeing 737s and Boeing 717s.
The Qantas A321XLR is five meters longer than the current Qantas 737 aircraft, increasing its capacity to 200 passengers with 20 in seats in Business and 180 seats in Economy. This represents a 15% increase without reducing any space between seats. The increased fuel efficiency and range on these new aircraft opens Qantas up to more direct routes both in a domestic and international capacity, with the potential of new services to South East Asia and the Pacific Islands.
Similarly, the A220-300s will represent a substantial size increase over the Qantas 717s and will accommodate 137 passengers, with 10 seats in Business Class and 127 seats in Economy. This represents a 25% increase in space, again without any reduction in space between seats.
Qantas Project Sunrise – Frequently Asked Questions
What is Qantas Project Sunrise?
Qantas Project Sunrise is a long-anticipated remodelling of the Qantas network, based around new flagship ultra-long-haul nonstop flights that will connect the east coast of Australia to major cities like London and New York City. These routes will be serviced by custom-made Airbus A350-1000 aircraft
When will Qantas Project Sunrise flights being?
It's looking like Qantas plans to start Project Sunrise flights when the fleet of Airbus A350-1000 aircraft begins delivery around mid-2025. The first destinations on the schedule appear to be London and New York City.
---
---
How long is a Project Sunrise flight between Sydney and London?
A Qantas Project Sunrise flight from Sydney to London is expected to be around 20 hours and 20 minutes, saving around four hours of flight time on the current Sydney-Singapore-London route.
How long is a Project sunrise flight between Sydney and New York City?
A Qantas Project Sunrise flight from Sydney to New York is expected to be around 18 hours, saving around three hours of total flying time.