This week Qantas launches its long-touted vaccination incentive program, designed to encourage Aussies to help the nation reach its target of 80% fully vaccinated against COVID-19. Dubbed the 'Been Vaccinated? Be Rewarded' vaccination incentive initiative, Qantas' new scheme will offer several free options, which double-jabbed Qantas Frequent Flyer members can choose from, ranging from free points and status credits, to discounts on flights. Each member will also be eligible to enter a draw, where one person from each state and territory will win a year's worth of flights, accommodation, or fuel package – with the prizes totalling roughly $85,450.
Any Qantas Frequent Flyer member based in Australia and fully vaccinated can hop onto the Qantas app from tomorrow to claim their freebies, as well as automatically be entered into the big draw. If you haven't yet had your double-jab, don't worry. The offer isn't going anywhere soon (it's available until NYE 2021), and as soon as you're fully vaccinated you'll be able to claim your Qantas goodies.
Here's how it works.
---
---
---
What's On Offer For The Qantas Vaccination Incentive Scheme?
From 8 AM Tuesday August 24, fully vaccinated Qantas Frequent Flyers who both live in Australia and are over the age of 18 will be able to claim their vaccination reward via the Qantas App. There are only three options available, and once you log on you only get to choose one.
1,000 Qantas Points
15 Status Credits
$20 flight discount for either Qantas or Jetstar
While that not may seem like much of a reward, as most Qantas Frequent Flyers would know, every bit counts, and those Status Credits could mean the difference between retaining Gold or Platinum – so when international borders do reopen, you're ready to tackle travel in the most comfortable way possible.
---
How To Claim The Qantas Vaccination Incentive Rewards For Fully Vaccinated Aussies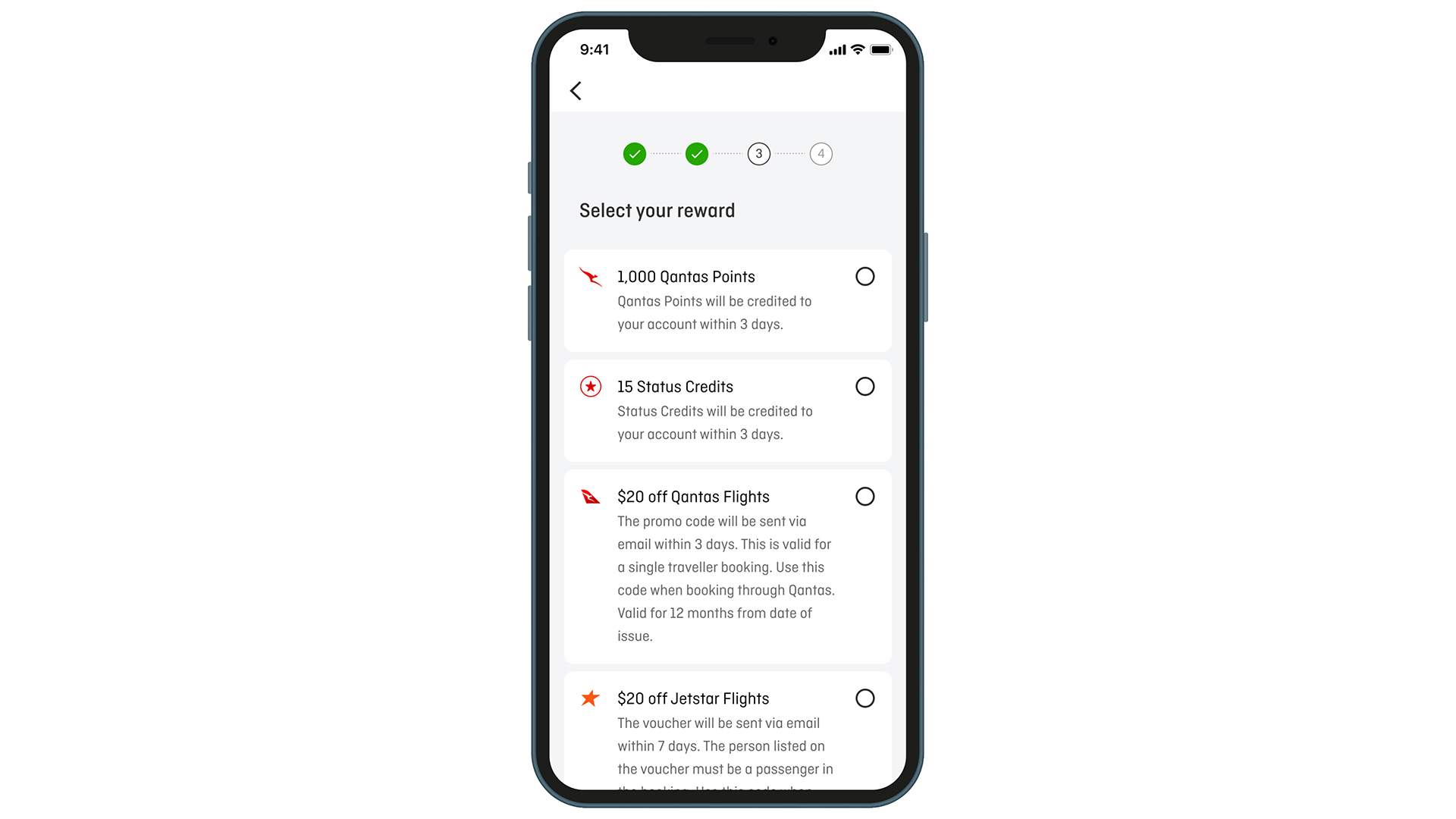 Qantas really couldn't have made it more straight forward when it comes to actually claiming your double-jab reward.
Once you log onto the Qantas App, you'll be prompted to upload your Medicare vaccination certificate, which will be deleted immediately after verification.
Obviously, this means you'll first have to actually get the certificate. If you've been fully vaxxed, you just need to use the Medicare app to access your certificate, which is attached to your Medicare number automatically after your second vaccination.
Once you've uploaded the Medicare vaccination certificate, you'll be able to simply select which reward you'd like to be applied to your account, as per the image above.
If you choose either the Qantas Points or Status Credits, you can expect them to be credited to your account within 3 days. Do note that the Status Credits won't count towards any Lifetime Status or any Platinum of Platinum One bonus rewards.
---
---
If you've instead chosen the $20 discount, you'll receive a promo code or voucher by email within 7 days. The voucher will be valid for 12 months from the date of issue.
RELATED: 5 (Very) Frequent Flyers Spent Over 12 Million Points At The First Qantas Auction
---
What About The 'Big Prize?'
While 1,000 points or 15 status credits is nice enough, what's really going to get people ticking is the potential to win one of 10 "mega prizes" from Qantas. These include a year's worth of domestic flights, free accommodation across 345 Accor hotels, and free fuel from BP service stations.
You don't need to do anything extra to enter into the draw. Once you select your Qantas vaccination reward, you'll automatically get one entry. Obviously, it's one per person, even for that bloke who managed to get double-jabbed with both AstraZeneca and Pfizer a few weeks ago.
Once international borders are open, those who have won the free flights will be able to hop onto international routes with Qantas and Jetstar as well.
Note that one prize winner will be selected from each state and territory, totalling 8 winners. The 2 remaining winning slots will be chosen as part of a national TV campaign, with all winners announced sometime in January 2022.
If you've happened to luck out and won those free flights for a year, just know that they'll be valid for solo flyers, couples, or families of up to 4 people.
The free flights for a year prize will be capped at a value for $50,000, with each major prize package split into 12 x $4,000 and 1 x $2,000 flight credits.
---
---
Accor's part in the prize packages will consist of 1 million reward points for its Accor Live Limitless rewards program, for use on accommodation across its extensive portfolio. Meanwhile, BP chime into the package with a $3,650 BP gift card so winners can fuel up on any planned road trips.
---
"This is the biggest giveaway Qantas has ever done, and it's our way of saying thank you to Australians for doing their bit to protect themselves, their loved ones and their communities," says Qantas Group CEO Alan Joyce.
"Vaccination is our ticket out of this pandemic, and with the rollout of the Federal Government's vaccination program picking up pace, we think now is the ideal time to reward Australians for getting on board."
For full information on Qantas' vaccine incentive program, click through to qantas.com/berewarded.
---
Is Virgin Australia Doing Anything?
Note that Qantas rival Virgin Australia is also readying its own vaccination initiatives program. Titled the 'VA-X & Win' initiative, it'll see the carrier hand out millions of Velocity Frequent Flyer Points and dozens of free flights to double vaccinated Aussies. The major winner will become an instant Velocity Points millionaire. The campaign, however, hasn't yet be finalised and will be properly announced with all Australian adults are eligible for the COVID-19 vaccines.
---