There's a common perception that should you wish to have your own private executive suite in the skies, you'd have to be able to afford something like Casey Niestat's $21 000 trip in Emirates first class across the Atlantic.
Qatar Airways are now bringing that reality one step closer to your reach, with the latest release of their 'super business class' known as 'QSuite.' Yeah sure, it still won't be cheap, but if you're going to splurge on business class, QSuite's double bed option seems like a done deal.
Have a look for yourself, it's basically a slightly smaller scale version of first class, with a 1-2-1 configuration and the double bed option alternating every second row in the middle seats.
---
---
The 21.5 inch entertainment screens can also slide across to make the perfect four-way 'family' living area.
It also offers a higher (134cm from floor to top) screen door to maximise privacy but just low enough that cabin crew can offer assistance if needed without disturbing you. Qatar have quite clearly seen the need to rival that of Emirates, Etihad and Singapore's private first class cabins.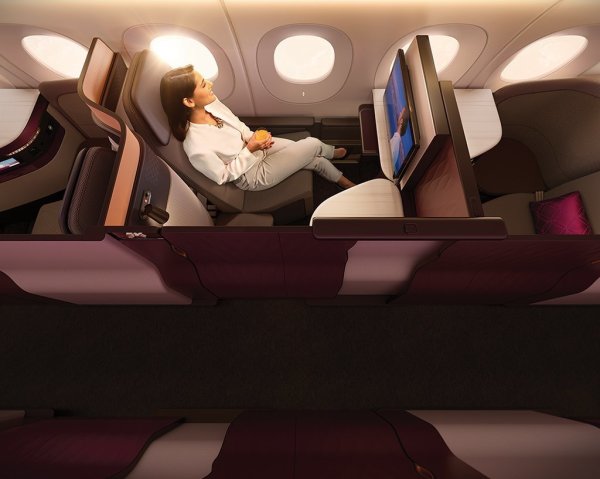 And, of course, the fully-flat double bed option.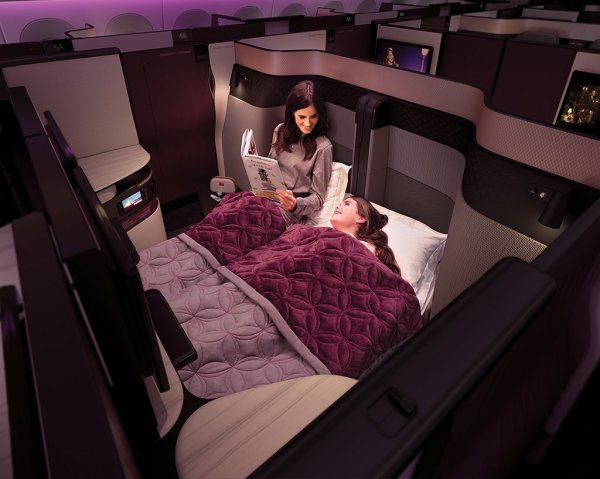 For the full three minute debrief watch Qatar's QSuite release video below.