One of Hong Kong's most popular dining institutions, Zuma, has added a 'Yashoku Friday' to their incredible brunch offering, an end-of-week night brunch, designed for guests to unwind from the week and kick off the weekend.
This announcement comes months after the Hong Kong branch of Rainer Becker's world famous Zuma family introduced a bonkers Krug Champagne addition to their Saturday and Sunday brunch offer, where you can indulge in endless Krug for little more than a bottle costs here in Australia.
The establishment, located at the city's most prestigious address, The Landmark in Central, is a well known luxurious dining space that gets transformed into a notoriously loose Japanese feast each weekend with tantalising free flowing brunch packages.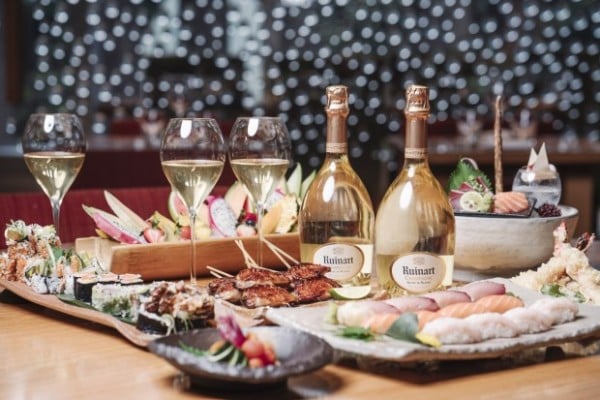 The decadent 'Baikingu' brunch offering is stacked with the finest Japanese food on the island, complemented on arrival with your choice of red or white wine, Champagne or sake. You can then cruise the buffet loaded with exquisite sushi, sashimi and other starter offerings. Order a main course dish from the robata grill and then stuff your face with a dessert platter at the table.
What you're really keen to know is exactly how much you'll be copping for the free-flowing champagne, which is broken down into three tiers and served across two-hour sittings.
Zuma offers 3 packages for guests to choose from which include wine, sake, beer and the following Champagnes:
Signature – "R" de Ruinart NV, Champagne: HKD 688 (AU$126)
Deluxe – Ruinart Blanc de Blancs NV, Champagne: HKD 988 (AU$181)
Premium – Krug "Grande Cuvee" NV, Champagne: HKD 1'980 (AU$363)
All packages include a 10% service charge.
"R" de Ruinart NV will set you back roughly $90 in Australia, Ruinart Blanc de Blancs NV circa $100 and higher and the Krug "Grande Cuvee" NV $295, so if you've got your drinking hat on, which you should be given you're in Hong Kong, there's plenty of value to be consumed, with plenty of dignity to be left in LKF afterwards.
You can check out the complete brunch menu below.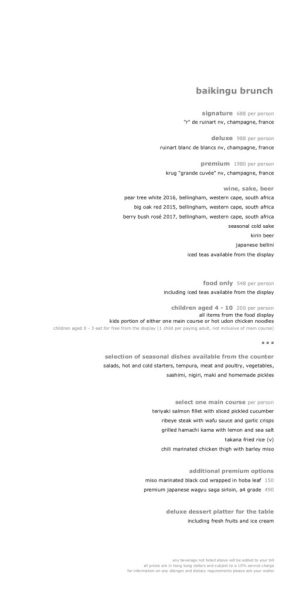 Where: 5/F & 6/F, Landmark, 15 Queen's Road, Central
When: Weekends, 11 am–3 pm and now Friday night