We all knew there'd come a day when we could finally put all of those tired conversations about travel restrictions behind us, and replace them with some more exciting chat about where in the world we plan to visit next. That day is now upon us. With New York's JFK Airport announcing New Terminal One, a brand new US$9.5 billion (AU$13.2 billion) development, the best is truly yet to come.
New York plans to spend big on New Terminal One (NTO), as JFK finds itself in need of a brand new international terminal to handle the growing demand for air travel. The 2.4 million-square-foot (222,900 square-metre) facility is designed to be "world-class," offering new restaurants, shops, and lounges.
NTO will soon be the airport's global gateway to NYC with aspirations of becoming one of the Top 10 terminals in the entire world. With 23 gates, a new departures hall, arrivals hall, and customs hall all in the works, it's already on track to be the largest international terminal at JFK by a long shot.
---
---
RELATED: A Con Man Once Sold An Airport That Didn't Exist For $330 Million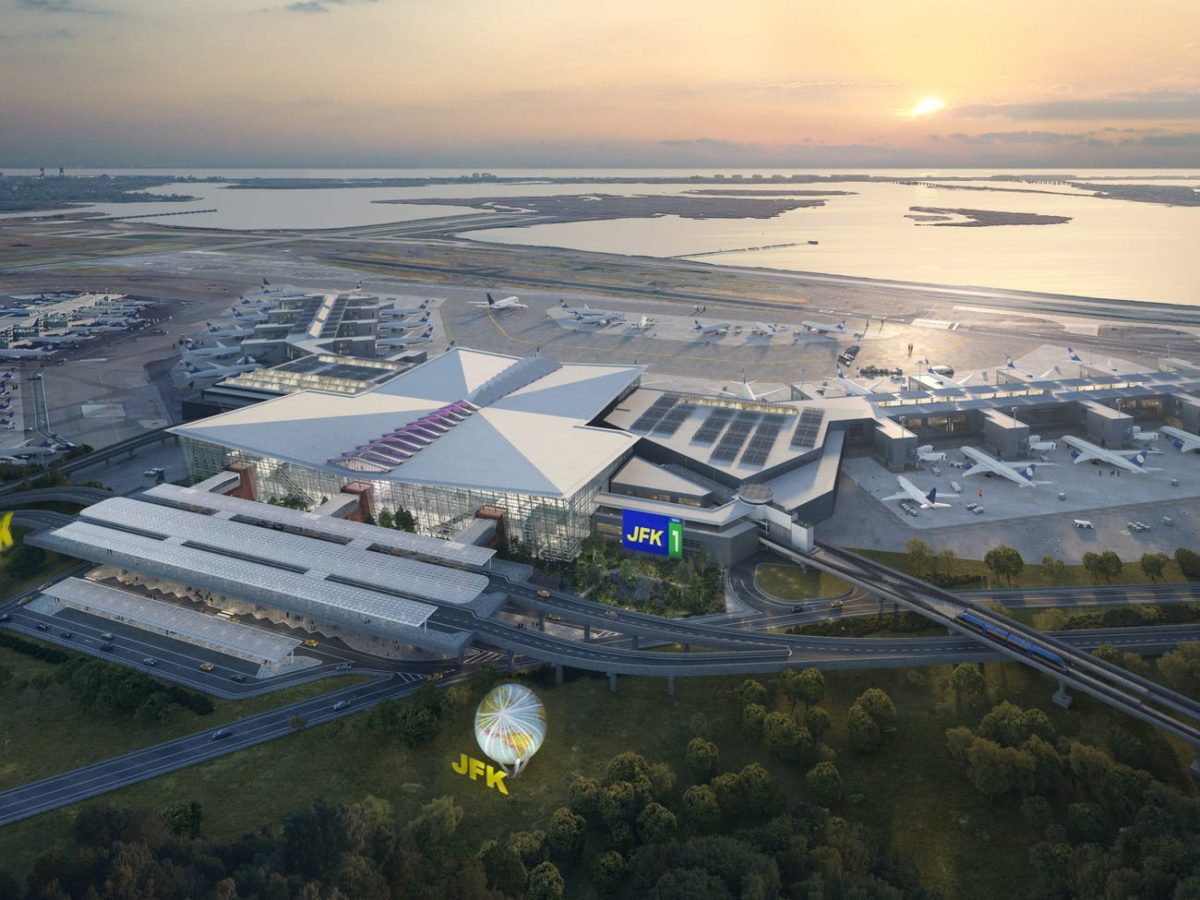 The NTO will require eight years to construct, beginning sometime in the middle of this year and concluding in 2030. The project will consist of overhauling the roads, parking, and utilities, as well as adding a new electrical substation. While it was initially supposed to break ground in 2020, the pandemic unsurprisingly left the airport having to change its plan. It's set to be built on top of JFK's active Terminal 1, the 59-year-old Terminal 2, and its former Terminal 3.
The terminal has apparently been designed with sustainability at the forefront and will feature large, open spaces with natural light and innovative technology. According to the airport, these bright, airy spaces are "designed to enhance the customer experience."
On top of just looking the goods, the project is estimated to bring in over 10,000 new jobs, which will include offering opportunities to local minority women, as well as disabled veteran-owned businesses. John F. Kennedy Airport is the largest of all NYC-area airports, currently supporting around 300,000 jobs, generating over US$16 billion (AU$22 billion) in wages and nearly US$46 billion (AU$64 billion) in sales every year. In 2019, the airport handled a record 62.6 million passengers.
The first phase of this project – which will include a check-in space, an arrivals area, and gates – is expected to open as early as 2026. For the many major carriers that call JFK home including Delta Air Lines, American Airlines, and JetBlue Airways, this will be crucial as they look to resume and grow their international presence post-pandemic.