Perched on the tip of the Port of Pollensa on the island of Mallorca is 'La Fortaleza', an extravagant Spanish villa that featured prominently in the BBC's popular television series 'The Night Manager'.
Purchased by British banker Lord James Lupton in 2011 for a figure close to $60 million AUD, the 232-acre fortified property was built in 1628 and was previously owned by John Ogden.
La Fortaleza boasts two incredible pools, seven villas within its grounds and over 25,000 square feet of immaculately manicured terraces and gardens. It is considered one of the most expensive properties in Spain, if not the most expensive, and is home to Hugh Laurie's ruthless character in the series, international arms dealer and all-around bad man, Richard Roper.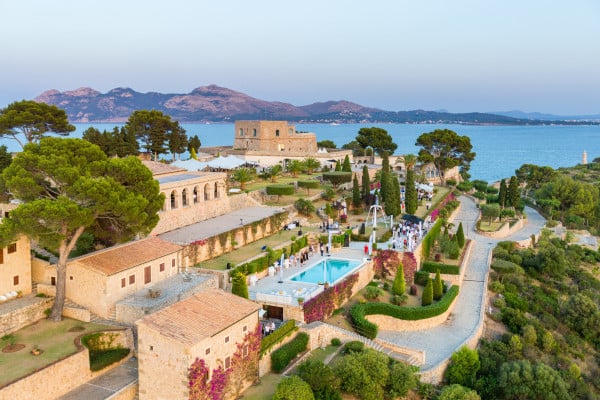 The property's interiors are kept considerably hush-hush in real life, despite being ironically showcased to millions worldwide in the fictional series based on the 1993 bestseller of the same name by John le Carré.
"It was deliberate to make it very sexy," explained the Oscar-winning Danish director Susanne Bier to the Mallorca Daily Bulletin.
"The story takes place in a very lavish world – the world of Richard Roper – and part of the excitement is that Jonathan Pine and the audience get sucked into this world because it's so lavish and glamorous. We all want to be there even if we know that it's an evil world. So that world needed to be attractive."
To catch a glimpse of the magnificent property, you can catch the six-part drama series on Amazon Prime Video, which also stars Tom Hiddleston and Olivia Colman.