With domestic travel picking up fast, it seems the most expensive holiday homes in Australia are no longer just being scoped out by celebrities and the ultra-rich. From award-winning homes on the shores of Sydney Harbour, to Victorian mansions and private islands, there's plenty to go around if you're keen to get a few mates together and splurge on a few nights of uncompromising luxury in some of the country's most stunning locations.
The following list tracks the most expensive and lavishly designed holiday homes in Australia, each distinctly offering their own take on unforgettable premium accommodation, and unique perspectives on Australia's often untamed and dramatic landscapes.
New South Wales
Sutherland, Darling Point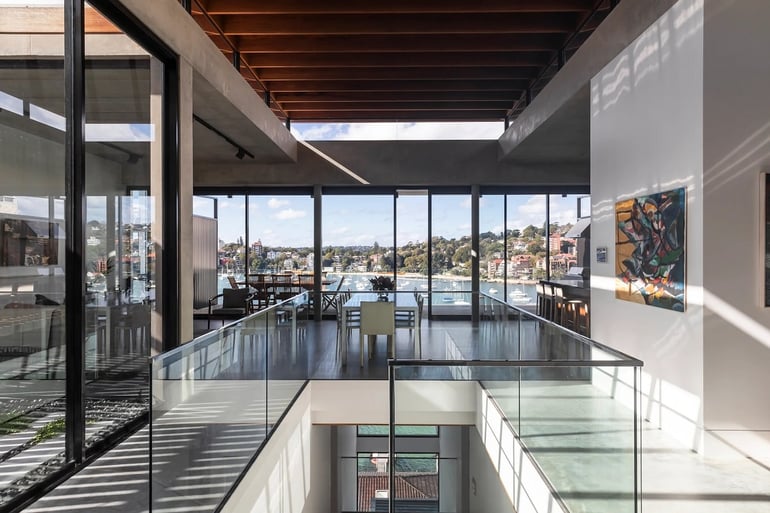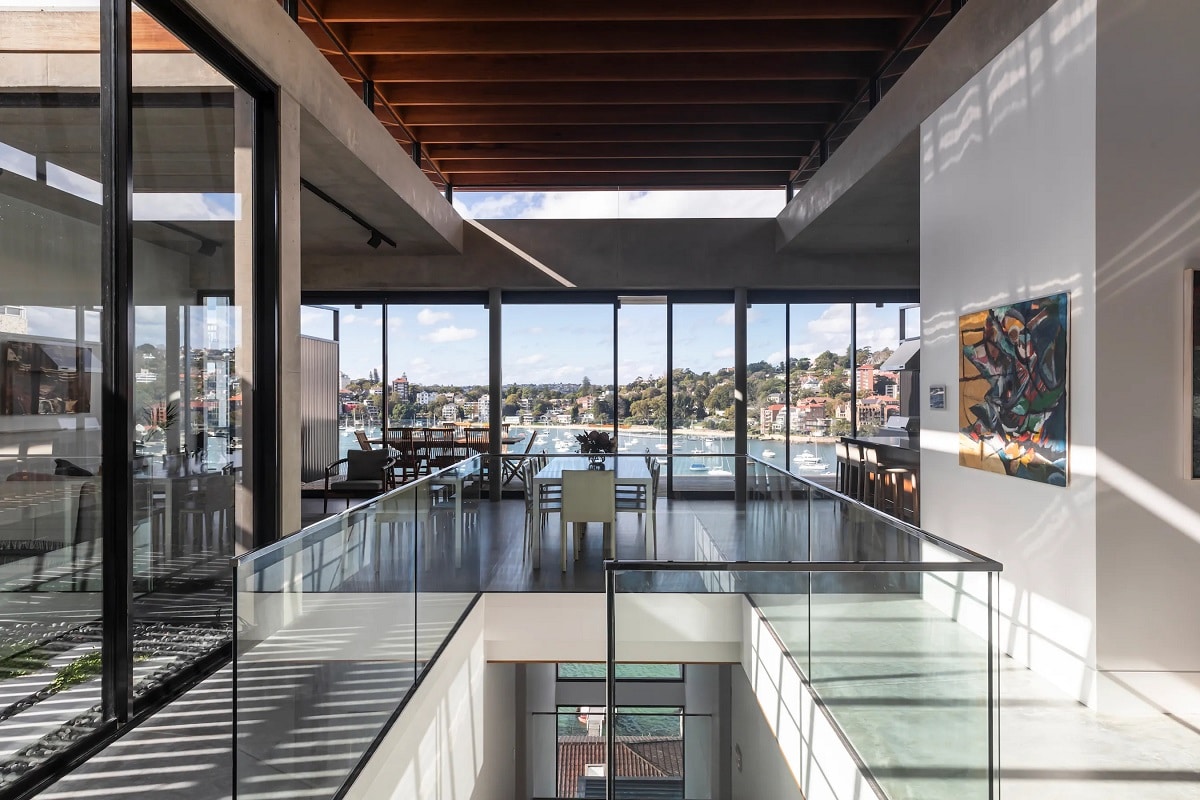 Everything about the design of this exceptional house is in complete service of Sydney's storied harbour views. Perspective is key, with line of sight paramount across the relentlessly modern design. The house features a lavish infinity pool, as well as a spacious living room, gym, games room, and an upper deck purpose built for that quintessential Aussie BBQ sesh. The central location of Darling Point also means that guests are within earshot of some of Sydney's best dining – nailing the balance between true upper echelon escapism and urban exploration.
Average Nightly Rate: $12,472 (min. 7 nights)
10 guests | 5 bedrooms | 8 bathrooms
---
Lavender Bay Waterfront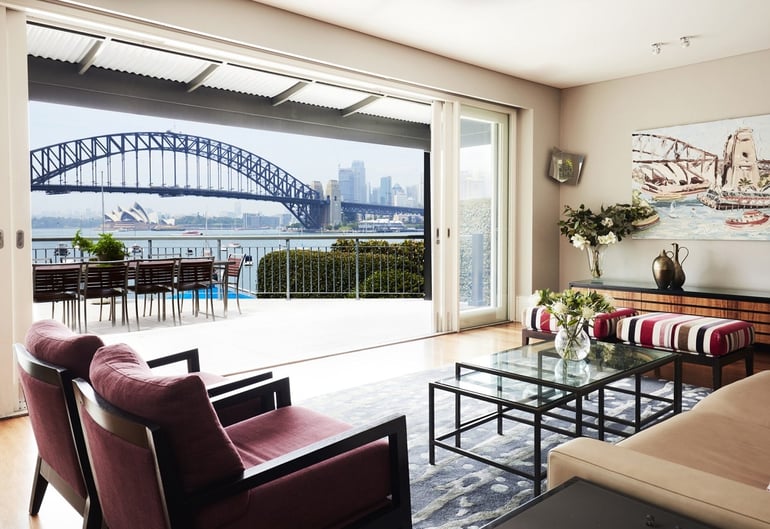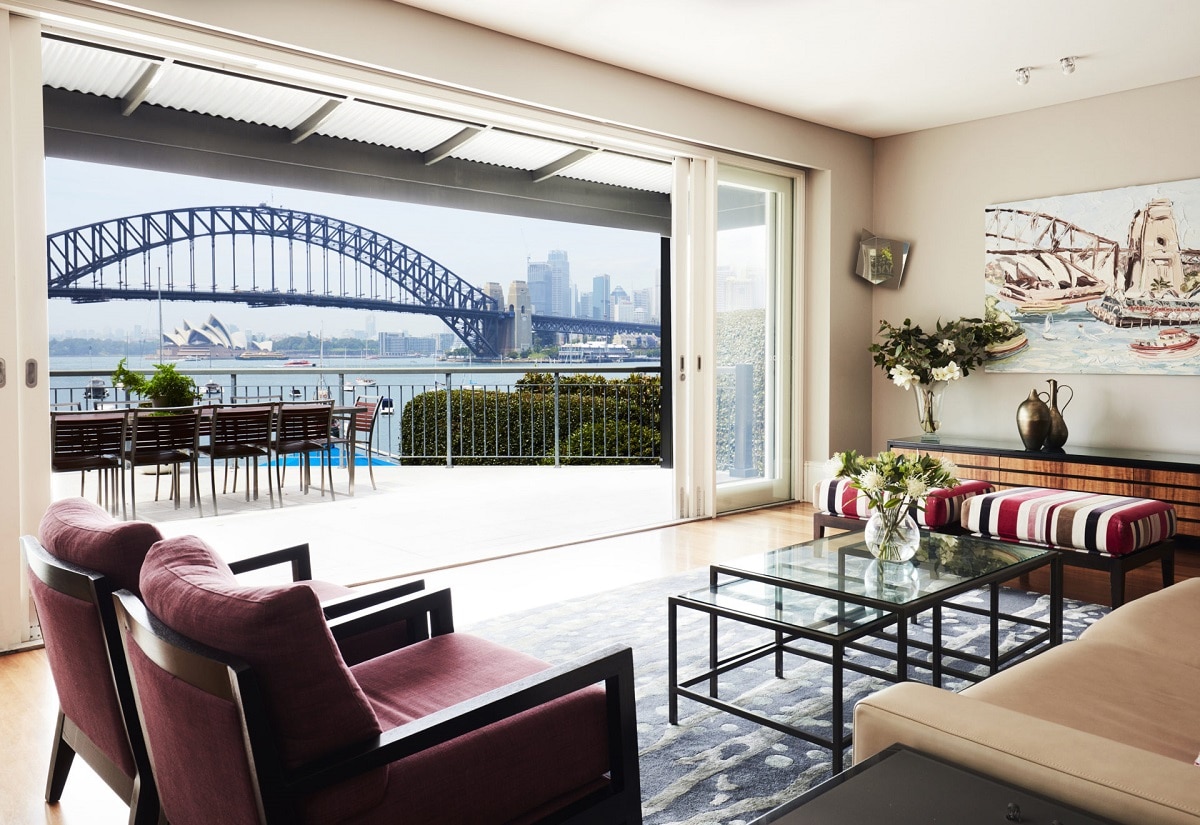 Much like Sutherland at Darling Point, Lavender Bay Waterfront is held to the highest standard of life on Sydney Harbour. From the wake-up panorama taking in the Sydney Harbour Bridge, to the private jetty offering private charter access to the city's greatest hits, the lifestyle this five-bedroom masterwork affords is unparalleled. The show-stopping harbour views are maximised in the ground floor living areas, with large windows pulling in plenty of natural light during the day, reflected across modern furniture and plenty of stylish artwork. There are many spaces for entertaining, from the private pool to the breakfast bar and outdoor dining area. That view alone should tell you why this is one of the most expensive holiday homes in Australia, with a minimum nights booking likely setting you and your crew back $70,000.
Average Nightly Rate: $10,000 (min. 7 nights)
10 guests | 5 bedrooms | 6 bathrooms
---
The Residence, Byron Bay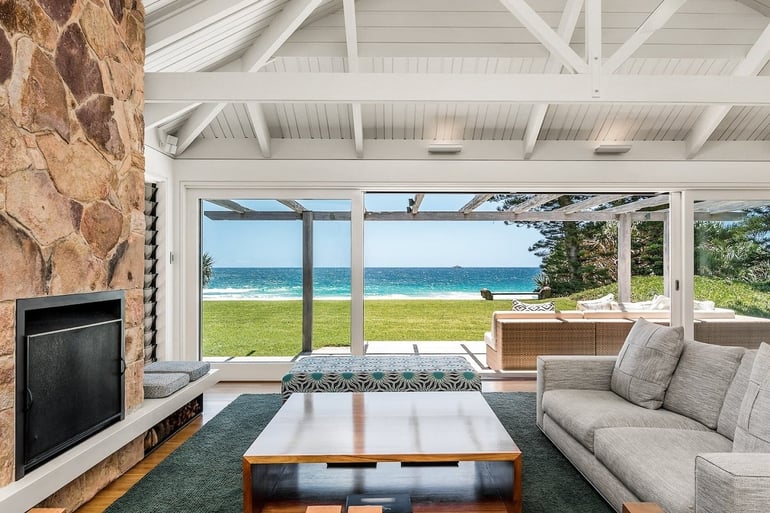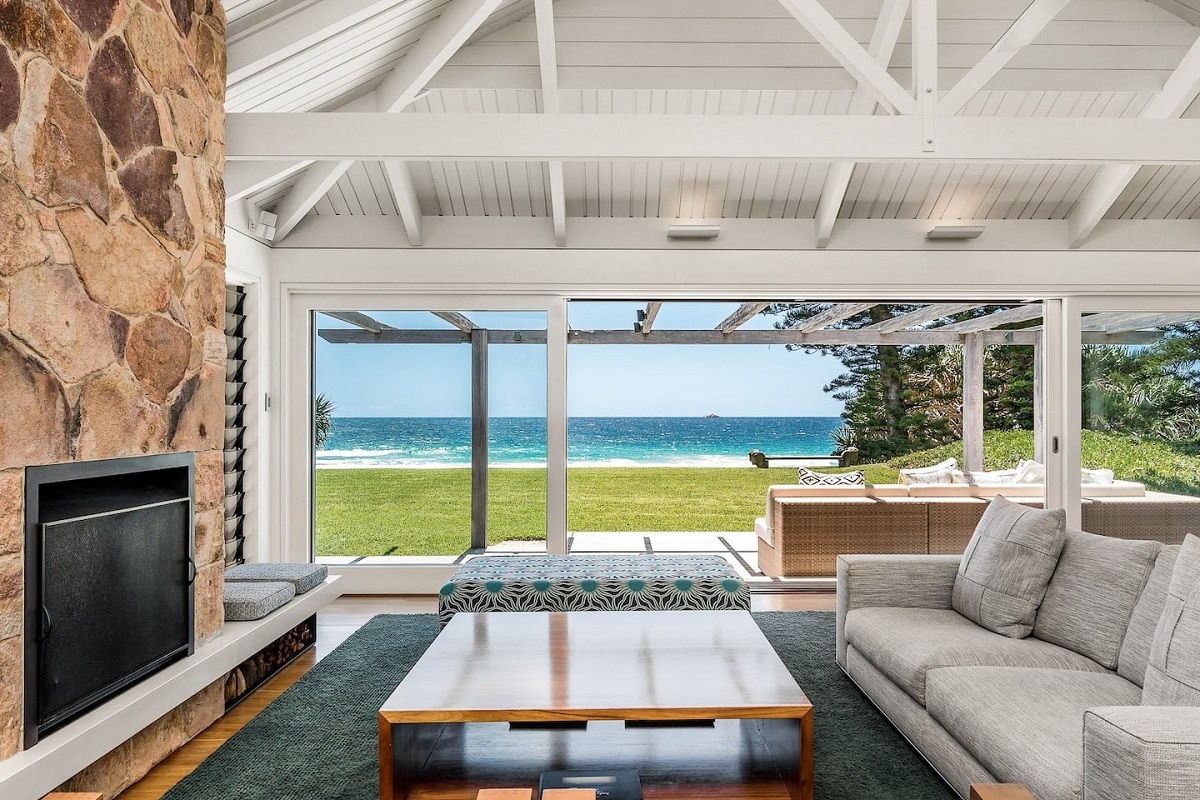 Between unwinding with a quick game on the private tennis court, experimenting with classic cocktail recipes at the wet bar, and hiking around nearby Arakwal National Park, you might not even have time to notice how resplendent the bedrooms are at The Residence.
Getting out and exploring Byron Bay is part of the appeal of this luxurious smart home, but there's also just as much to keep guests indoors – activities which are complemented by a soft, minimalistic design philosophy maintaining a gentle touch across open-concept hosting spaces and a dynamic area anchored by an imposing stone fireplace. Like many of the other houses on this list, the price includes subtle touches like a gourmet welcome basket and local produce hamper, on-call concierge, daily housekeeping and gardening, and access to an honesty bar.
Average Nightly Rate: $9,471 (min. 7 nights)
10 guests | 5 bedrooms | 6 bathrooms
---
The Range, Byron Bay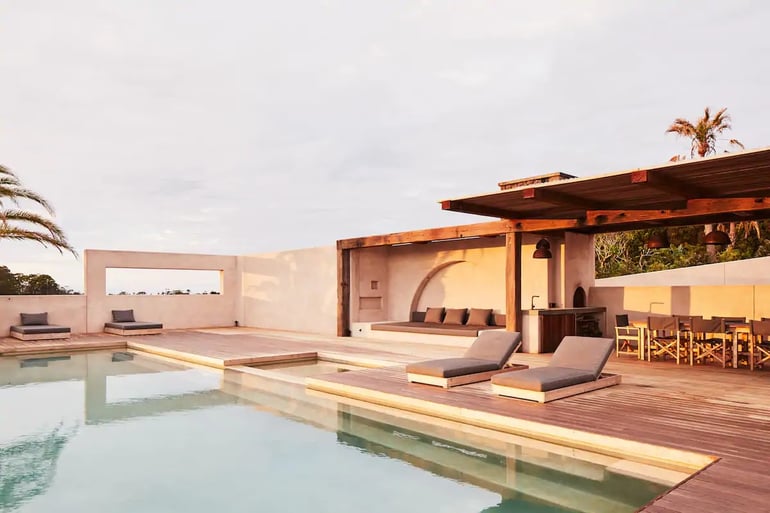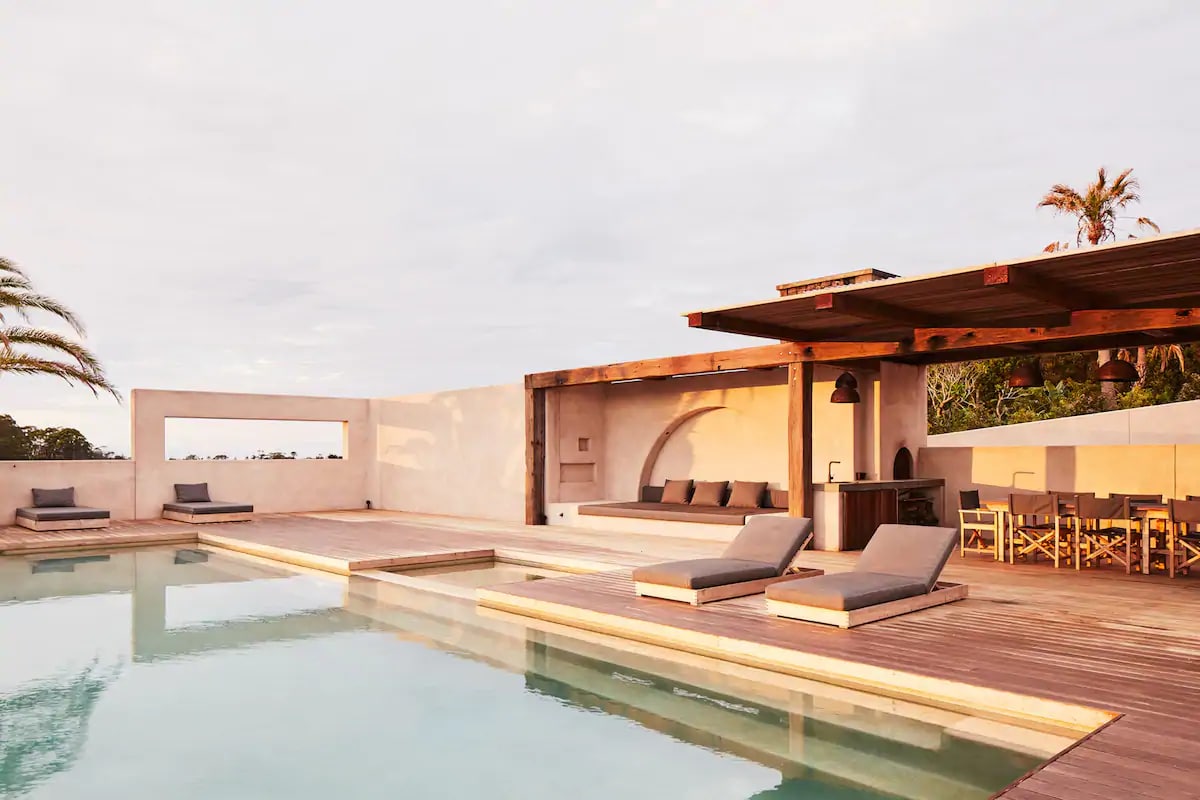 Thanks to intelligent design and an immaculate sense of theatre, The Range at Byron feels like the most luxurious European summer home somehow landed in the hinterland just outside of Byron Bay. Set on 120 acres, the Spanish flavour is undeniable, from the pink-hued exteriors and simple lines, to the surrounding hinterland which looks uncannily similar to your typical Catalan countryside.
On the grounds, a 15-meter pool should see plenty of use during your stay, or you can simply take it to the next level and hit up Byron's famous surf, which is less than 15km away. While there are many entertainment areas, the heart of this impressive house is the amphitheatre-like firepit, built using rocks from the nearby rainforest. It'll be exactly where you want to end the night after making full use of the wood-fired barbecue and pizza oven. No wonder it's one of the most expensive holiday homes in Australia.
Average Nightly Rate: $7,857 per night (min. 7 nights)
12 guests | 5 bedrooms | 5.5 bathrooms
---
Dovecote, Gerringong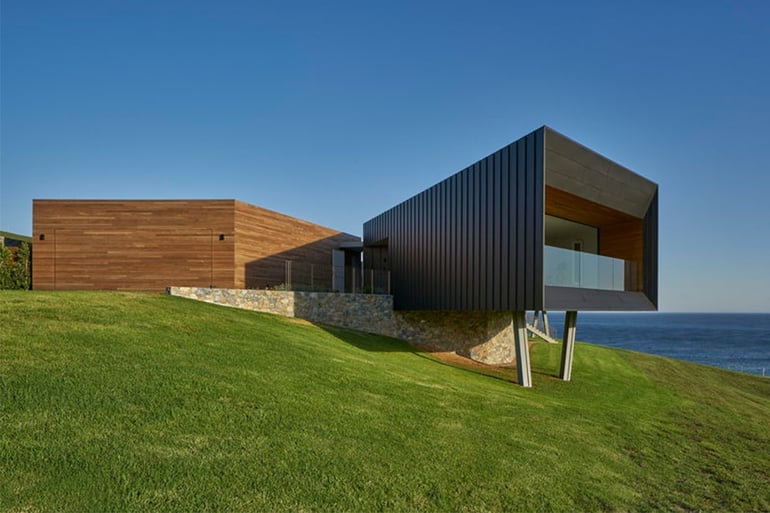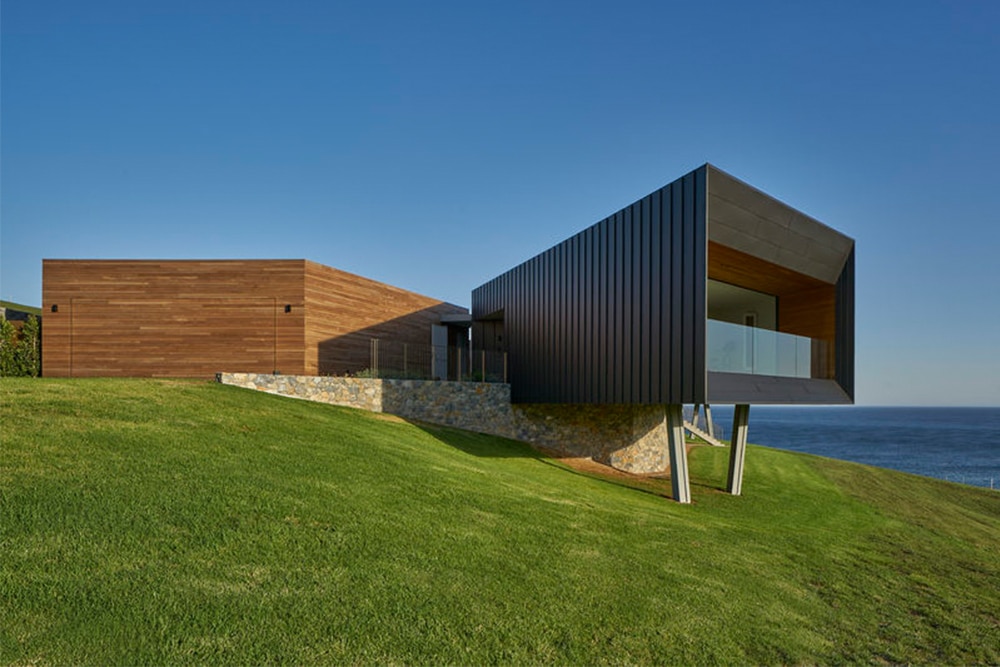 Both accommodations that make up the legendary Dovecote can be booked together, giving guests a total of five bedrooms across the architecturally eccentric property, which rises out of the surrounding farmland and offers incredible vistas across the regional scene. The building looks more like a modern art gallery one would expect to find just outside of a European capital, and yet this regional NSW masterpiece is planted firmly with its Australiana setting of 150 private acres, just a stone's throw from the Kiama Coastal Walk.
Average Nightly Rate: $5,000 (min. 3 nights)
12 guests | 5 bedrooms | 5.5 bathrooms
---
Victoria
Campbell Point House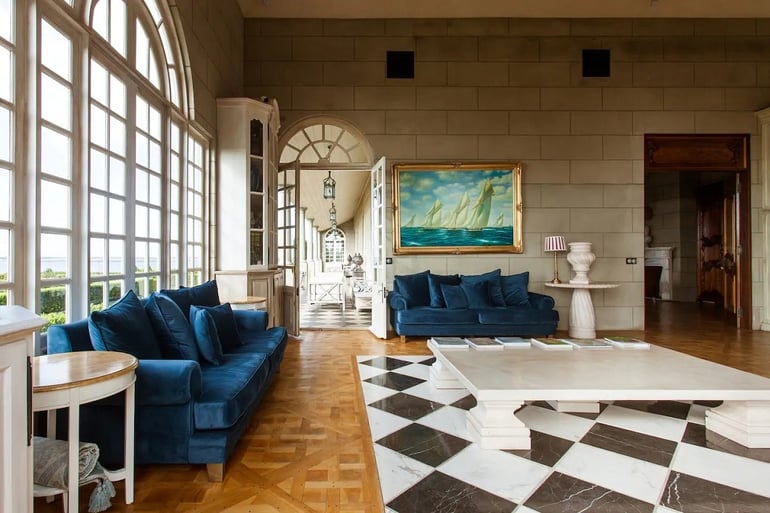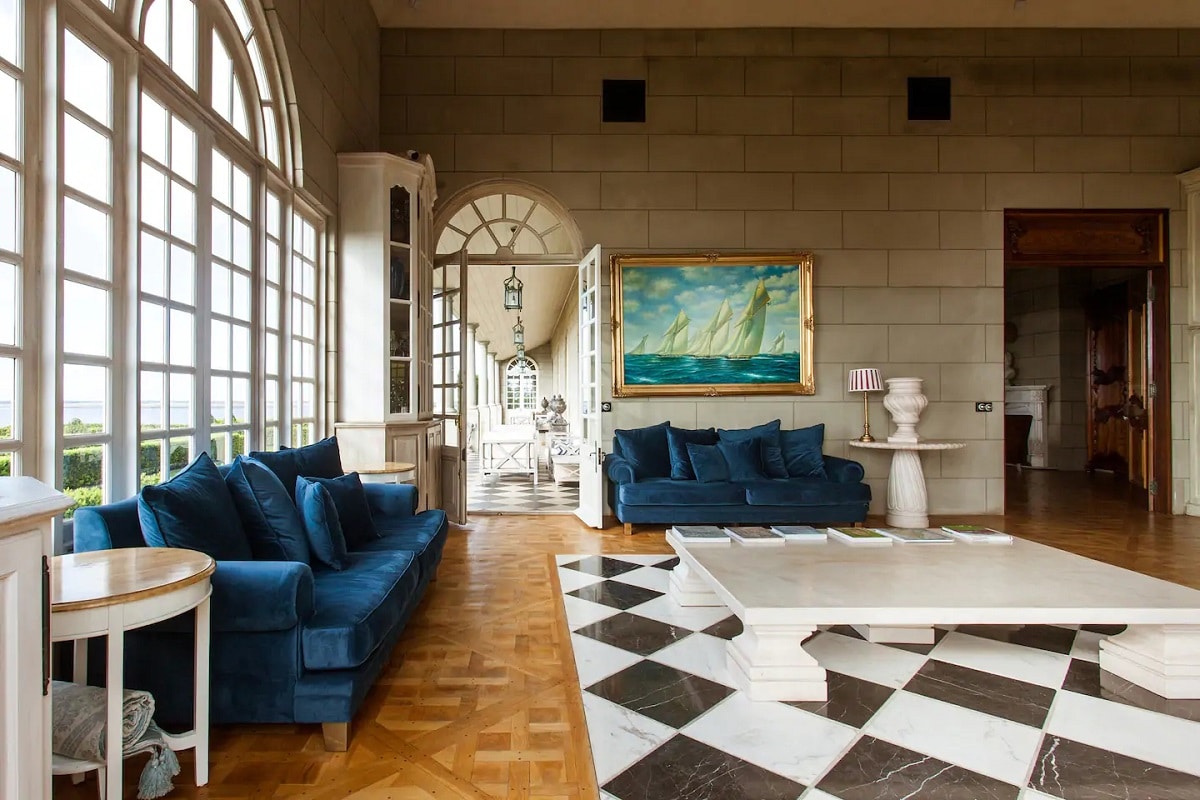 With 15 bedrooms, Campbell Point House is easily the largest of the most expensive holiday homes in Australia. Rumoured to have previously been enjoyed by the likes of Justin Bieber and Adele, the lakeside mansion is one of the nation's most well-regarded properties. That's no surprise; with its location on the shimmering shores of Lake Connewarre, the massive property feels hidden but still enjoys close proximity to lavish golfing greens, peaceful beaches, some of the state's best wine offerings, and the town of Geelong. There's even privacy within the residence, with fully-equipped apartments in the main house, a lake house, cottage and stables, all sporting different themes but similar baroque flourishes and a regal sense of perfection.
Average Nightly Rate: $10,750 (min. 5 nights)
16 guests | 15 bedrooms | 12.5 bathrooms
---
Villa Di Lusso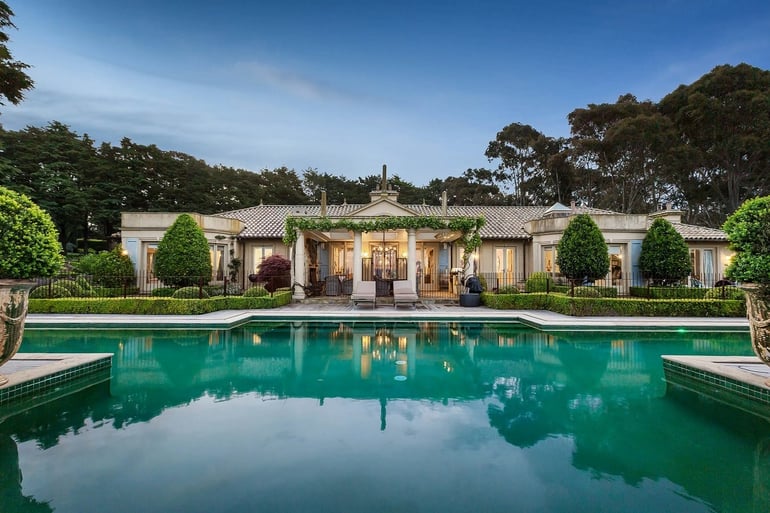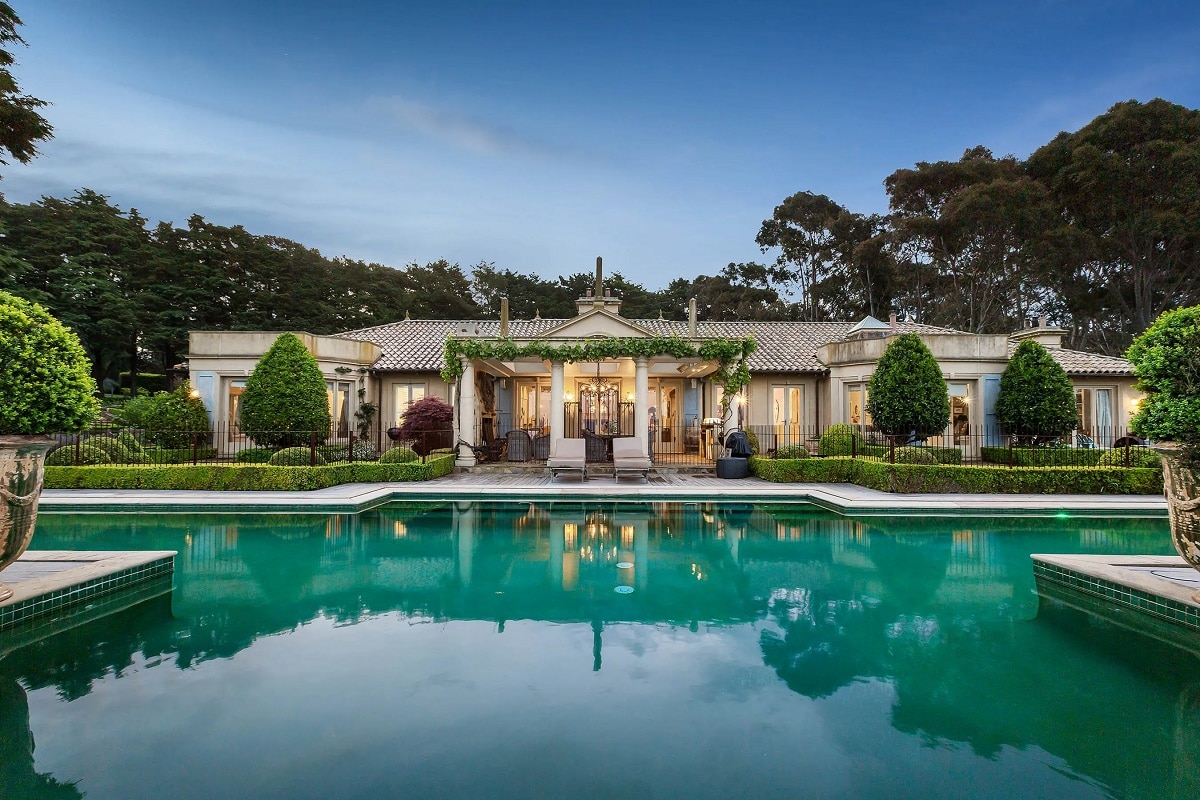 Dreams of an ideal Tuscan escape define Villa Di Lusso, making the Mornington Peninsula feel like the Italian countryside with an exclusive property surrounded by beautiful farmland, charming villages and a stream of the area's finest restaurants. The notion of serenity has informed every aspect of the design here, with exquisite landscaping, generous outdoor living areas, and a supersized pool elevating the elegant, inviting interiors – think majestic fireplaces, bespoke timber furniture and head-turning chandeliers.
Average Nightly Rate: $6,025 (min. 3 nights)
14 guests | 4 bedrooms | 5 bathrooms
---
Queensland
Rivermead Estate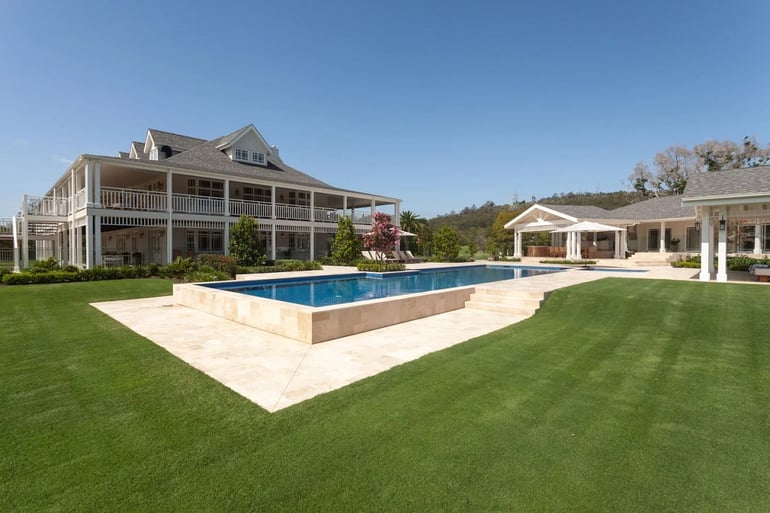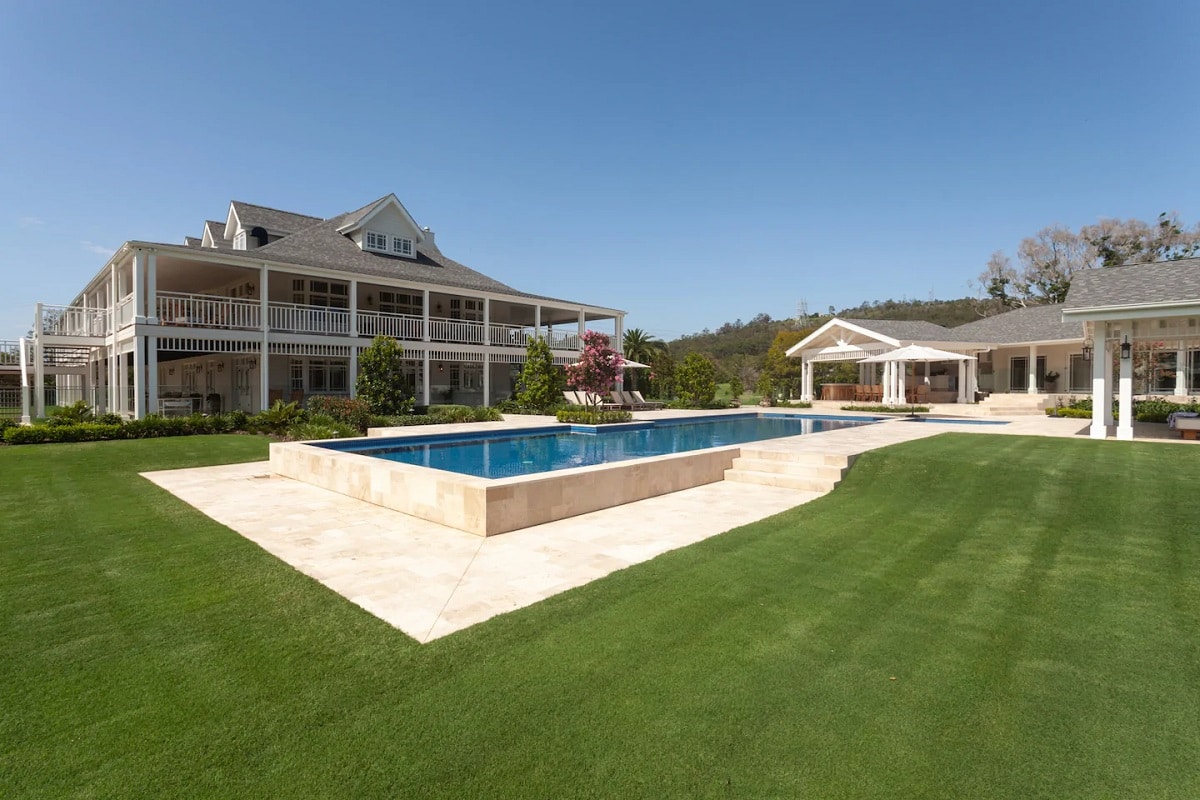 Elevated by the fresh country air of the surrounding hinterland and international polo fields, this 55-acre private property doesn't at all feel like it's only 25 minutes outside of the Gold Coast. Yet Rivermead Estate carves out its own unique space just outside of the eternally sparkling surf city, immersing guests in private gardens and a smart, contemporary design that takes in everything from the billiards room and separate media room, to a breezy wrap-around veranda overlooking a pool deck that's perfect for al fresco meals.
The grounds are expansive so there's a lot to explore, spanning cascading rock pools and secluded forests, as well as peaceful streams that streak through the land. The private land is just begging for a tranquil stroll, best taken before a match at the private tennis court or evening soak in the under-the-stars hot tub. Perfectly fitting for one the most expensive holiday homes in Australia.
Average Nightly Rate: $10,000 (min. 3 nights)
12 guests | 6 bedrooms | 4.5 bathrooms
---
Mandalay House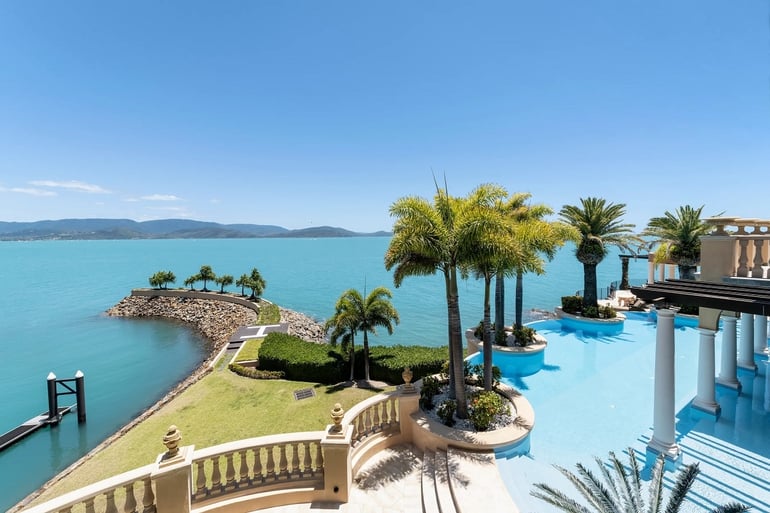 A show-stopping private residence on the Whitsunday Coast, Mandalay House is big enough to feel like its own resort, carving out its own spot near the heart of the Great Barrier Reef. That means superlative views and a private marina, architecture that's appropriately Mediterranean in look and function, and furnishings curated to the highest luxury standards. Built in the image of homes in Nice and Monte Carlo, meticulous detail marries the unique aesthetics of the Baroque period with rich interiors and an undeniably Australian coastal vibe. The best seat in the house is from the horizon swimming pool, running along the edges of the Coral Sea.
Average Nightly Rate: $13,515 (min. 3 nights)
14 guests | 7 bedrooms | 9 bathrooms
---
Azure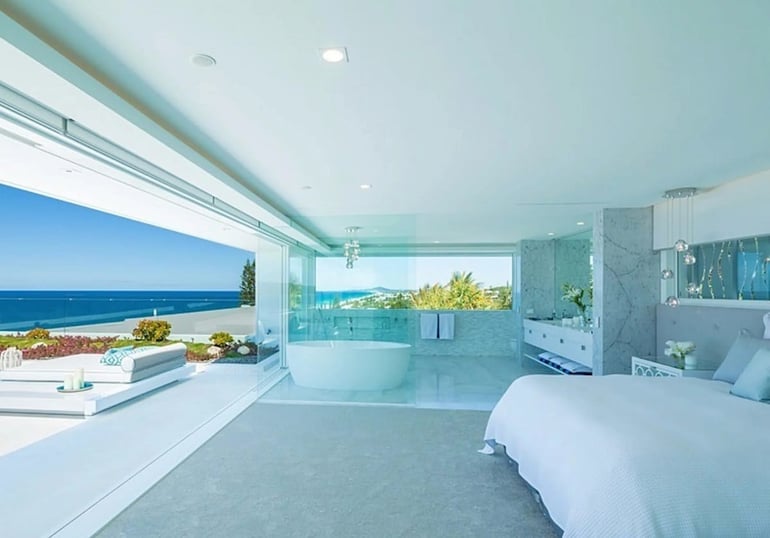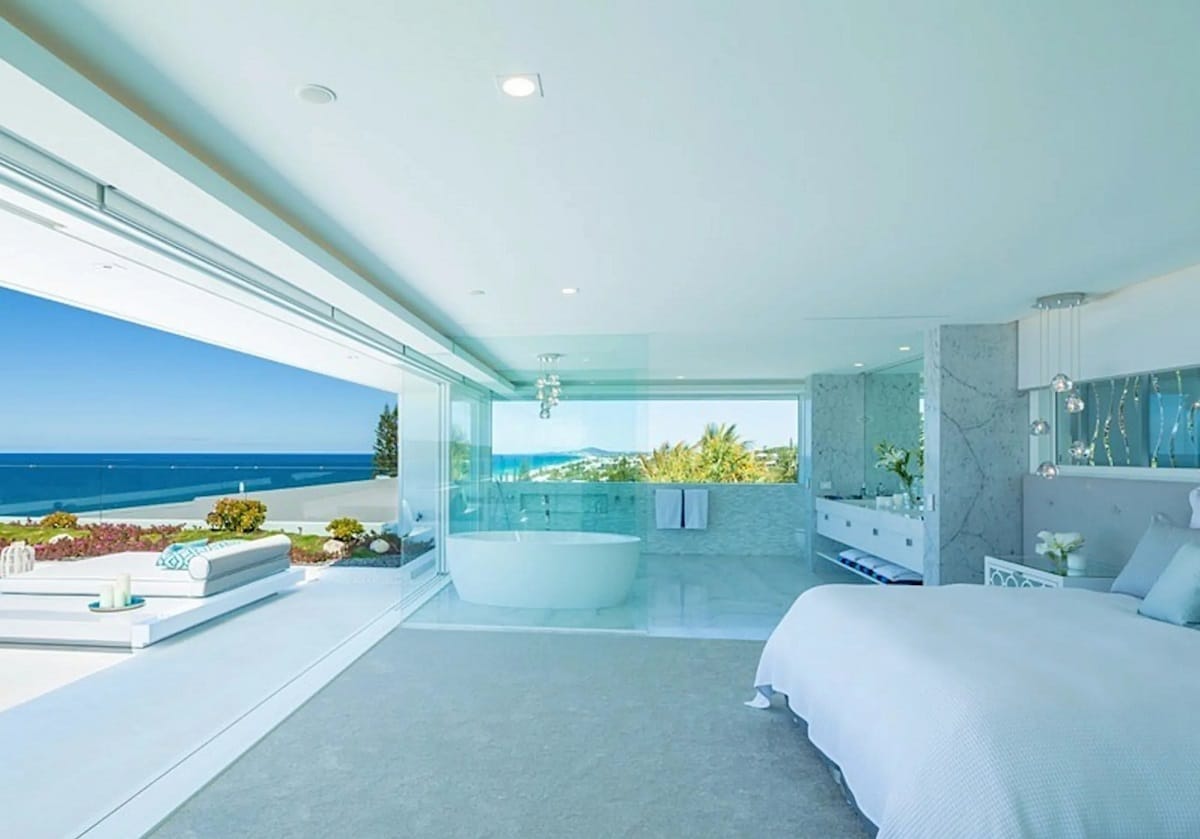 As the recipient of numerous awards, Azure is the most spectacular property on the Sunshine Coast, with a no-expense-spared approach to maximising the region's formidable views. Ocean and coastal vistas are given an homage by big-ticket developer Glen Watson, who has curated a home of impeccable detail, with sleek architectural lines and sophisticated finishes complemented by cascading water features and tropical gardens. Everything about this interior shouts luxury, from the Italian Carrara marble floors the smart designer lighting. Here you've got easy access to the Sunshine Coast's greatest experiences, whether that means SUP'ing in Laguna Bay, kayaking in the Noosa Everglades, swimming with humpback whales, or hitting bombs on world-class golf courses.

Average Nightly Rate: $5,500 (min. 2 nights)
10 guests | 5 bedrooms | 4 bathrooms
---
Makepeace Island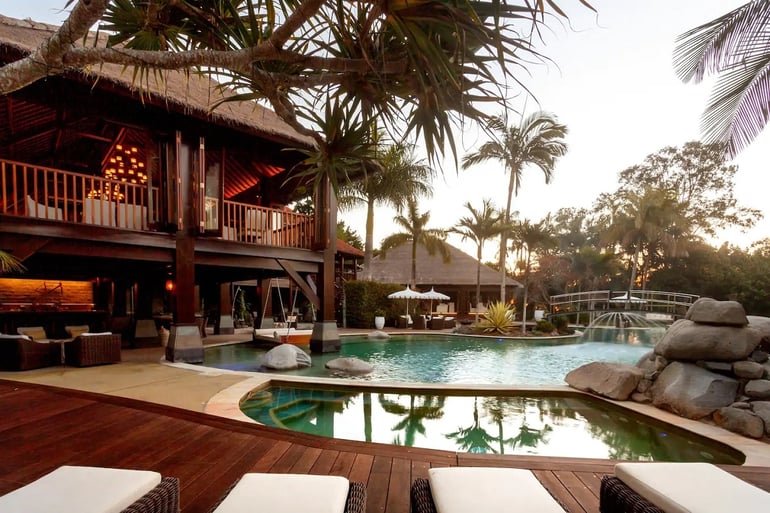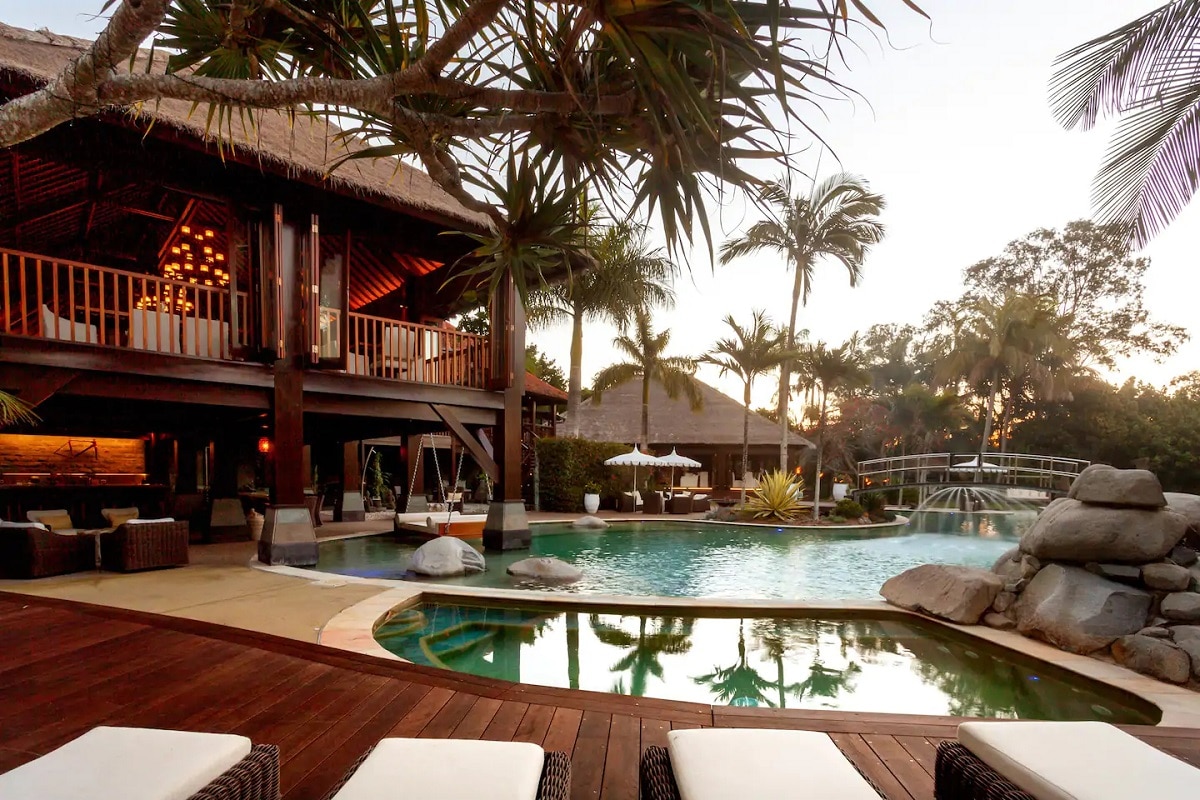 Perhaps best known because Sir Richard Branson is a co-owner, Makepeace Island sits at the peak of premium accommodations in Australia. Located in the estuary of Lake Cootharaba, this private landmass off the Sunshine Coast hosts a huge hacienda-style villa and an equally immense multi-channel pool that'll make you feel like you've just stepped into the shoes of Pablo Escobar. With full access to the beaches and sea sports of Noosa Heads (boating, jet-skiing, fishing, and kayaking primarily), there's plenty to tire yourself out with during the day before you sink back into the diamond-level experience that's been lovingly curated by the island's discerning owners.
Average Nightly Rate: $20,715 (min. 7 nights)
16 guests | 11 bedrooms | 8.5 bathrooms
---
Haggerstone Island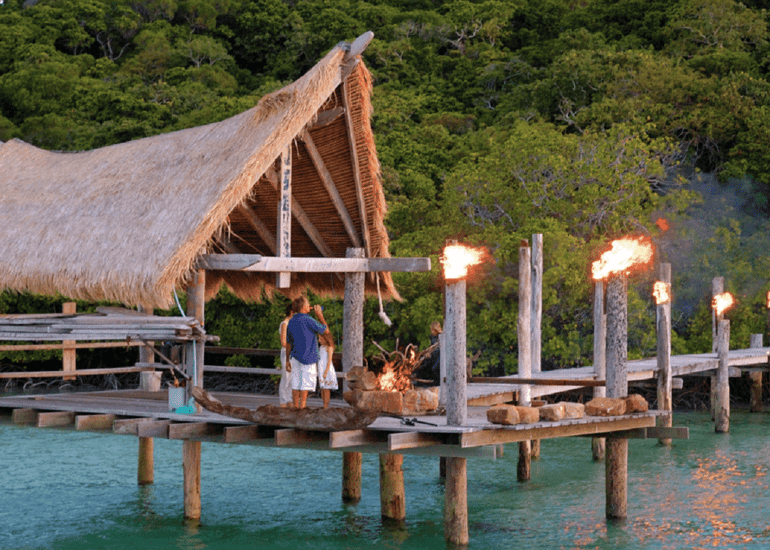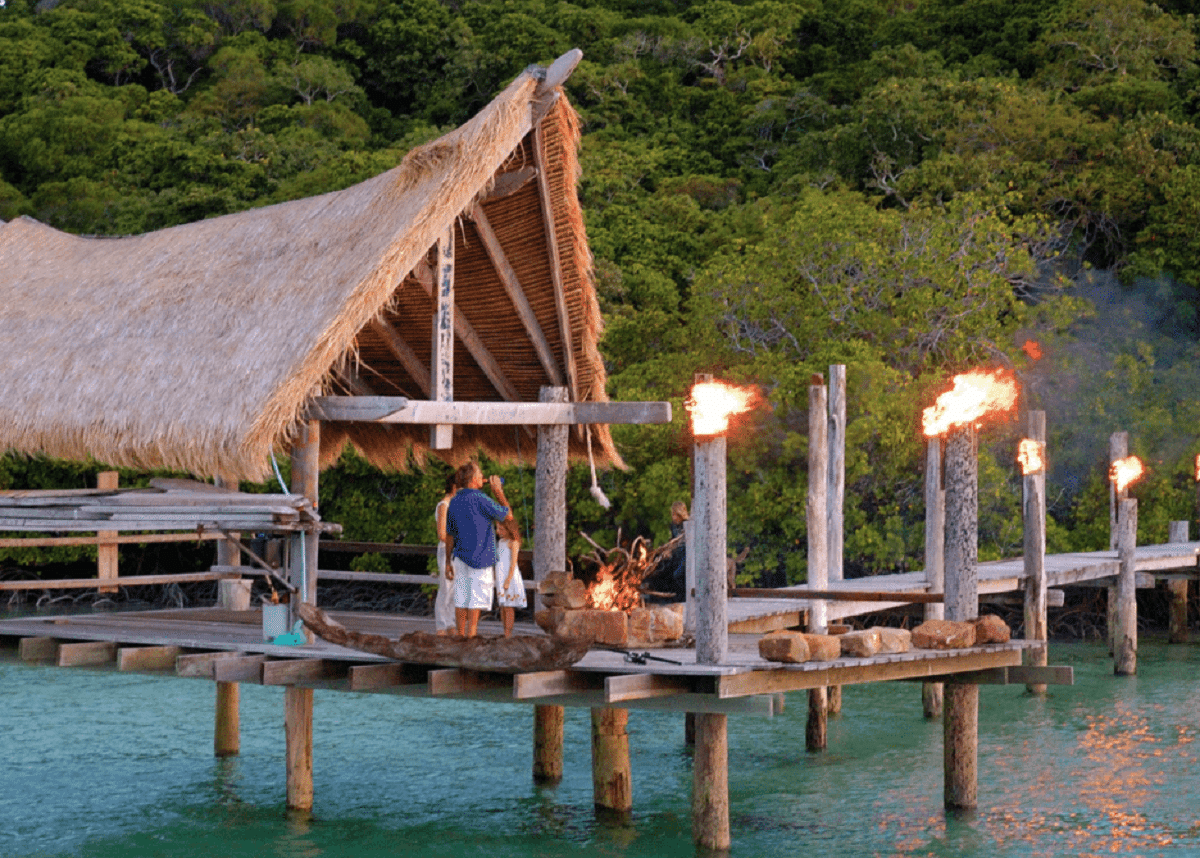 The pure majesty of having one of Australia's most exclusive islands all to yourself cannot be underestimated. While a world-famous resort operates on Haggerstone Island, floating not far from the heart of the Great Barrier Reef, and positioned a 40-minute flight from the closest town, the entire island can be rented exclusively for your and 11 mates. And the private island resort will customise the experience however you want, whether that means soft adventure across the landmass, offering all the fishing, snorkelling, and hiking one could want, or just winding away the day on a beach and dining fireside by night. For the cost, you'll also get a skippered 45-foot jet boat to use during the stay.
Average Nightly Rate: ~$7,000 (min. 4 nights)
12 guests | 12 bedrooms
---
Orpheus Island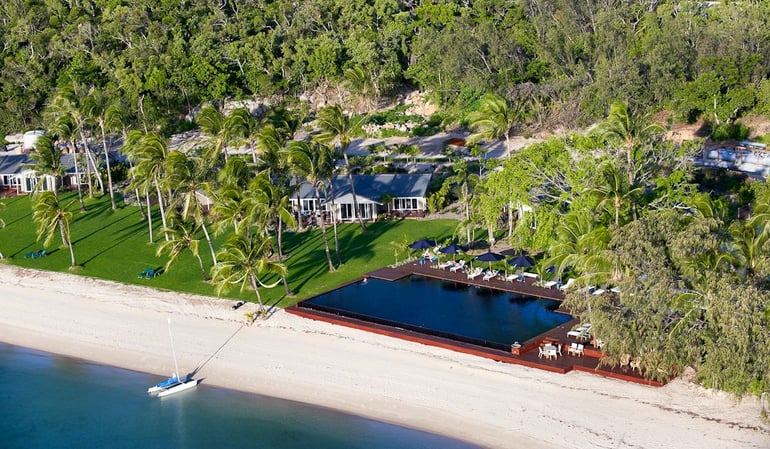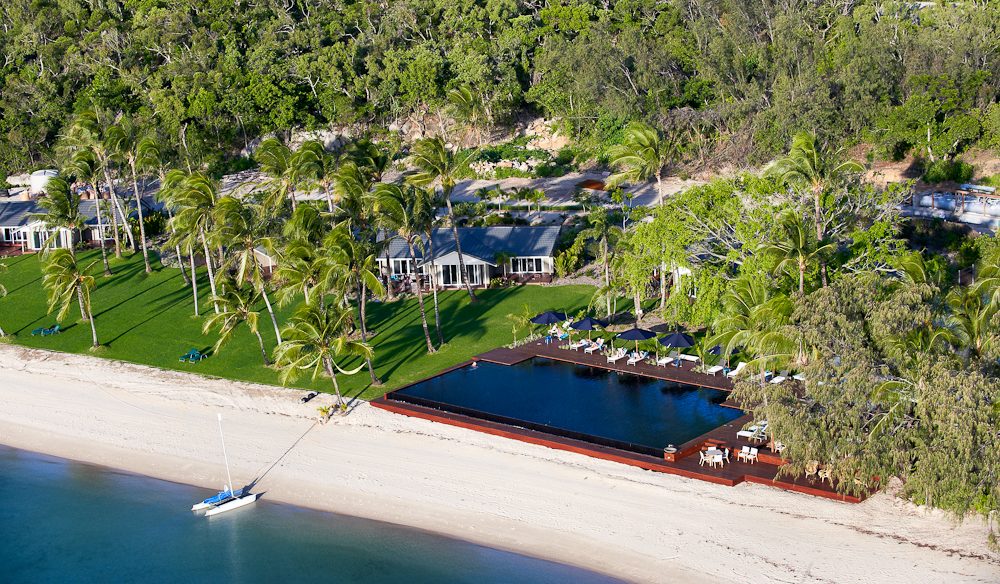 One of the few secluded islands on the Great Barrier Reef available for exclusive use, Orpheus – much like Haggerstone – is a luxury resort that can be all yours for the right price tag. And by yours we mean up to 28 guests spread across 14 rooms, experiencing the expanse of the Great Palm archipelago – a group of 16 islands, just off the Queensland coastline – in which Orpheus rests its head. It's quintessential island paradise here, highly sought for the pristine natural beauty and a favourite for ritzy corporate functions and special occasions.
Average Nightly Rate: ~$25,000 (min. 3 nights)
28 guests | 14 bedrooms
---
Western Australia
Flinders Bay House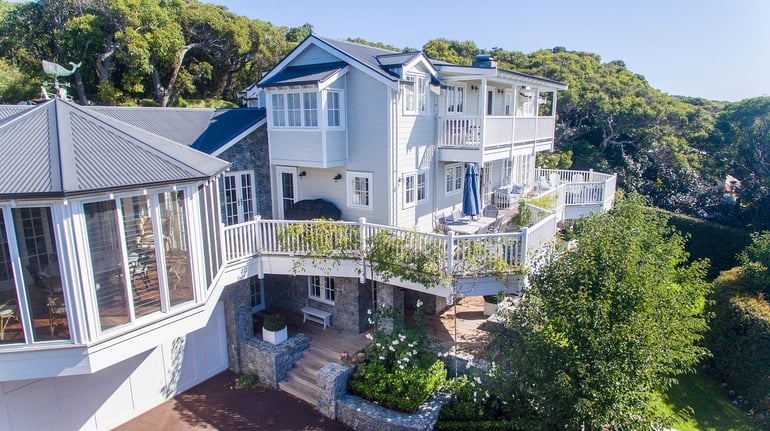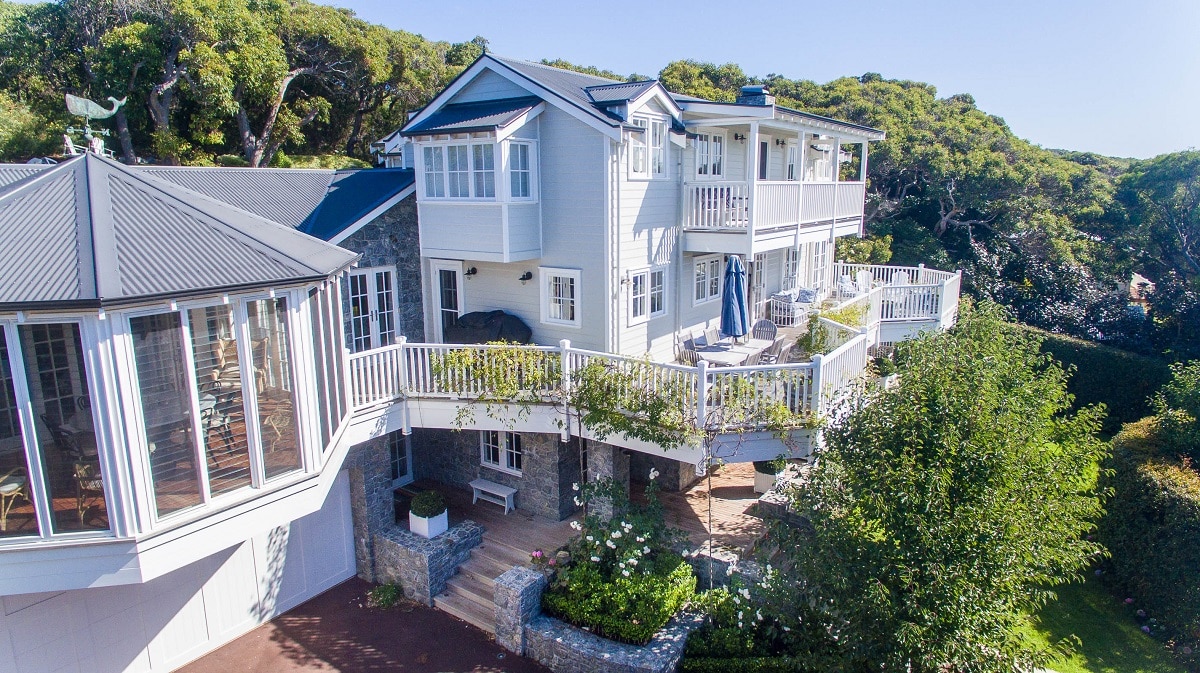 Located where the Blackwood River flows into the sea, and just 25-minutes from the bountiful region of Margaret River, Flinders Bay House is the ultimate Western Australian escape. High ceilings, a light-filled interior and calming colour palette are organised in such a way to resemble a luxury home in the Hamptons, complemented by a spectacular elevation over the nearby bay. It's clear that intimacy and a sense of connection was at the forefront of the design philosophy here, with a true home-away-from-home feel that swaps technology for off-the-grid escapism. Instead of sitting in front of the one television, the home is a gentle suggestion to slow down and enjoy the more quiet moments, like soaking in the deep tub while overlooking an area of that bay that's known as "whale freeway" – where Humpbacks and Southern Rights migrate from Antarctica to WA's north-west – or spending time exploring Cape Leeuwin and the underground limestone caves nearby. It's not only one of the most expensive holiday homes in Australia, but one of the most adventurous.
Average Nightly Rate: $1,998 (min. 3 nights)
12 guests | 5 bedrooms | 5 bathrooms
---
South Australia
One Kangaroo Island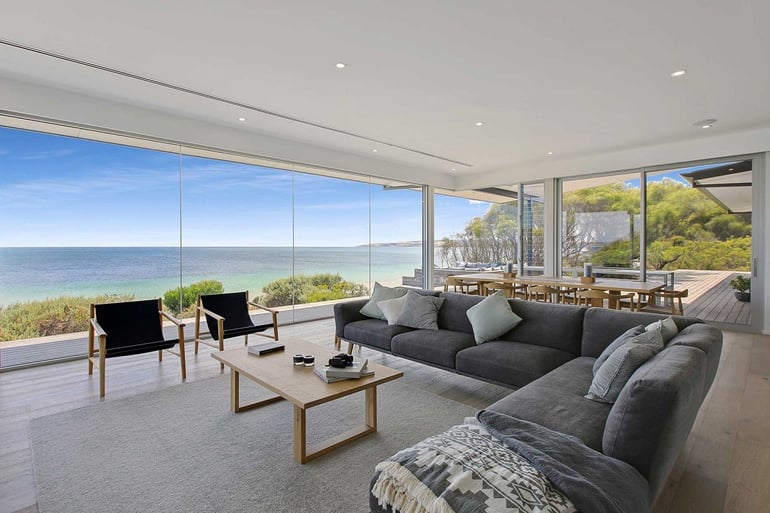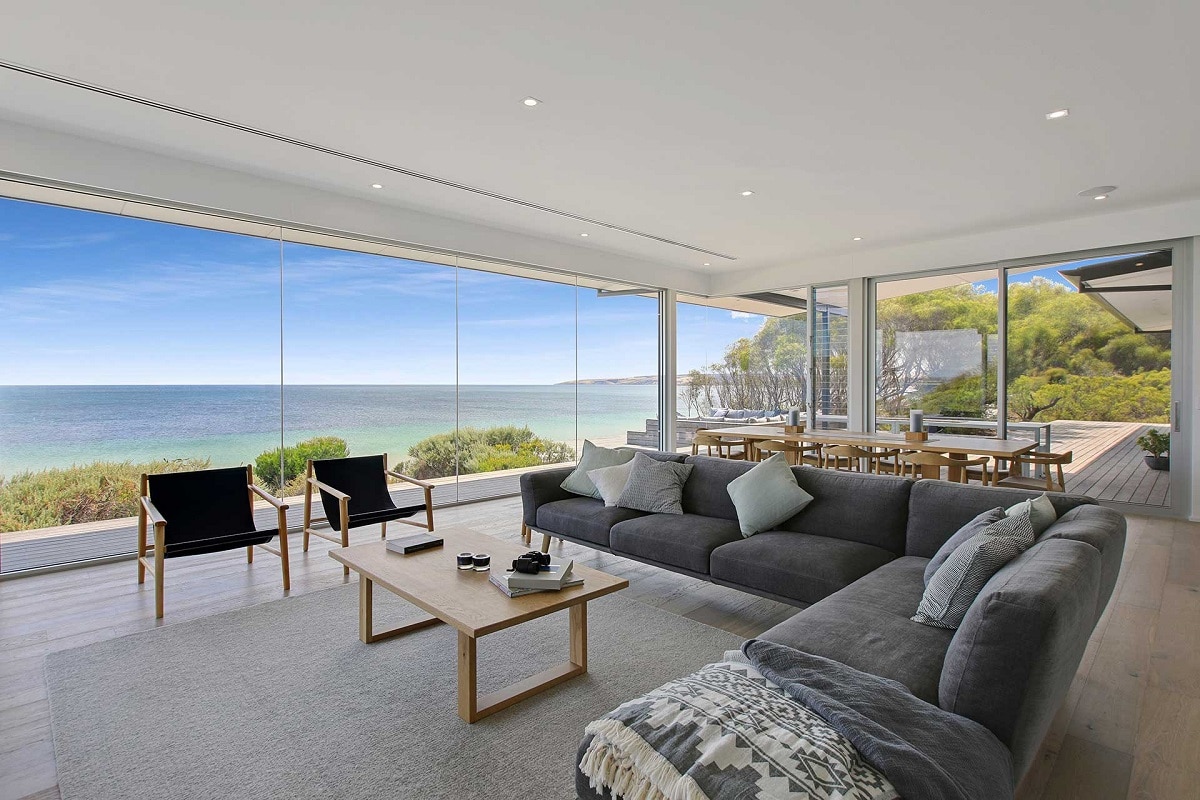 Unlike other private homes on this list, One Kangaroo Island is fully hosted with catering by local chefs and a well-stocked private bar and wine collection. The secluded home is only 20 minutes from the island's airport and uses glass, timber and subtle finishes to keep a sharp focus on the surrounding native bush and bay areas. An external bath on one of the extensive outdoor decks is where the best experience is, looking out over the white sand beach and vibrant reef that's frequently echoing with the squeals of visiting dolphins. A tailor-made experience across Kangaroo Island can be organised for guests in an instant, spanning cultural activities and private transport.
Average Nightly Rate: $3,990 (min. 2 nights)
10 guests | 5 bedrooms | 4 bathrooms
---
Tasmania
Satellite Island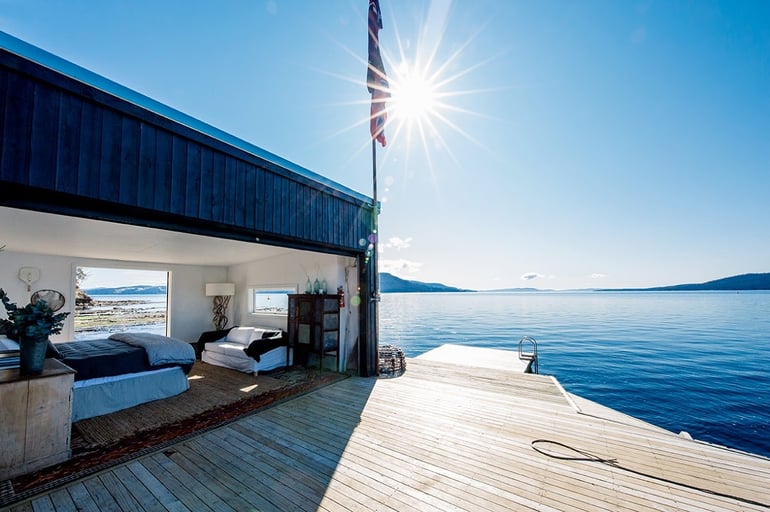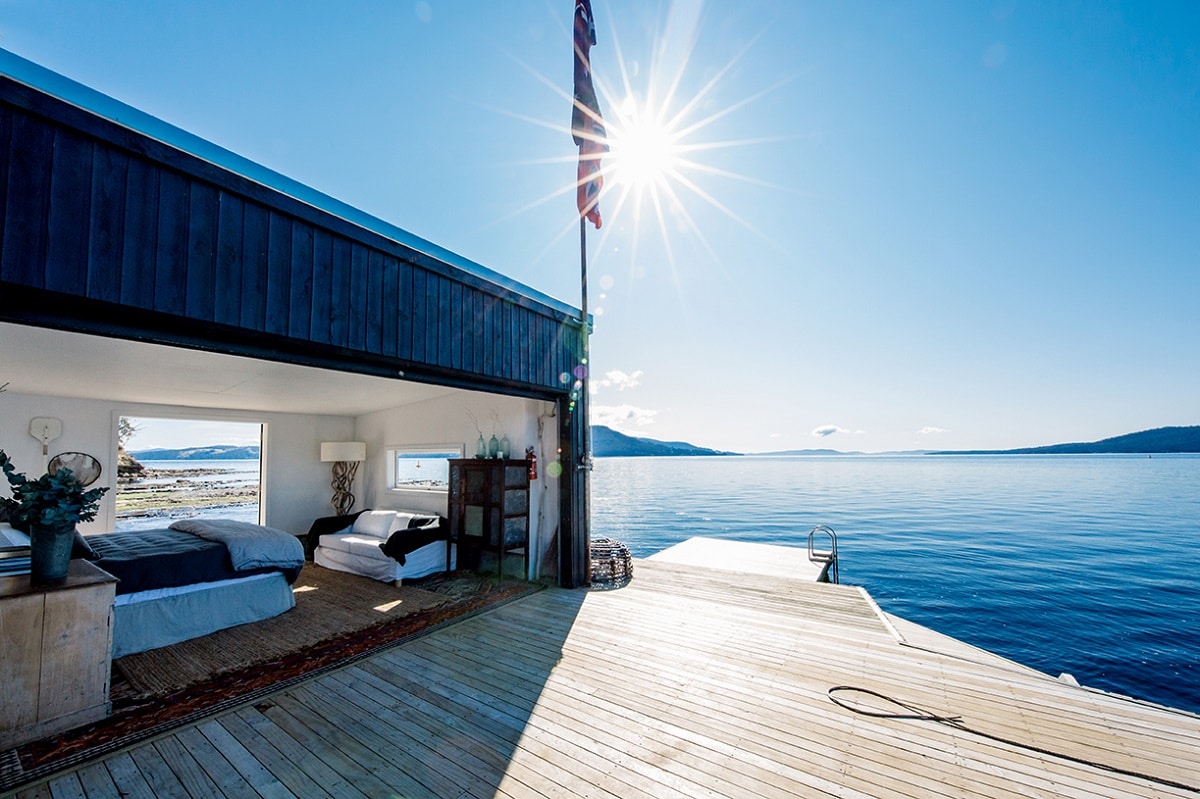 There aren't many holiday houses which offer you an entire 34-hectare island, wild and untamed as white-breasted sea eagles fly over head and an endless supply of Tasmanian oysters, urchin, abalone and mussels is a few easy sea-trawling skills away. Satellite Island is exactly that, swimming in the majesty of D'Entrecasteaux Channel on the edge of Tasmania's southern tip. The utterly unspoilt island, and its plethora of native bush and sea cliffs, can be rented along with a lone luxury summer house perched on a hill, overlooking a jetty and boathouse. The house comes with a pantry stocked full of gourmet food, and there's an organic herb and vegetable garden nearby with a few chickens for those perfectly fresh morning eggs.
Average Nightly Rate: $2,050 for 2 guests / $300pp for extra guests (min 2. nights)
8 guests | 5 bedrooms