When the idea of adventure travel enters one's mind, any notions of luxury almost simultaneously fly out the window. There is a common misconception that when you travel to places like Cuba, Africa or the Australian outback you can't possibly enjoy luxury and adventure simultaneously. Which is why I thought, is it too much to ask for both?
Morocco answered my call.
If there's one of those destinations out there that's got that untouched, must-get-to appeal about it, it's Morocco.
From desert dunescapes to a coastal fusion of cultures, you simply can't pass it up. With the added bonus of feeling like Indiana Jones, a side trip to this majestic North African country on the western edge of the Sahara was an offer I could not refuse.
I climbed mountains, chased waterfalls, lost myself in the aromas of local spice souks and quad biked through the Sahara.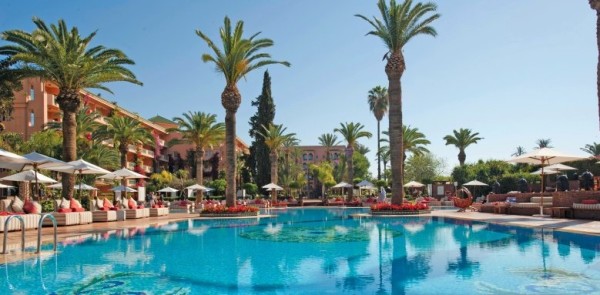 The icing on the cake however, was knowing that each day I would return to – what is quite literally – an oasis in the desert. I'm referring to the Sofitel Marrakech Palais Imperial (that's French for imperial palace if you didn't catch on, so you can only imagine what's coming next).
Situated in the heart of Marrakech, known as the 'Red City,' the Sofitel Palais Imperial surpassed all my expectations for off-the-beaten-track elegance.
To be fair, when exploring hidden luxuries around the world I prefer to stay away from grand hotel chains. Quite honestly, the implications of branding luxury across such a huge spectrum include inconsistency and a lack of individuality. Not only that, but exclusive hotels seem to always get it right. I couldn't tell you what exactly that is, maybe it's the personal touch, but something separates them from the majority and it always works in their favour.
Sofitel hotels however, a part of the Accor Hotels group, do not conform to such presumptions and the Palais Imperial was indeed an exception.
Beyond the Moorish façade that is the striking exterior, inside you are treated to a perfect blend of French hospitality eclipsed by a beautiful Arabian décor. Its exciting charm is found around every corner of the hotel, from the spaciously inviting foyers to its grand, palm-fringed pools.
As I was fortunate enough to stay during the very early spring, summer's daunting temperatures were yet to reach the city.
Nevertheless, with daytime temperatures still hovering around the low 20's even in mid-winter, a dip in the gorgeous blue pools and an afternoon in the sauna was the perfect end to a long day's exploring.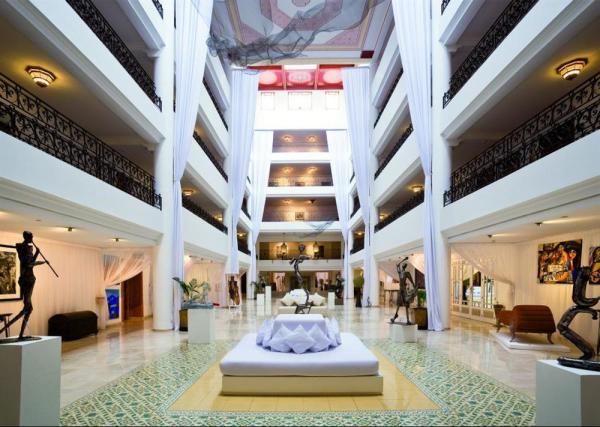 The warm, golden-red rooms are worth a special mention, decorated with ornate lanterns, amazingly comfortable bedding and an ensuite equipped with only the best French toiletries.
My balcony in particular overlooked the palace gardens and fountains with a beautiful view of the majestic Atlas Mountains on the horizon. There is no place I'd rather be than watching the African sun lower behind such an amazing setting.
The romantic sell aside, let's get down to business. In fact, we'll start with just that. There are wide a range of corporate settings for those mixing business with pleasure, from equipped boardrooms to receptions for lavish cocktail parties fit for royalty.
The main eatery which houses daily breakfast and lunch is encompassed by an outdoor terrace facing the garden and pools, which seems fitting since its named Le Jardin. Other establishments including L'Orangerie and the SO Lounge offer slightly more gourmet and 'nightclubesque' vibes respectively.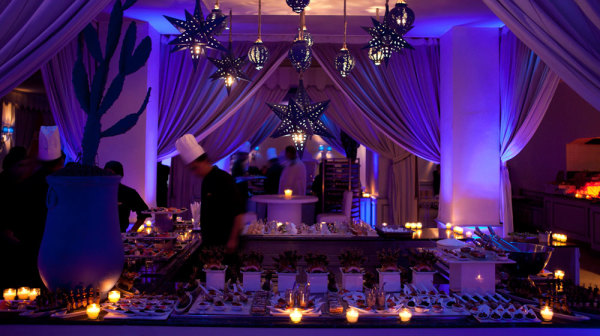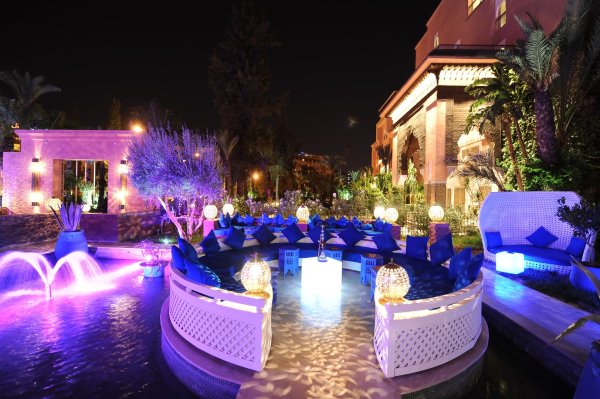 Countless pools surround the featured two, and I'm still amazed by the fountains with flames erupting from the middle of them. Cabanas, daybeds and hammocks line the pools and I very rarely had the presence of any other guests. Thus, the whole place to myself.
Not that you'd probably find the necessity for them in such a warm locale, but a heated pool and a further indoor pool among the spa area are also available for use should you require.
The adjacent spa facilities are actually marketed as a separate hotel with its own rooms and reception, known as the Sofitel Marrakech Lounge and Spa. Despite this, both hotels are joined together as one, with guests free to pass between either.
A hotel specialised in spa treatment and relaxation brings with it an opportunity that you'd be silly to turn down, even though I'm personally not one for day spas myself. Its pride and joy is clearly its leisure facilities, and quite rightly so.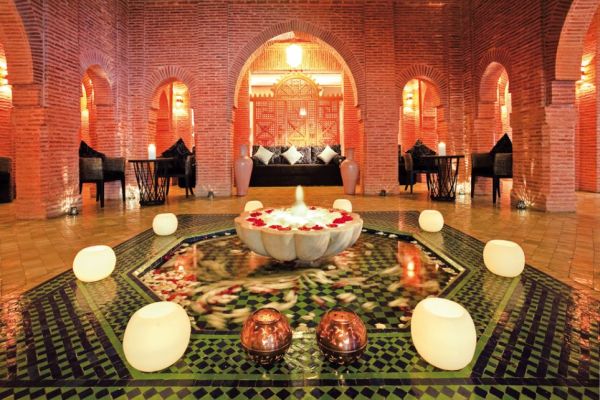 As far as location is concerned, with a mere 15 minute stroll or a 5 minute taxi ride to the famous old town souk Jemaa el-Fna, you couldn't ask for much more when attempting to balance excitement and tranquility.
The service is commendable, and despite my love of Arabian influences, being greeted with 'bonsoir monsieur' by the hotel staff upon returning from a tiring day perfectly complements the attentive nature of post-colonial French hospitality that has gracefully lingered in such a culturally rich city.
If I was perhaps skeptical of the possibilities of luxurious adventure travel before, I am definitely no longer. What you save from visiting these often less expensive developing countries, you can easily spend on the right accommodation should you find it.
What would get you an average hotel in midtown Manhattan, or a mid-range hotel in Sydney's CBD, can easily complement your next adventure in the form of a hidden gem like the Sofitel Marrakech Palais Imperial.
I am by no means advocating for the discontinuation of gallivanting around the world with your backpack, living out of hostels and home stays. However if you want both – luxury and adventure – it's definitely out there, you just need to go and find it.
Start looking here.
Rooms begin at $250 AUD per night.