I've flown Qatar Airways more times than I can count – both at the pointy end of the metal and right down the back. They are, in my opinion, the best airline in the world right now across the entire budget spectrum. Even if I'm not fortunate enough to enjoy Qatar Airway's award-winning business class, I'll fly with them regardless. In this Qatar Airways review, I'm here to convince you why Qatar's A380 economy class is a cut above the rest, and let you in on an essential little secret only the most seasoned of frequent flyers know about.
The recent rise to prominence of Middle Eastern & Asian airlines isn't exactly an unspoken one – and nor should it be. For too long Western carriers such as British Airways & Qantas capitalised on linking Australia to Europe, only to eventually be uprooted by the top-tier products of Qatar Airways, Emirates and Singapore Airlines and their accompanying levels customer service. Put simply, the latter offer better flight times, way more options for two-hop European connections, and, most importantly, superior economy classes for the 90% of their passengers.
Qatar Airways, in particular, has frequently hit back at those asking for a premium economy cabin, claiming their economy class is the world-leading standard. And we'd have to agree with them. After all, it's not the world's best airline for nothing.
---
---
Let's look specifically at my most recent trip to Scotland for this Qatar Airways review, during which I once again flew their A380 economy class out of Sydney to Doha (Airbus A380-800), and then onwards to Edinburgh (Boeing 787-800).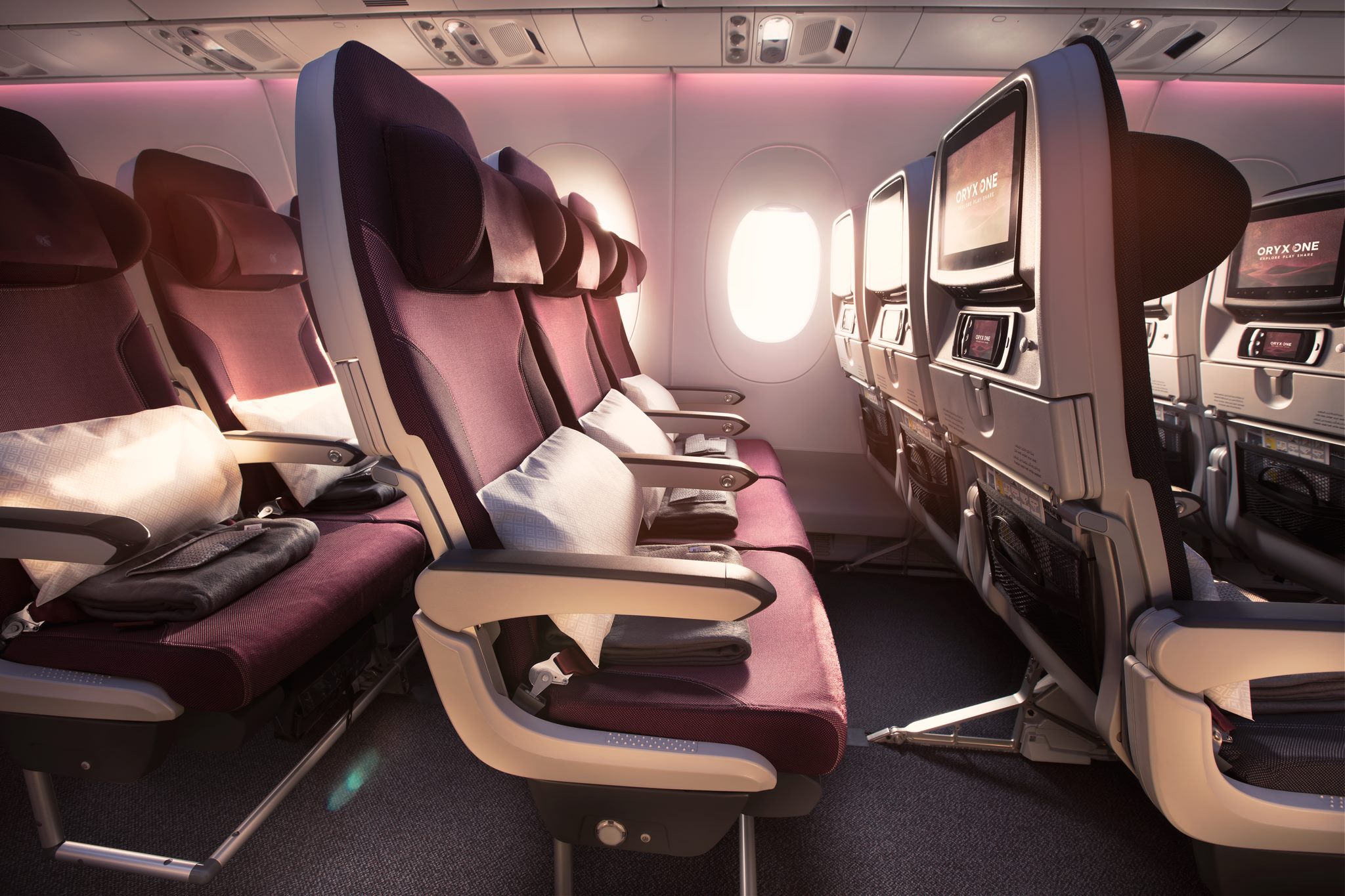 Qatar Airways Review:
Flight Details:
Flight No#: QR909
Route: Sydney – Doha
Aircraft: Airbus A380-800
Seat No#: 30D
Qatar's Economy Seat & Leg Room
Fantastic. There's no better way to say it. Credit where credit is due, Qatar do a seriously competitive A380 economy class seat – and the same can be said for their other aircraft.
But there's one super simple trick to making your Qatar Airways A380 experience infinitely better – and that's gaining access to the small and elusive economy cabin on the upper deck. While 405 economy class passengers tough it out down below, there's a secret 56-seater economy cabin towards the very back of the upper deck, a little slice of cattle class heaven tucked away behind the business class lounge area. It's a hidden oasis that few would know about.
---
---
A quick glance at SeatGuru will confirm what I'm saying. It has its own dedicated cabin crew, two out of the eight rows have extra legroom, and it runs a 2-4-2 configuration (as opposed to downstairs' slightly more cramped 3-4-3). Everything about it screams a premium economy cabin, just without the official title.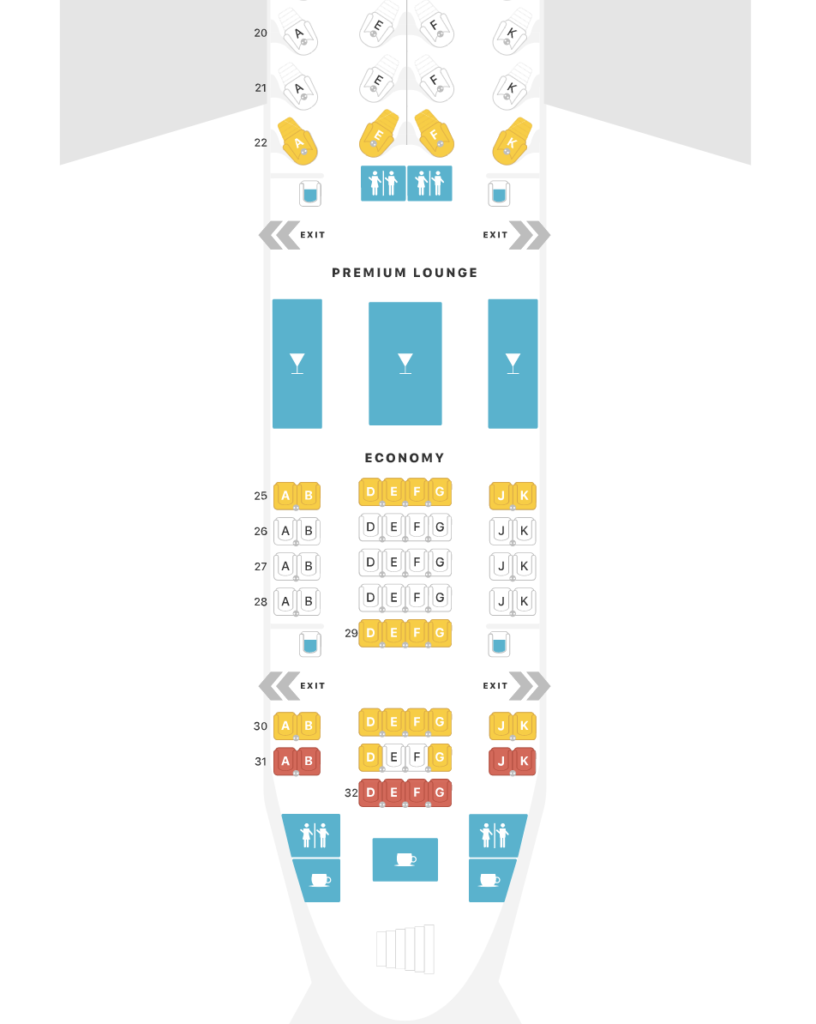 Nab yourself anything in rows 25 or 30 (bulkhead & exit row respectively) and you've hit the jackpot. If you can't pre-book an upstairs seat online, get to the airport early and just ask for one ever so nicely. I've done it each time I've flown Qatar's A380, and each time it's paid off. You also get quicker de-boarding, too, as you follow the business class passengers out through the forward door upon arrival.
As standard, Qatar's legroom is very accommodating (even for a 6″5 guy like me) and the seats are suitably wide and comfortable. Reclining capability is solid, and guests are given a small pillow for either neck or back support.
Entertainment & WiFi
Qatar Airways' entertainment catalogue is massive. While the A380's 10.6-inch touchscreen isn't the best of Qatar's fleet, it's still bloody good. There's no live sport via satellite (like Emirates), and some R-rated Hollywood movies are censored (which unfortunately takes the edge off some great films), but otherwise I have no qualms with the entertainment offering.
The Wi-Fi, however, is another beast entirely. For one, it's incredibly slow. This doesn't usually bother me, as I frequently enjoy my 14-hour forced digital detox, but for others who want to continue the hustle at 36,000 feet, this could be an issue. Each passenger gets one complimentary connection throughout the flight, but this will be exhausted in just one refresh of your Instagram feed, so use it wisely.
Food & Beverage Offerings
I didn't come here to do a comprehensive culinary cross-examination in this review, but I've flown enough to know what the gold standard is, especially in economy class. Unfortunately, Qatar Airways isn't it.
Likely its biggest chokepoint, and one where the likes of Singapore & Emirates clearly surpass it, is Qatar's food service. It can be hit and miss, but on the whole, it's bang-on average and nothing particularly to write home about.
Some inclusions like the shrivelled-up croissant and overly sugary white bread can be given a miss, and the fruit selection is a tad weak. Hot meals are a little more consistent – my Moroccan lamb was quite yummy, for example – but I wouldn't set the bar too high.
---
---
I don't eat much on flights anyway, so if you're like me, I wouldn't let the menu trigger a loss in appetite for Qatar Airways' A380 economy class. I also know from first-hand experience that the business class chow is top shelf. So if that's your primary concern, quit complaining, cash in those frequent flyer points, and trade up.
Another gentle PSA is regarding the 'sandwich' offering. It isn't a sandwich by Western definitions, let's just say that much. Think more of a sausage roll or chicken pie. The drink selection was adequate, but nothing exceptional stood out.
Qatar Airways' Overall Service
Qatar's customer service is the crème de la crème of economy offerings and one that spans the entire flying experience, no matter the class you find yourself in. In the upper deck's secret A380 economy cabin, you'll find the increased ratio of cabin crew to passengers an absolute godsend for superior service. The crew are friendly, attentive and seem to really enjoy the respite of their own little cabin hidden away from the chaos of downstairs.
Booking Tips
It goes without saying, but if you take away just one thing from this Qatar Airways review, it's that a seat in the A380's hidden upper deck cabin is essential to elevating an already fantastic economy experience. Ask for anything in rows 25 or 30 upon check-in, and if you're travelling in a pair, kindly request the two window-side seats so you can have space to yourselves.
If you're flying down below, I'll say just one thing – Seat 68D. It's an aisle seat with an empty space in front of it thanks to the escape hatch for the crew compartment downstairs – a common feature of most A380's.
Upgrade Tips
Qatar's commendable business class – probably my favourite in the sky at the moment – isn't as far out of reach as you may think it is.
Each time I've flown economy with Qatar I've been emailed a one-off business class upgrade offer anywhere from 7 days to 48 hours prior to my flight. The 'take it or leave' invitation naturally comes with a price tag, however, it fluctuates on availability and demand. Sometimes you'll get an upgrade offer for one leg of the trip, both legs, or neither. I've seen business class seats go for as low as AU$600 and as high as AU$3000.
Either way, if you've wanted to experience a taste of Qatar Airways' incredible business class experience, a regular refresh of your email inbox in the days leading up to your flight could be the key to unlocking an even more enjoyable journey than you were expecting.
---
---
And if you aren't so lucky with nabbing a business class seat, you can rest assured that you've already hacked the system with a seat in Qatar's secret A380 economy cabin.
Book at qatarairways.com
RELATED: The High-Flying Luxury Of Qatar Airways Business Class
RELATED: How To Spend Your Layover At The Qatar Airways Business Lounge