In a faraway tropical dreamland on one of 115 Seychellois islands sits the unequivocally spectacular Raffles, a grand establishment of 5-star ultra-pedigree. We ventured across the Indian Ocean to experience Raffles Seychelles, the purest manifestation of island luxury for ourselves, and as you will read, we were besotted from quite early in the piece.
Raffles comprises a total of 86 villas dotted along a steep hillside on Praslin Island, which looks straight out of Jurassic Park and is the second largest island in the archipelago. In every direction is azure blue water inhabited by a frankly laughable abundance of marine life.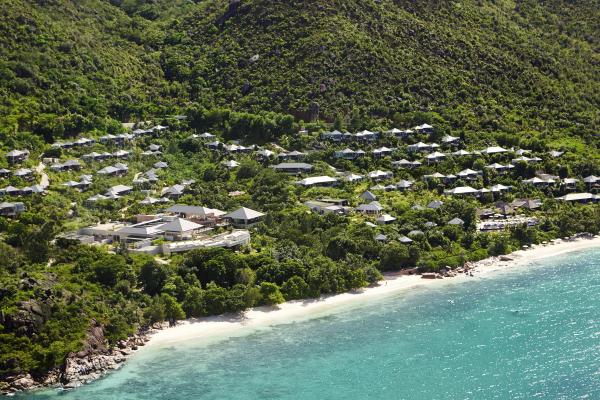 The ocean fronting the resort forms part of a Marine Park, so easily accessible coral reefs and underwater species are guaranteed to a number and quality that would put most aquariums to shame. With only around 100,000 residents in the whole country, the waters have remained largely untouched and, as such, have permitted flora and fauna to flourish to immense proportions.
---
---
Although there is much to be explored on the island, Raffles' expansive list of onsite facilities means you won't need to venture out. All transport at the resort is handled by golf buggy, with drivers on hand to deliver you to the next swim or meal. Recessed from the beachfront sits a sprawling terrace with two pools totalling roughly 850m². Every resort thinks they have a 'world-class spa', but I'd say Raffles' is one of the few where this actually rings true. All 12 treatment rooms sit on stilts immersed within foliage above a private beach and are open to the outside, thus sliding you into an impeccably calming environment before the massage has even begun.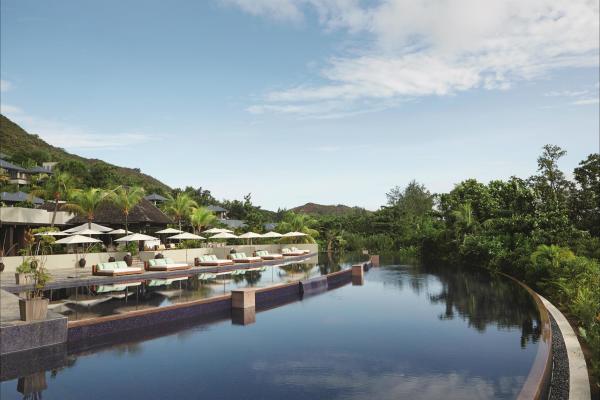 Everyone knows a private pool is a game-changer in any resort stay. At Raffles, every Villa comes equipped with an infinity pool complemented by a large deck, sunbeds, and outdoor lounge area. An in-room dining menu laden with an unending list of sumptuous options means you never have to leave your villa, should you wish to lay low. What's more, each Villa stands alone and is nestled among the island's dense vegetation with a healthy distance between neighbours, thus leaving only leaving the ocean in your sights and ensuring privacy.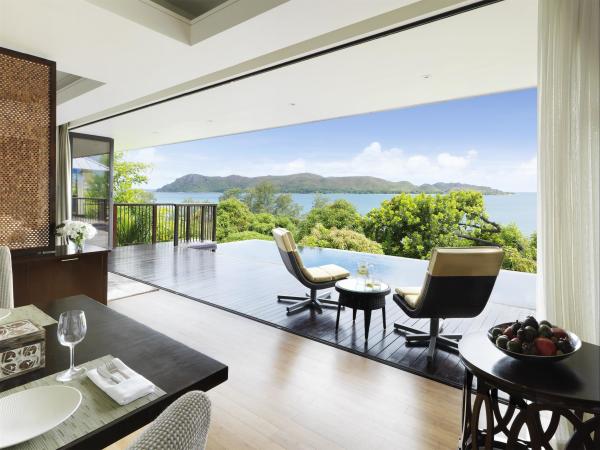 The suites feature high 'cove' ceilings and are adorned primarily in woods of varying gradients, with brilliant white marble and crèmes to the bathroom and walls, conforming to an overall understated, colonial-influenced opulence. Room highlights include an outdoor shower (complementing the indoor one), a deep bathtub with 180-degree views outward, and a Marshall Bluetooth speaker. For the artists, there's even an easel with crayons and pencils to go full Picasso on the deck.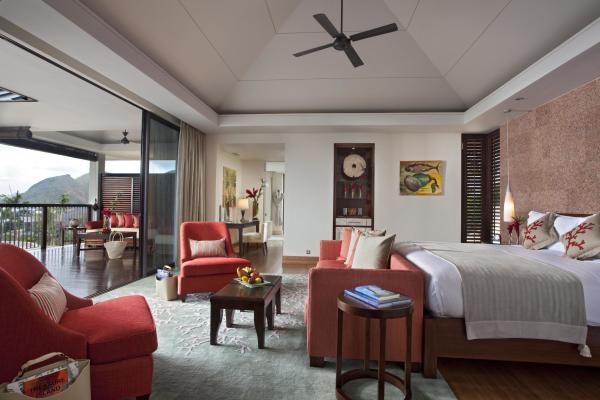 The accommodation range kicks off with the $1,500 per night Garden View Villa and progresses as views improve up the mountain to include Partial Ocean View, Ocean View and Panoramic Villas. Peak extravagance arrives with the Two Bedroom Villas, which come in at circa-$5,500 per night. Our pick of the bunch is the Ocean View Villa ($2,000 per night) for its killer views and lofty position.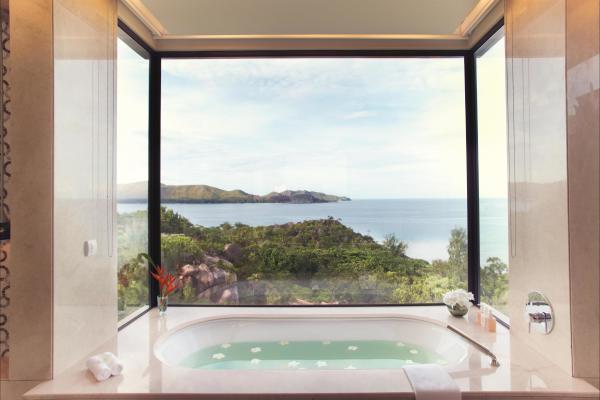 Arguably one of Raffles' biggest drawcards is the sheer volume of activities on offer. Deep sea fishing trips, scuba diving and snorkelling excursions, hikes and helicopters are organised by the team at your will. We'd suggest going for a cycle on the hotel bikes over to Anse Lazio (which is frequently touted as one of the most beautiful beaches on Earth) and asking the hotel to organise sundowners for you. Arriving to a picnic with canapés and a bottle of champagne waiting isn't a bad way to end the day.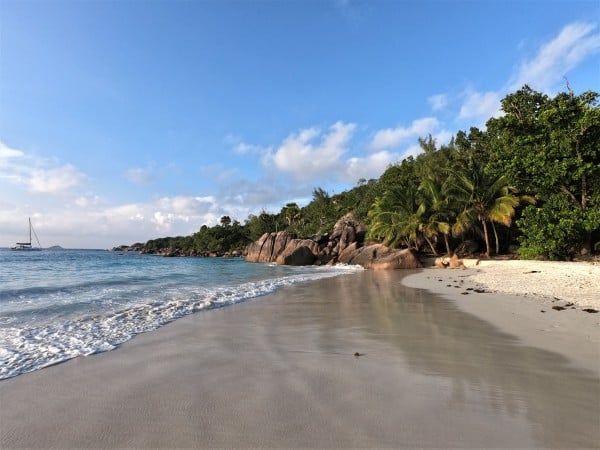 Dining options come in the form of the exquisite Losean, Curieuse, and Pool Restaurants. All spots offer unique takes on traditional Seychellois dishes and charming modern cuisine, leaving one spoilt for culinary choice. Raffles' offerings put most onsite resort restaurants I've experienced to shame, with flavours that outweigh the damage to your wallet every time.
The service ethic and competence of the staff at the resort is frightfully impressive. At every turn is a smiling offer of a cold towel or iced tea, fresh linen, another drink or a simple enquiry if anything can be improved. You never really get tired of saying "no thanks, Arnold, my glass of Moët & Chandon GV 1999 doesn't need a refill to the brim just yet". In fact, I'd say this is one of Raffles' strongest competitive advantages over its rivals – they don't just give you the golden doorknob, they turn it for you too.
---
---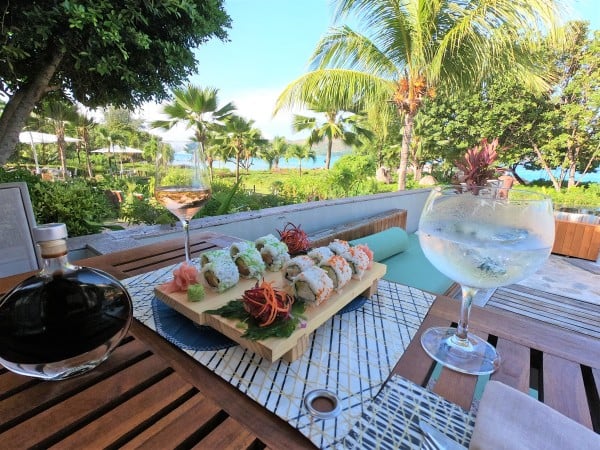 However, it never once felt smothering. Blatantly apparent is the resort's ability to tailor their service approach to each guest based on what kind of stay they desire. The choice between a jam-packed, tailored itinerary or a reclusive week in the comfort of your Villa is a simple request away, but the team have an ability to sense your choice before you've said a word.
With only 2,000 Australians visiting each year, Seychelles as a whole is an unconsidered gem. We see this as a spot which could gain some serious traction among Aussie tourists, and with resorts like Raffles it's an easy pick over sipping ethanol cocktails on the black sands of Canggu, Bali. Flights to Seychelles go via Abu Dhabi, followed by a ten-minute flight or one-hour ferry ride to get to Praslin Island from the main island of Mahe. Take a gander at Raffles Seychelles' Instagram page for more motivation, then head over to their website to book your trip.
Related: Inside Richard Branson's Secret Australian Resort You Never Knew About
Related: Louis Vuitton's Maldives Resort Has A Spa So Big It Takes Up Its Own Island