Condé Nast's Gold List 2019, HM Awards' Hotel of the Year, Gourmet Traveller's Regional Hotel of the Year, and professed 'place to be seen'. This is Halcyon House, and people won't stop raving about it.
Situated north of Byron Bay in Cabarita Beach, the property sits like a coastal castle amongst idyllic sand dunes, wrapped in soft concrete walls beneath swaying palm trees. Its design is the embodiment of smooth surrounds, with lashings of blue on a background of strictly bright white, both resembling and outshining Europe's coolest beach clubs.
Halcyon House makes for a fascinatingly unique accommodation offering, representing something that would look at home on the coastline of Southern California but is unmatched in Australia. With just over 20 rooms, all of which are individually designed, the hotel has a bold exclusivity to its name.
---
---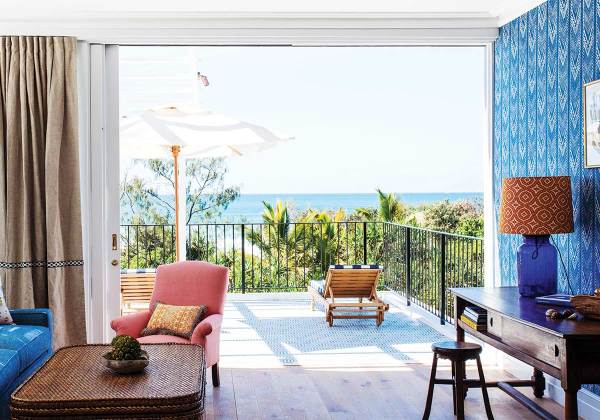 A further factor of Halcyon's rarity lies in its position. A savvy traveller will know that a hotel's claim of being "a stone's throw from the beach" actually means there's a road, multiple buildings, and probably a stadium in between you and the shoreline. But for Halcyon their claim rings true – it's literally in a garden on the dunes – fuelling a palpable sense of seclusion and tranquillity.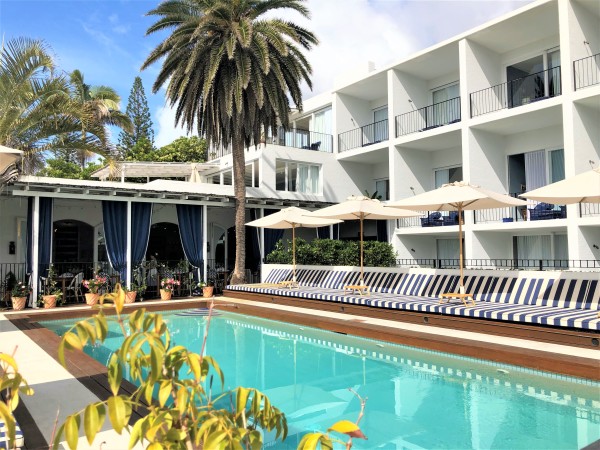 The heart of Halcyon lies at the pool, over which all of the bespoke rooms look. Striped recliners line the deck and waiters hustle around taking cocktail orders to the beat of tasteful house music. Given how few people are on the property at once, the hotel has a distinct feeling of community, almost as if you're at a membership-only country club by the sea. This is certainly the place to be seen with a drink in hand, as people are constantly stopping for a quick photoshoot with Halcyon's classic 'insta-friendly' backdrops.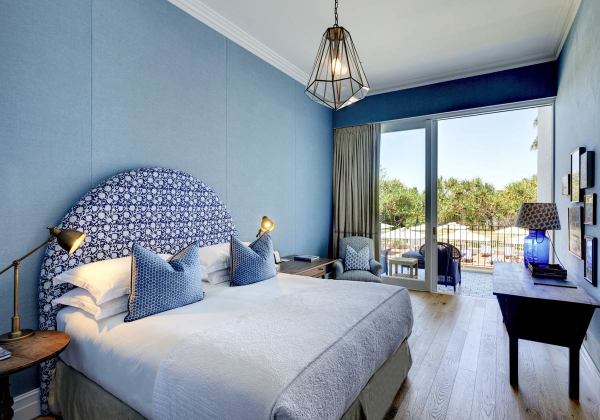 While Halcyon's rooms are enough to make you relish returning at the end of the day, time spent sleeping almost feels like a waste with this much to enjoy. Wooden floors underfoot, pastel-hued fabric walls and a collection of unique patterns matched to hanging art are Halcyon's aesthetic signature.
Stepping into the bathrooms is like enveloping yourself in a luxurious sea of white marble, hand-cut tiles and English tapware. The plush king bed, high ceilings, Apple TV, and private terrace or balcony form brilliant core features, while things like brownies with the turndown service, a complimentary minibar and delivery of post-yoga smoothies are the real deal sweeteners.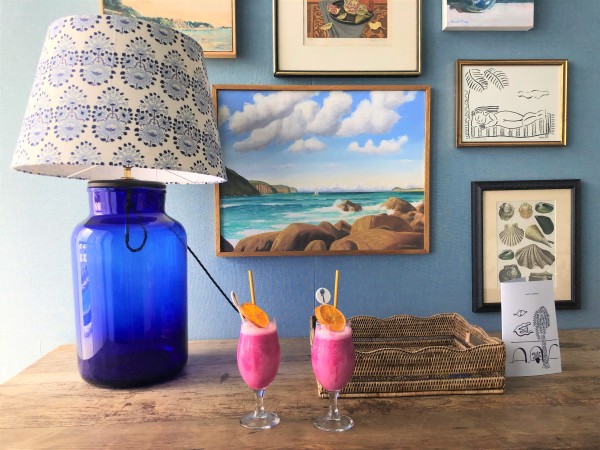 A foot in the door comes at a price of around $650 per night for a Classic Room on the ground floor, with pricing then climbing with vista to incorporate Superior, Deluxe, and Ocean Superior rooms. For those with a taste for only the best, the Master Suite or two-bedroom Halcyon Suite represent the pinnacle of the range boasting an outlandish amount of real estate for $1,300 and $1,600 per night, respectively.
If you find time to leave your room or the pool deck, there is a wealth of activities to keep you busy outside the hotel's walls. Cabarita Beach happens to be quite the surf spot and is much less crowded than the Gold Coast breaks further north, so bringing a board or hiring one from the hotel is a stellar play. Halcyon also has bicycles and an Audi A1 you can hire to explore the surrounding coastline. A bit further afield, Byron Bay is situated just South of the hotel making it perfect for a day trip.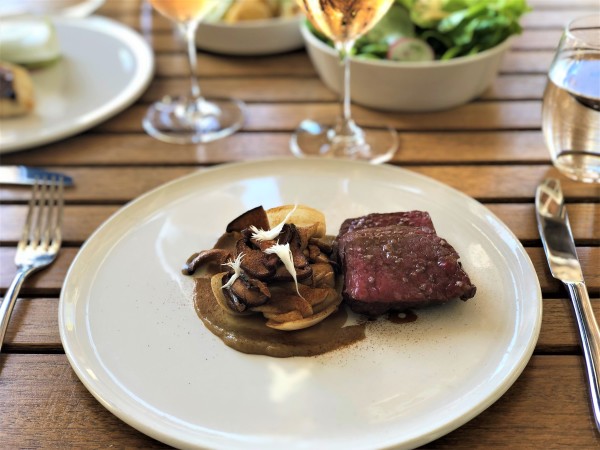 Halcyon's most impressive trick lies in its exquisite resident restaurant, the hatted Paper Daisy. Sitting poolside and doubling as a relaxed lounge bar for guests, Paper Daisy is the definition of sumptuous summer-style dining. The restaurant attracts clientele from up and down the coast for its sophisticated take on modern Australian food and use of fresh local produce, with highlights coming from the Kelp Baked Fish with Lemon Butter and Black Angus Striploin.
---
---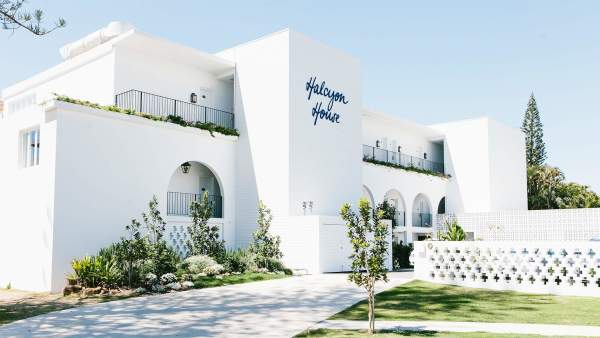 Much like pieces of art, Halcyon House's appeal primarily derives from its exclusivity and the fact that it's nice to look at. But unlike just art, Halcyon will take good care of you. It has a feeling of warmth throughout and comes with a smattering of thoughtful touches that go a long way to making a guest feel special, which even at this price point are always a nice surprise.
An unbeatable beachfront location and an endless array of activities to fill your itinerary make this stylish hotel a sure bet for any occasion requiring a healthy dose of opulence. Overall, Halcyon's unique and luxury package is hard to find fault in and I'd pin it as being well worthy of your hard-earned dollars. Treat yourself.
For more info, head over to Halcyon House's website.
If this is a little below your budget, then check out the top five most expensive hotels in the world.