If you've already nearly drunk yourself into an early grave on a Contiki Tour across Europe and are looking for something a bit different to do for your next holiday, then take a look at the Lake Taupo Cycle Challenge in New Zealand.
The Lake Taupo Cycle Challenge has around 7,500 riders take part annually and is best known for its iconic 160km Round the Lake event – a one lap circumnavigation of scenic Lake Taupo – which is just one of 14 short and long course distance options, including both road and MTB events. The event is celebrating it's 40th year and Aussie cycling legend Robbie McEwan has taken on the position of ambassador. Robbie's an Australian former professional road cyclist and winner of over 200 professional races. He was a triple winner of the Tour de France's green jersey sprinters' classification and 12 stage victories in both the Tour de France and Giro d'Italia, at his peak he was considered the fastest sprinter in the world.
Robbie has travelled all over the world racing, and he highly recommends a 'fitness holiday' like the Taupo Challenge.
"It makes the second bit of the holiday the eating and drinking bit makes it even better because in a way you've sort of earned it. I know personally, just lazing on the beach or by the pool is just boring as anything. It's good to go and actually do something in a place, you end up seeing more than if you just go and be a tourist, doing an event like the Tahpou challenge you end up going past places you may not go otherwise.
"It's a lot better way to see a place from a bike."
The Great Lake Taupo region is known as Nature's Ultimate Playground. With the largest lake in the southern hemisphere it's undoubtedly one of the world's most unique and picturesque areas and the race is a good excuse to visit. The active volcanic and geothermal region of Great Lake Taupo is a sporting mecca and nature-lover's paradise. In addition to this there is trout fishing, the Tongariro Alpine Crossing, or New Zealand's most popular natural attraction the mighty Huka Falls. For the adrenaline junkies you can experience jet boating, white water rafting, bungee jumping and sky diving, then relax with a few beers in the natural thermal hot pools.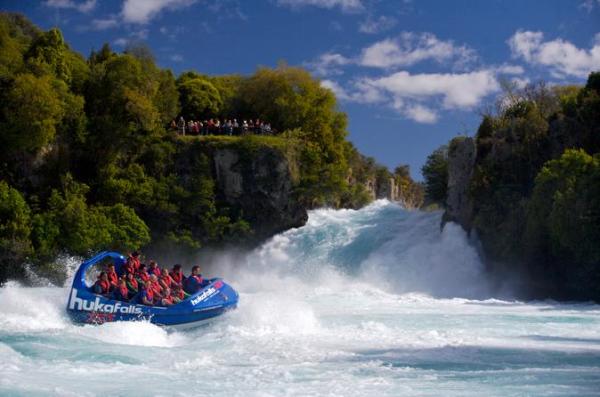 If you're interested in going but haven't jumped on the bike in a while, Robbie says not to worry, it's just like riding a bike. The short course options also mean that you don't have to do the full 160km loop but can choose to do just half or even of the distance.
"It's just a matter of people picking the distance they want to challenge themselves to, depending on the time they have available to put in to prepare. But basically anybody within reason can step on a bike and ride 40km, on no training whatsoever, it's like riding to school just a little bit longer."
If you wanted to have a crack at the longer distances, Robbie has offered some advice in terms of training.
"You need to commit to doing two or three rides a week just to get used to being in the saddle and turning the legs for that amount of time, so 80km people need to allow for 3-4 hours so if you can do a couple of rides a week and then one longer ride of 3 hours on a weekend you'd be right to get through the 80km."
Interested? McEwan says for or a cycling holiday its not as important to take your own bike because as you can usually hire a bike once you arrive and adjust it to suit your needs. However he does mention that it is always good to take your own cycling shoes and your own cycling kit that you know you are going to be comfortable in. Finally, he stresses that you should make sure your medical insurance is up to date before you leave!
Entries for this year's 40th anniversary of the Lake Taupo Cycle Challenge are now open. To help make planning even easier, the event has linked up with Ride Holidays who are offering two different travel package options – all you have to do is get yourself to Auckland airport and they'll look after you from there.
Lake Taupo Cycle Challenge event and entry information can be found at: www.cyclechallenge.com