This article is the second of a three-part series with Destination NSW in the lead-up to next month's Emirates Australian Golf Open.
When I received an invitation to drive a few old-school Porsches through Sydney's iconic Royal National Park and along the stunning coastline of southern NSW, I almost had to read it twice. In the following 3-4 seconds, I thought intensely about what was in front of my eyes and quickly concluded it would be wise to take part.
Before I knew it I was standing in front of three absolute beasts of classic motoring machinery on another beaming spring day. It was there I met Gav, owner and operator of Cliff to Coast and all-round legend. His company owns these three vintage, untamed 1970's Porsches, with the aim of giving his nuanced clientele an unparalleled and authentic motoring experience.
---
---
Gav started the company three years ago, combining a hole in the market with his passion for raw, pre-modern Porsches – especially air-cooled classics. His fleet includes a suave looking 1977 3 Litre Porsche 911 Carrera convertible, a beasty 993 Series Porsche 911 Carrera and a feisty stripped-back 1978 Porsche 911 decked out specifically for the track.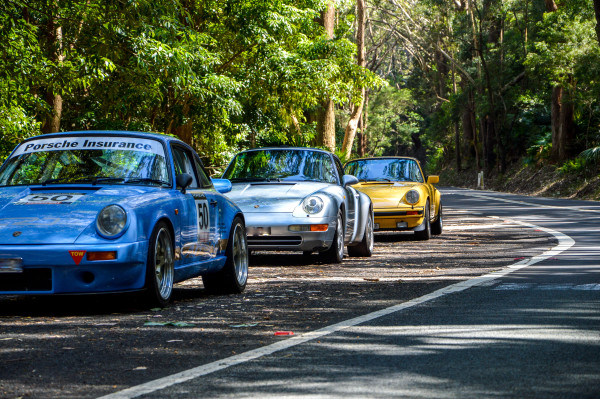 There's a high chance you've never heard of Cliff to Coast and that's not without good reason. As soon as they got the ball rolling on the business, the influx of bookings became overwhelming. Such a rapid expansion meant that Gav was handling intense business operations with an ever growing network of staff and an increasing customer base. This was taking him away from his original vision – driving.
So after a while, Cliff to Coast withdrew all advertising, pulled the plug on large scale marketing partnerships and scaled it back to what it was all about – the cars.
He knew that the people who would find his company were the ones that were really after the right experience and shared his passion for a certain type of driving. This is how it became one of Sydney's best kept secrets. Gav didn't even mind if I wrote this article or not. He simply thought that we'd genuinely enjoy the experience and if we appreciated his approach, our readers probably would too. He told us it was an absolute pleasure to host us for the day and was clearly stoked at our satisfaction. We couldn't keep the wide-eyed smiles off our faces.
Taking back greater control over their company gave Cliff to Coast the luxury of picking and choosing their customers, with their ideal clientele having a deep-seeded passion for these classic cars and a knowledge of how to treat them with the love they deserve.
In the lead-up to the big day, I found myself wondering why they chose the old Porsches. Why wouldn't they include something faster with more punch, like a GT3, GT2, 911 Turbo or the Cayman? Gav told us that as each new Porsche gets faster, smarter and more efficient, it requires less and less of your input. Unless you're on a racetrack, you can only tap into a fraction of the potential these modern cars have to offer. Gav finds that the older models not only ask for your help, they need it. You work as a team and the driving is shared almost 50/50 between the car and the driver. I can not emphasise how accurate this reasoning was.
The Sydney weather gods had yet again been good to its fortunate citizens with not a cloud in sight and a top of 24 degrees. Gav gave us the rundown on the cars and what we were to expect. I had the 3 litre 911 on the way down and the lightweight 911 on the way back. Johnny, a friend and colleague here at Boss Hunting was in the 993 and Gav had the race-purpose 911. I put the clutch in and ticked over the key. There were two polite 'chicka chicks', followed by a spine-tingling purr and tempered trumpeting of the exhaust. F**k yes.
---
---
Punching down the Old Princes Highway, Gav was sweeping the front, Johnny snaking behind him and I myself trailing fast, windows down. The gearbox felt raw and the brakes like blocks of wood compared to any ABS brakes from this century. By the time I got used to the feel of the car, I'm sure you could guess that my temptation to give it a good burn was rather strong. As if on cue, we banked around onto an isolated straight and we were on. I dropped it into second, threw my foot down and I was thrown back into the seat. By George did that weapon pack some punch. Just as Gav had warned, the 911 lifted around 4000 rpm, noticeably propping itself up from the road.
The numerous national parks framing the outskirts of the city are arguably one of Sydney's finest traits. We cruised down towards the park, sprawled with tight turns and hills begging to be climbed. A decent rise lay ahead so we slowed right down, idling along the two-lane road surrounded by bushland waiting for the cars in front to clear. The three rumbling Porsche gurgles harmonised patiently.
We felt a strong inclination to pretend, at least for a few seconds, we were on the starting blocks of the Carerra Cup. We were revving our engines, the imaginary lights were counting down. Red. Orange. Green and we're off. The roar crescendoed to an ear piercing climax. My 911 climbed these hills effortlessly, almost laughing at the pathetic slope, begging for more. Inside the national park didn't warrant high speeds, the challenging turns and stunning scenery were enough to keep us well and truly occupied.
As you may know, these three 911's have their engines at the back, completely changing their handling and dynamics. Gav, our all-knowing veteran Porsche driver, taught us that the physics of the car encourages braking and gear changing before the corner, rolling around the turn, and finally punching it once you spot your straight on the other side. Otherwise, the momentum of the heavily-weighted rear of the car can lead you straight off the road. What fine advice this was.
While it did feel a tad contradictory having three Porsches screaming through such a tranquil park, I'd be lying if I said I didn't shake with excitement. The beauty of this park always leaves me with a sense of pride that such a spectacle can be found just 45 minutes south of Sydney's CBD, another gem that a lot of visitors unfortunately overlook.
We rolled out of the trees to be greeted by the great cliffs of Sydney's south coast. Car companies across the world have used the Sea Cliff Bridge in their advertisements, so I'm sure you can understand my excitement of not only crossing it, but doing it in class with the sweet sound of this new-found friend rattling my soul.
The words suave, class, on-point and supreme were running uncontrollably through my mind the entire day and I struggled to compose such intense feelings into words on a page. Nothing but the real thing can match the service and experience of Cliff to Coast, so to anyone looking to take part in the ultimate Sydney Porsche experience, you should only be so lucky that Gav and his team agree to take you along for the ride.