At the epicentre of a cultural tug-of-war spanning thousands of years, you'll find Seville. The capital of southern Spain's region of Andalucía has finally settled as a vibrant representation of everything one might love about the country. Intricate architectural facades prop up layers of civilisations that once dominated the city, interconnected by a maze of centuries-old cobblestone alleys worn away by the clip-clop of horse and carts heard wandering beneath your balcony. Your lazy Sunday routine becomes a seven-day fiasco of blissful ignorance as Seville's indulgence, vitality and romance take charge in Lonely Planet's top place to visit in 2018.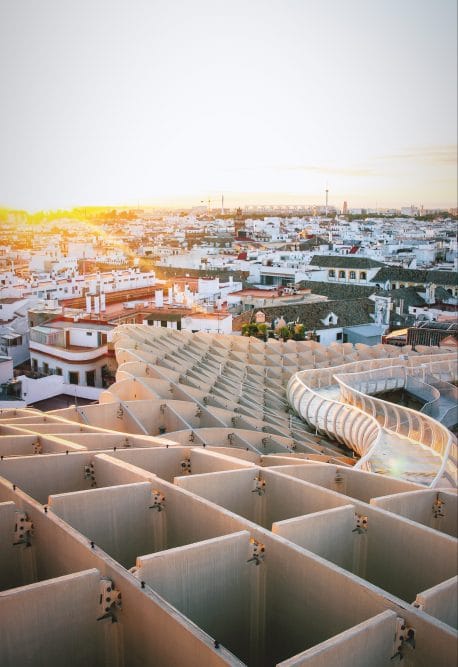 Best time to go: April/May
Best time to avoid: July/Aug
---
---
Ideal length of stay: 4 nights
Why I chose to spend two full weeks working remotely in Seville I'll never really know. The opportunity came up, and within 24 hours I'd booked it. 10 days later I was there.
I'd actually never been to Spain in my life before this visit, so why Seville got a start before the likes of Barcelona or Madrid I couldn't tell you. It coincidentally had nothing to do with Lonely Planet that's for sure. I wanted a city that wasn't a city. A map I could actually memorise inside 14 days. An old town that wasn't overshadowed by a towering metropolis. I wanted to experience a Spain that was everything I'd come to expect in my imagination. The architecture, the music, the weather, the food, the lifestyle. Seville, ladies and gentlemen, delivered on all fronts.
To be completely honest, after hitting 'confirm reservation' on an Airbnb I was a little concerned it might be the most boring two weeks of my life. It was quickly clear, however, that life in Seville is one to which you can effortlessly get accustomed to; late rises, afternoon siestas, sangria until all hours and a web of intriguing places waiting patiently for you to stumble across them.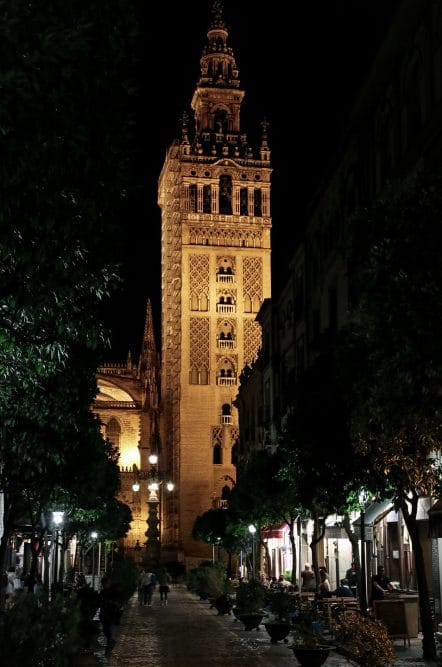 We'll kick off with the food because that's what 90% of you are probably daydreaming about already. Tapas joints in Seville are as fantastic as they are plentiful. Don't even think about going anywhere before 8 pm, and be prepared to hop around to more than one place in a single evening. The old town establishments are busy and semi-expensive, but suburbs such as Alameda offer some serious tapas and cocktail combinations. If you're after Sangria, *surprise* it's a tourist thing – order 'tinto de verano' instead. It's the local's version, exactly the same thing and a third of the price.
Chose one of your evenings to enjoy a flamenco show before you hit the town, or if you're in for something a little more culturally red-hot, Seville plays host to one of the few remaining bullrings in Spain. The bullfights aren't as regular as you may think, however, so if you're keen to get involved do some research ahead of time.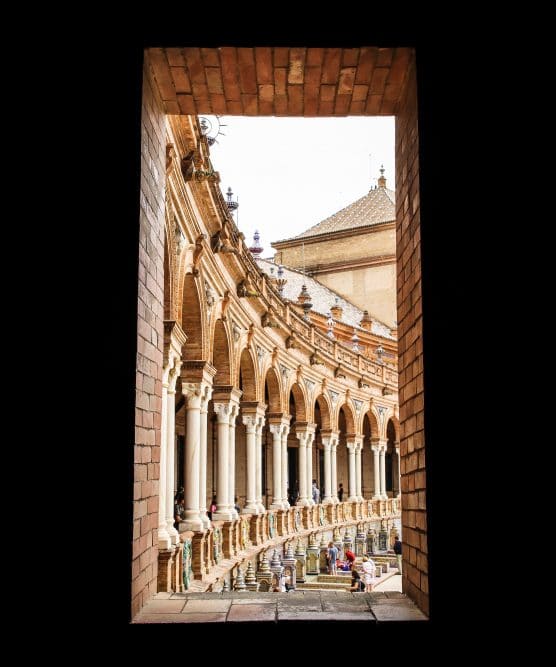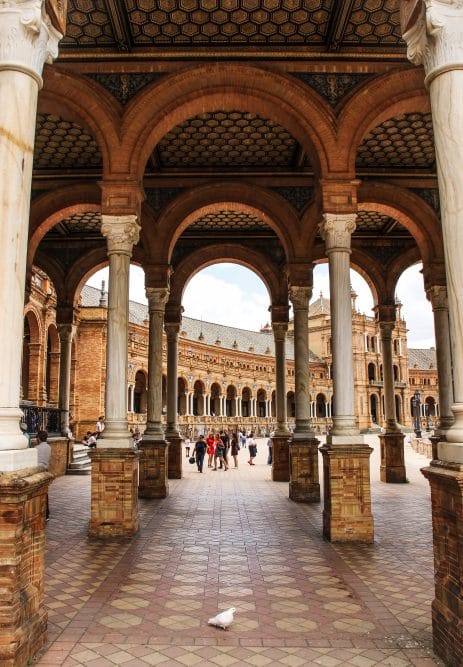 The old town centres around La Giralda (bell tower) which is attached to La Catedral (I'm sure you've got that translation sussed out). Don't miss the grave of Christopher Columbus inside the cathedral – I almost glanced over the plaque while preoccupied with the innate intricacies you'll find inside the church. The surrounding squares are bustling until all hours, the absence of cars (though not entirely) makes walking the streets a pleasure, as I did in the lovely mild temperatures of early June.
---
---
Adjacent to the cathedral is the Real Alcázar, a fortress that has changed the hands of cultures since 1181. Now partly a royal palace and equal parts just a very pretty garden, the Alcázar is the home of various scenes from HBO's colossal hit show Game of Thrones. Despite an equally colossal line out the front – which in peak season can cost you 1.5 hours of your life – once inside you'll find it surprisingly peaceful and the human-to-space ratio sparse enough for you to enjoy the surrounds. Book ahead online from your phone and simply walk right up to the door. You can do this a week out, a day out, or while you're even standing in the queue.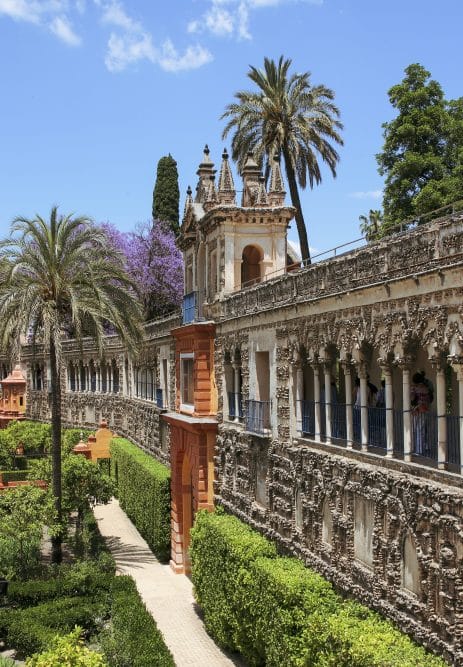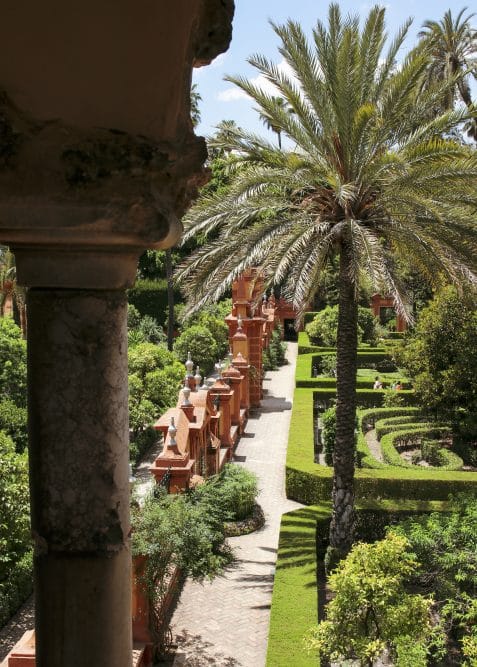 Colour is one of the most alluring aspects of Seville. The Plaza de Espana is particularly attractive in this regard. The huge marble semicircle is dotted with fountains, horses, and live musical performances all under the towering red-stone arches. In direct contrast to the Plaza, the Metropol Parasol might be the best spot for a stellar golden hour snap and the most modern of monuments in the city.
RELATED: Europe's Top Driver's Roads To Flog Your Dream Car This Summer
Perched just above the surrounding rooftops within an urban square is a honeycomb-like structure that I can only kind of compare to Singapore's Gardens By The Bay. Perfect for sunset, take a few beers to the top and watch the city's colours morph as the little ball of red disappears behind the hills just beyond the river.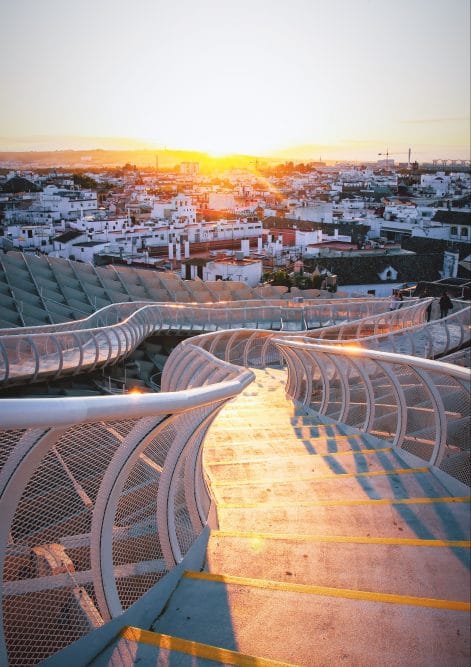 If you're keen to settle in for more of a sunset session rather than just a few cheeky ones, the rooftop terrace at the Hotel Fontecruz is your best option – I tried almost all of the rooftop bars, trust me on this. The restored 16th-century palace boasts a pool, a heaving cocktail bar and the best view of La Giralda. On weekends you can also enjoy live music performances but I'd recommend you head up early as it's chockers almost the entire day.
Getting into and out of Seville is easy; the bus a mere 15 minutes and 4 Euros to the city from the Airport. Getting any further, however, and you'll likely need a hire car. If you're after a break from the land-locked antics of Seville, and sans any form of wheels, there is a coastal option within a seamless 1.5-hour direct train ride from the city.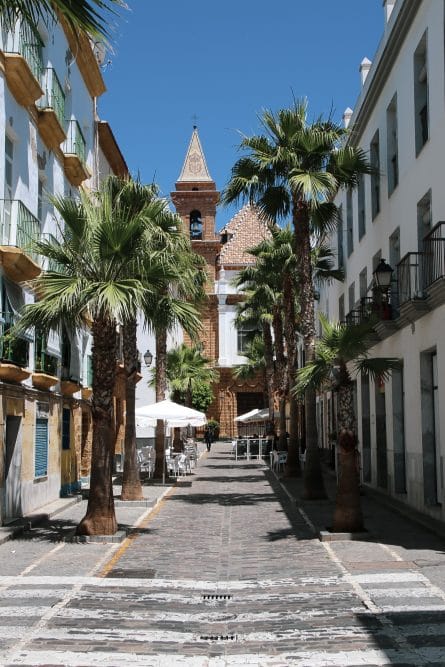 Cádiz is the oldest settlement in Western Europe; the fortified city once the gateway to the Atlantic, Africa and the New World. As many as three nights here would suffice, though a day trip is also plausible if planned correctly. Holy Week in the month of April, for the passionately Catholic population of Southern Spain, is a great time to visit either city for their bustling festivals, music and street processions. Cádiz also shares so many similar traits to Cuba's capital Havana that it portrayed the city in Pierce Brosnan's Die Another Day back in 2002.
I still struggle to pinpoint what the allure of Seville was exactly. Perhaps that perfect summation is one you can only understand for yourself when you breathe the air, soak up the sounds, taste the food and take in the visuals. If Lonely Planet doesn't award it numero uno back to back for 2019 it'll be a robbery, as even after all my time there, a second visit seems just as attractive as the first.
---
---