With the world in a state of chaos, uncertainty in every forecast of the future, and tourism a long-forgotten dream, the urge to simply drop your gear and take a break has never been more pressing. Forgive me for aiming too high, but if I'm booking out of this whole fiasco, I'm going large and I won't be back for a while. But how large is too large? Enter Sheldon Chalet in Alaska's Denali National Park.
While treating myself to a boring perusal of Foxtel's 4,000 channels, I found the aforementioned answer. As I neared the dreadful milestone of Channel 3,000, I saw this impossibly exquisite alpine retreat. It's situated far and high away from anywhere or anyone, dripping in luxury and in breathtaking surrounds. Sheldon Chalet is, without doubt, the ultimate escape. At the very least, it makes a convincing case for you to quit your job after reading this article.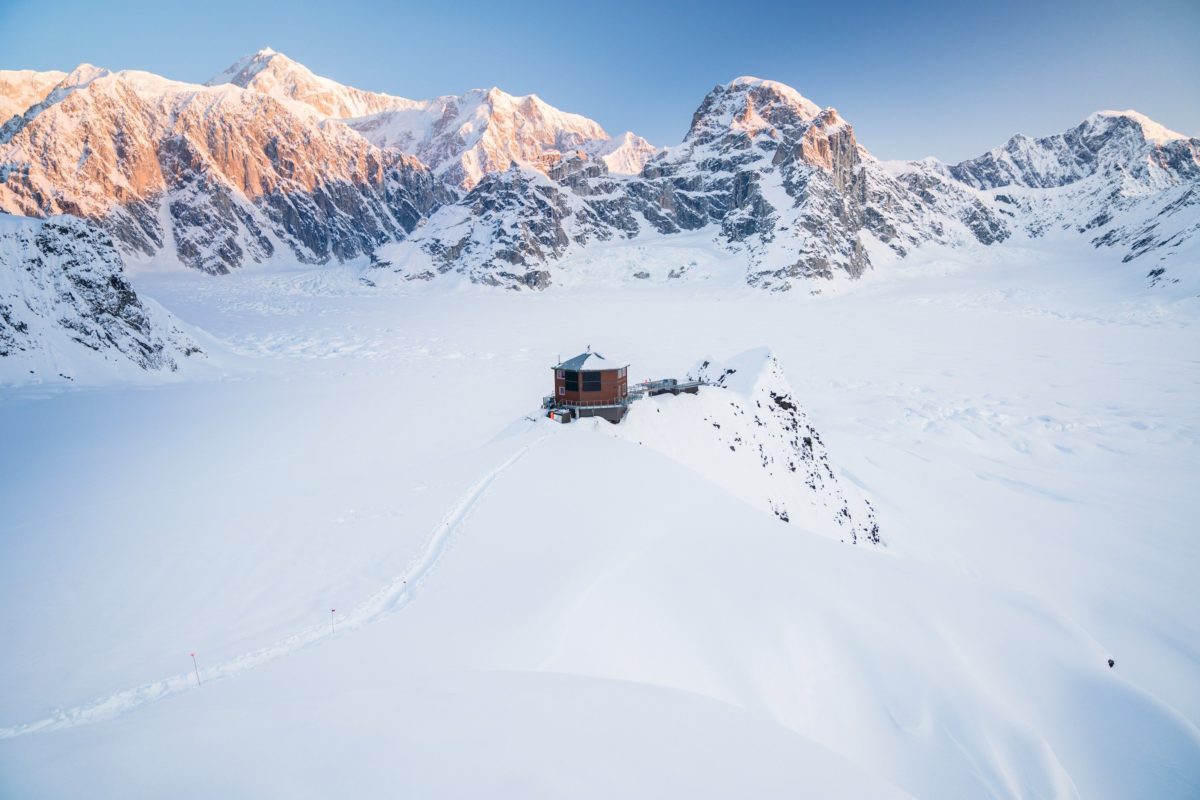 Located in the Denali National Park in the deep heart of Alaska, Sheldon Chalet sits perched upon a rocky outcrop within an enormous bowl of snow-covered peaks. The Chalet seemingly clings to a coin-sized piece of stone, as the white masses tower over it and threaten to extinguish it at the nearest breath of wind. The visual is simply astounding. If it didn't look so insignificant next to the backdrop of the Denali mountains, it would easily resemble a clichéd Bond lair.
---
---
Once people have snapped out of their observatory trance, their first question is how on Earth you're actually supposed to get there. Glaringly obvious is the fact that there's no road in sight. Unsurprisingly, the only way to get to the property is by air, departing from the town of Talkeetna one hour away. The Chalet owns its own helicopter, and transport to and from is included in guests' nightly rate. Otherwise, visitors may charter a light aeroplane and land on the flat Ruth Glacier at the base of the amphitheatre and walk up to the Chalet. As a hotel championing its remote nature, this level of inaccessibility certainly adds to the allure.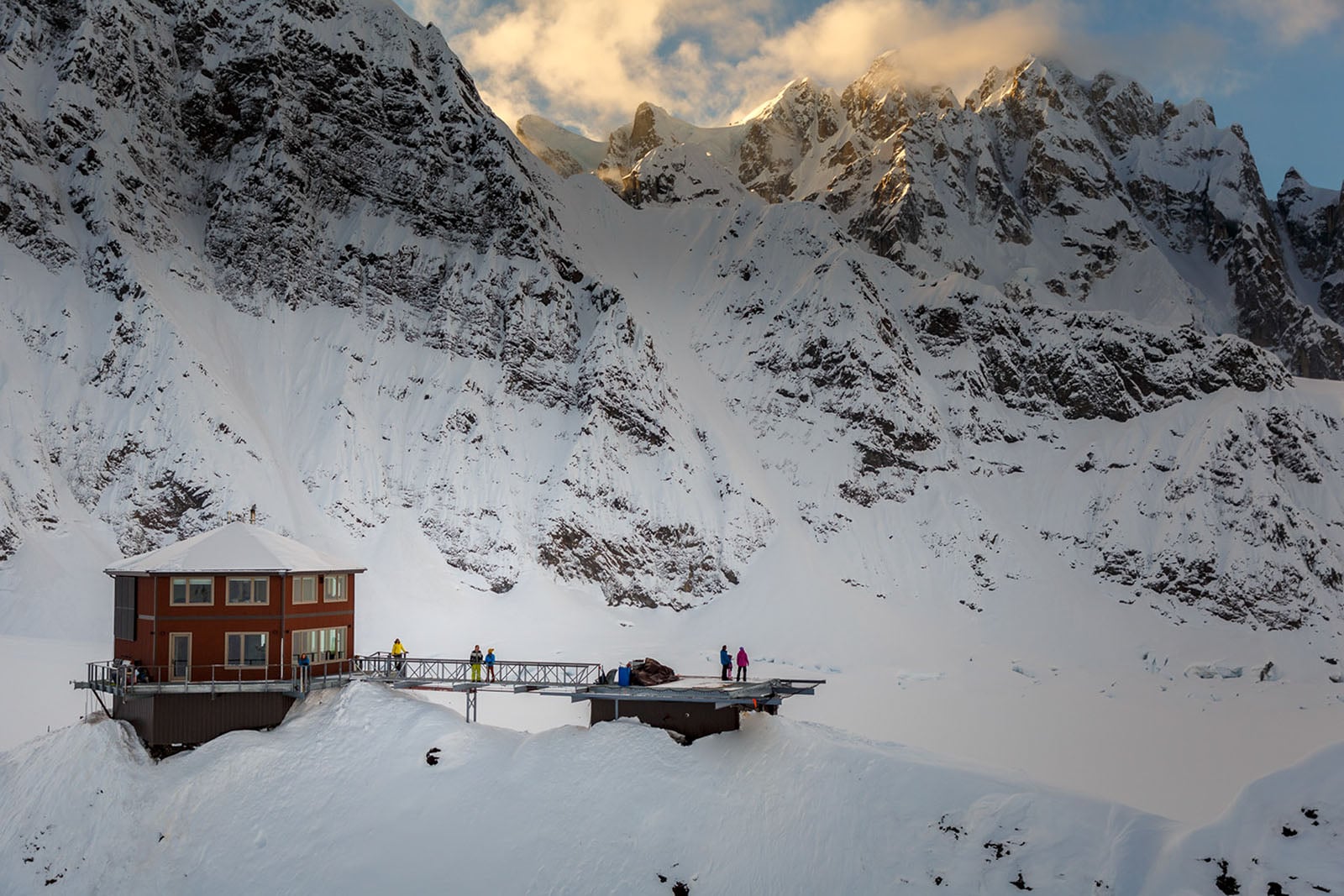 Getting all this in place was no easy feat. Prior to opening its doors in 2018, the project had been in the works for some 50 years. The Sheldon family managed to snag the parcel of land in the 1950s, after which the Denali National Park was subsequently formed, and operated a small homestead for mountaineers. The early 2000s saw the family's designs for a luxury retreat take shape, and they pushed through planning approvals and construction challenges for 13 years to produce what we see now. The protection laws placed on the National Park mean that the Chalet is the first and last hotel or residence that will ever be built there.
After landing in the chopper and being presented with a glass of champagne, guests will enter to find a living room known as the Commons, highlighted with a Finnish fireplace and resembling a classic luxury ski lodge. The space is punctuated by a large group-oriented dining area anchored by a beautiful Birchwood table handcrafted in an Alaskan township. The furnishings are tasteful and comfortable, with all the opulence one could ask for. Realistically, the interior is only eclipsed by the view it affords. The five bedrooms are located on the top level and are oriented toward the outside to capitalise on the spectacular outlook. You'd call the decor minimal, but what isn't minimal compared to scenery like this?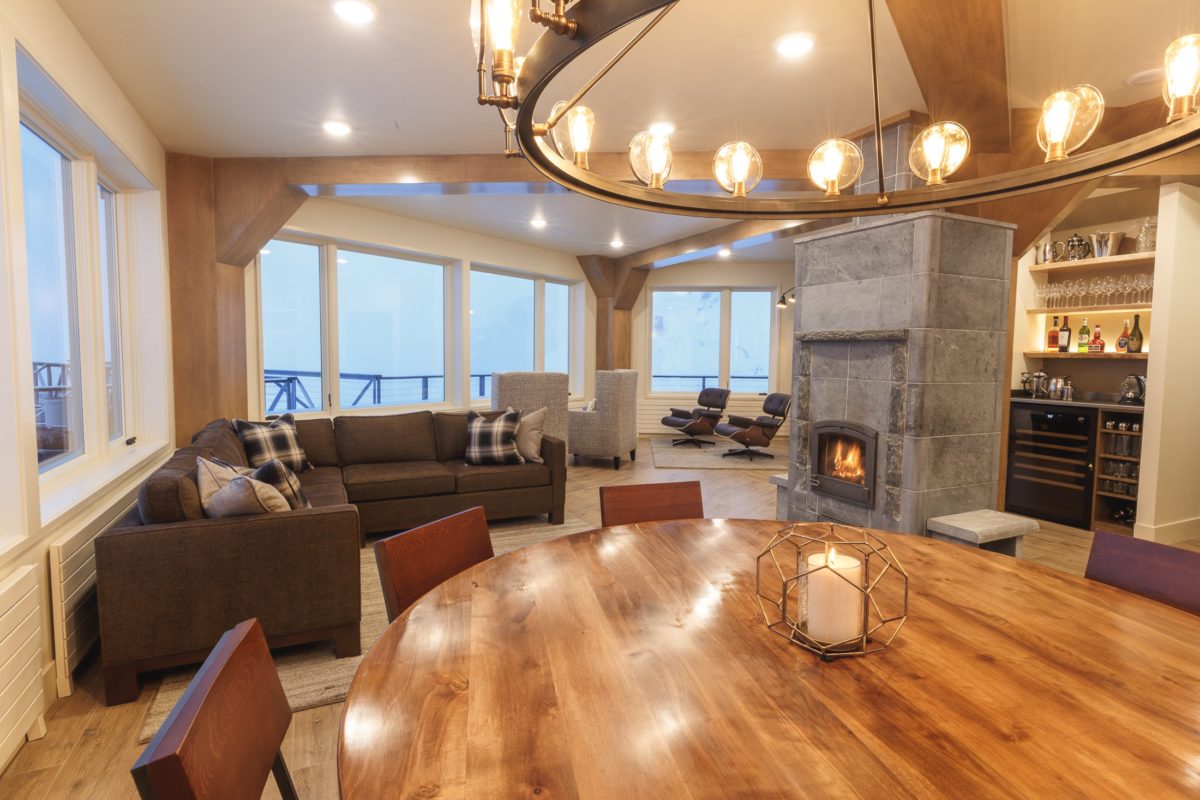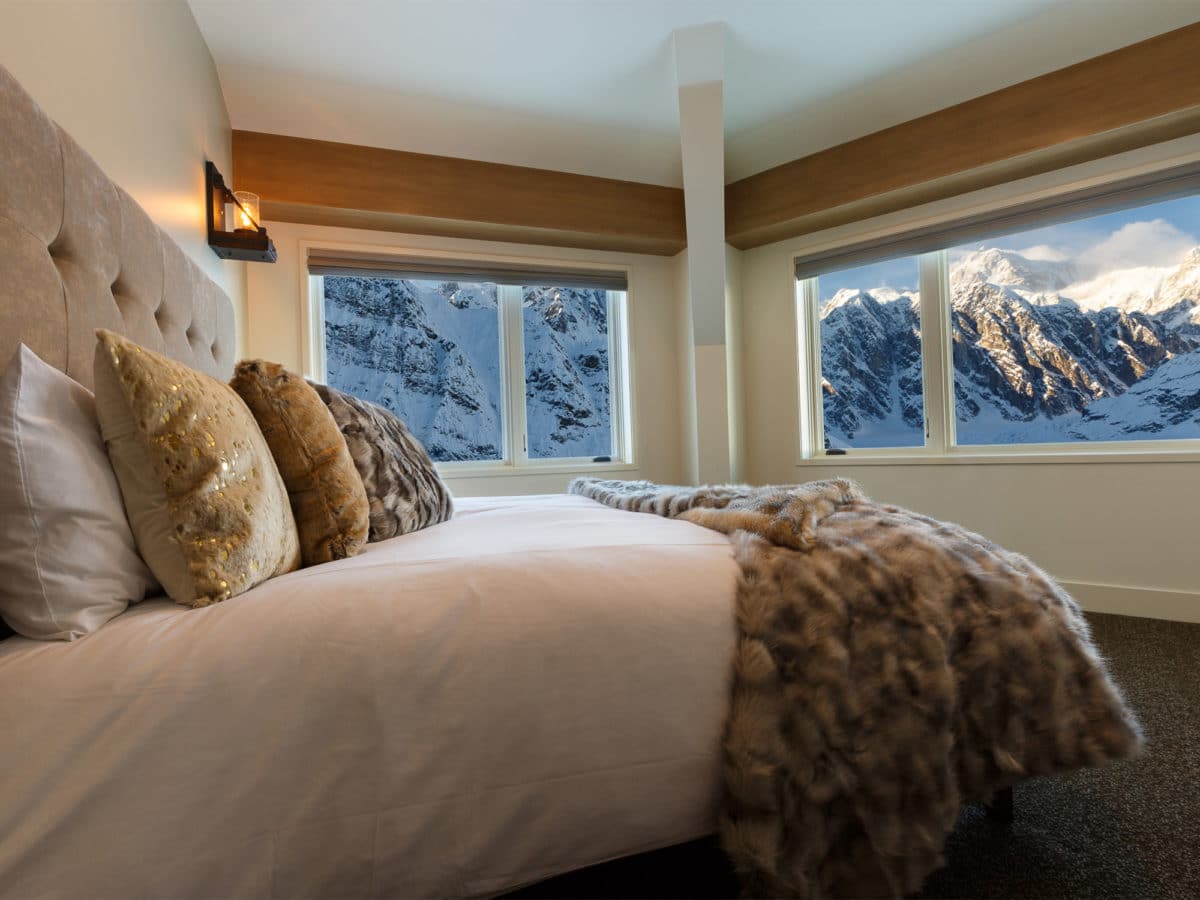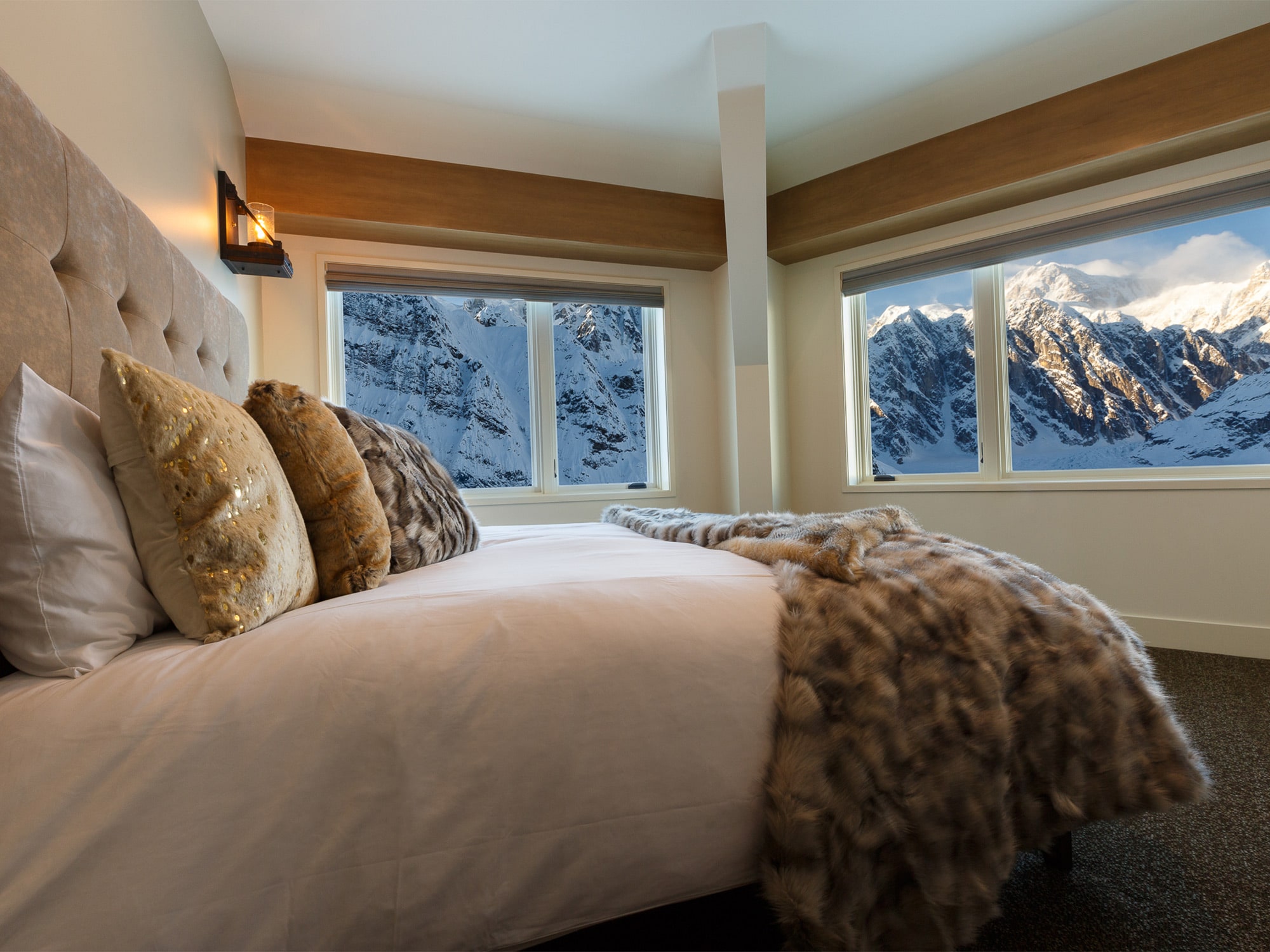 As one might assume, it isn't cheap. The Chalet is usually rented out on an exclusive basis, so no other guests will be present during your stay. The nightly rate starts at US$3,150 per person and requires nine of your mates to fill the five bedrooms on hand. Alternatively, parties of two can book out the chalet exclusively at a strict rate of US$35,000 for a minimum of three nights. Either way, booking is via an expression of interest only, with guests being approved by the owners personally. Included in this rate are the abovementioned helicopter transfers, all food and beverages by a chef that used to cook for Justin Timberlake, and access to a smorgasbord of activities.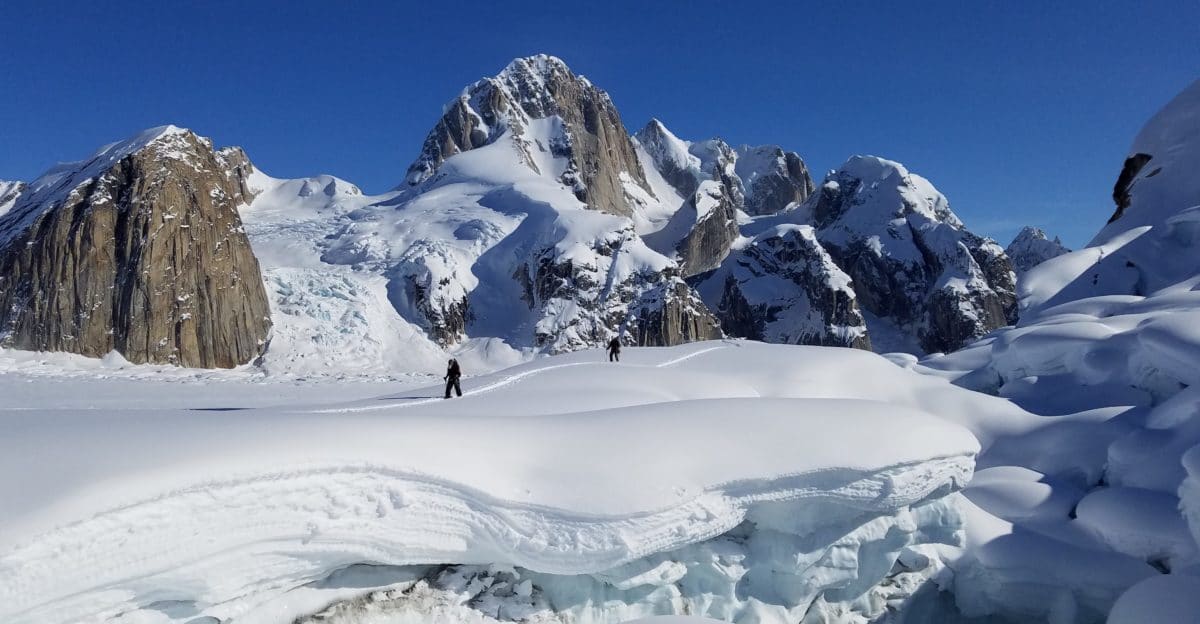 Although representing the pinnacle of accommodation standards, it's the way you can spend your days which is perhaps Sheldon's greatest drawcard. Adventurous guests may embark on guided mountaineering expeditions to explore the 90-square-kilometre Don Sheldon Amphitheatre, complete with climbing gear for traversing its 1,500-metre vertical walls. Backcountry skiing, remote hot springs, avalanche viewing and gourmet glacier picnics are also on the menu. Following a day of action, drinks by the fire on the Chalet's deck are waiting, as is the rooftop sauna. As nightfall arrives, Sheldon is often blessed with a mesmerising show from the Aurora Borealis.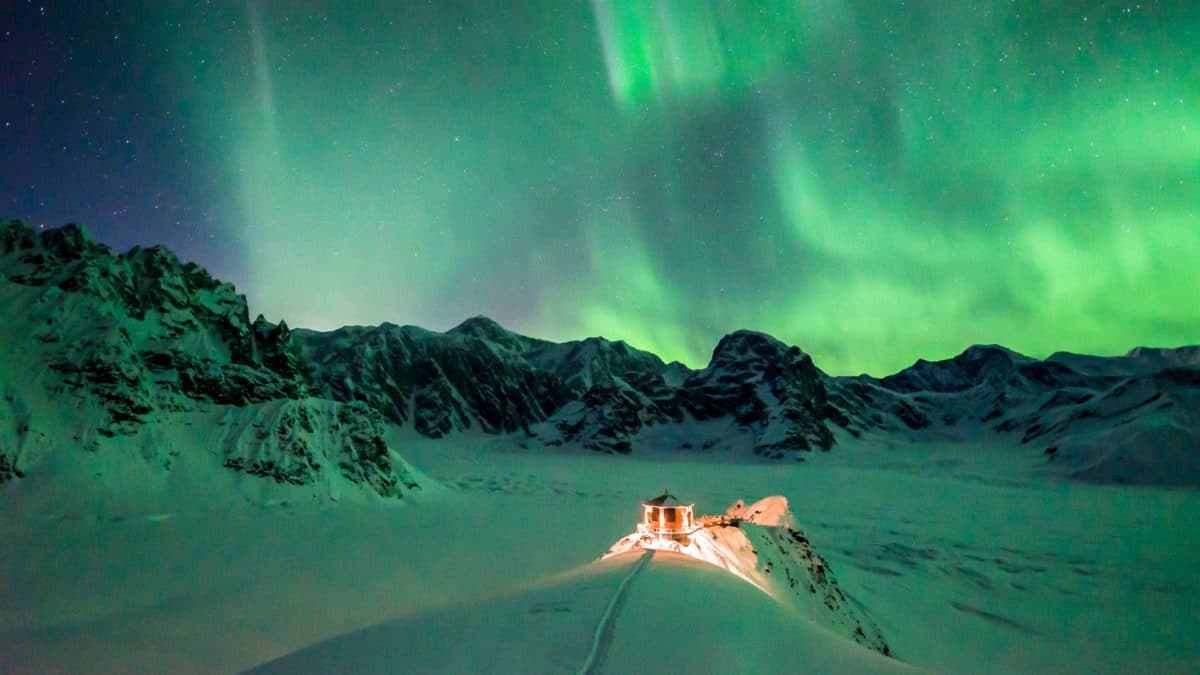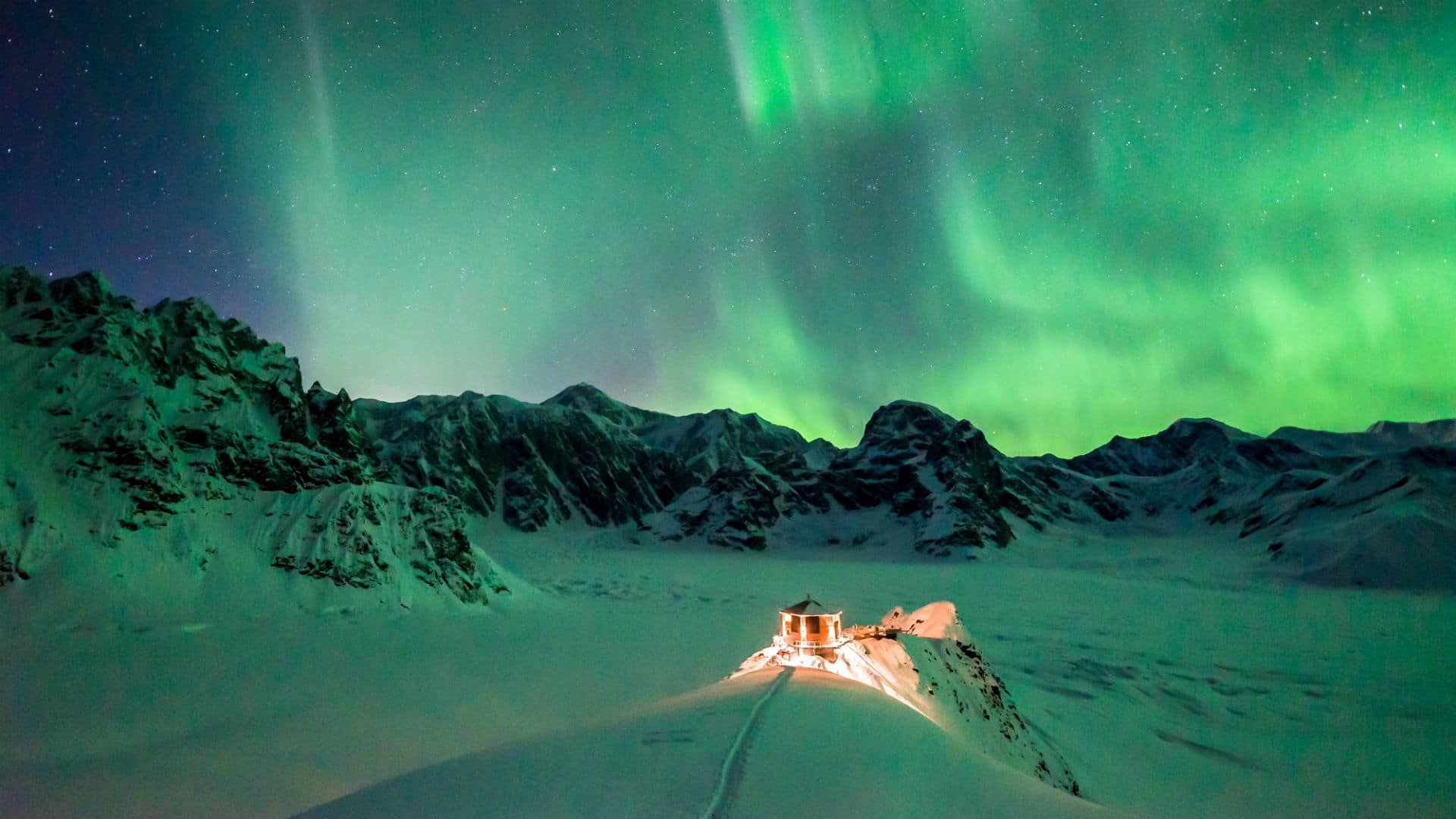 Something tells me a short weekend getaway won't cut the mustard.

Head over to Sheldon Chalet's website to explore it further or check out the 10 Coolest Tiny Homes Near Sydney if you're looking to stay local (and under budget).