One of the most popular US hotel brands finally has an Australian presence as Ace Hotel Sydney opens in Surry Hills today. Transforming the massive brick facade of the Tyne Building, which was erected in 1916, the Seattle-born hospitality brand has managed a whopping 257 guest rooms and suites alongside a lobby bar and lounge, two restaurants – one in the lobby and one on the rooftop – and a laneway cafe-bar named Good Chemistry as a nod to the building's past as the distribution centre of Washington H. Soul Pattinson Chemists.
If you're unfamiliar with Ace Hotel just know that it was one of the first truly "lifestyle hotels" to pop up in the States at the turn of the century. Ace Hotel Seattle was founded in 1999 as a very non-traditional hotel that focused just as much on adding a bit more life to the public areas.
I guess a bit of the hostel mentality started wrapping around higher-end accommodation at this point, redefining hotels as places to stay that felt more collaborative, accessible and social. While having 257 rooms doesn't exactly scream "boutique," that's the approach Ace Hotel is absolutely built on and likely the reason why the world now has hundreds of riffs like Australia's QT and Ovolo brands and various international favourites like Mama Shelter and Palihotel.
---
---
While the group has had their misses (Ace Hotel Chicago is incredibly boring, which is probably why it's shutting down), more often than not Ace Hotel is still widely regarded as the primordial post-modern hotel brand and a consistently popular option in cities like New York, New Orleans, Portland and most recently Kyoto. Sydney looks to continue that success with a spirited design by Flack Studio that turns the historic location into a vibrant Surry Hills hotspot.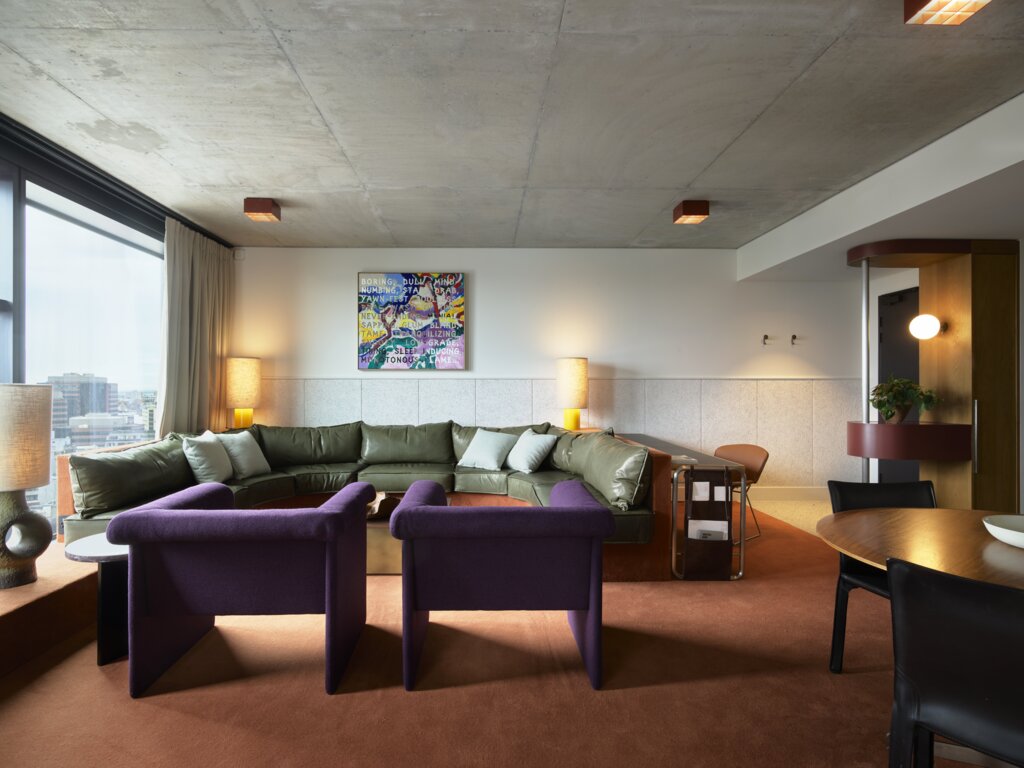 RELATED: The Langham Is Gold Coast's First Five-Star Beachfront Hotel In 30 Years
Hyperlocal in its approach, the hotel's guest rooms look colourful but not garish, playing around with custom lighting and mismatched furniture while still looking like a premium option for anyone looking to staycation or visitors who don't want to stay in the CBD. Sticking with the hip brand identity there's an in-room vinyl collection curated by Melbourne-based record label Efficient Space along with Rega turntables, D'Angelico guitars and Tivoli radios.
From photos released to media today, it's looking like Flack Studio has really gone to town with the colour palette throughout the hotel. From an ochre-red marble staircase stretching from the lobby to the first floor to the burnt orange and tan sunken lounge that features so prominently as soon as guests enter the hotel. It's a kind of scorched-earth aesthetic that has been worked to reflect Australia's desert, set against abundant greenery and a massive permanent art program spotlighting works by contemporary Australian artists.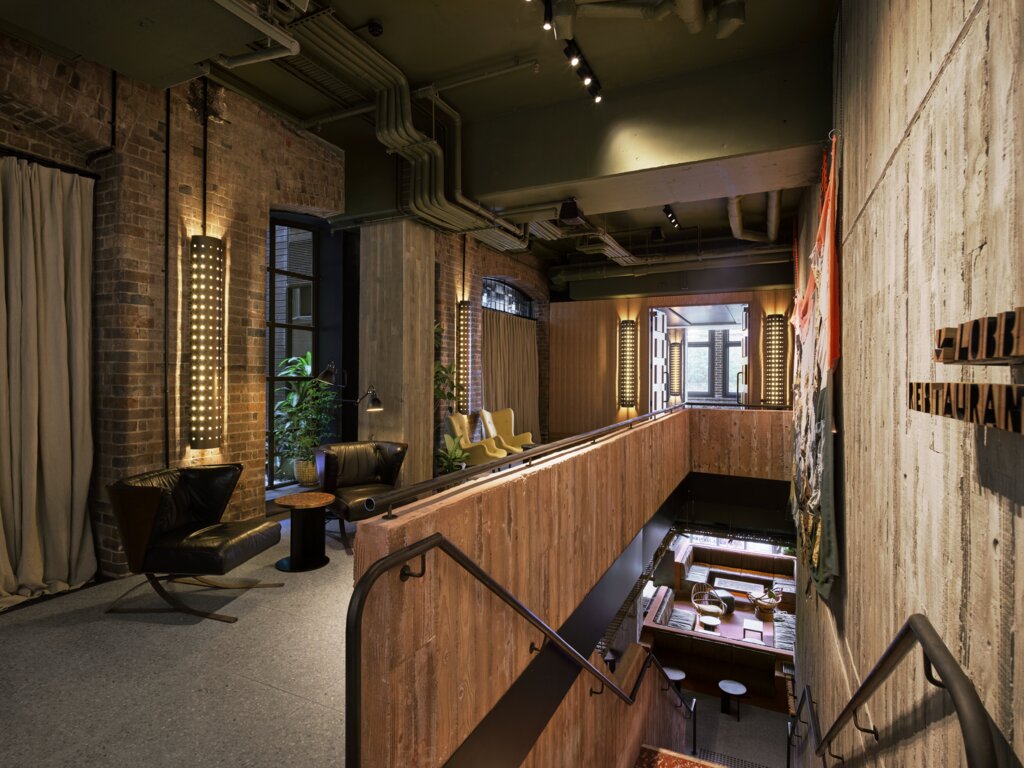 RELATED: The Best New Restaurants In Sydney
Food and wine seem to play a big part, and Ace Hotel Sydney has scored a few heavy-hitters to help them stand out. The reliable Mike Bennie of P&V Wine + Liquor Merchants has come on board to curate an eclectic wine menu that should compete well with Surry Hills' swathe of excellent wine bars. The Lobby looks to be the place to sip on some wine and tuck into some bar snacks, while more substantial fare will be found over at LOAM, a "neighbourhood restaurant" located on the ground floor and mirroring its sister restaurant in Ace Hotel Downtown L.A.
Executive Chef Heidi Flanagan will handle the seasonal menu at LOAM, which is said to be "vegetable-forward" with sustainable meats and seafood, so expect options like a brined-and-roasted Mandalong Valley chicken, charred octopus and a golden-fried portobello tonkatsu burger.
---
---
Although it's not open yet, the biggest ace up the hotel's sleeve should be Kiln. Award-winning former ACME head honcho Mitch Orr serves as the partner-chef at this 18th-floor rooftop restaurant and promises a "genre-bending" menu that pulls on flavours from Italy, Japan and Southeast Asia.
Ace Hotel Sydney opens today. Rates start from $359.
All photos by Anson Smart.