UPDATE [25/05/2022]: Aman New York has confirmed that the hotly anticipated luxury hotel will begin welcoming guests on 2nd August 2022, revealing just what the property has in store when it reinvigorates the city's iconic Crown Building at 57th & 5th.
Prospective guests are able to start reserving rooms from 25th July, just over a week before Aman Group add its considerable touch to the rebirth of New York City's fast-rising luxury market.
And with the announcement, Aman New York has revealed a number of new details regarding the hotel's amenities, which include Italian restaurant Arva, the Wine Library and fine-diner Nama, reinterpreting Japanese haute cuisine. All three premium dining experiences will be linked by a 650-square-metre wraparound Garden Terrace that has enough space for reflective pools and firepits sitting under a retractive glass roof.
---
---
The aforementioned venues will be complemented by a dedicated Jazz Club, harking back to New York City's finest era with a planned program of "world-class live performances." And given Aman's reputation, we're expecting some truly head-turning names to pop up on the schedule once the no doubt classy live music venue kicks into gear.
The signature Aman Spa will be set across three storeys, pulling on Aman's trademark wellness program with a full spectrum of treatments and facilities including a 20-metre indoor swimming pool, daybeds, firepits, and two "Spa Houses" with both Banya and Hamman rooms plus private outdoor terraces, each with their own hot and cold plunge pools.
Original Article – Aman New York Will Finally Open In 2022 After Covid Delays
In what is surely one of the world's biggest hotel openings of 2022, Aman New York has been confirmed to finally open this year. Originally scheduled to welcome guests as early as 2020, the long-gestating luxury hotel fell victim to multiple pandemic-related delays and remained in limbo for the past two years. In a vote of confidence for New York City's booming luxury market, Aman Group seems more than ready to get this long-overdue show on the road.
Located in New York City's emblematic Crown Building, at 57th & 5th, Aman New York will feature 83 guest rooms between floors 7 and 12, each – surprisingly – featuring a fireplace (a rarity in New York) and sitting at a generous minimum of 750-square-feet. To put that into perspective, a Grand Luxe Room at the Peninsula New York, one of the city's most highly regarded luxury hotels, is 480-square-feet. That category is considered the Peninsula's largest guest room. Not even a Superior Suite at the Peninsula – 620-square-feet – offers as much space as a guest room at Aman New York.
Architect Jean-Michel Gathy was the lead designer of the hotel, shaping it towards Aman's Asian heritage and crafting what looks to be an incredibly sophisticated offering that lifts much of the iconic Aman Tokyo aesthetic and blends that with New York's cultural tastes. Guests can expect three restaurants – an Italian fine diner called Arva, a Japanese restaurant called Nama, and one that's still TBC – as well as a richly-stocked wine library, a jazz club, sprawling garden terrace, and a 25,000-square-foot luxury spa.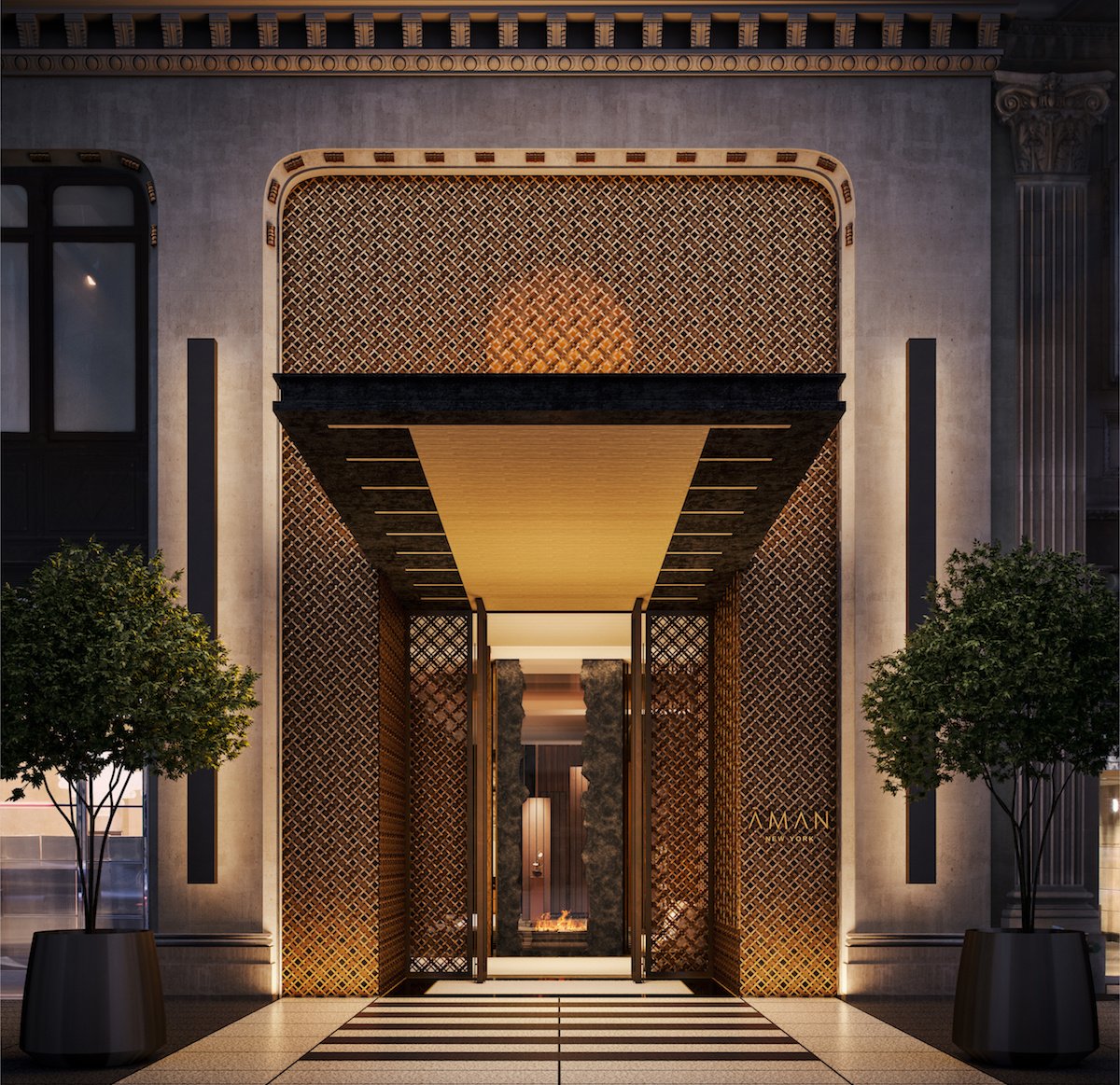 RELATED: The World's First Floating Aman Hotel Is A Masterpiece
---
---
Given that this is only the second Aman in the world to be located in a city, it makes sense that Aman Tokyo would serve as the inspiration. You'd typically find Aman properties sitting in the middle of picturesque golf courses, overlooking canyons, and of course offering expansive views near oceans and lakes. The usual location for an Aman speaks highly to the brand's identity as a place for tranquillity and an unrivalled sense of privacy while guests are sat on a seat of pure luxury.
Aman New York will also mark the very first time the hotel group has added private branded residences to a hotel. The property will feature 22 private residences in total, including 1 five-story penthouse, which according to Wall Street Journal, already went into contract in 2018 for a cool US$180 million (~AU$251.5 million). Also on the roster is a US$56 million (~AU$78 million) full-floor apartment.
Those lucky enough to snag an Aman New York residency will also have access to the hotel's various amenities, which includes all the aforementioned, plus a private Aman Club for members.
Aman New York opens later this year and will be the third US property for the lauded hotel group, following Aman Amangiri in Utah and Aman Amangani in Wyoming. Rates are still yet to be confirmed as the hotel has not yet opened up reservations, but we expect this to be one of – if not the – most expensive hotels in New York City moving forward. Hopefully, that means the W and Peninsula may move into more competitive territory with their pricing.
Address: The Crown Building, 730 Fifth Avenue, New York, NY 10019