Paris is a city well-known for its grands hôtels, yet the city of love has never had one with quite as Italian a flavour as the latest offering from Bulgari. That's right. For the first time, Paris has its own Bulgari Hotel, which turns away from the well-trodden paths of the likes of the Four Seasons Hotel George V or the Ritz Paris – in more ways than you might expect.
Located on Avenue George V, the latest gem in the crown of the Bulgari Hotels is in many ways, a more exclusive prospect than its peers. Not just because of the 1,000m² Bvlgari Penthouse with a private garden at the top of the hotel, but because the entire establishment has just 76 different suites within it. Thanks to its boutique size, the Bulgari Hotel in Paris offers the luxurious feeling of almost residential intimacy, as private as it is comfortable.
Much like the six sibling hotels that make up the rest of the Bulgari Hotel family, the newest Parisian location was designed meticulously by the world-renowned Italian architects Antonio Citterio & Patricia Viel. This saw project director Roberto Mariani take the next step down the path less travelled, approaching the design with a much more Italian focus than the other luxury hotels in Paris had ever dared to do.
---
---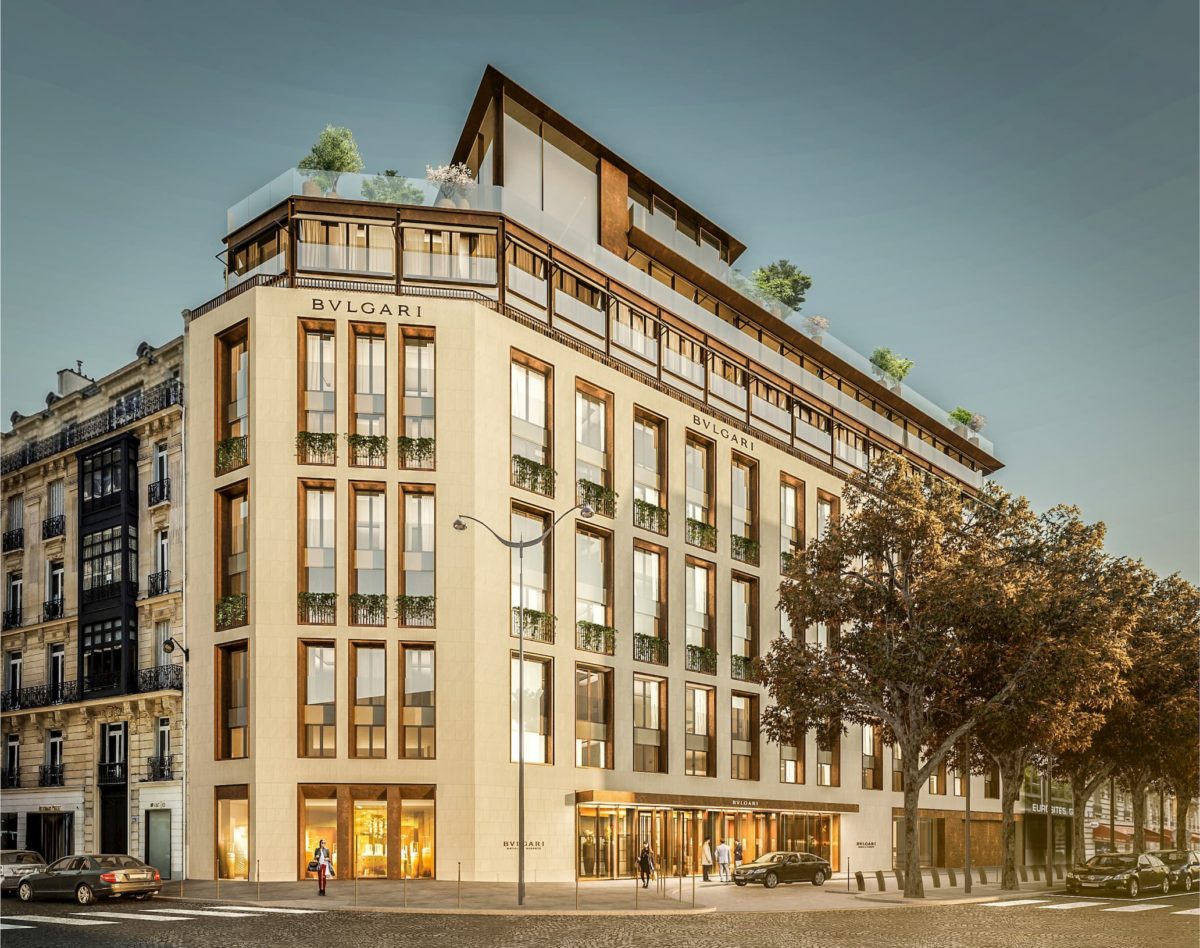 RELATED: You Can Now Rent Karl Lagerfeld's French Riviera Home For $23K Per Night
Rather than following the crowd to pursue a classic interpretation of conservative traditionalism, the team at Antonio Citterio & Patricia Viel decided to steadfastly follow the Italian contemporary style that the rest of the Bulgari Hotels are known and loved for. As a result, the facade of the original 1970s building has been updated to combine the ashlar masonry that is reflective of other Parisian attractions, with a much more contemporary overarching aesthetic.
Inside, you'll find lavishly designed interiors, that are as sleeky opulent as they are softly subtle. With a range of naturalistic materials including marble, granite, saffron silk and warmly toned timber cabinetry, the interiors are less bombastic than those of its peers, preferring an approach that is both articulate and chic.
As a guest, you'll enjoy the extensive facilities on offer, including an indoor 25-metre pool, large spa facilities with wellness treatment rooms and an expansive gym to work up a sweat in. While you're not enjoying the hotel itself, you can enjoy the rest of what Paris has to offer, with a location equidistant from the Place de la Concorde, Arc de Triomphe, and the Eiffel Tower.
The new Bulgari Hotel in Paris is currently open for reservations (just in time for the festive season).