Disney has announced the prices for its interactive Star Wars: Galactic Starcruiser hotel, officially confirming the lifelong dream of countless diehard fans certainly won't come cheap. Scheduled to open its pod bay doors at Walt Disney World in Orlando, Florida sometime during 2022 (COVID-19 willing), this recreation of a galaxy far, far away won't just be a place to stay – but a place to remember.
"Star Wars: Galactic Starcruiser is a revolutionary new two-night experience where you are the hero," reveals the site description.

"You and your group will embark on a first-of-its-kind Star Wars adventure that's your own. It's the most immersive Star Wars story ever created – one where you live a bespoke experience and journey further into a Star Wars adventure than you ever dreamed possible."
RELATED: There's A 30-Hour Rave Hosted At 'Star Wars' Film Sites In The Desert
---
---
Disney's Star Wars hotel has been described as equal parts live-immersive theatre, themed environment, culinary extravaganza, and role-playing. An opportunity to actually live out the operatic space mythology, if you will, but obviously without the risk, danger, and stakes of being conquered by an Imperial Empire (or the merciless rule of the Sith).
"It might not be obvious to people how we have been able to weave these stories together," says Scott Trowbridge, Portfolio Creative Executive at Walt Disney Imagineering.
"The stories that are going to take place on our Galactic Starcruiser were designed to intersect with the stories of Star Wars: Galaxy's Edge when both were in development at the same time."
"It's not just that Star Wars: Galactic Starcruiser and Galaxy's Edge thread together, but they thread together with the rest of Star Wars storytelling. I'm excited about the ways we're going to tell those stories not just onboard for the experience but also in all the other mediums in which Star Wars storytelling comes to life."
Key features one can expect throughout their stay is as follows:
First night aboard the Starcruiser – dubbed The Halcyon – involves a dinner show performed by "aliens" and "otherworldy" cuisine prepared by Disney chefs
Plenty of character interactions – some personalised – with some actions taken (e.g. smuggling) leading to follow-up scenarios during your time there
Excursions to Batuu, the setting for Galaxy's Edge, with plotlines lifted from the existing Star Wars: Rise of the Resistance and Millennium Falcon: Smugglers Run rides
Build your own model ship to take home
Sabacc Tournament (Star Wars version of poker)
Droid Racing Competition (Self-explanatory)
Bridge Training ("Learn how the legendary Halcyon starcruiser functions from the crew during this hands-on experience. The crew will teach you how the navigation, power, defence, and other critical systems keep it safe from unforeseen galactic entanglements.")
And possibly the most exciting component… Lightsaber Training ("Wield a lightsaber and face off against a remote training device in this exclusive interactive activity that is far beyond anything you've experienced before. Put your skills to the test!")
Those who aren't too keen on participating can simply sit back and watch the drama unfold; chill at the Sublight Lounge to enjoy a bite and a bev.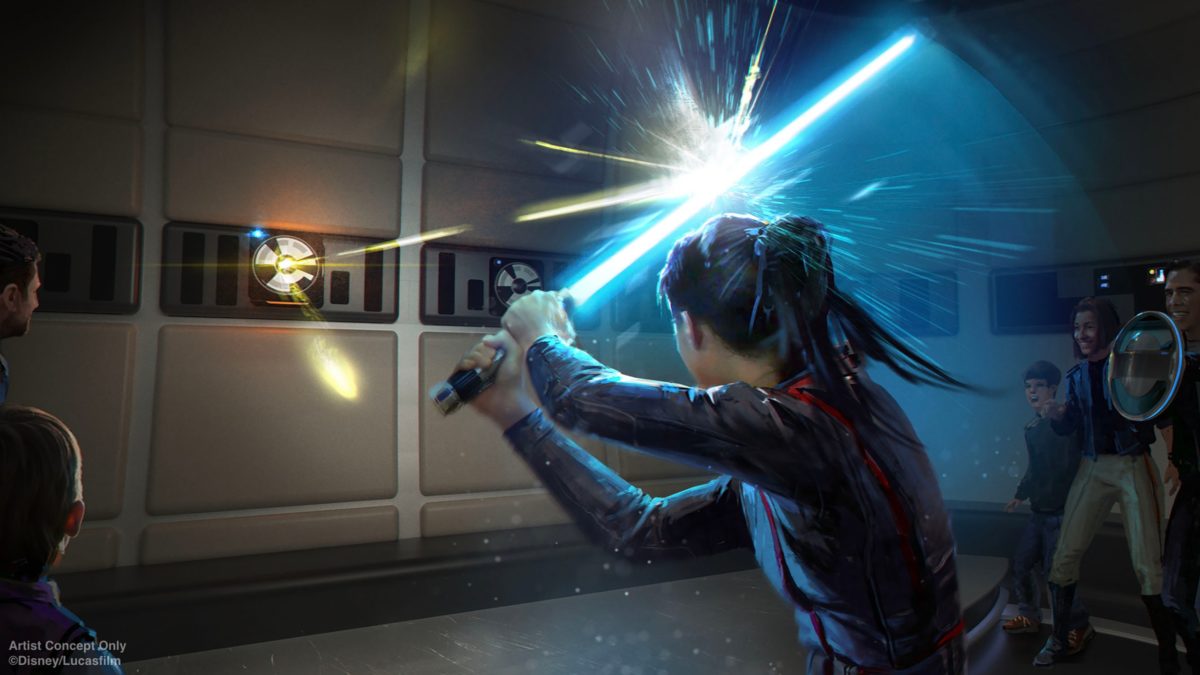 RELATED: Ubisoft Is Developing A Massive Open-World 'Star Wars' Video Game
---
---
Star Wars: Galactic Starcruiser Interactive Hotel Prices (Walt Disney World – Orlando, Florida)
Standard room (Voyage Cabin) – US$4,809 / AU$6,495 for two-night stay [two guests]
Standard room (Voyage Cabin) – US$5,299 / AU$7,157 for two-night stay [two adults & one child]
Standard room (Voyage Cabin) – US$5,999 / AU$8,102 for two-night stay [three adults & one child]
Galaxy Class Suite – TBA
Grand Captain Suite – TBA
**Entertainment + Food included
"It's going to be fresh, it's going to be technology-ridden, it's going to be incredibly relevant to guests all around the world," Disney Parks Chairman Josh D'Amaro explains to CNN Business, in direct reference to the future of Disney's parks and resorts.
"Every single day, these parks are changing."
The only other real downside is that alcohol isn't included within the package.
Fingers crossed we'll actually be able to visit the Star Wars: Galactic Starcruiser interaction hotel come 2022.