It's hard to remember much of the Primus Hotel Sydney apart from its sizable rooftop bar, where a narrow 20-metre lap pool overlooked plenty of lounge seating. There was potential for the Primus to anchor the CBD's social scene, but for some reason, the five-star transformation of the heritage-listed former Sydney Water Board headquarter – one of the city's most exquisite art deco buildings – never really took off. Primus opened in 2015, picked up a few vaguely meaningful awards, and then faded once owners Greenland Australia divested the property and sold it to Pro-invest Group in early 2021. Second time's a charm? The building is now Kimpton Margot Sydney, a decidedly more reputable and glamourous outfit change with designs to become the best-located luxury hotel in Sydney.
The arrival of the Kimpton brand in Sydney was exciting for the city's hotels scene when it was announced in February 2021. Understandably so. Kimpton is known as one of the more reliable upscale brands on the IHG Hotels & Resorts roster, with famous properties throughout America and Europe such as Kimpton Alton Hotel in San Francisco, Kimpton Fitzroy London and Kimpton Seafire Resort in the Cayman Islands.
Does the first Kimpton Hotel for the Australian market really match up to that reputation? Not quite.
---
---
And yet, Kimpton Margot Sydney is still a fine expression of the brand, all grand and old-timey in the common areas with an admirably large sense of occasion as soon as you walk off Pitt Street and into that genuinely beautiful, ornate lobby. The vintage theatre that immediately smacks you is mostly credited to those impressive 8-metre high red scagliola columns that push up to a vast skylight filtering natural light onto the lobby's carpeted centre stage.
The natural glow highlights all these well-placed mismatched objects and curvy velvet lounges that lay scattered across the space, sandwiched on all four sides by a different feature – closest to the Pitt Street entrance is the long and welcoming reception desk, adjacent is the dimly-lit entrance to the hotel's signature Luke's Kitchen, opposite that is a quick-stop stand with barista-made coffee and pastries, and at the far-end is the glamorous Wilmot Bar.
First impressions do count for a lot, and although Kimpton Margot Sydney is far from perfect, the hotel lobby has finally been treated with the sense of opulence it deserves. While Primus Hotel Sydney benefited from the same towering red scagliola columns, this time around they are complemented with charisma and a much more vibrant and dynamic colour scheme of pink, blue, red, green and gold.
But first impressions also raise expectations. The hotel does suffer from some of those notoriously frustrating heritage building limitations, but that's often the price to pay when you want to channel a building's vintage personality while trying to bring it as much into the modern age as possible.
---
Kimpton Margot Sydney Review – Table Of Contents
---
Location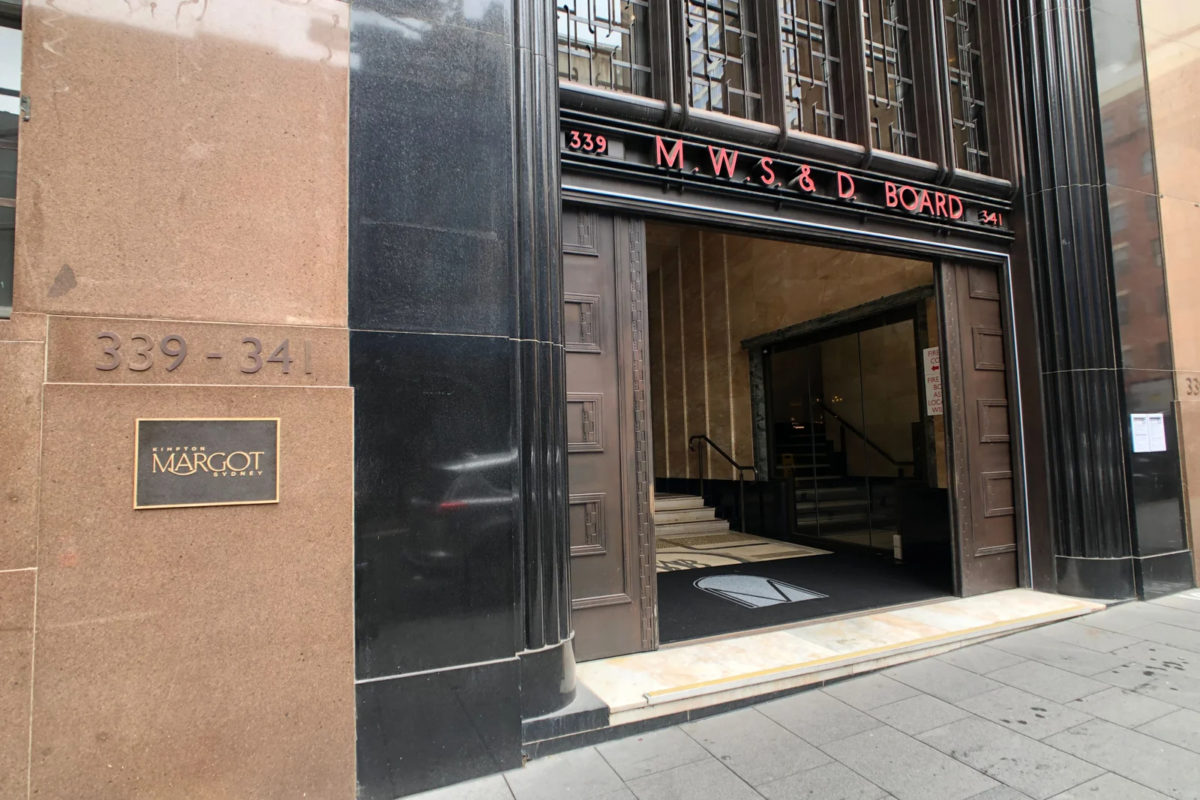 Shaping up the Sydney Water Board Building has given Kimpton Margot Sydney an enviable location almost smack bang in the heart of the Sydney Central Business District. You're just a stone's throw from a laundry list of Sydney's greatest hits including Event Cinemas George Street, Town Hall Station, Queen Victoria Building, the Metro Theatre, World Square, Hyde Park, The Galeries, Chinatown and Pitt Street Mall.
That's crawling into the domain that was previously only occupied by the suited-and-booted Hilton Sydney and idiosyncratic QT Sydney. I'd argue that both are better placed for shoppers, inching more towards Pitt Street Mall, but it's difficult to overlook just what Kimpton Margot Sydney offers in terms of convenience.
On one side, you've got the vague extension of Chinatown into Liverpool Street and, just a block away, some of the best Korean BBQ restaurants in Sydney. On the other, a short walk to the aforementioned Queen Victoria Building, Pitt Street Mall and the many boutiques that lie beyond that.
---
---
If you want to grab some of the best watches of the year, it's not far before you're cruising through some of the boutiques from some of the biggest watch brands. The same can be said if you want to dip into some of the best menswear stores in the city or just tuck into some of the best breakfasts in Sydney at spots like The Grounds of the City.
The actual entrance on Pitt Street is almost directly opposite The Edinburgh Castle if you want a cheap pub meal, and there are numerous convenience stores and supermarkets also within an earshot. With Town Hall Station propping up the convenience side of things, there are fewer hotels as well-placed as Kimpton Margot Sydney for a city staycation.
Except there's one niggling limitation here. Kimpton Margot Sydney has no parking. While there are two car parks a short walk from the building, this could be a pain point for anyone looking to drive to the hotel.
---
Design & Features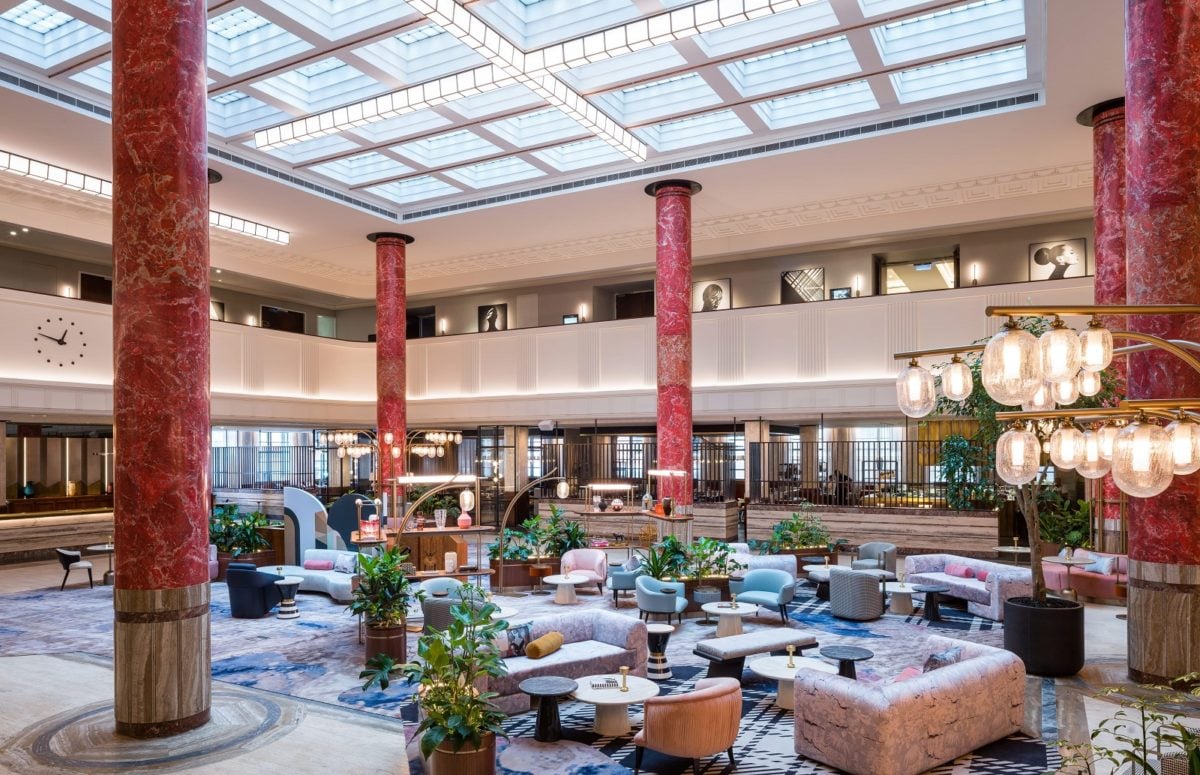 RELATED: The Long-Awaited Ace Hotel Sydney Opens In Surry Hills
Each of the world's many Kimpton hotels is given a distinctive name to help individualise the property and pay homage to the location. "Margot" was chosen as it pays tribute to the "artistic women of influence" that helped define Sydney's design scene in the 1930s. There's not much of a discernable theme around this, but there is a slightly feminine touch that helps give the lobby its vibrancy.
If I'm focusing on the lobby too much, that's on purpose. Beyond that, Kimpton Margot Sydney is a good hotel, just not a great one. Though at least design flourishes give each of the 172 rooms and suites an intensely likeable colour palette, mirroring plenty of those watery blues and streaks of gold for an opulent, bejewelled look.
A mezzanine looks over the grand lobby with the largest of the 600 artworks that are hung throughout the hotel, spaced between several doors leading to generously spaced and well-equipped meeting rooms. It's usually here that the hotel's daily Social Hour takes place, carving out a slot where all hotel guests are welcomed for complimentary wine and cocktails. The concept is a brand standard for Kimpton and a move away from the classicism of the traditional hotel Club Lounge, with Social Hour taking place at a different spot throughout the hotel each day.
Although there aren't many places that the Social Hour could travel, really. You've got the lobby, of course, the mezzanine, maybe Luke's Kitchen and the rooftop bar.
---
---
On my visit, just months after the hotel opened, the lauded rooftop bar was still largely incomplete. While you could apparently grab some snacks from the Wilmot Bar and enjoy them poolside, you wouldn't have really wanted to. The space was unmanned, unfriendly and as uninviting as the dark, almost creepy hallway on the sixth floor which feels oddly neglected compared to the brighter hallways on the other floors.
The hotel doesn't really have a spa – putting a dent in that five-star rating – there is a reasonably well-stocked fitness centre. And while the space feels slightly cramped, the hotel has had the good sense to put some Pelotons and other state-of-the-art equipment in the space, which should be appreciated by any business travellers staying long-term. Especially since the area around the hotel is a bit lacking when it comes to quality gyms.
Kimpton places a lot of pride on its pet-friendly status, and it's well worth mentioning here. The idea is that as long as it fits in the lift, it can stay. At the launch party earlier this year, organisers bought in some alpacas just to hammer home that point. According to staff, guests at other Kimptons around the world have bought all manner of pets along with them to stay, from snakes to dogs. Dogs, by the way, are well taken care of with a range of amenities available to pups that want some treats and a cosy place to nap within the room.
There are other brand signatures that help give Kimpton Margot Sydney some identity. Although most modern hotels have some version of it, the "forgot it, we've got it" program gives guests complimentary access to some of the smaller items they may have forgotten to pack, like toothbrushes, chargers and hair dryers. Elsewhere, the lobby also features a small army of polished Lekker Bikes that can be borrowed without a fee at any time and used to cruise around the area. Not that Sydney is a particularly bike-friendly city.
---
Rooms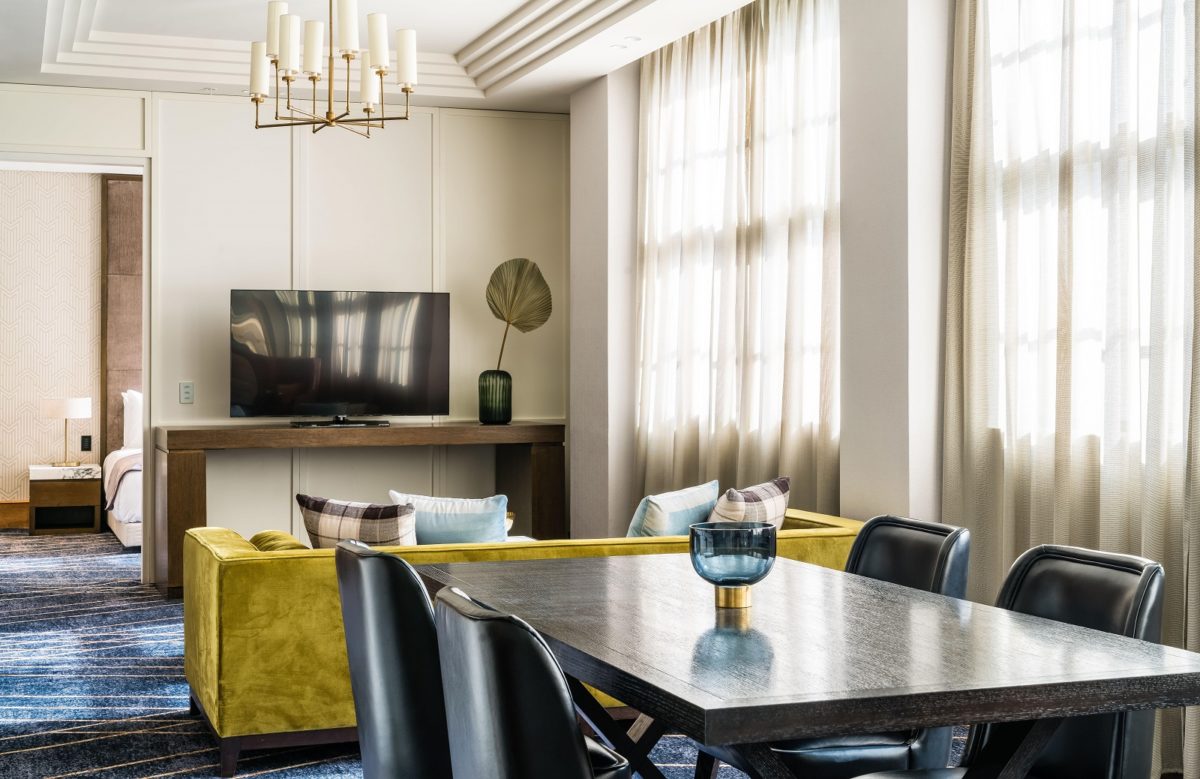 The palatial 160-square-metre Celebrity Suite is a great achievement for the hotel, working with the heritage limitations and managing to carve out a two-bedroom space that reiterates what a beautiful hotel Kimpton can be if you've got the money to fork out for the top-tier suite.
While there's also the Hammond Suite – same size – the other choices you've got when it comes to room category fall more towards the standard side of things. The key here is how generously sized they all are.
My Mackey suite is a pleasant 90-square-metres with a large lounge room and a reasonable en suite with a comfortable bathroom featuring Mr. Smith toiletries and a rain shower that's incredibly slow to work up to a perfect temperature. Ironically, the old Sydney Water Building might have an issue with its plumbing.
Free wifi is fast, efficient and easy to connect to. Work can take place out on the dining room table or on the vintage couch which faces a very tiny flat screen TV. For a premium room at a five-star hotel, you'd think the TV would be much bigger than what most student share houses have sitting in their lounge room. I wouldn't think it'd be much better in a standard room when it comes to this feature, although I also imagine most hotel guests these days just make do with their laptop and some Netflix while lying in bed.
---
---
Speaking of the king bed. It's comfortable enough but nothing you'd rave about. Not like an Art Series or QT Hotel bed. But at least there's a master switch by the bed that takes care of all the lighting at once – essential since Kimpton Sydney relies heavily on lamps given the severe lack of natural light, most of which is blocked by surrounding buildings.
That may be why the rooms don't nearly feel as inviting as they should. Rather than lean into to it with a slick sense of darkness and smart lightning like QT Sydney's Stateside rooms, Kimpton Sydney, unfortunately, has to make do with very little light pouring in through those un-open-able windows. It feels claustrophobic despite the size.
Room upgrades would be a good idea if you're a member of the IHG One Rewards loyalty program. Those standard rooms really suffer from the lack of light.
RELATED: The 100 Best Hotels In The World For 2022 Have Been Named & Ranked
---
Food & Drink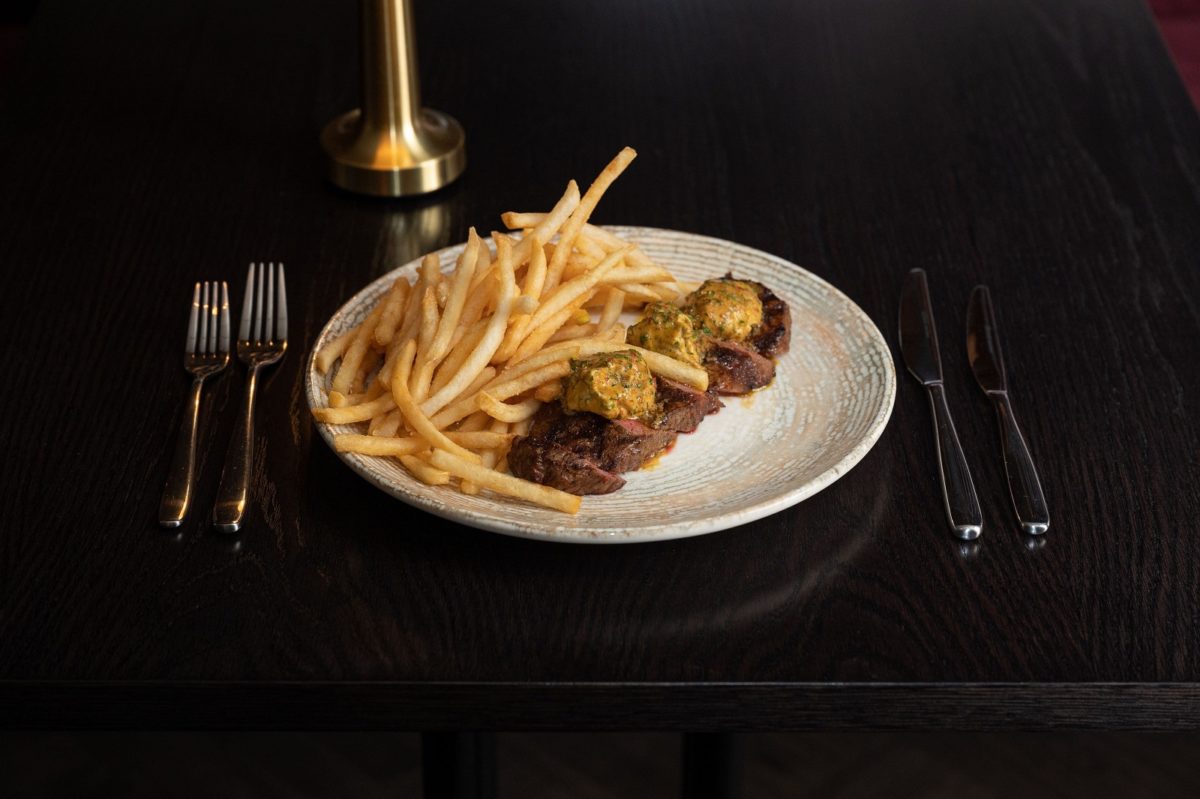 A room-service wagyu burger is surprisingly one of the best I've had in Sydney – I've had a lot of room-service wagyu burgers – and yet actual dinner at Luke's Kitchen leans closer to average on my first attempt. A disappointing cheese plate puts a sour cap on the meal, but my standards weren't set very high to begin with.
Granted, celebrity chef Luke Mangan makes sense for a big new hotel like this. The affable chef helms the nearby Glass at Hilton Sydney and has turned that into one of the more popular hotel restaurants in Sydney.
Luke's Kitchen is more likeable than whatever Glass has become. Even though I'd say Glass has a better wine list. At Kimpton, Luke is making the wise choice to skew towards worldly cuisine, favouring flavourful Asian-inspired sauces that help dress up what I suspect isn't exactly top-shelf produce.
Some split Skull Island king prawns benefit from a generous lather of Indian spiced butter with compressed pineapple and kaffir lime. Although, at $39 it feels massively overpriced for how little meat you actually end up eating. Other highlights include the very indulgent garlic bread ($8) with caramelised onion, curry butter and gruyere cheese. Some of that $18 prawn toast with corn and miso mayo also goes down nicely, but a baked fig tart is borderline inedible and the pan-fried potato gnocchi is as standard as they come.
---
---
The best thing here is the $140 dry-aged duck for two, served in a fragrant coconut spiced sauce with salt and pepper rice cakes so diners can make a little sandwich out of the melt-in-your-mouth meat. The rice cakes aren't much, but the duck is gorgeous and the standout of the meal.
An $85 bottomless brunch should go down well amongst locals, and Kimpton Sydney seems to make the smart move by teaming up with nearby Capitol Theatre to help lure guests after a staycation-and-show type of deal. Currently, the hotel has connections with Moulin Rouge! The Musical so guests can get a pre-theatre meal in before taking the short walk to see the colourful musical.
You can see that seeds are being planted to make Kimpton Margot Sydney a brighter star for Sydney's social scene, but until those seeds actually sprout it's hard to tell whether this hotel will be keeping up with the Kimptons, so to speak.
RELATED: The Best New Restaurants In Sydney
---
Service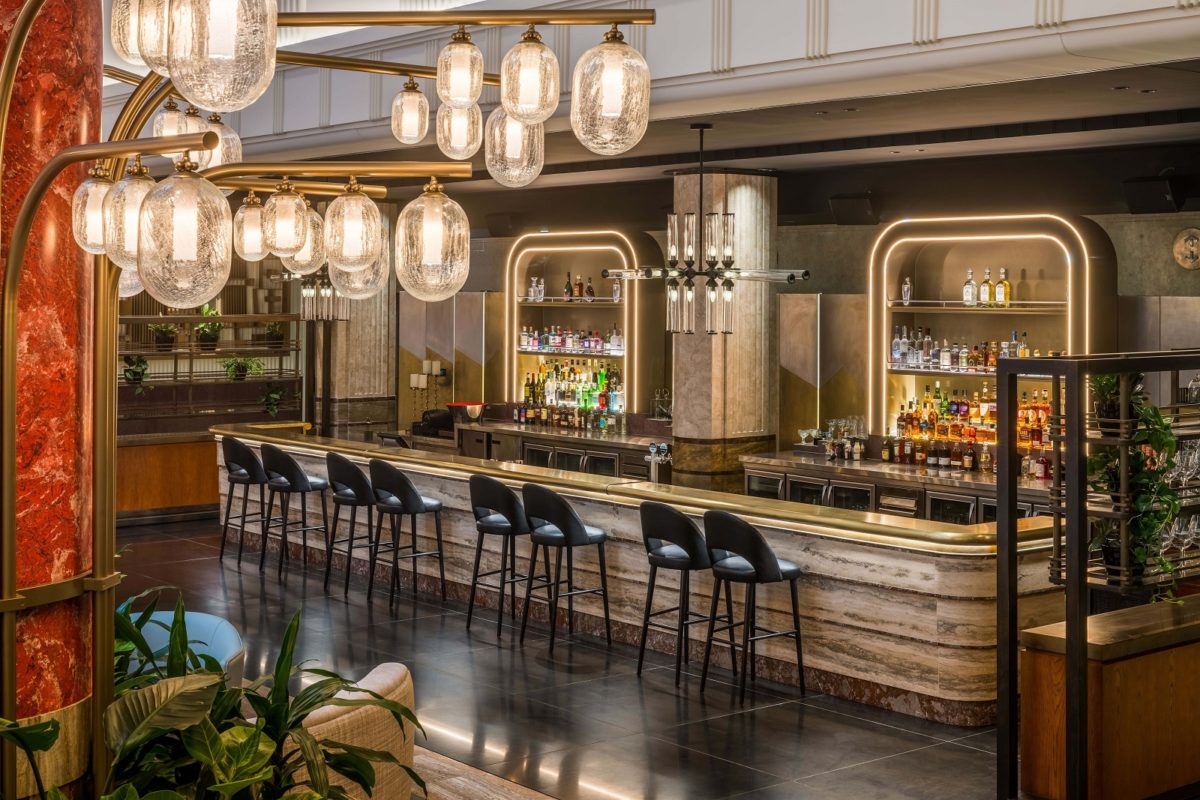 Kimpton Sydney has a solid reputation to uphold so there's a keen sense to make an impression. Service at Luke's Kitchen is excellent – even more impressive when considering the staff shortages currently hammering the hospitality industry. The rest of the hotel feels a bit bare though, again most likely credited to staff shortages.
As mentioned above, the rooftop pool bar, while open for guests, seems rather forgotten. It's a ghost town up there. And it's hard to gauge what the hotel is like until considerable effort is made into making the Level Seven rooftop pool bar the after-hours drinks spot it was always destined to be.
The lobby serves well in the meantime. The social scene here is buzzing. While not quite as loud and energetic as you'd imagine hotel lobby's in the golden age of hospitality to be, it's not hard to see locals cosy up to the idea of grabbing a drink at the Wilmot after work or in the middle of a weekend shopping spree. If that picks up, you'd hope the Wilmot Bar would step up accordingly – on my visit, there's only one bartender who looks a bit out of his depth as guests walk up and take their pick from a tight list of signature cocktails.
---
Verdict & Value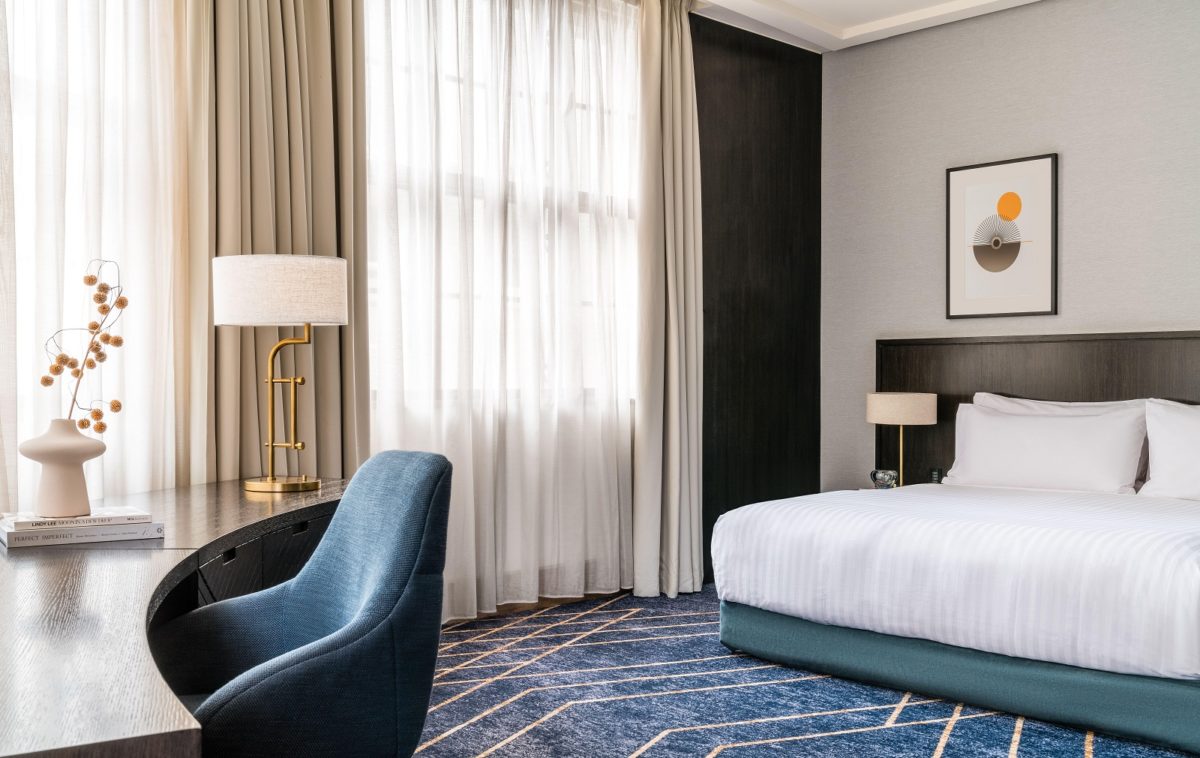 It's not that Kimpton Margot Sydney isn't a good hotel. It very much is. But as referenced above, and implied multiple times, the lobby is really the only major selling point thus far. It's one of the most glamourous in Sydney for sure and looks back to the days when hotels were seen as the focal points of culture and hubs of activity in world-class cities. It's opulent and grand when compared with the more modest lobbies of Sydney's best hotels, but that's not really enough to bank an entire stay on.
---
---
A hotel needs to be much more than just its lobby.
With rates starting at $339, Kimpton Margot Sydney is not the most accessible when it comes price. If you want to experience the best part of the accommodation offering, that being living space, then you'd obviously need to climb even higher in the price bracket. In which case, you're looking closer to $800 – $ 1,000 a night in one of the higher-category suites.
Justify that and Kimpton Margot Sydney may be worth your time… when it's properly complete. We'll be updating our Kimpton Margot Sydney review when the rooftop bar is finally in full swing, which might add a bit more zest to the hotel's social scene – an important thing to get right for Australia's very first Kimpton. Especially when the hotel is trying to compete with the vivacious QT Sydney nearby, and the long-standing Hilton Sydney.
If Kimpton Margot Sydney was a new build then it would perhaps have been better aligned with the brand's polished, upscale reputation. But then it would have taken much longer for Australia to finally get this acclaimed hospitality brand down under. It's a tricky one to judge then. The designers have done a reasonable enough job working with heritage limitations to dress the Kimpton in a way that vastly improves upon the Primus Hotel Sydney. At least they've got that.
But yet, it's just that. An outfit change and a major aesthetic improvement. Overall, it feels too similar to what Primus Hotel Sydney was to grant Kimpton Margot Sydney the identity it needs to stick out. Especially when Sydney's hotel scene is about to receive a massive shake-up over the next years. Heritage is then a gift and a curse, it seems.
Rates at Kimpton Margot Sydney start from $339.
Address: 339 Pitt St, Sydney NSW 2000
Contact: (02) 8027 8000
---
Kimpton Margot Sydney Review – Frequently Asked Questions
How much is a room at Kimpton Margot Sydney?
Rooms at Kimpton Margot Sydney start from $339 per night.
What is Luke's Kitchen like?
Luke's Kitchen by Luke Mangan takes a worldly approach to its cuisine. The lobby-level restaurant uses plenty of Asian spices and flavours to dress up and give a bit of distinction to signatures like dry-aged duck and highlights like split Skull Island king prawns.
Where is Kimpton Margot Sydney?
Kimpton Margot Sydney is located in the old Sydney Water building, located on the corner of Pitt Street and Bathurst Street. This means the hotel has a great very central location, right next to Town Hal Station, Queen Victoria Building, Event Cinemas George Street and The Galeries.
The writer stayed as a guest of Kimpton Margot Sydney.