Over a year after the first iteration was destroyed in an accidental fire, luxury floating villa 'Lilypad,' located in Sydney's Palm Beach, has been restored, with owner and designer Chuck Anderson doubling down on providing a premium experience. Now with a solar-powered on-board sauna and private wine cellar, the new-look Lilypad is poised to be one of the most popular getaways for those who want to leave Sydney without having to travel very far.
The unique Northern Beaches first opened in 2019 and remained incredibly popular until a wild fire lit the whole thing up in September of 2020. Two guests were renting Lilypad at the time, but fortunately, no one was injured – they had to leap into the water, of course.
The rebuild has given Anderson a chance to rethink his whole approach to Lilypad, switching things up by drawing inspiration from the earthy palettes of Spanish and Mediterranean coastal villas. The luxe home stay, accessible by boat or seaplane, now features a more open design that seamlessly connects each of the spaces, from the full modern kitchen and king bedroom to that slick new private wine cellar which features, amongst other labels, Veuve Clicquot, Las Vino, and Glenmorangie whisky. Similar to Lilypad 1.0, the living space opens right up onto the generously-sized deck where guests can take in the breezy lifestyle of Pittwater Bay.
---
---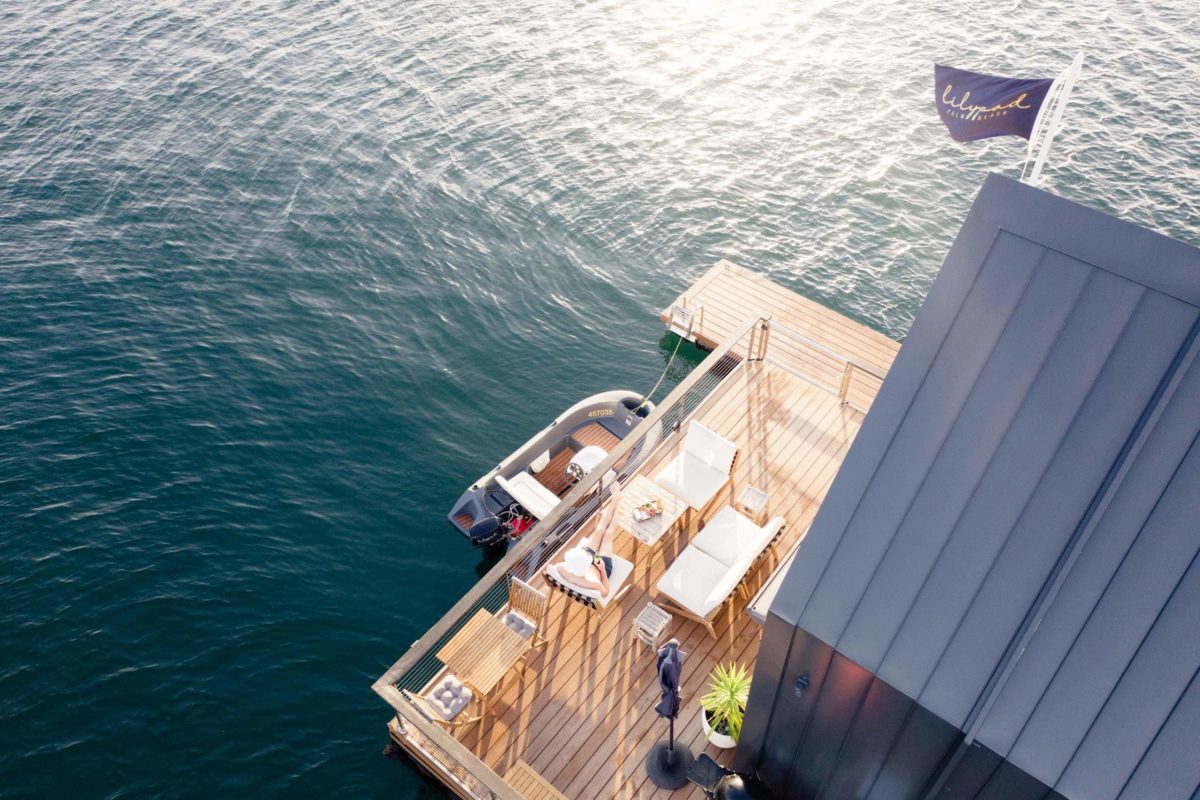 The Scandi-style of pre-fire Lilypad has been replaced with Hacienda hues; earthy tones and natural finishes to complement custom-made furniture crafted to remain consistent with a natural lime-plaster aesthetic. Space has apparently been used more wisely this time, leaving room for that aforementioned sauna which has direct water access and of course those sparkling ocean views.
Lilypad 2.0 runs entirely off solar power and has been specifically engineered with stillness in mind, with Anderson claiming that it can remain still while still working with the natural movements of the surrounding water.
Amenities included in a booking at Lilypad include meals with a private chef on request, Champagne on arrival, and a private boat for use during the stay so guests can head to land and back. Paddleboards, fishing rods, and access to onboard massages are also included, nicely capping an already attractive accommodation option for Sydneysiders and visitors. Wi-Fi and Netflix are also included, and we assume you'll also be able to access all the other streaming services.
Although, according to Anderson, only Sydneysiders will be able to book right now. Due to the ongoing pandemic, bookings are being limited to locals or those stuck in Sydney and unable to leave at the moment.
Bookings for the new Lilypad are available for 1 to 5-night stays, with accommodation packages starting from $1,800 per night. The pad sleeps just 2 people but guests can have up to 4 mates join them between 8am and 5pm.
Do note that the current images available are of the first iteration. We'll be updating this piece with new images when they are released.