Although Australia – just like the rest of the developed world – is in the midst of a substantial luxury hotel boom when it comes to capitals like Sydney, Melbourne, Adelaide, Hobart and Brisbane, the country's standards of premium accommodation won't really be lifted until regional gets a bit more love as well. Some of our best hotels and resorts are located out of the city – just read through our list of the wildest and most remote luxury hotels in Australia to get a good idea of what's out there – so it's exciting to see a development like this come together. That is, a new six-star hotel planned for the endlessly productive Barossa Valley, named the Oscar Seppeltsfield hotel for pioneering South Australia winemaker Oscar Benno Seppelt.
Surrounded by bush wines that date back more than 100 years, the Oscar Seppeltsfield hotel makes good on plans that were first floated back in 2020 and have since been caught up in an approval process. Given the process is now complete, work can begin on the $50 million, 12-storey hotel which will unsurprisingly be submerged in South Australia's indelible ties to Australia's winemaking industry.
And while a delay is expected given the owners still seem to be shopping around for an international hotelier to operate the property, the Oscar Seppeltsfield hotel is set to open in 2024. This will give the state's wine regions yet another landmark that should compete well with the now-famous d'Arenberg's Cube, which is located over in McLaren Vale but doesn't have any accommodation to speak of.
---
---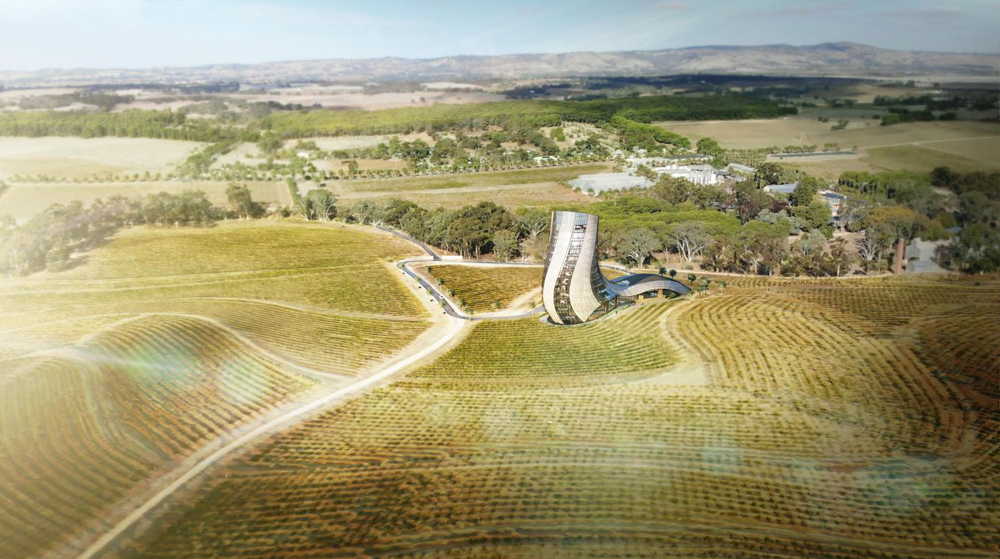 RELATED: The Best 52 Wineries In Australia For 2022 Have Been Named & Ranked
And while visually the hotel looks like an impressive building as it slightly curves, dips and then rises 12 storeys high, it might not exactly be the "Sydney Opera House for the Barossa" that Seppeltsfield proprietor and Executive Chairman Warren Randall has described it as. Still, there's little doubt Adelaide-based design firm Intro Architecture will knock this one right out of the park.
The design looks slightly similar to the iconic La Cité du Vin in Bordeaux, which has become one of the most prestigious wine region hotels in the world and is emblematic of luxury staycations spent cruising the vines and sipping on some of the finest French wines ever produced.
Although it looks quite large from renders, the Oscar Seppeltsfield hotel will only feature 71 rooms in total, including penthouses and suites. Amenities planned for the hotel include an on-site fine-dining restaurant with a separate private dining room, a fully-equipped fitness studio, ground-floor day spa with an infinity pool, and boardrooms in case any businesses want to make the very wise decision to have a sesh in the middle of the Barossa.
A top-floor sky bar with panoramic views over the entire Barossa Valley has also been announced for the hotel.
Construction on the Oscar is expected to begin later this year. It's expected the property will, within the first five years of opening to the public, inject $90 million of tourism dollars into the local economy and drive up visitation for domestic and international tourists. Clearly, the new hotel means big bucks for the Barossa, which has always been one of the most valuable wine regions in Australia. A six-star hotel should take that reputation onto the next level quite quickly, especially when the country needs more unique and luxurious wine region hotels to compete with countries like Spain and France, which have plenty.
Oscar Seppeltsfield will open at Seppeltsfield Winery's Great Terraced Vineyard in 2024. We'll update this article as more information rolls in over the next few years.
---
---