Revered luxury hotel brand, Aman, is hitting the open seas with a "first of its kind" luxury motor yacht created in collaboration with Cruise Saudi. Scheduled to set sail around Saudi Arabian waters starting from 2025, the floating hotel known as Project Sama is a 183-metre vessel featuring 50 generously sized suites, just as many private balconies, as well as amenities like the signature Aman Spa, various dining options, a Japanese garden, two helipads, direct water access, and a massive beach club.
Given the standards of luxury sea travel are already aggressively high, Aman and Cruise Saudi are going to have to work in a lot to distinguish Project Sama from other premium cruise ships around the world. That's unlikely to be a problem for Aman, which was founded in 1988 and has been at the forefront of luxury since its inaugural property in Phuket, building a distinctive design language that has since spilled over to universally adored city staples like Aman Tokyo and Aman Venice. The brand is synonymous with unrivalled excellence, so it'll be no surprise to see Project Sama lean into that status with ease.
Aman will oversee the entire development process of the ambitious floating hotel, ensuring the hotel group hits on all its signature touchpoints, often described as "exceptional, unique, and restorative". To do this, the group has brought on Dutch studio Sinot Yacht Architecture & Design, one of the world's leading yacht design firms and the same team behind the much-discussed hydrogen-powered superyacht concept, Aqua.
---
---
RELATED: Anthenea – The Floating Hotel Suites Inspired By 'The Spy Who Loved Me'
That Japanese garden should be telling of Aman's vision. The floating hotel could be best aligned with the revered Aman Tokyo, which is a constant award-winner and is often the reference point when we're talking about modern luxury hotels that manage to strike the perfect balance between hospitality, privacy, and uncompromised luxury. The manicured garden will make up the Aman Spa offering on board.
"The announcement of Project Sama marks an exciting moment in Aman's growth and evolution, as we not only continue to diversify our geographical portfolio on land, but also at sea, creating sanctuaries in unfrequented locations and continuing to reframe the concept of luxury hospitality," said Vlad Doronin, Chairman & CEO of Aman.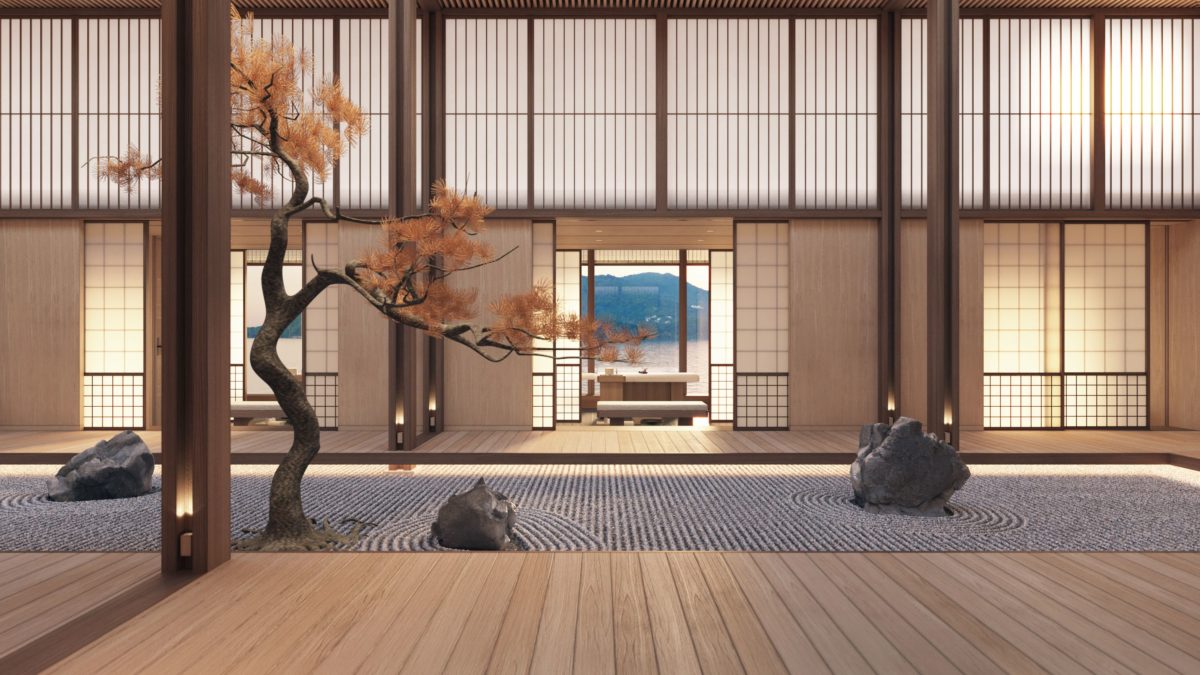 "Project Sama will provide transformative experiences within the revered Aman setting and service, which is unlike any other yacht experience, ultimately creating a whole new category of on the water discovery."
Of course, there's also the fact that Project Sama will be primarily located in the seas of Saudi Arabia, giving ives it a unique path around the Arabian peninsula and the Indian Ocean countries. There's little doubt the floating Aman will venture outside of these borders as well, but it's obviously going to be mostly milling around The Kingdom.
Which isn't a surprise. Aman and Saudi Arabia seem to be strange bedfellows as of late, with the luxury hotel group planning no less than three properties for The Kingdom's Al Ula region. Project Sama will be the fourth in the surprising partnership, which seems geared towards better establishing Saudi Arabia as a world-class, family-friendly destination, which stands in conflict with issues surrounding liberalism. Keep in mind that until recently, women were still forbidden to drive.
Whether or not Aman will be a substantial chip as Saudi Arabia plans to move closer to a tourism-based economy, as opposed to one that's almost entirely dependant on the production and export of petroleum, remains to be seen. What doesn't remain to be seen though, is that the idea of a floating Aman hotel is an exciting prospect for luxury travellers no matter the location.
---
---
Given how the plans are still in very early stages, you'll have to use your imagination with the provided renders. We'll update this piece when photos of the finished product do come through, many years from now.