Newcastle is now more than just the gateway to the Hunter Valley, but for a long time the coastal city wasn't much more than a mildly interesting stop-over on your way to some good ol' fashioned winery hopping. From the notoriously seedy Fanny's Nightclub (now known as The Argyle House) to the sand giants of Stockton Beach, Newcastle was always that city you'd breeze through without looking back. It's not like that anymore, and the swift revitalisation Newy has seen over the past few years is set to take a massive leap now that luxury boutique hotel QT Newscastle has locked in its much-anticipated opening date.
While Australia, much like the rest of the world, is in the midst of a nice little luxury hotel boom, it's good to see Newcastle get in on the action via one of the country's most reliable homegrown hotel brands. The likes of QT Sydney, QT Perth and QT Melbourne have already established a unique presence amongst both international and domestic luxury travellers and there's little doubt QT Newcastle will slot in nicely for the hotel group, which has not opened an Australian property since QT Perth came through to massive industry acclaim back in 2018.
With June 9th set for the QT Newcastle opening date, the hotel will reshape the 113-year-old heritage-listed David Jones building that stands so prominently on Hunter Mall – a major feature of the $700 million East End revitalisation spearheaded by development group Iris Capital. The five-star hotel is at the forefront of the major project, which will substantially change the way that part of Newcastle looks and should easily raise the bar for the city's accommodation offering. So far, Newcastle has only ever seen one other actual five-star hotel, with still-fresh Crystalbrook Kingsley opening last year.
---
---
RELATED: The Long-Awaited Ace Hotel Sydney Opens In Surry Hills
With 104 guest rooms and suites, a new signature dining concept and a Japanese-accented rooftop bar, it's no stretch to say the hotel will be completely new territory for the coastal city as Newy leaps into its new lease on life following the QT Newcastle opening date.
Designer Nic Graham, who handled the look of all the other QT properties, has worked on a brief channelling the elements of earth, water and light to reflect the visual impact of Newcastle's coastline, interpreting that with a deft balance between the brand's well-recognised signatures and a more individualised, locally-minded aesthetic.
The building's mammoth floor-to-ceiling heritage windows have been revived to pull the city's best angles into the hotel's all-encompassing vista, taking in the surrounding landmarks like Newcastle Harbour and Christ Church Cathedral and setting that against a multi-hued palette that makes use of colour blocking and juxtaposing textures.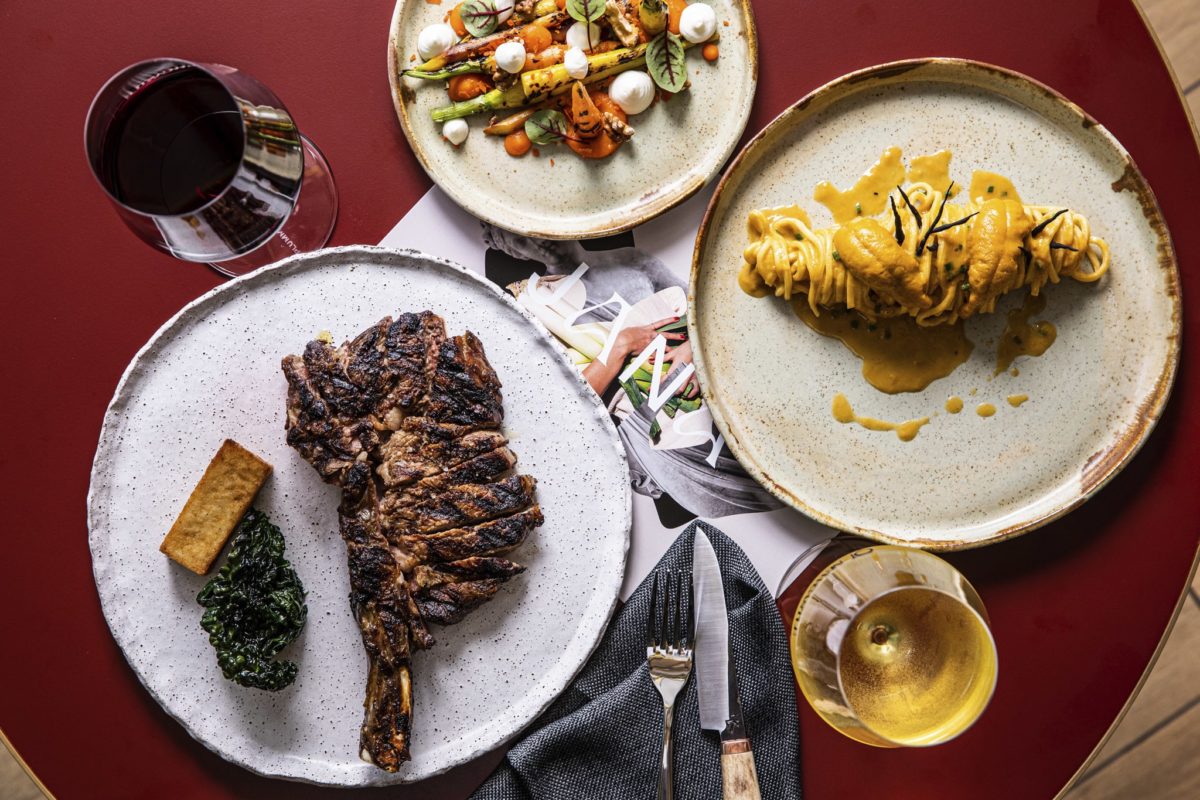 Rooms don't need much of a description – we'll save that for when we get a hotel review live in the coming weeks – but from the photos alone you can easily tell this will make for an impressive staycation on par with QT's best expressions in Sydney, Melbourne, Perth and Gold Coast. The QT Dream Bed – which a lot of regular guests end up buying – is comfortable enough to warrant a mention and it looks like Nic has gone to town on the colour scheme with seductive backlighting and green, red and gold features.
Executive Chef Massimo Speroni (best known in Australia for his work at award-winning Brisbane restaurant Bacchus) will lead QT Newcastle's restaurant, Jana, with a concept hinged on produce from the Hunter Valley and surrounding regions. Given the area is known as one of the most bountiful in the state, there should be plenty of fresh premium ingredients for Speroni to work with as he guides the bar and grill with a heavy focus on a high-end steak offering complemented by other dishes like chitarra pasta with sea urchin and hiramasa kingfish.
There's little doubt Speroni will be sprinkling some of his Italian heritage in with the modern Australian menu, so seeing what he does with Hunter region produce should align nicely with the culinary reputation QT has built with restaurants like Sydney's Gowings and Perth's award-winning Santini Bar & Grill.
---
---
RELATED: 14 Best Steak Restaurants In Sydney For Your Next Bro Date
The hotel even has a local icon as a wine partner – Tyrell's. Couple that with the likes of Pukara Estate, Jack's Creek and Rangers Valley nearby and you can see why Jana will more than likely be considered one of the best restaurants in Newcastle not long after it opens in a couple of weeks.
Last but not least is the Rooftop at QT which looks out across the harbour and promises Newcastle's largest library of Japanese whisky alongside an izakaya-inspired offering that leans heavily on yakitori and sashimi. Sinking a couple of highballs while scanning the coastline seems like the best new idea for a night out in Newcastle. Again, it's hard to envision what this will add to the city until we head there ourselves in a couple of weeks, but needless to say, it's going to be a hit for locals who have been desperately needing something like this for… well, forever.
QT Newcastle has confirmed an opening date of June 9th. Rates start from $319 a night.
Address: 185 Hunter St, Newcastle NSW 2300
Contact: (02) 6396 4000