Doors to the $100 million-plus The Tasman Hobart opened in full in April 2022, following a two-thirds opening in December 2021, and no less than 15 postponed opening dates since 2019. Before I dip further into my The Tasman Hobart review, can we just take a second to appreciate just how much tenacity it must have taken to put up with so many pushbacks.
The property is the first Luxury Collection hotel to land in Australia, representing a niche offshoot label of the Marriott empire that aims to reflect each hotel's location with an individualised approach hinged on superior comfort, a design-forward theme and a genuinely premium tag.
This boutique-minded aesthetic has of course become voguish in the contemporary hospitality landscape, especially considering Hobart is full of story-driven hotels, so while this isn't surprising, it's a nice little reprieve from the relative uniformity one can expect from a chain hotel.
---
---
As a recently invited guest of The Tasman, A Luxury Collection Hotel and Tourism Tasmania, I was keen to see for myself just how effectively Marriott's new flagship Australian property captured Hobart.
My verdict? Well, since Tasmanians are renowned for keeping it in the family – so to speak – I'm confident The Tasman has succeeded in wrappings itself in Tasmania's firm grip on luxury experiences, both physically and conceptually. I'd now consider this alongside the likes of Tasmania's best luxury accommodations, including Pumphouse Point, The Keep and the legendary Saffire Freycinet.
The intimate links the Tasman has forged with local producers, artists and operators are the hotel's biggest selling point, expressing local industries in an elegant and highly considered way. Often with a singular vision to set The Tasman apart from the rest of Hobart's luxury hotel set, which includes nearby establishments like The Henry Jones Art Hotel, Macq01 and Moss Hotel.
The Tasman Hobart Review – Table Of Contents
---
Location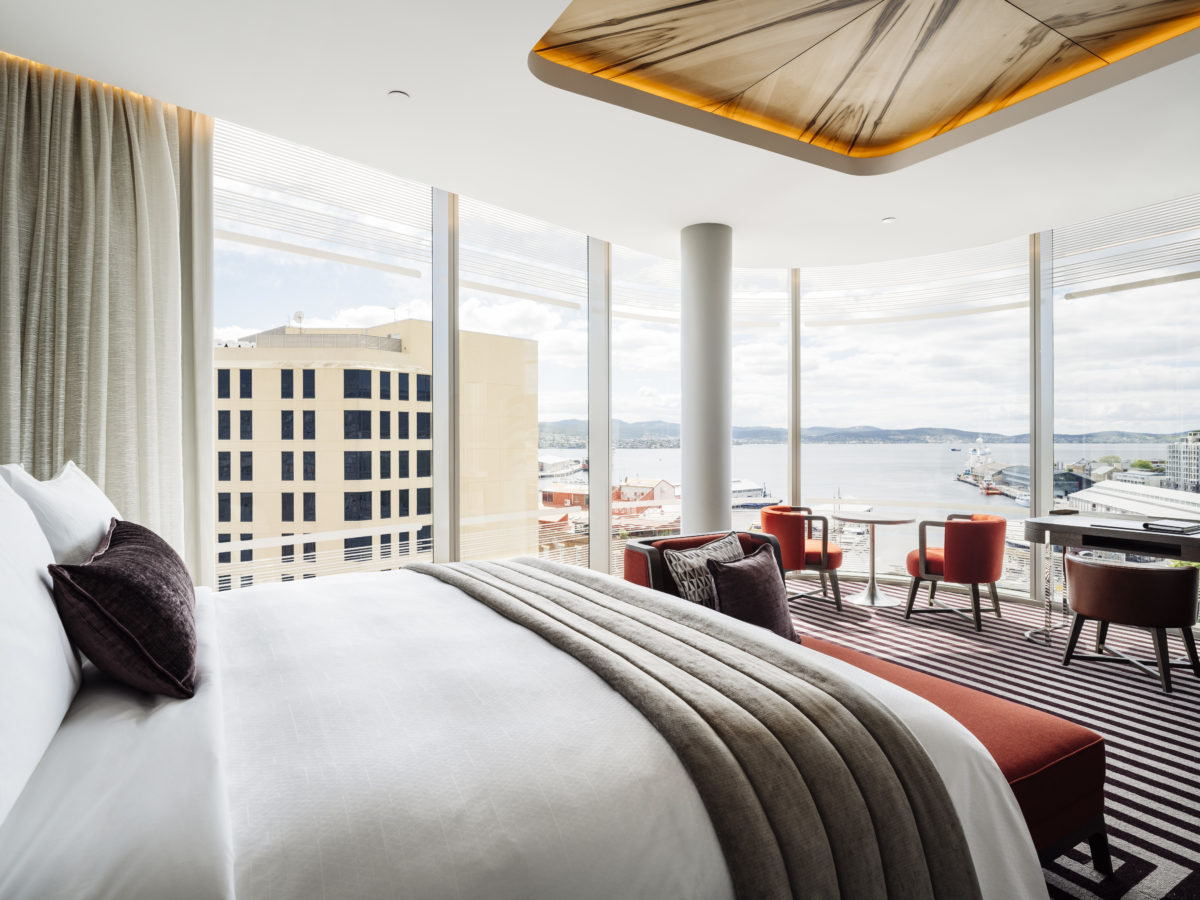 Although Hobart is already relatively walkable, The Tasman is in prime position on Murray Street near Parliament House. The entry is across the street from St. David's Park, a block from the Sullivan's Cove waterfront and steps from the bars, shops and weekend markets of Salamanca Place.
In regards to tourist essentials, you're on the fringe of the historic Battery Point and less than 200 metres from Brooke Street Pier, where the ferry departs for MONA. It's a strategic position if you had the good sense upgrade to the Posh Pit package and stumbled off the ferry a bit sloppy in quick need of some R&R after experiencing the chaotic art of David Walsh's creative powerhouse.
And even though the dining options at The Tasman are tempting enough, you are within short walking distance of Hobart's other excellent offerings such as Templo and Room For A Pony.
It takes approximately 15 minutes to reach the Tasman from Hobart airport. And while you could say this for just about any major hotel in the small Tassie capital, it's worth noting for when you want a bit of a sleep-in before flying out.
---
---
RELATED: The 24 Best Restaurants Hobart Has To Offer Discerning Foodies
---
Concept & Design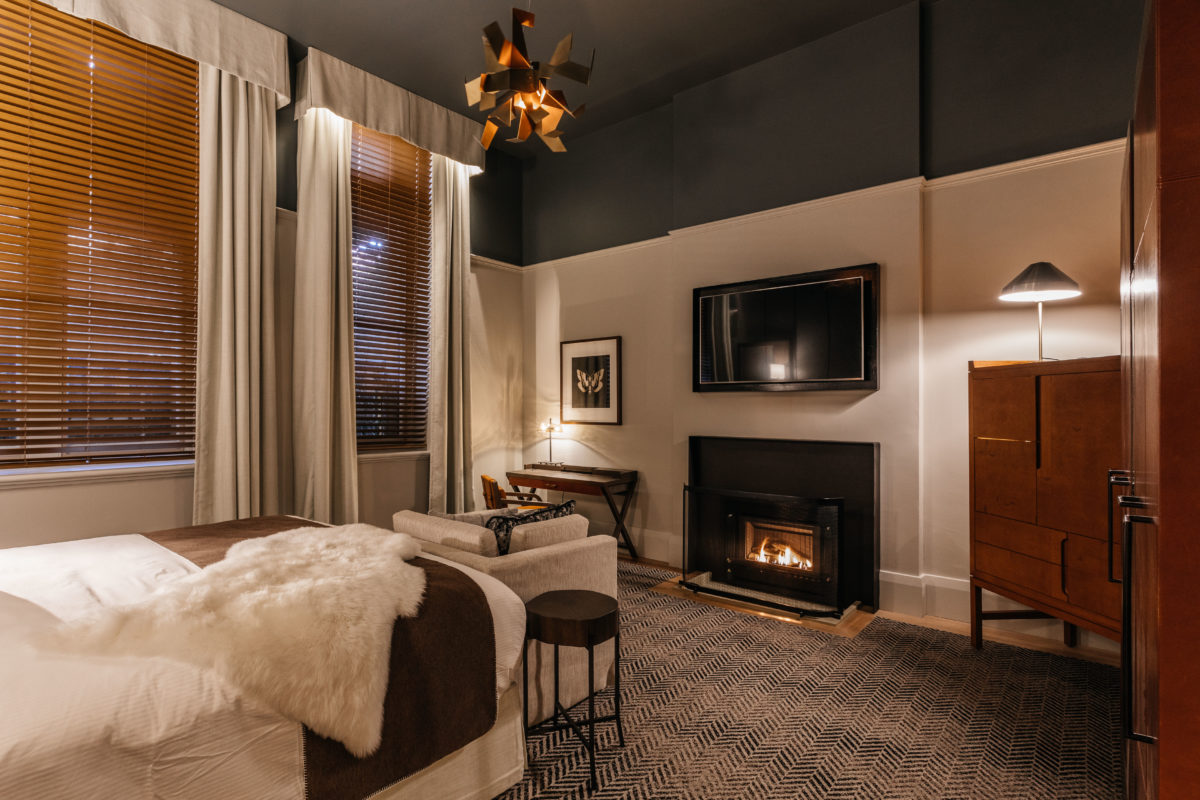 The hotel was envisaged in 2016 as part of the ambitious 7,700-square-metre Parliament Square mixed-use development. This included offices and retail curated by Marriott International, property owner Trawalla Group, and developer Citta Property Group.
The heritage sandstone and masonry buildings presented to Sydney-based Architects FJMT were in bad condition. FJMT was hired as project architects to maintain the original heritage look and feel, while Joseph Pang Design Consultants was onboarded to design its world-class interiors.
Their combined effort resulted in luxury accommodation spanning three buildings that date back 180 years. The restoration is considered, aligning nicely with Hobart's love of turning the city's buildings into unique blends of modernity and history with clearly expressed stories that add greatly to the character of the city altogether.
Spirit Super snapped up the Parliament Square development upon its completion in December 2021. The $330 million sale was the largest commercial property transaction in the state's history.
It must have been difficult to integrate three distinctive design eras into a single cohesive build. However, the final implementation is flawless. The hotel comprises three distinct buildings.
The 1847 Georgian Heritage building (former site of St. Marys Private hospital)
The 1937 Art Deco building, and
The brand new Pavilion building.
Each building pays tasteful homage to its design era. And the entire design is brought together by a maritime theme, making use of the hotel's proximity to Sullivan's Cove. This is best reflected in the rounded edges of cabinetry and ropes used in wayfinding signage.
To emphasise the architectural narrative, the guest corridors, which are generally underutilised, have been whimsically fashioned into a transforming art piece. The carpet, lighting, artwork, and signage signify your journey from one era to the next. Considering hotels live or die on small details like this nowadays, it's great to see The Tasman's designers put such effort into something that's so essential to the visual impression a guest would engage with every time they walk in and out of their room.
---
---
The modern pavilion and heritage buildings measure three floors tall, while the heritage building on the former hospital premises rises seven stories tall.
---
Room Types & Comfort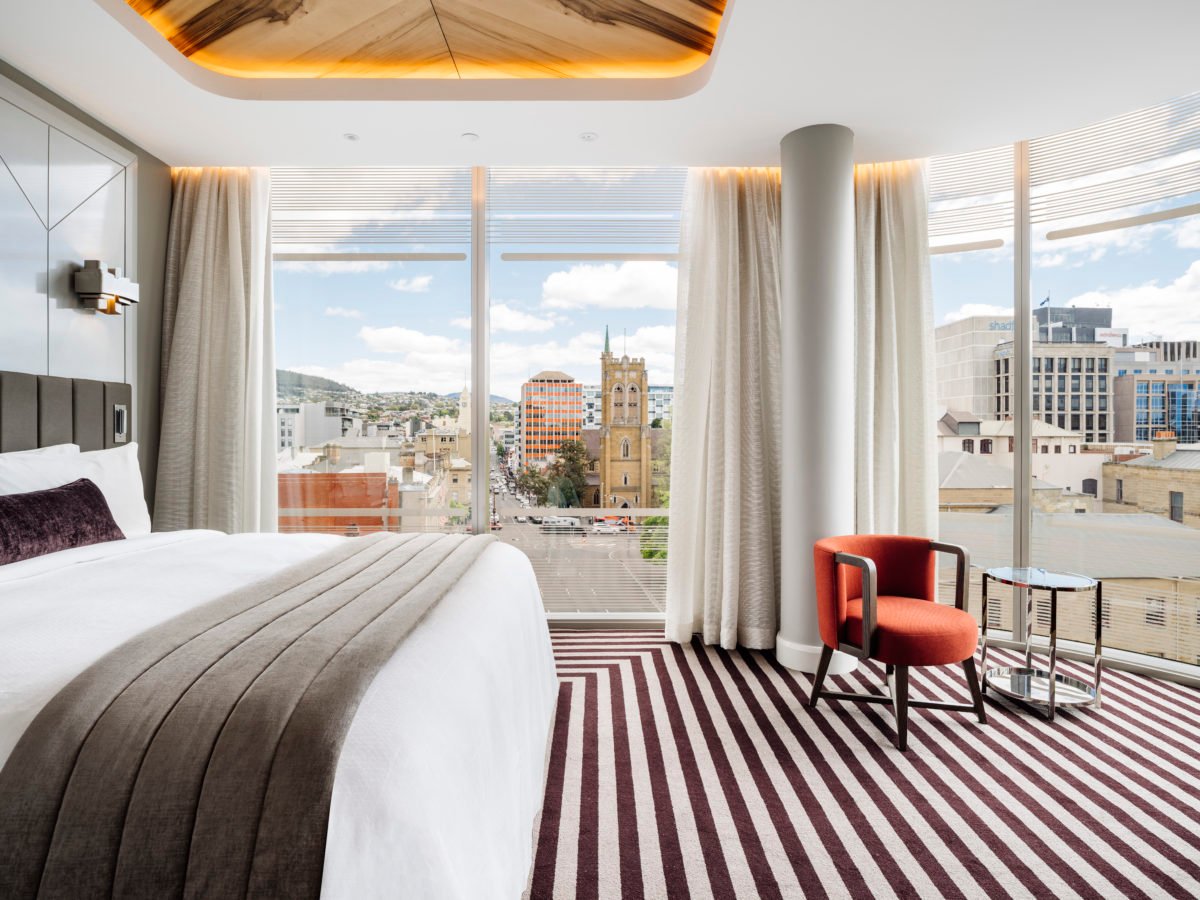 There are 152 rooms spread throughout the three buildings, and no two are alike. Overall, the room sizes range from 45-60 metres, which is substantially above average for Hobart when you also consider the hotel's central location and the complexities of the heritage building.
Regardless of its historical overtones, each room is cutting-edge with control panels and curtains that draw open whenever you slide your key into the door.
Each building has a mix of doubles, kings and suites, which doesn't make the process of elimination any easier. A (temporary) criticism is that the heavily brand-controlled hotel website does not do the room arrangement justice. A more interactive floor plan feature is rumoured to be on the way. In the meantime, let us break down the appeal of each section.
Georgian Era Heritage Rooms, for example, offer soaring 4 metre high ceilings, convict-hewn sandstone, velvet and lambswool soft finishes, gas fireplaces and marble drenched ensuites. They are nestled amongst the tranquillity of St. David's Park. The most stunning feature is a handcrafted Tasmanian Blackwood timber bath in the 85-square-metre St David's Park Suite.
However, I stayed in a Pavillion Suite in the Modern Pavillion building. There are only two suites of this calibre across the hotel, expressing a more contemporary atmosphere with quality materials and modern comforts. And while the suite feels torn from the historical bent of the Art Deco and Heritage rooms, I'm confident that this will be one of the more popular room types as the hotel digs deeper into its first year of operation.
A modern pavilion room is ideal if you prefer floor-to-ceiling light-filled rooms that feel more like a hotel in 2022 rather than one that's borrowing from the past. Plus, size is a bit more generous here. My Pavillion Suite gave me a very generous 108-square-metres of living space from the appropriately opulent marble bathroom to the open-plan bedroom with a really comfortable study nook in prime position to soak in harbour views.
The other suite – the 108-square-metre Aurora Suite atop the Pavillion building – is as charming as it is the pinnacle of The Tasman's luxury offering. I'd imagine a couple of mates hiring this out for the Sydney to Hobart will be a regular things for the hotel moving forward, given the all-encompassing views and a private rooftop terrace with handcrafted sandstone and a class Van Tuil fire pit.
---
---
Special mention must be given to the room amenities. Each of The Tasman's several postponements provided the hotel team with an additional opportunity to engage another local supplier in a co-branded amenity and minibar collaboration. As such, the selection is notable, skewing much different to what you'd expect from a chain hotel with various Australian brands like Lark Distillery's Docks Release single malt, crafted just for The Tasman, and an exclusive tinny by Moo Brew.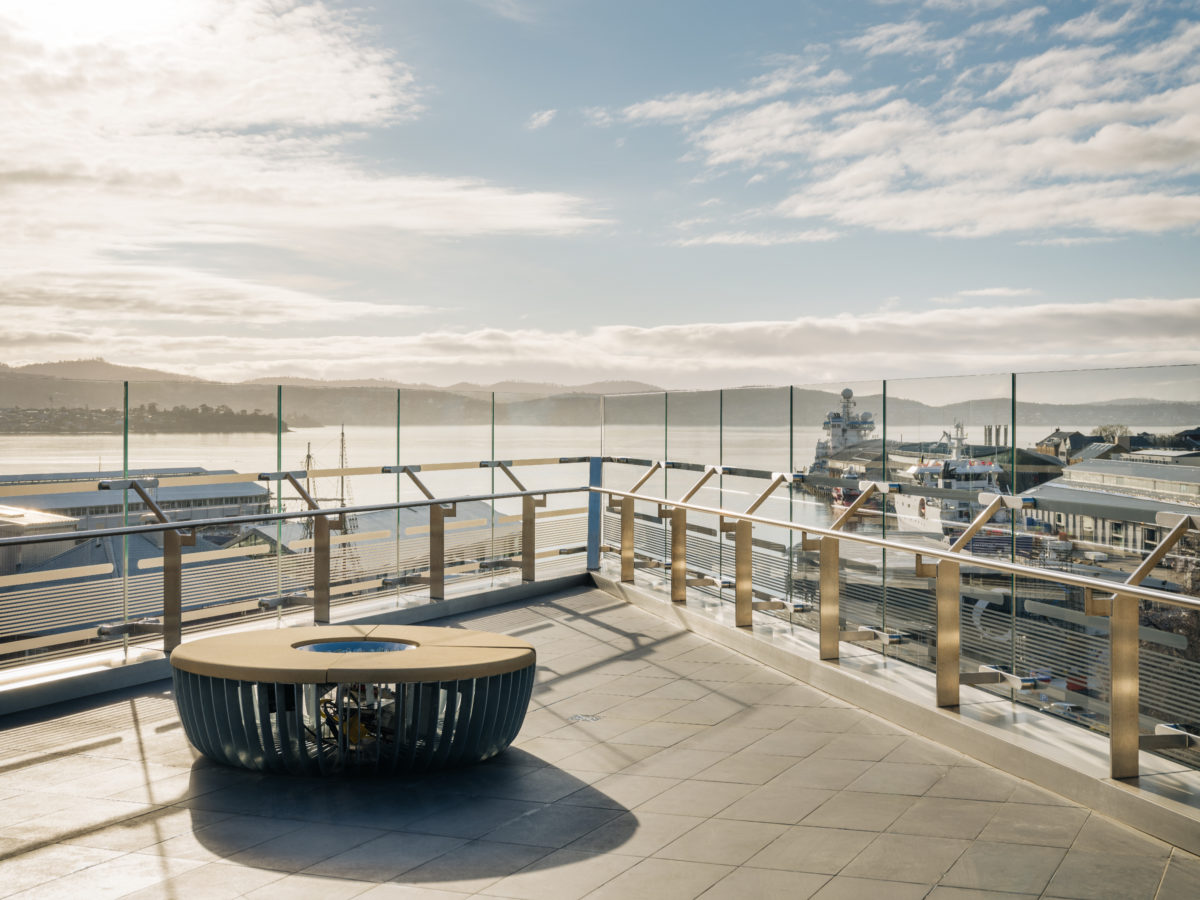 A hotel's quality can always be judged on the bathroom amenities as well. The Tasman has had the good sense to go with Grown Alchemist products, which ae created in Melbourne but sourced completely from Tasmanian materials. I was surprised to see the suite also included one of those super high-end Dyson Supersonic hairdryers, which is a nice touch for any guests who need the spruce up before a night out.
---
Food & Drink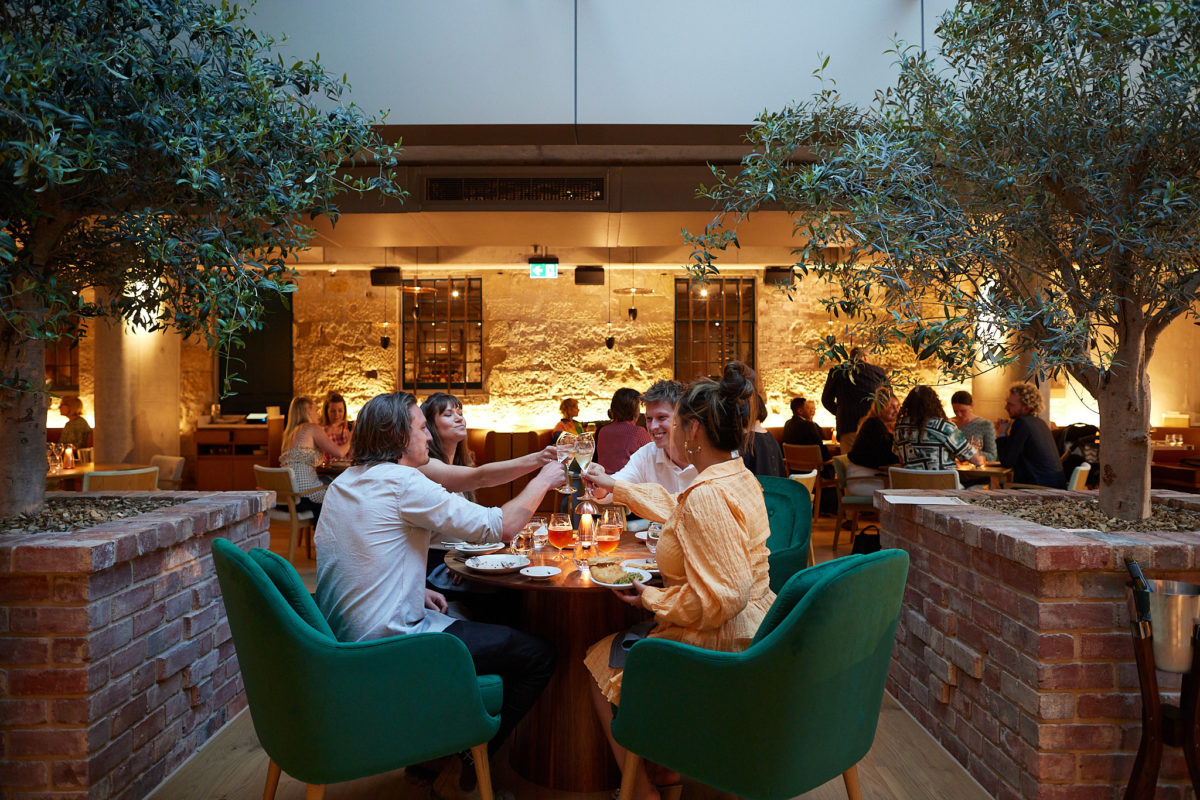 The Tasman features three distinct options, all of which have achieved something rare in the hotel industry: more locals competing for tables than hotel guests. In a city like Sydney you'd be hard-pressed to find a hotel restaurant that's actually a destination for locals, with the exception of something like Gowings at QT Sydney or The Gantry at Pier One Sydney Harbour.
In fact, Hobart is one of the few cities in Australia with a hotel restaurant scene that's just as viable and beloved as standalone restaurants like Templo and Fico. The Tasman's main restaurant, Peppina, plays into that just nicely, complemented by a more casual dining experience in the lobby and the suave Mary Mary Bar.
Peppina, named after the nonna of culinary director, Tasmanian chef Massimo Mele, serves a "Italian Pantry" style breakfast that I think just may be Australia's best buffet breakfast right now. Despite being in the same location as the popular dinner spot, the space does not feel repurposed. Day to night captures different aspects of the fitout, including a large glass skylight that casts light on thriving olive trees.
Massimo, who was born in Tasmania and raised in Naples, is dedicated to sourcing the best local produce for a nostalgic Italian home-style feasting experience. The chef has such credibility that he has producers planting around his menu, emphasising close-knit ties that'll have you knocking back Oyster Co oysters caught and delivered in less than 30 minutes from the restaurant. Alongside cheese from zero-waste Tongola Cheese farm and herbs from Massimo's own garden hidden in the nearby sandstone walls.
Peppina's private rooms are as impressive as anything else in the hotel. The Printing Room, for example, is available for a minimum spend of $2,000 and comes with a custom menu and a private Sommelier.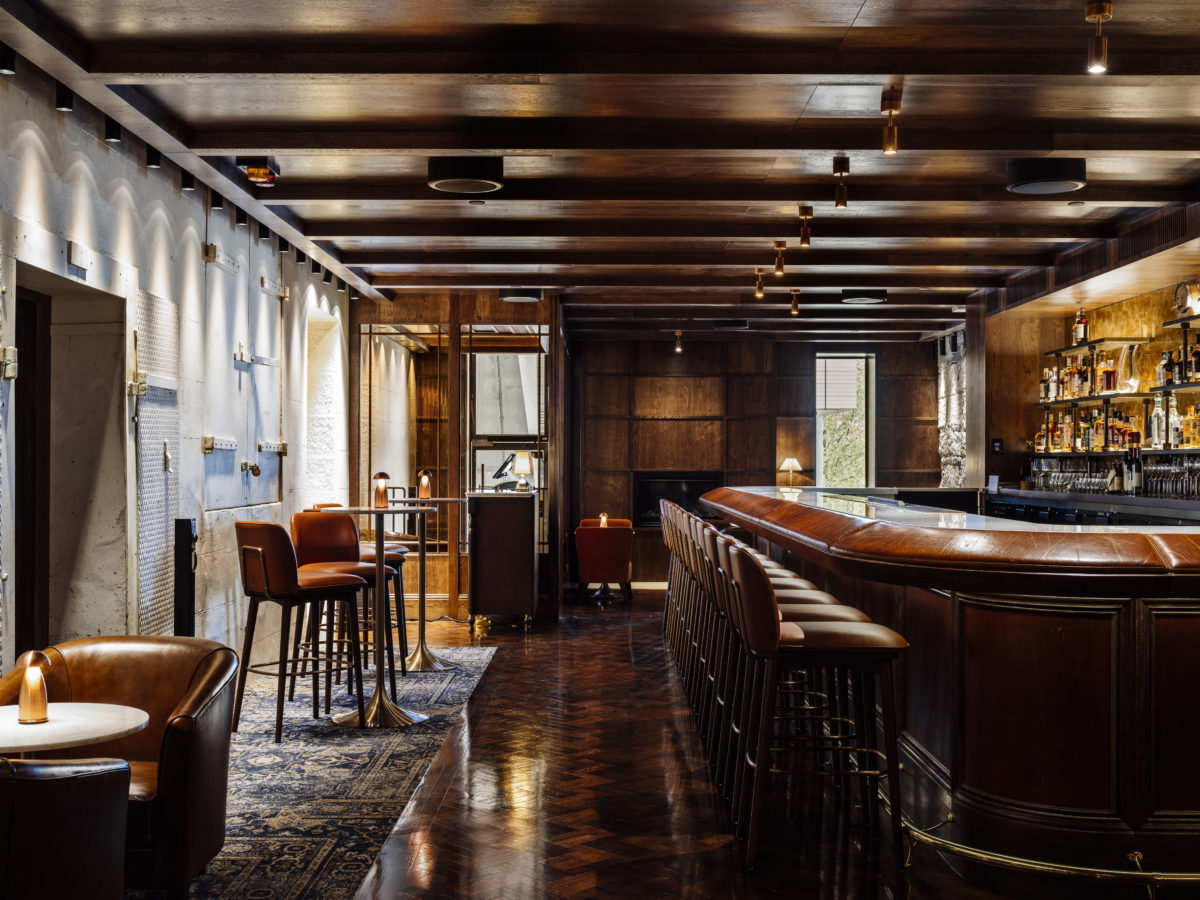 Mary Mary Bar, named after the former St Mary's Hospital, is open daily from 4pm until midnight. Ronán Kavanagh, the chief bartender, creates innovative spins on old classics using locally procured ingredients.
---
---
It is heaving by 5pm from nearby offices and feels like the ultimate gentleman's club, with exquisite parquetry laid piece by piece from the site's previous ceiling beams and cosy leather banquets and chesterfields. Guests have a separate sandstone lane entry from the public, and entering through it feels like entering a Bond villain's lair. The spirits library is housed in an old coal chute, there are quiet books behind vaulted doors, and artefacts unearthed during construction adorn the walls.
That should position Mary Mary as a top contender in a city that's already known for having some of the best hotel bars in Australia.
Service
The Tasman can serve as a luxurious base for a typical urban tourist itinerary or for an agritourism experience. The chief concierge, James Nobleza, is the only Les Clefs d'Or certified concierge (there's only around 4,000 of them in the world) in Australia, and he relishes in crafting tailored experiences from the hotel's extensive ties and connections with suppliers throughout the island, such as wine or chocolate tasting, oyster shucking, fly fishing or scenic seaplane rides from one location to another.
Nobleza embodies the kind of swift and gentle service I experienced across my few nights at The Tasman, banging right on the key indicator of hospitality – you leave feeling like a guest, not a number.
Verdict & Value
Don't mistake the Marriott branding to mean yet another chain hotel has arrived in a city that does boutique so well. The Tasman feels uniquely Tasmanian and, despite it's size, relentlessly and meticulously detailed and individualised. Staff genuinely exude a love for the project; their pride in it is palpable. There was a guest meandering the breakfast buffet whose stay has spanned three weeks, and honestly I don't blame him.
It's really no surprise that this has become Marriott's most prized Australian hotel in just a few short months after opening, adding greatly to the luxury addresses dotted around Hobart's city centre.
You are paying for the experience though, and quite a lot as well. Standard nightly rates for the Pavillion Suite that I stayed in clock around $3,430, which is excessively high if you want to also experience some of Hobart's best restaurants and things to do like MONA. You're looking at the same nightly rate for the Aurora Suite.
Take a step down and you're forking out around $1,330 per night for a Heritage Suite, which has 1 King and is more aligned with guests looking for a distinctively Tasmanian stay that feels ripped from the modernity of the Pavillion suites. It's still punchy, but is a good choice for anyone who can't compromise when it comes to accommodation.
---
---
As far as the entry-level Deluxe King, that's $370 a night which is still quite a lot given the room is 30-square-metres. As I said, you're paying handsomely for the experience and while I didn't stay in this category, I don't doubt that an entry-level room here is a cut above a top-tier room in most of the other hotels around Hobart.
The Tasman Hobart Review – Frequently Asked Questions
How much is a room at The Tasman Hobart?
Entry-level rooms at The Tasman Hobart generally start from around $340 per night while the highest-level suites will set you back approximately $3,430 per night.
What is the restaurant at The Tasman Hobart like?
The Tasman's signature restaurant, Peppina, skews Italian and uses fresh and exclusively sourced produce from some of Tasmania's best suppliers.
Where is The Tasman Hobart?
The Tasman is located near the Parliament building in the cultural heart of Hobart, right along the harbour and just a stone's throw from Brooke Street Pier.