For those who've done Bali to death and are seeking a fresh destination for their next surf trip, the Philippines might just be your answer.
Boasting of over 7,000 tropical islands, it's no surprise this country harbours a swathe of quality surf breaks. For a while, however, it remained relatively untouched by the prying efforts of visitors. Civil unrest, remote access, and a lack of media exposure staved off any real boom in surf tourism. Until now.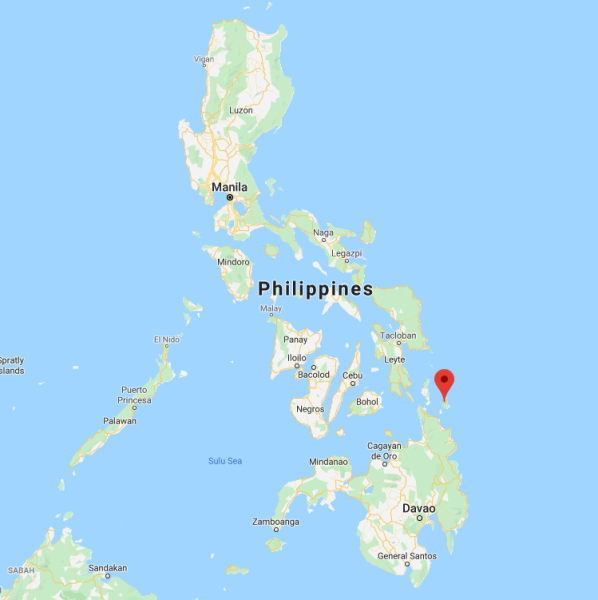 "Bali in the 90s"
With a groundswell of interest in the area, Siargao Island (pronounced shar-GOW) is fast becoming the hot-spot for surfers who want an alternative to Bali's hectic rat-race and trash-littered sewage traps. In comparison, Siargao proudly champions its sustainable reputation, banning single-use plastics and encouraging visitors to bring their own reusable bags. Bamboo and steel straws are the only types you'll find on the island, repurposed coconut bowls are served up at cafes along with wooden spoons, and locals can often be spotted picking up trash from the beach or street.
It's a contagious vibe, and when you're surrounded by this stunning palm tree peppered isle, there's every reason to get involved. Regularly compared to 'Bali in the 90s', Siargao is everything you expect from an idyllic destination; replete with barrelling waves, white sand beaches, reef-fringed azure waters, and a host of villas and resorts that dot the few roads connecting the island.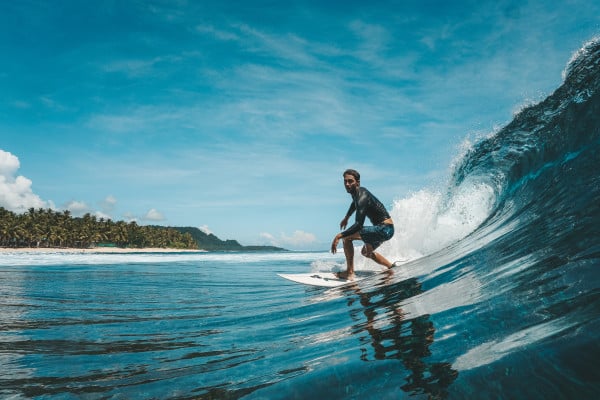 We're talking tubing lefts, reeling rights, peaky reefs, and plenty of secret spots
Located in the archipelago's south-eastern corner, Siargao's coastline is exposed to all the energy that Pacific typhoon swells can conjure. These storms often track for days off the coast, sending booming sets into the many reef breaks that lace the island. The most famous of these is 'Cloud 9' which regularly polls in the 'top ten' when surfers debate their most beloved breaks around the world. Cloud 9 was discovered in the late 80s and has hosted an annual surf competition for the past 25 years.
While this break has been the major catalyst for development in Siargao, there are plenty of other pristine waves to be found within a 10-minute boat or motorbike ride. We're talking tubing lefts, reeling rights, peaky reefs, and plenty of secret spots for those keen to surf alone. There are even inside white-wash waves for beginners to learn on. The only omission to note is a lack of beach breaks, so you'll want to pack the reef booties unless you're confident chasing crystal cylinders over shallow reef.
Siargao's surge in popularity has created a melting-pot for travellers seeking tropical adventure. With numerous party hostels and beach resorts popping up along with funky bars catering to the thirsty crowds, you'll have no problem mixing it up with an international crowd full of good vibes. The abundance of expat businesses on Siargao means you can enjoy a classy Italian, Spanish, Mexican, French, or Filipino fare at mouth-wateringly low prices. Described by many as 'a foodie's paradise', the beverages keep up their end of the bargain with delicious happy hour cocktails at dangerously low prices and what is a close contender for the cheapest rum on the planet (that actually tastes damn good considering it is – wait for it – AU$3 a bottle!).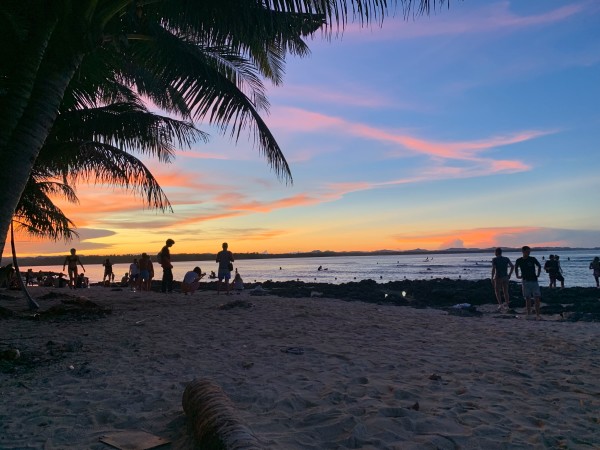 'Eat, surf, sleep, repeat'
Live music, friendly locals, and jungle parties all make for endless entertainment in the tropics. 'Eat, surf, sleep, repeat' is scrawled across many a café wall, and it's a great mantra to live by when such cracking waves and chow are at your doorstep on the daily. With a healthy dose of yoga retreats, day spas, and superfood cafes thrown in the mix, there's an undeniable Canggu-esque vibe about town – sans the overcrowding, litter, and taxi-mafia. Throw the odd beach club or island hopping tour in the mix and what more could you really ask for? Well, there's also a wakeboard park and shooting range that sure helps for those flat-surf days. Then you've got tropical lagoons, phosphorescent caves, and drunken buffalo riding tours for the more adventurous at heart.
Wi-Fi is becoming more and more accessible on the island, and ATMs are multiplying to many people's relief. However, much of the island's allure exists in its lack of creature-comforts and development.
Why are we sharing this little slice of paradise with you? Because there's no fighting the tide of tourism here – so get in quick while Siargao still holds its untouched charm. And bring a reusable bag, ya dig?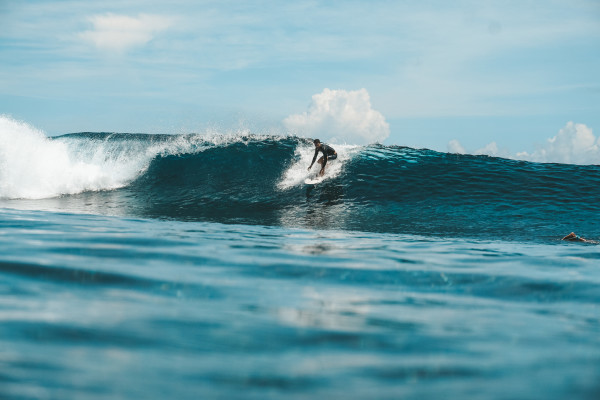 The Essentials:
Budget: $50-$70 a day is (incredibly) plausible here. That includes; accommodation, scooter hire, boat to the reef, 3 meals. and a few drinks. For those looking to really splash out, there are plenty of lush resorts, spas, and restaurants to indulge in.
Pack: Sunscreen, zinc, surfboard (unless you want to rent one, which is possible, especially with AwayCo recently setting up in Siargao with some great boards available), reef booties, mosquito repellent, a good book, wet bag, wax, spare leg rope, and gear to surf in. At no point will you need jeans.
Transit: From Australia, you can fly direct to Manilla or Cebu. From there you'll need an internal flight to Siargao. Taxis from the airport are $10 per person.
Timing: September to December is prime swell season on Siargao Island, with typhoons cooking up over the South-China Sea. Winds are variable and there is no guarantee that a typhoon will deliver the goods while you are there, so prepare for some down-time but from this punter's experience, you can expect to be surfed out, sun-kissed and content on the daily.
RELATED: The Philippines' Palawan Island Is Consistently Voted The Most Beautiful In The World