Brisbane has been blessed with a smattering of new hotel and restaurant openings in the past few months, with even more to come before the end of the year. After a weekend stay at The Calile Hotel, we can say you don't have to look much further for lodging in Brisbane – it's exquisite, thoughtful, and oozes summer cool.
The brainchild of the Malouf family, developers and curators of Fortitude Valley's coveted James Street, The Calile Hotel slots into the high-end fashion and hospitality precinct as a much needed luxury accommodation option. Designers have leant heavily on the flavourful concept of an 'urban resort': an oasis-like space within a metropolis that offers a unique reprieve from the busy monotony surrounding it. They've succeeded in creating a destination inspired by cities like Miami, Palm Springs, Rio de Janeiro, and Mexico City – overall capturing their effortless hot climate style.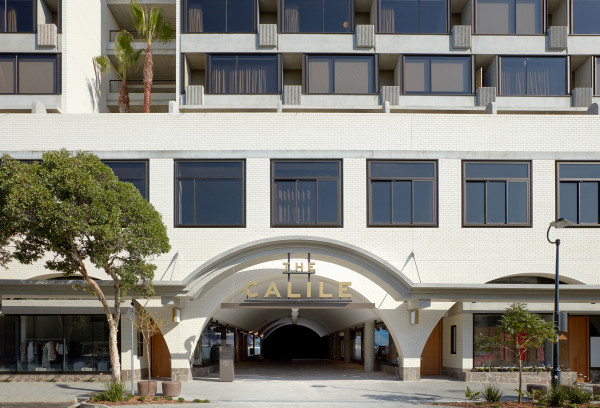 The building is a smorgasbord of washed out colours, strongly conforming to light pinks, crèmes, unfinished concrete and lashings of shiny gold. In fact, the interior of the whole building looks as if it's been cut from a single enormous piece of light-brown marble. Walking through the arch-dominated, breezy hallways, I'm impressed at the strict degree to which the hotel has stuck to its design themes – it simply embodies the concept of 'smooth surrounds'.
---
---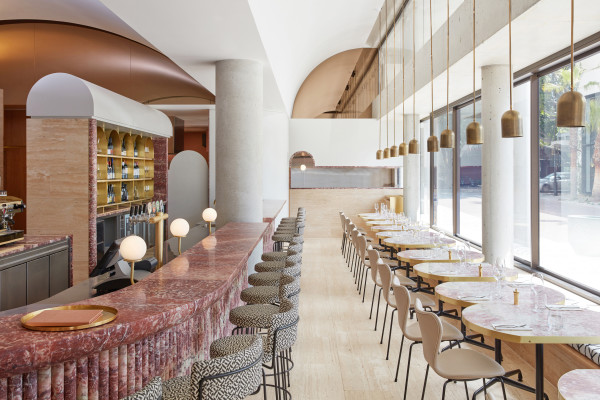 The epicentre of the hotel is the pool terrace, towards which most rooms are oriented and where the action is focussed. Palm trees running the length of the pool and a deck lined with daybeds, loungers, and turquoise and white umbrellas give the impression you're looking at a beach club in southern Italy. On this level you'll also find a fully-equipped gym (including a squat rack and free-weights), a library, KAILO Medispa and Hellenika restaurant.
Rooms possess a warm character, instilling a feeling that you'd be happy to take up residence indefinitely, and are all dressed in what we've discovered to be The Calile's signature powder pink or frost. As the hotel is mostly surrounded by low-set buildings on the edge of the city, delightful views are all but guaranteed from any room.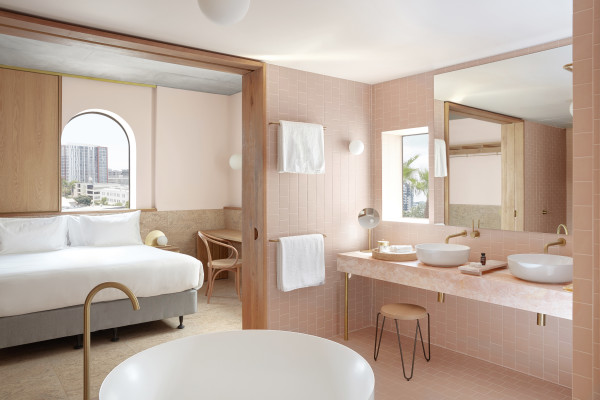 The range starts with 'Essential' rooms, from $240 per night, and climaxes with the stately 'Ada' and 'Calile' Suites, which will set you back just north of a grand per night. Interior kit standard across the range is stellar – all rooms are equipped with remote blackout blinds, Grown Alchemist bath amenities, a locally sourced mini bar, a UHD TV with Chromecast and a thumping sound bar. Light linen robes (by Venroy) are a welcome touch in contrast to the traditional thick white cotton numbers.
Our pick of the bunch is a Poolside King Room, which invites the tropical climate inside with its full-length windows, day bed and Juliette balcony overlooking the pool deck. Guests are also afforded a bit more space, well worth the price premium.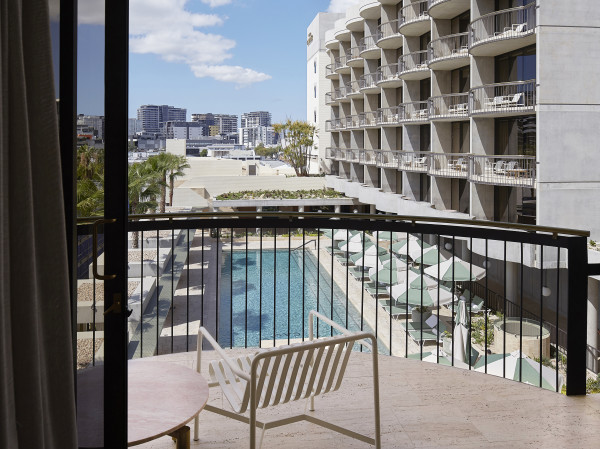 Poolside is also where you'll want to spend most of your time, which is lucky because the cloudlike loungers make it quite difficult to leave. The atmosphere is unbeatable and feels not unlike a relaxed pool party, with upbeat house music playing and Hellenika's waiters flurrying back and forth catering for poolside thirsts and hunger via a curated pool bar menu.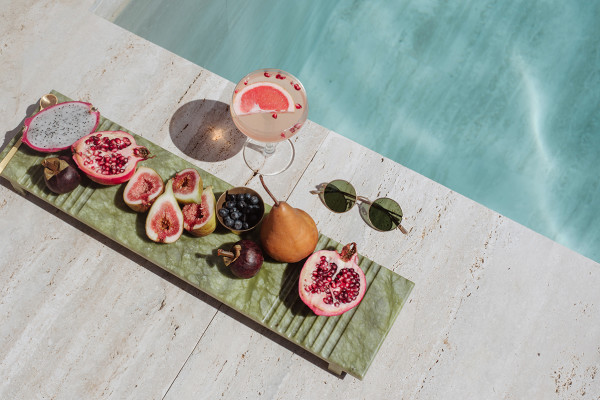 The pastel-hued Hellenika is undoubtedly Brisbane's best new Greek eatery, in fact, it may even have a sneaky spot in here. The maestros in the kitchen have a penchant for blowing traditional Greek staples out the water with an onslaught of flavour. I'm talking about when you taste something so good that you stop chewing and search across the table for eye-contact, to find your guest is doing the same to you, mouth agape in awe. Think parmesan smothered zucchini fries, spanakopita, eggplant moussaka, and what must be the finest baklava in the southern hemisphere.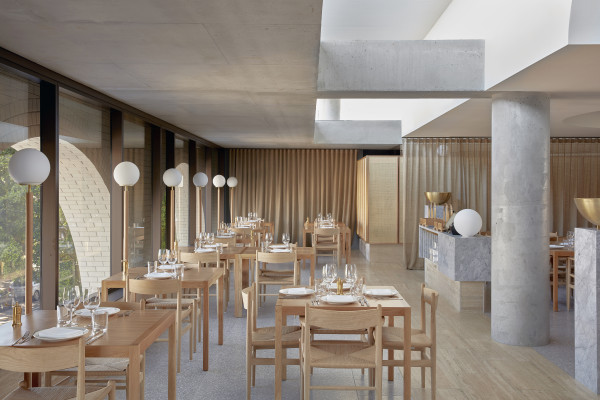 Found downstairs, the Lobby Bar is your resident hotel eatery and watering hole. The spot tends to draw an attractive clientele and offers a limited yet sumptuous selection of food and beverages from breakfast to dinner. It also has a certain corporate quality to it, making it just as appropriate for a business breakfast as post-work sharpeners. They've left something to look forward to as well, as five new eateries and bars are set to open next to the Lobby Bar shortly.
---
---
I'm not one to overindulge, but the in-house KAILO Medispa is a haven worth making an exception for. Leaning heavily on the hotel's décor cues, individually customised treatment rooms form the backdrop for a more holistic approach to wellness. With an expansive selection of treatments and an experienced team, relaxation is all but guaranteed. Win some huge points by booking someone special in for a session after lunch.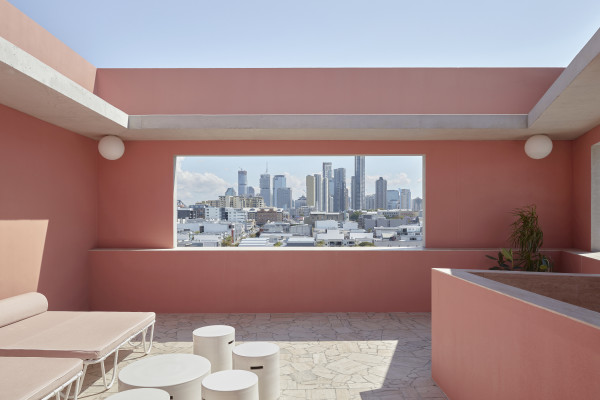 I've got high hopes for The Calile – with its devoted management by TFE Hotels and unique design standpoint, it's an attractive prospect for your holiday dollars. There's something else in there though, a certain zest of character and chic that undeniably sets it apart. It's the collective word to describe Aperol Spritzes by the pool, warm breezes through the hallways, cool marble underfoot, linen robes on the balcony at sunset, and the eccentric adage of everyone wearing The Calile uniform. It's just so damn cool.
To book, visit thecalilehotel.com.
RELATED: Brisbane's Best Restaurants for 2018 | Brisbane's Best Bars for 2018