Almost a decade on from my last visit to Las Vegas, it takes mere moments to see that Sin City has changed.
While you'll still notice revellers drinking from enormous sippy cups, putting their hard-earned dollars into Ghostbusters poker machines and generally behaving like rules don't apply to them, I couldn't help but think that the Strip has become much more of an eclectic cultural hotspot since my last jaunt.
Those who don't want to drink their days away by the hotel pool or sit at the tables for eight-hours at a time can discover another side to Vegas that makes it such an intriguing place to visit in 2020.
---
---
Having recently returned from six days exploring this other side Vegas, here are eight experiences you can throw yourself into headfirst that don't involve spending your hard-earned at the tables or copping an egregiously priced bottle service.
Life Is Beautiful Music & Art Festival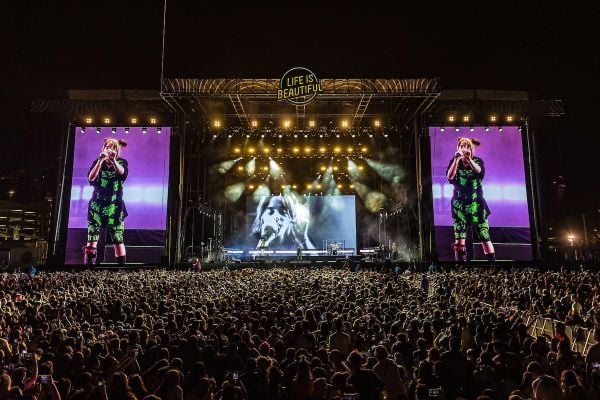 Forget Coachella and Lollapolooza, boutique music and culture festival Life Is Beautiful might just be America's number one festival. Huge call I know, but having visited some of the biggest festivals around the world, Life Is Beautiful stands out head and shoulders above the rest. Held in the streets of Downtown Las Vegas, this three-day event attracts a diverse line-up of musical acts, top tier comedians and immersive art and cultural displays.
Heading along to the opening day of the festival I was treated to an incredibly stacked lineup that included Chance The Rapper, Billie Eilish, and Walk The Moon – alongside Aussie favourites Cub Sport and The Teskey Brothers. Not only were the musical performances fantastic, but the actual festival itself was brilliantly organised and easy to get around. Over 50 of the best local restaurants served up tasty bites in the numerous food villages (Sin City Pizza was insane) scattered around the festival, while the artwork displayed throughout was very impressive as well.
Experience a show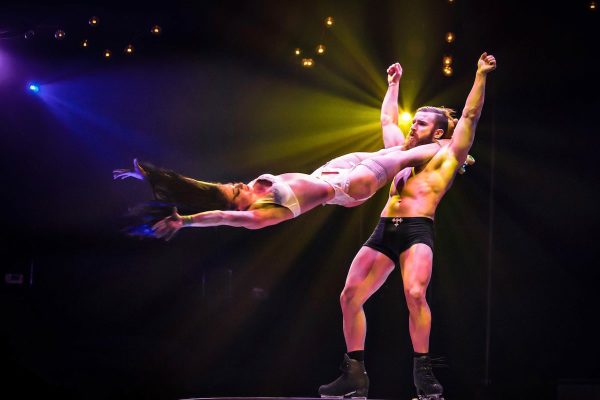 You can't go to Vegas without seeing a show. Much like London's West End or New York's Theatre District, the Strip is a hotbed for live performances, be it big-name musical acts, stand-up comedians or contemporary theatre shows. While Cirque du Soleil puts on six different shows, and the likes of Penn & Teller and Carrot Top are Vegas mainstays, if you truly want an unforgettable experience – I urge you to attend Absinthe.
Held in a Spiegeltent out the front of Caesars Palace, this humorous show combines high flying acrobatics, sultry burlesque dancing, unbelievable feats of strength and vulgar comedy not for the faint-hearted. This isn't the type of show you want to bring your Grandma too, with the insults flying thick and fast in between incredible circus-style performances. Word of warning, don't sit in the first few rows unless you're ready for some audience participation.
Mingle with the stars at The Shops At Crystals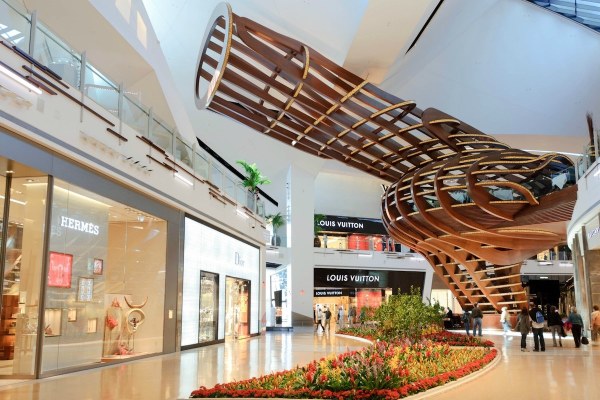 Over 50 of the world's top brands can be found at The Shops At Crystals. An exclusive shopping boutique featuring the likes of Gucci, Tom Ford, Prada and Louis Vuitton, walking through Crystals will make you realise how poor (or rich) you actually are.
This is where the rich and famous come to shop and if you're lucky you might run into a high profile celebrity or two, with J-Lo spending half a day there just a week before my visit. Popping into BVLGARI, I got the chance to try on the brand's new Octo Finissimo watch, a super lightweight skeleton timepiece made from monochrome ceramic that retails for a cool AU$36,000.
---
---
As well as the world's most high profile brands, you'll find a number of art installations throughout the centre, including a James Turrell exhibition hidden inside the Louis Vuitton store. Dubbed Akhob, this secret space is located on the fourth floor with only four people permitted inside at one time. Stand in a circular white room, while warm colours wash over you as you wander around in silence and take in Turrell's calming work – but make sure you book well in advance.
Enjoy the largest tequila and mezcal range at Mama Rabbit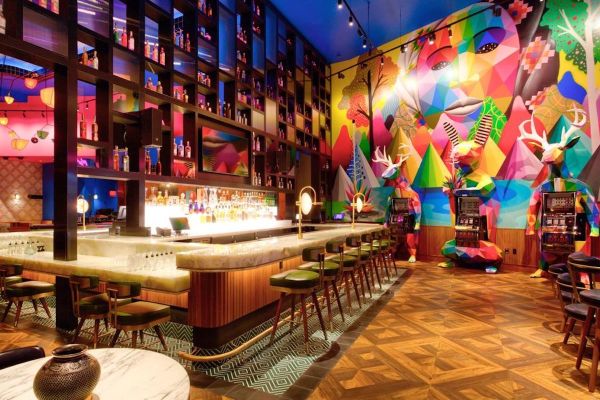 I'm doing my best to stay away from the booze with this list, but I simply can't gloss over Mama Rabbit, the newest upscale bar inside Park MGM. Curated by mezcalera Bricia Lopez, Mama Rabbit offers the largest range of tequila and mezcal ever assembled in one place in the United States.
Taking its name from Mayahuel – the goddess of agave and fertility in Mexican mythology, who was the mother of 400 rabbits she nourished using mezcal and tequila – this massive establishment features a double-sided bar, colourful artwork, live music and a huge selection of tequilas, mezcals and cocktails. There are even gambling tables around the dance floor for those who want to have a wager while sipping on the tastiest mezcal cocktails in Vegas. You might even run into a few celebs, with John Stamos and Julianne Hough both sitting nearby during my visit.
Discover the artwork of the Strip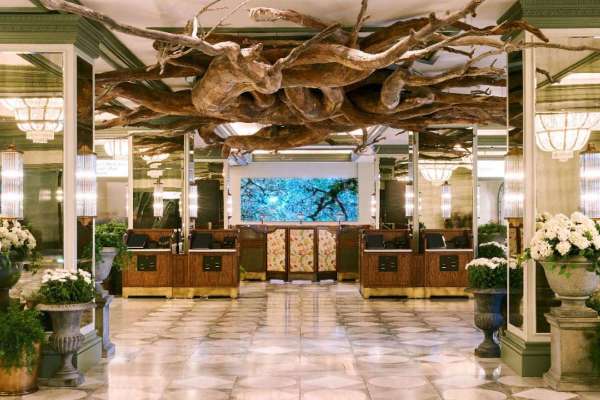 It might surprise you to know Vegas has a massive selection of precious artworks and galleries. The MGM Resorts has a collection held across the brand's multitude of casino hotels (including Bellagio, ARIA, Excalibur, Luxor and MGM Trailer Park) that has to be seen to be believed.
The Bellagio Gallery Of Fine Art is currently hosting an exhibition by Japanese artist Yasuaki Onishi consisting of two large installations and a slew of artwork made using the artist's signature materials such as glue, graphite, metallic powder, and aluminium.
Out the front of ARIA is Nancy Ruben's impressive 'Big Edge' sculpture, made from hundreds of used canoes. While inside you'll find Maya Lin's reclaimed silver cast of the Colorado River and a stunning light display from aforementioned James Turrell. Park MGM also has a tremendous selection of artworks commissioned for the hotel, with Brazillian artist Henrique Oliveira's stunning wood construction hovering above the foyer a must-see.
It's not just MGM investing in art, with the Centaur Art Gallery (the oldest of its kind in Vegas) housing 19th-20th-century artwork from the likes of Pablo Picasso, Salvador Dalí, Rembrandt, while the newly renovated Palms Hotel houses a number of pieces from Damien Hirst along with a Bansky and a Warhol.
Park MGM offers art tours of the hotel every Wednesday while you can read up on all the ARIA artworks and where to find them here.
---
---
Get down and dirty at the Mob Museum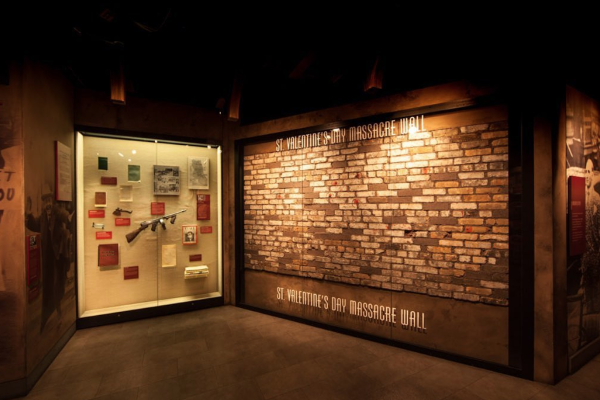 Vegas was built on mob money during the 1930s, so it makes sense there's a museum dedicated to America's professional criminals. Tracing the mob's beginnings through the prohibition era, the rise and fall of Al Capone and the formation of the five families, the Mob Museum is well worth a visit
Spread across three floors the museum features a detailed history of the mob along with a number of artefacts, including bullet damaged bricks from the St Valentines Day Massacre and Al Capone's white-handled .38-caliber revolver. There's a fair whack of information to absorb and you could easily spend an entire day here, but if time isn't on your side, be sure to at least visit the top two floors that deal with the mob's biggest names, such as Al Capone, Lucky Luciano, Myer Lansky and Bugsy Seigel.
Once you're done exploring head downstairs to the basement bar modelled on classic speakeasies where you can sample a number of prohibition-era cocktails including Al Capone's favourite tipple, the Southside (made with gin, lemon, mint and sugar).
Take A Historic Tour Of The Neon Museum
Ever wonder what happens to all the flashing neons when they breakdown or are replaced? Well they end up at a space known as the Neon Boneyard. This non-profit museum is dedicated to preserving the history of Las Vegas' signs and houses some of the most famous neon lights that ever graced the Strip. The collection is made up of over 200 individual pieces including a skull from Treasure Island, the main sign from the former Stardust casino and a fully functional neon guitar from the Hard Rock Cafe.
You can visit during the day or night, with evening tours featuring the restored neon signs beautifully lit so you can get a top-notch pic for the gram. Small plaques dotted around the museum provide details about the main signs, while the friendly staff are always on hand to offer up the history of all the signs in the Boneyard.
Explore Downtown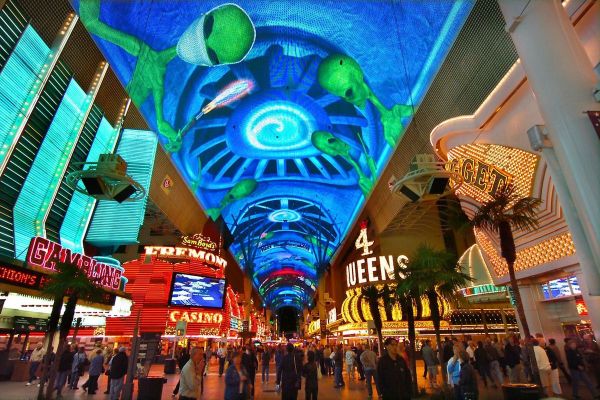 The past decade has seen Downtown Las Vegas revitalised and become just as enjoyable to visit as The Strip. Dozens of new restaurants and bars have opened, with the bohemian area having a really laid back vibe, similar to Brunswick in Melbourne or Newtown in Sydney. Pop in The Smashed Pig for a spot of brunch before exploring the Mob Museum.
Take a stroll down the famous Fremont Street and soak in the flashing lights of multiple casinos or enjoy one of the many free concerts happening over the weekend. Adrenaline junkies will want to try the SlotZilla zip line that gives you an incredible view of the street below. If all this exploring gets too much, visit Corduroy for the best homemade Moscow mule you'll ever taste and finish your evening with dinner at Carson Kitchen.
RELATED: Winter in Queenstown is the most fun you can have with your clothes on
---
---