If heaven on Earth does indeed exist, you'll find it in a boozy lunch that meanders throughout the afternoon (preferably one during the weekday). After 18 months of being confined to our postcodes, however, desiring a change of scenery is more than understandable. Which is why Cloudy Bay and East 33 are now offering a culinary experience like no other with their all-inclusive Natural Wonders package.
The famed New Zealand wine producer and purveyors of Sydney Rock Oysters – responsible for 20% of the entire world's Sydney Rock Oysters, in fact – have united for a luxurious celebration of both provenance and craftsmanship. A loving marriage between wine and seafood, after all, is one that's tough to rival. A loving marriage between some of the southern hemisphere's finest wine and seafood, well… that's as close to unbeatable as you can get around these parts. And that's also precisely what the Cloudy Bay x East 33 Natural Wonders Experience promises to deliver.
From Rose Bay Wharf, you step into a seaplane destined for Forster. Ordinarily, an hour-long wait for a nibble and a drink might be the ultimate test of patience. But that's nicely mitigated by the picturesque scenics laid before your eyes as you make the journey up the north coast of NSW; plus given the cruising altitude, phone reception isn't an issue. Regardless, the minutes – pardon the pun – fly by and prove to be a worthwhile investment.
---
---
RELATED: Wine Island Is Returning To Host Its 3-Day Blowout In Sydney
Landing directly on Wallis Lake, you're greeted by members of the Sciaccia and Verdich families. For reference, these are the lineages who've served as the custodians of this storied estuary for generations; dedicating entire lifetimes towards perfecting the cultivation science behind the delicacies millions enjoy in a restaurant or elsewhere.
"It takes two or three years of nurturing to get an oyster to your plate," explains Steve Verdich.
"You've got a whole range of processes to go through just to get the product out the door."
The best form of education involves active participation. And while an informative boat tour is all well and good, what comes next will yield a far better understanding of + far better appreciation for the seasoned veterans behind your marine produce.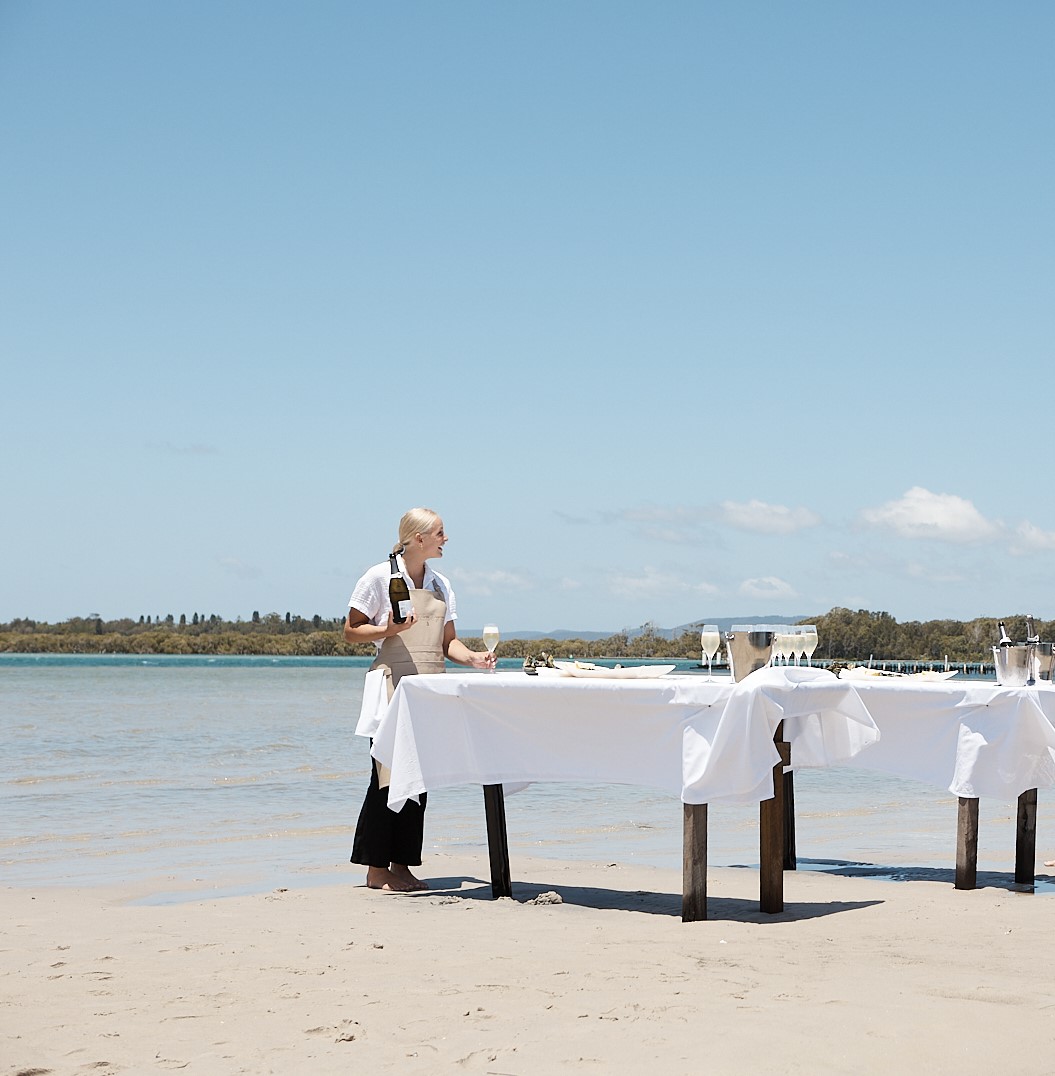 Once the procession arrives at a sandbar, guests are treated to a hands-on masterclass on how to shuck an oyster, accompanied by a bit of in-water dining. A bit of in-water dining, in this case, entails consuming the very molluscs you've just extracted, paired with glasses of Cloudy Bay's Pelorus Sparking, and in the same water said molluscs were cultivated, no less.
As tempting as the prospect of filling up right there on that beach is, it'd be a mistake. Because what follows immediately after is a carefully curated three-course lunch at East 33's lakeside boathouse restaurant, Thirty Three Degrees. Each element paired with a selection from Cloudy Bay's selection of delightful vintages, of course.
---
---
Take it from someone who recently had the privilege of being invited to the preview… there are far worst ways to spend your arvo. This should be the new standard for summer experiences.
---
You can now book the Cloudy Bay x East 33 Natural Wonders Experience for two exclusive dates: January 7th and 14th of 2022. The price? $1,499 per person (maximum guests in a single trip: 8).
Those who aren't too keen on spending that much or travelling that far, however, will be glad to know there are stripped-backed alternatives – including a local version at The Boathouse in Rose Bay, The Boathouse Hotel Patonga, and Barrenjoey House Palm Beach; as well as there are home delivery packages to enjoy at your own leisure.