Kanye West – or Ye, as the man insists on being legally referred to these days – has just filed 17 US federal trademark registrations ranging from skincare to amusement parks through his Mascotte Holdings Inc imprint. All of which relate to the YEEZUS brand.
As uncovered by trademark attorney Josh Gerben via Twitter, these filings indicate the multi-hyphenate intends to:
Mint his own cryptocurrencies
Min his own non-fungible tokens (NFTs)
Build both physical & online stores
Manufacture toys
Manufacture sporting equipment
Manufacture campaign buttons
Manufacture household items
And release a line of YEEZUS-branded cosmetics
RELATED: Attention College Dropouts, You Can Now Take A Kanye West University Course
The most intriguing possibility by far, however, involves Kanye West amusement parks. Incidentally, back in 2012, the artist alluded to this very ambition during an interview for the Cannes premiere of his Cruel Summer short film.
"What I want to do post-Grammys is I want to work on cities, I want to work on amusement parks, I want to change entertainment experiences," Kanye West told GQ (via NME).
"Something like if McQueen or Tarsem [Singh] was to meet the entertainment value of a Cirque du Soleil or a Walt Disney."
Hilariously enough, the trademark filings seem to contradict West's prior stance on non-fungible tokens. Although it certainly wouldn't be the first time he changed his mind.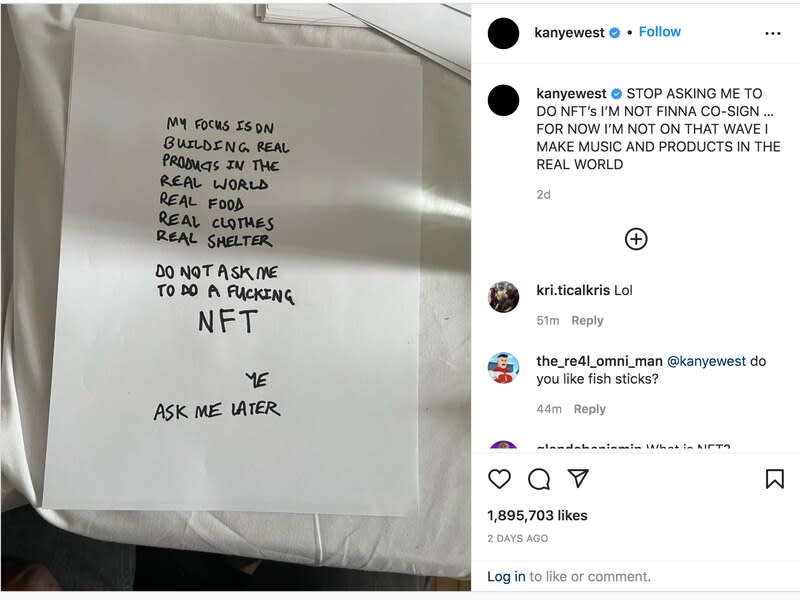 "Do not ask me to do a fucking NFT," Kanye West wrote on Instagram.
"My focus is on building real products in the real world."
---
---
Nor is this the first time he's eagerly filed an entire run sheet of trademarks.
Last year, Ye applied to marry the DONDA name with several tech products such as smartwatches, smart glasses, wearable activity trackers, tablets, earbuds, headphones, wireless headsets, audio speakers, and even surround sound systems. Anyway…
Kanye West World 2024. LFG.