Former Olympic triathlete and all-round endurance animal Courtney Atkinson has conquered seven of Australia's tallest peaks in just seven days.
Inspired by the 'State 8' – a hiking challenge that involves summiting Australia's highest peak in each state or territory in the course of a person's lifetime – Courtney wanted to see how many of the State 8 ascent records he could break in just seven days.
Unfortunately the eighth state could not be tackled due to some red tape, however Courtney comprehensively obliterated the rest regardless.
---
---
The journey worked out to be 25 hours of running in seven days, with 72 kilometres of that spent running uphill at race pace. Courtney – who, keep in mind, competed at two Olympic Games – attacked the climbs at the racing heart rate equivalent of him running a 30-31 minute 10 kilometres. This gruelling pace was fast enough to see Courtney knock off a number of those fastest ascent records.
"It was the biggest running week of my life. I probably underestimated just how hard it would be to race some of the distances and then back up day to day," Courtney said.
"Ironman (races) on the road are bloody hard don't get me wrong, but as far as having anything thrown at you that causes a bit of adversity – like rocks or rivers – that kind of makes the running muscularly different."
"You're bouncing off rocks or trying to jump across things, the muscle just need to be stabilising so much more on the uneven terrain. After an hour on that terrain your legs feel like jelly."
Courtney ran the mountains alone, with his travel/film companion Shane waiting at the base. He admits that this probably wasn't the safest idea.
"90% of the time I'm running alone without mobile reception. I carried a sat phone on the bigger remote climbs but that's no help if you're knocked out. After it all finished I kind thought about it and (If I was to do it again) I'd probably do it with someone running with me."
Perhaps the most astonishing part of Courtney's journey is that with 11 flights to catch, Courtney and Shane didn't experience one delay. Courtney thought that this was going to be the biggest issue they would face, but this actually came down in Tasmania.
---
---
Mt Ossa was already supposed to be the biggest of the seven days, with it being a mammoth 38km run to the summit via the famous 'Overland Track'. However, when Courtney and Shane drove in, recent floods in the region meant the closest they could get was still about 5km out from the trail head. This was just the beginning of Courtney's troubles down south.
"It was like: Do I do a 48km day, or do we try and find another way in? In the end, I decided to do the 48km day. But then it blew out to around a 6-hour run."
"It was snowing at the top. By that stage I'd hit snow on a couple of peaks, but this was probably the most dangerous ascent. When it's snowing and icy it can be pretty sketchy. I hadn't been to the top of Ossa before and at the summit it was just a white out. I had to follow my footprints out. By that stage I was just hoping that they hadn't snowed over."
If that wasn't enough, when Courtney and Shane tried to get back out of the rainforest, because it was dark by the time he finished, the rangers had locked the gates and they couldn't get out. Luckily the duo still made their 6am flight out of Launceston and by that evening Courtney was in WA, running up Mt Meharry in the dark.
Such quick transitions meant that Courtney was going from extreme to extreme. Australia's ability to vary in terrain and climate in such a short time frame of travelling was one aspect of the journey which really stood out for Courtney.
"We'd be camping one night down the bottom in the cold snowy Tassie, then the next day we're camping in the middle of the desert in WA."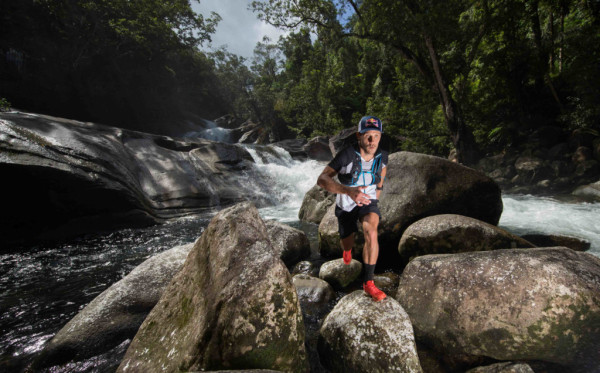 When questioned on why he had chosen to put himself through such punishment, Courtney had a fairly simple answer.
"I love running. Runnings my job, running's what I do. I want to go out and run in these places anyway. It's just a good excuse to do what I love doing, and what I'd be doing regardless."
---
---
However, when asked if he is motivated to push himself harder by people such as mountaineer and ultrarunner Killian Jornet – who in May set a new record for the fastest known alpine ascent of Mt Everest – Courntey's answer reveals a little more about what drives him.
"You're talking about an absolute legend there as far as ultra-running."
"What I like about what Killian did on Everest is that it showcases what real athletes can do when they go out and attack what normal people do as hobbies."
"You get all the people that climb Everest, I mean it's an amazing feat, but then you get this real athlete who goes there and does something that normally takes forty days, and does it with no fixed ropes and no oxygen in 26 hours."
"That's kind of what I did around these mountains. You run into normal hikers who go and just hike these climbs, and you tell them how quickly you went up there and they just can't believe it."
"For me that's why, as an athlete, I want to do these things. I mean I love doing it, but I also love showcasing what Olympic standard athletes can do."
You can see more of Courtney's incredible week below:
---
---