Boss Hunting would like to extend a huge thanks to Emirates for hosting us as our partner airline on our trip to the UAE.
It was the first time – and probably the only time – that I had ever felt a chill in the desert. The sun was only minutes away from cracking the horizon in the early hours of the clear morning and the atmosphere was fresh yet eerily quiet.
Sunrise over the desert dunes of Dubai is a mysteriously magical experience. The colours are unlike anything you could have ever thought possible out of nature. The scene is like something out of a Star Wars film.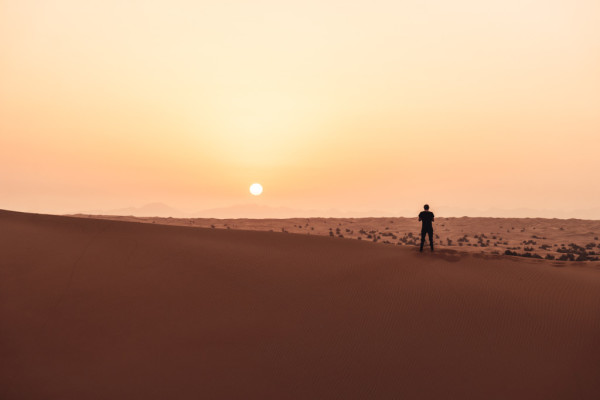 One of Dubai's greatest assets is the stark contrast between a glistening metropolis on the desert fringe, and the harsh, untamed landscape that encloses it on all sides. To say you've been to Dubai, then, seems a little underwhelming if your travels didn't include at least one night under the stars away from the overwhelming city lights.
---
---
About 60 minutes down a desert highway and after a sneaky turn off later lies Al Maha, a Luxury Collection Desert Resort & Spa. Inconspicuously nestled among dunes and palm trees behind a huge conservation perimeter fence, 36 private villas dot the desert surrounds on a slight incline, overlooking the stunning golden expanse that stretches as far as the eye can see.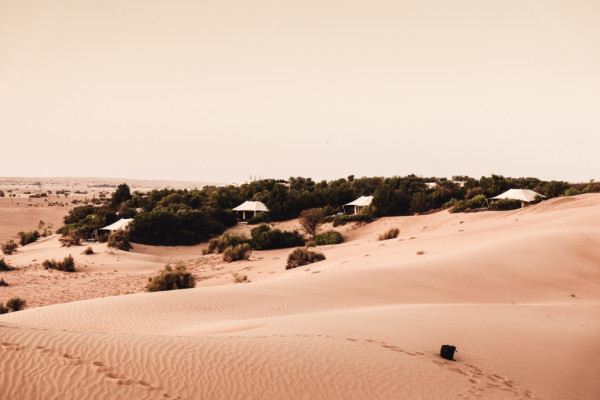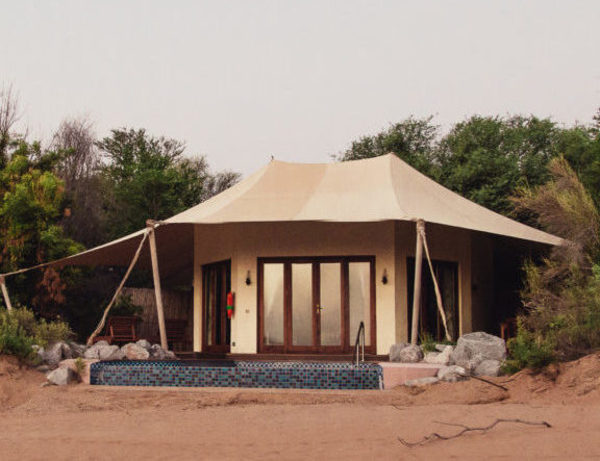 Al Maha is the pinnacle of luxury desert accommodation in the UAE. The establishment is run like clockwork, the guests every need and detail attended to without fail, the dining a sensory experience in itself.
The nature of the resort is peacefulness through privacy, with each villa spaced generously from the other. If you're visiting in peak summer months (we recommend you avoid this), then fear not walking considerable distances as resort golf buggies are available on request to ferry you to your destination or activity.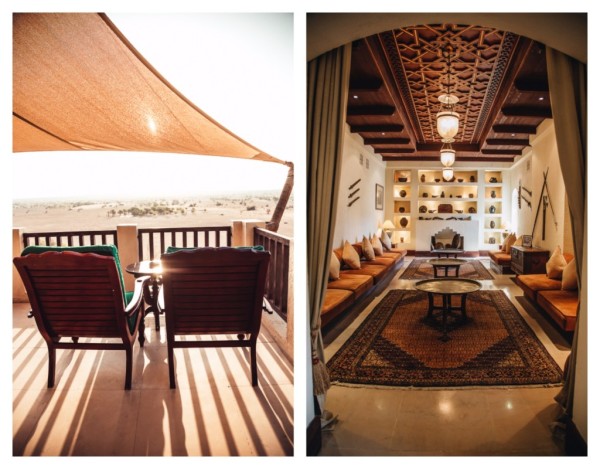 Each sandstone villa is shaped as a luxury tent, but boasts a more permanent and well-established structure than you may expect. Beautifully ornate furniture dominates the open plan room's back wall, overlooking plush lounges and opening to expansive windows that offer views of lush green bushes contrasted against a sparkling blue infinity pool and the desert beyond. The bathrooms are decorated with the finest of well-appointed amenities and immersive deep soaker tubs. We were advised by staff that villas 23, 24 and 25 have the most prime views.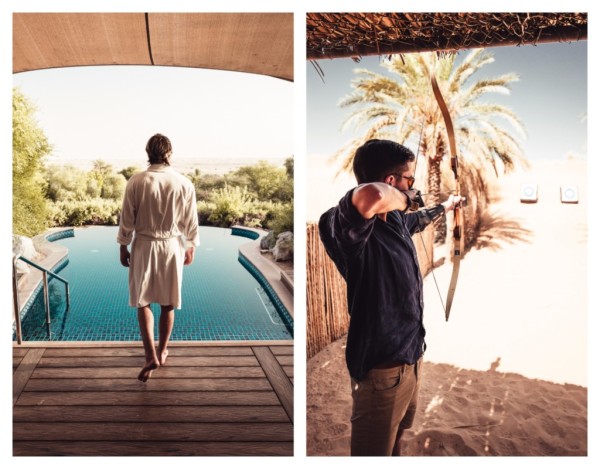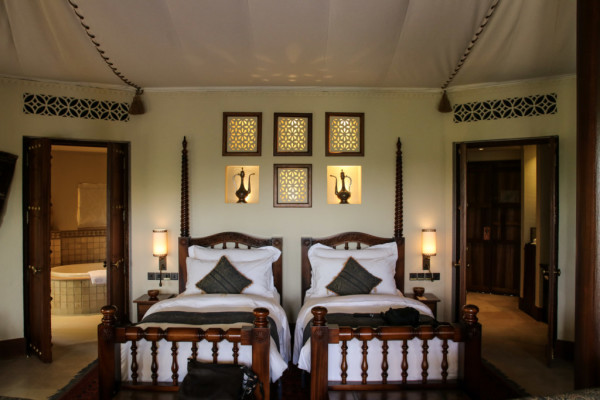 Air-conditioning is a God-send and basically an expected necessity in such a locale. Switching between the outdoor pool and the indoor lounge is the only way to spend the hottest part of the day. Alternatively, if you feel like taking on the day after sunrise and your deluxe breakfast, Al Maha offers a plethora or activities to ensure you'll never be stuck for something to do, despite being intentionally isolated.
Bet a few beers on who's got the best hand for archery, or spend the morning bringing your breakfast back up bashing across untouched sand dunes. The resort's team of primarily South African guides are experts across each of the activities and in every field you can imagine.
Spend your afternoon indulging in signature treatments from international therapists specialising in the wisdom of Middle Eastern and South East Asian aromatherapy traditions. Once refreshed and relaxed, take a camel ride beyond the resort's immediate boundaries for sunset, or enjoy sundowners before dinner on the terrace lit by dancing open flames.
---
---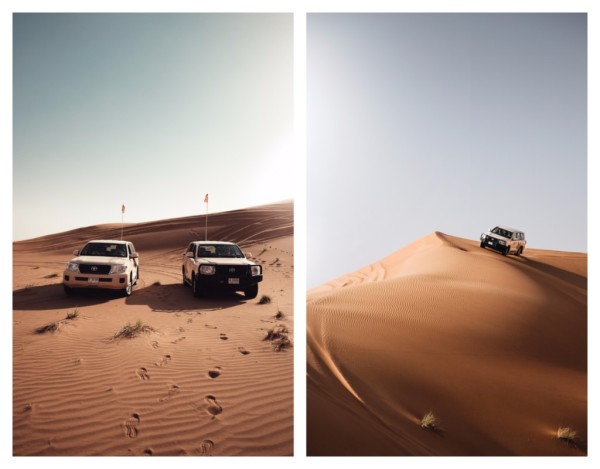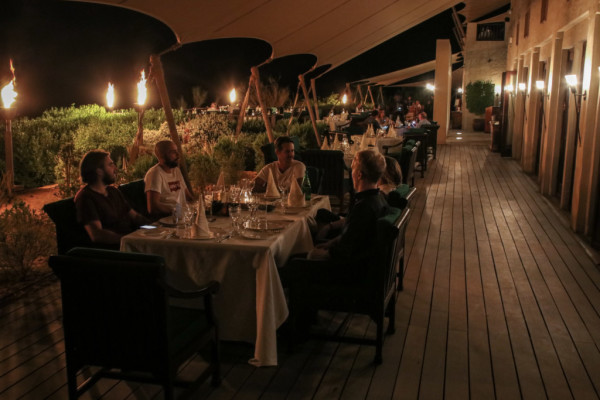 The all-inclusive food and beverage package is a tempting option, although not a necessity. We would highly advise, however, that you may as well dive in head first and splash out on such an experience. The international cuisine is some of the best in the country and served at an impeccable standard.
Al Maha has its ambience planted proudly in the traditional Arabian setting that it finds itself in, while catering to an global array of guests with a transcending level of luxury. The property is about as juxtaposed to the city adjacent to it as could possibly be, but this is unequivocally its most attractive feature. Be it an overnight jaunt or a multi-day detox, you simply can't overlook an authentic Dubai experience as lavish and quaint as Al Maha Desert Resort & Spa.